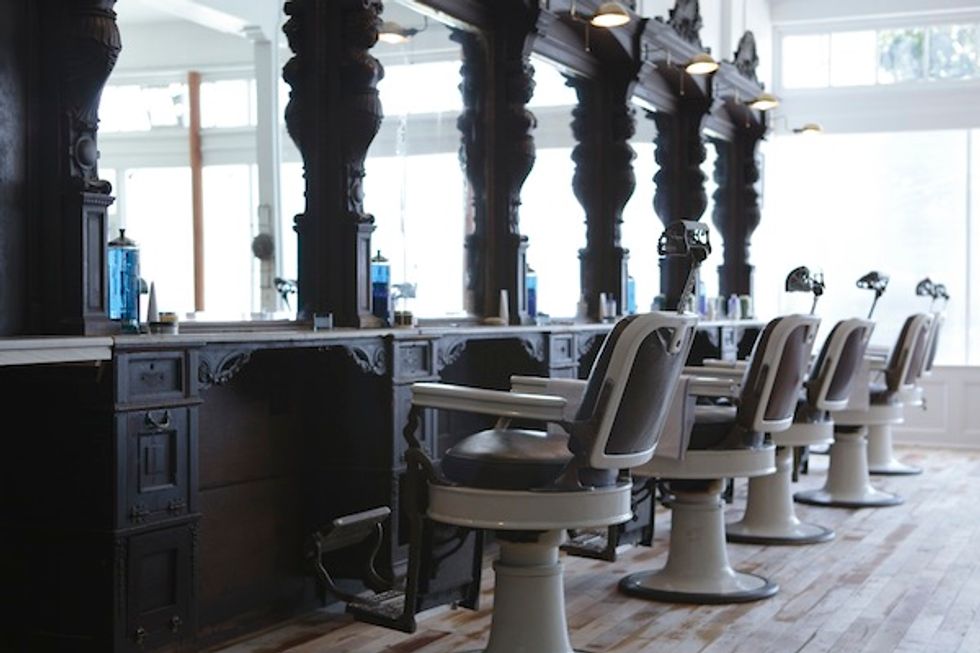 ---
San Franciso's beards and hippies have a new hang out. But dandies and professionals have a warm seat on the custom-made '20s-style train station bench, too. F.S.C. Barber still smells of woodchips, and it's open for business. Replete with vintage and reburbished furniture, an apothecary station, a 100-year-old mahogany pillared floor, a retail shop, and shoe shining station, Valencia Street's new barber lounge melds tradition with modernity.
With two outposts in New York, business partners, and brothers, Sam and Jonah Buffa, were able to play with the largest store space yet. The aforementioned train station bench serves as an anchor for a waiting area, where Sam Buffa encourages kicking back. "Coffee table books, newspapers, no Wi-Fi, keeping it simple." I happen to have an affinity for corner spots, and so does Buffa — all three of his shops occupy corners. Buffa credits this to luck, but now the pressure is on to continue cornering prime real estate.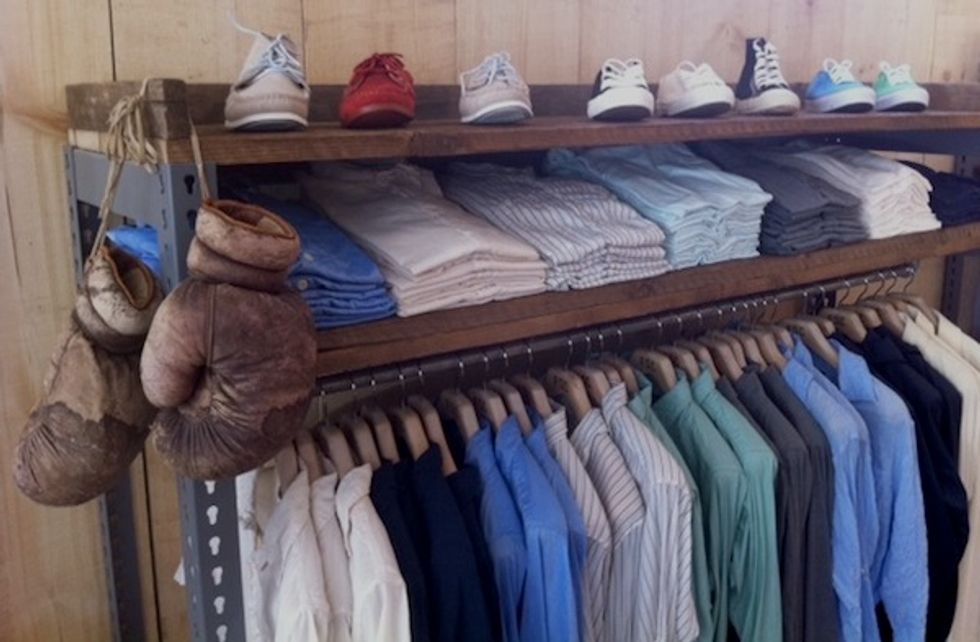 The neighboring Freemans Sporting Club suitlery and menswear shop opened Tuesday and has an additional street entrance — the perfect distraction for waiting patrons. And of course, there will be jams. A record player, iPod hook-up, and a radio to feed Giants games. Local musician and shop maestro Jonah promises "Rock n' roll. But also local bands, there's a lot of cool stuff coming out of San Francisco right now. And we'll get some old vinyl as well."
Why get your next cut at F.S.C. Barber? It's a world where barbers and stylists collide. "We've worked really hard on training people to do both; we hire barbers and stylists. You can get any style haircut here. We want the old school aesthetic, but we do everything."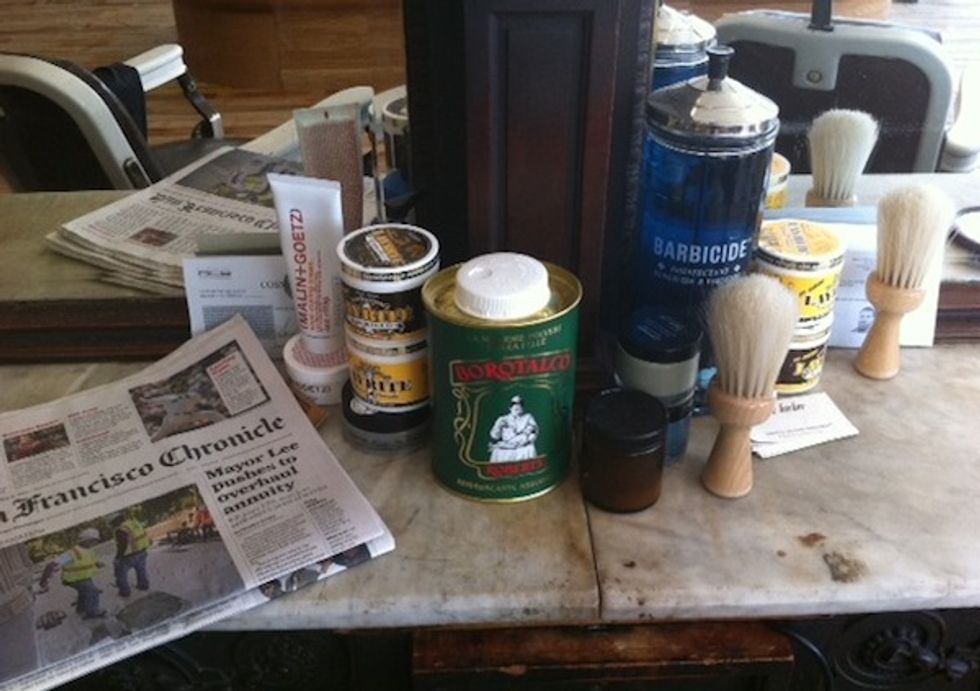 So what are the latest hair trends for men? Buffa explains, "'70s and hippie are definitely back, bigger here than anywhere else because that's part of the history, which is awesome. It's more the original backpacker outdoorsman, but dressed really well, which we appreciate. Also, barbering hair cuts, in New York more. The beard is huge; but in New York it's more width, and here it's more length."
And are women welcome? "We do men's hairstyles on women." When asked about an innocent fringe trim. Buffa shyed, "Scary territory." Smart man. Another controversial subject: Balding. Buffa recommends: "Go short. A nice trim cut. There are very few guys who look good with long balding hair. We have a straight razor shave style. Work with what you got. It all comes down to being confident."
$40 confidence boost? It's worth a visit. 
Samantha Durbin (sami.7x7@gmail.com) is a lifestyle writer who honed her blogging skills as Editor of FabSugar.com. Samantha graduated from The Fashion Institute of Technology, also writes for San Francisco magazine and shares her musings via her poly-blog network, led by SFonFire.