By
No longer just the early-morning meeting place for Wine Country excursions, Downtown Napa is becoming a glamorous destination with new restaurants, shops, bars, and, of course, wine tasting rooms popping up on every corner. And for those who needs a slight adrenaline spike in their getaways, bicycling, kayaking, or hot air ballooning will satisfy the adventurer in you.

STAY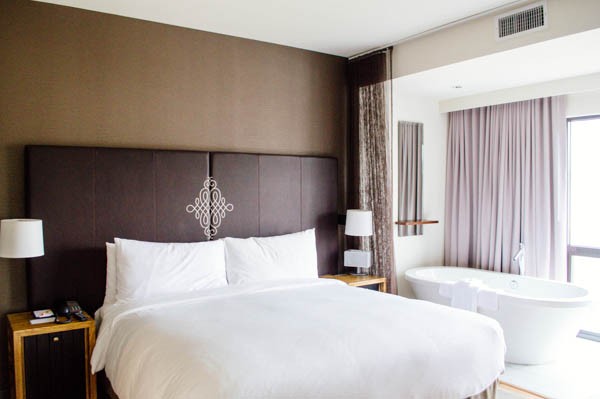 (Ana Kamin)
Andaz Napa
Crisp white sheets, modern design, tasty room service, and a full-soak bathtub in the middle of the room greet you as you enter your room at Andaz Napa. A laid-back atmosphere, craft cocktail bar, and gourmet in-house restaurant make Andaz Napa the perfect home base for all your Napa Valley ventures. —Ana Kamin // 1450 First St. (Napa), anadaznapa.com
The Napa Inn
Rest your head in this charming, pale blue Victorian built in 1877, which is even on the National Register of Historic Places. Start a long day of wine tasting with a gourmet candlelight breakfast on the garden patio and finish with a nightcap of port and sherry, paired with a selection of desserts, cheeses, fruit and other appetizers. Select nights also feature tastings from local wineries. — Jess Lander // 1137 Warren St. (Napa), napainn.com

Napa River Inn
It's hard to believe that downtown Napa's most illustrious hotel was originally home to the historic Napa Mill. Views of the Napa River top the long list of amenities, which also includes a glass of wine at check in, complimentary breakfast in bed from downstairs bakery Sweetie Pies and in most rooms, a fireplace. On the very same block you'll find some of downtown's most popular riverfront restaurants, like Morimoto and Angèle, plus Silo's Jazz Club. — J.L. // 500 Main Street, Napa, napariverinn.com
EAT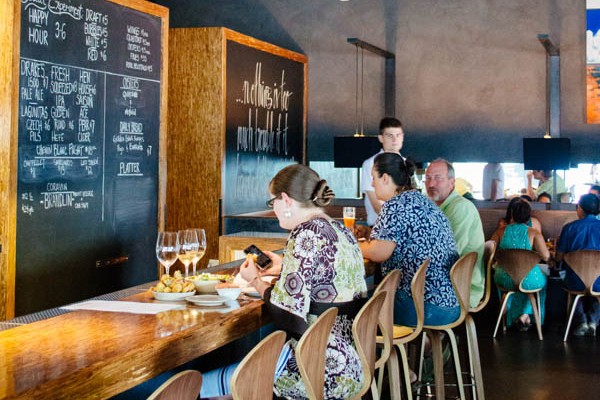 (Ana Kamin)
Atlas Social
American tapas done extremely right fill the menu at Atlas Social. A variety of unique, small plates divided into three categories—"from the farm," "from the sea," and "from the ranch,"—combine with a modern rustic ambiance for the perfect meal in Downtown Napa. Savor the local ingredients, sip on world-class wine, and try to taste as many plates as you can. — A.K. // 1124 1st St. (Napa), atlassocialnapa.com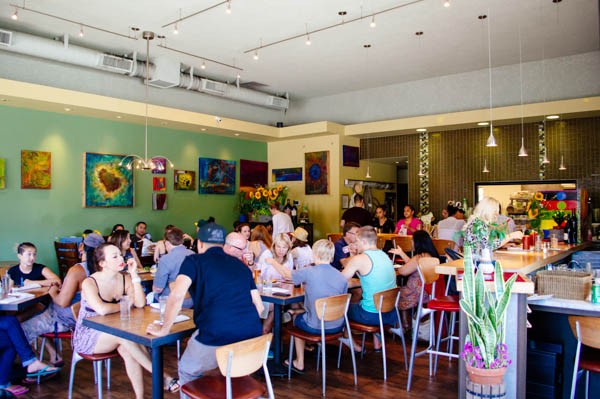 (Ana Kamin)
Grace's Table
"A cheerful Napa bistro" Grace's Table serves up dishes inspired by Italy, France, and the Americas. Grace's is a bustling spot from 8.30am to 10pm, so prepare for a bit of a wait, but a changing seasonal menu with a focus on comfort food will make it all worth it at this "global kitchen." Try the Iron Skillet Cornbread with lavender Honey Bitter for the breakfast of champions. — A.K. // 1400 2nd St. (Napa), gracestable.com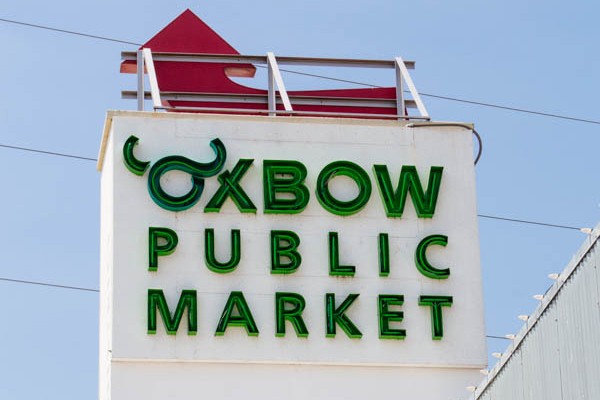 (Ana Kamin)
Oxbow Public Market
Hog Island Oyster, Ritual Coffee, Ca' Momi, Kitchen Table, and Napa Valley Distillery, are just a few of the shops and eateries that make Oxbow Market a must-stroll and must-eat spot. — A.K. // 610 & 644 1st Streets (Napa), oxbowpublicmarket.com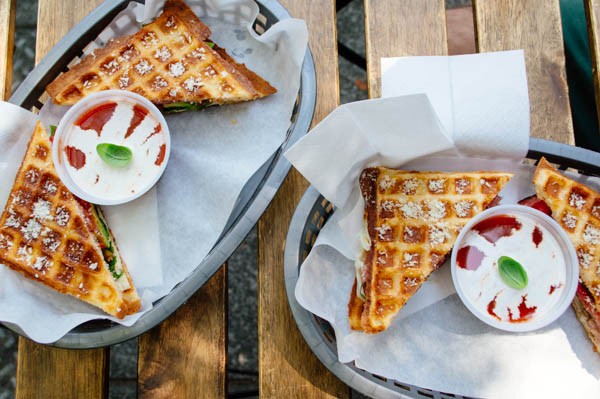 (Ana Kamin)
Melted
Grilled waffle sandwiches with a side of creamy tomato soup? Yes, please. Melted is a small eatery with big flavors serving 14 different sandwich combinations on savory waffle bread. Grab your favorite (we recommend the Don Caballero & Settin' The Woods on Fire) and enjoy it at one of their outdoor tables on the cute and calm Pearl Street. — A.K. // 966 Pearl St. (Napa), meltednapavalley.com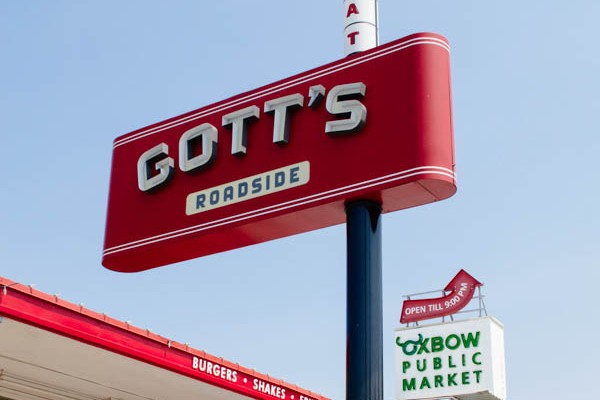 (Ana Kamin)
Gott's Roadside
A juicy burger, fries and a shake is always a good idea, and Gott's makes some of the best burgers we have ever tested. For non-burger fans (if there are any?) try the ahi poke crispy tacos. — A.K. // 644 1st St. (Napa), gotts.com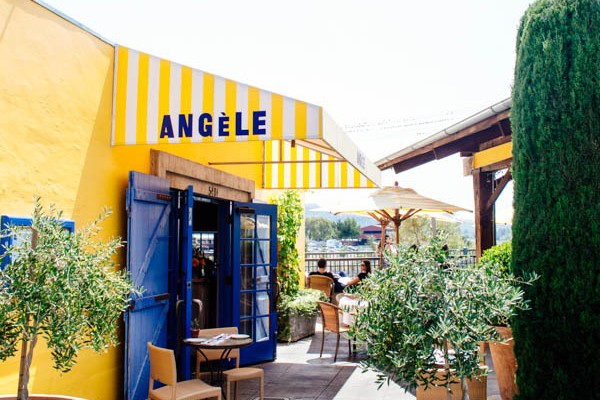 (Ana Kamin)
Angele
What was once a ship chandlery is now a riverside restaurant with an outdoor patio for a relaxed lunch under yellow-and-white striped umbrellas. The menu is comfortable rustic fare bringing the French country to Napa. — A.K. // 540 Main St. (Napa), angelerestaurant.com
Morimoto
This high-end Japanese restaurant features local wines and innovative dishes created by master chef Masaharu Morimoto, best known for his stints on Iron Chef and Iron Chef America. If you're looking for artfully presented dishes and cocktails with exciting flavors, this is the place to go. — A.K. // 610 Main St. (Napa), morimotonapa.com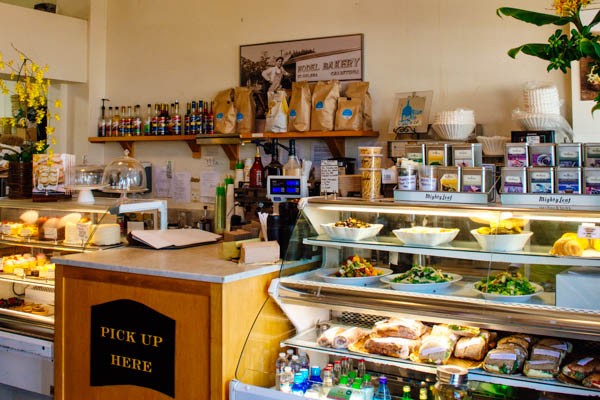 (Ana Kamin)
Model Bakery
Since 1908, Model Bakery has been an institution in the Napa Valley kneading all sorts of bread and pastries every morning. Best known for their English Muffin—a love affair between a brioche and a donut—you can't go wrong with anything off their sweet menu. With its original location in St.Helena, Model Bakery is also now just next door to the Oxbow Market and Fatted Calf. If you're on the run to your next wine tasting, they also offer a small deli menu and pizza by the slice. — A.K. // 644 1st St. (Napa), themodelbakery.com
Eiko's
Japanese tapas, sushi, soups and salads are served al fresco in this spacious, sleek restaurant with an indoor fire pit and couch seating. The namesake, Eiko Nakamura, has been a well-known sushi master in Napa for over 24 years — A.K. // 1385 Napa Town Center (Napa), eikosnapa.com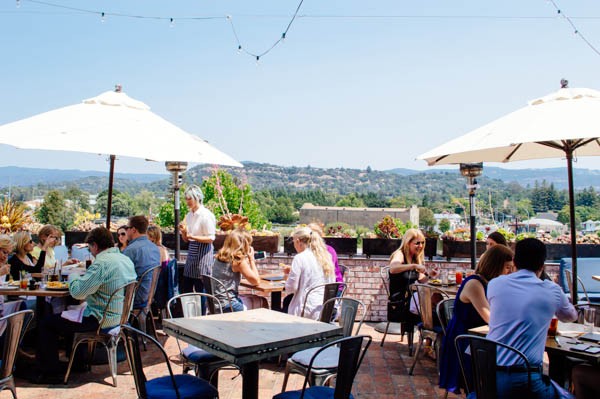 (Ana Kamin)
NINEBARK
Formerly Fagiani's Bar, the site of a notorious 1974 murder, and more recently The Thomas, this historic building has reopened as NINEBARK, led by two-Michelin starred chef Matthew Lightner. Three floors boast an extensive bar serving craft cocktails, spacious dining areas, and garden rooftop for romantic Napa evenings. The restaurant is also open for brunch and Sunday Supper, a casual, six-to-eight course family-style meal. —J.L. // 813 Main St. (Napa), ninebark-napa.com
Ca' Momi Osteria
Expanding upon their small Oxbow location, Ca' Momi has new downtown digs with a chic industrial feel. The restaurant serves "obsessively authentic Italian," which means you won't find your run of the mill ravioli or lasagna on their menu. Instead, they keep things strictly traditional, with "heart crafted" dishes like tagliolini neri con ricci di mar, a squid ink seafood pasta. Osteria also has live music on every Friday and Saturday night. —J.L. // 1141 1st St., (Napa), camomiosteria.com
Minimashi
Downtown Napa's newest restaurant addition serves up authentic Japanese cuisine. A dramatic, hand carved door invites curious passersby inside this classy interpretation of an Izakaya (Japanese dive bar). The menu includes the usual noodles and rice dishes, and a lot of small plates, including 16 variations of yakitori (skewers), some more adventurous than others, like chicken tail. Save room for the soft serve ice cream in classic Japanese flavors for dessert. —J.L. // 821 Coombs St. (Napa), miminashi.com
Bounty Hunter Wine Bar & Smokin' BBQ
If you like BBQ, this downtown staple can't be passed over on your visit to Napa. Perched on a Tecate beer can, their signature beer can chicken is as fun to eat as it is delicious, and if you're with a group, split the smokin' BBQ platter, featuring a little bit of everything. In true Napa style, Bounty Hunter has an 18-page wine list, and also sells 40 American whiskeys by the glass. Expect a long wait on weekends, but Bounty Hunter is working on expanding into a significantly larger space across the street, so keep an eye out for that. —J.L. // 975 1st St. (Napa), bountyhunterwinebar.com
DRINK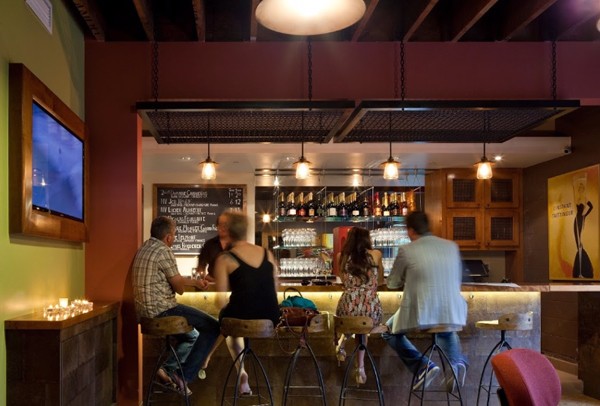 (Image via 1313 Main)
1313 Main
1313 started a revolution of swanky new wine bars downtown and has since evolved into a hotspot for inspired food and wine pairings. The expansive, carefully curated wine list covers vino from all over the world, and Chef Adam Ross creates unique dishes influenced by his experience working with famed chefs in Hawaii, Denver, San Francisco, New York, and Napa's own Ad Hoc and The Restaurant at Meadowood. — J.L. // 1313 Main St. (Napa), 1313main.com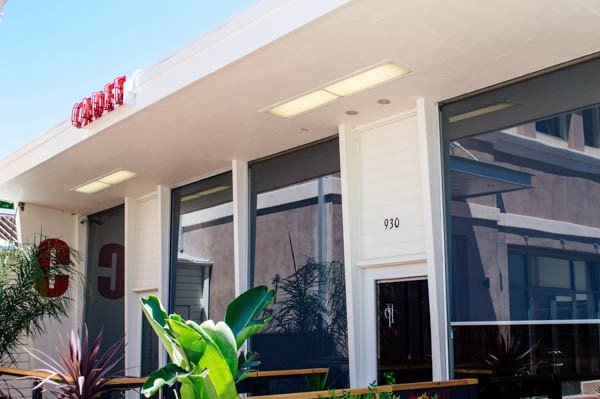 (Ana Kamin)
Cadet Beer & Wine Bar
Who runs the newest bar in Napa? Girls! Or we prefer to call them young ladies who know wine and beer. Colleen Fleming and Aubrey Bailey, both old hands in the wine industry, serve more than 100 wines and small provision to nibble on at their simple, yet cozy wine bar. Buy a bottle and they'll let you pick a record from their collection to play. — A.K. // 930 Franklin St. (Napa), cadetbeerandwinebar.com
Napa Palisades Saloon
Finally, downtown Napa has a hip place for the beer lovers. Small, yet mighty, this Main Street nook boasts a rotating tap list of over 30 local craft beers and is one of the few bars in town that you can catch your game on TV. Contemporary and classic bar bites, like the pimento cheese fondue with a fried pretzel and apples, don't disappoint either. —J.L. // 1000 Main St. (Napa), napapalisades.com
Carpe Diem
This casual wine bar and restaurant has finally reopened after suffering significant damage during the Napa earthquake. With one of the best Happy Hour menus downtown, snag a seat at the bar for discounted vino and small bites, like the addictive truffle popcorn ($3.50), mini quack and cheese ($6) or a cheese or charcuterie plate ($10). The Ostrich Burger is a must-order if you're staying for dinner. —J.L. // 1001 2nd St. (Napa), carpediemwinebar.com

SHOP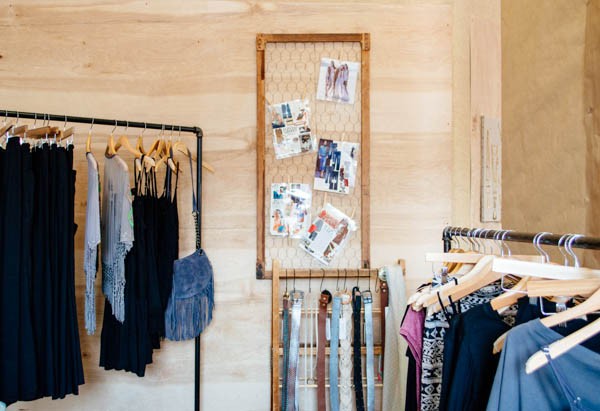 Boho Lifestyle
Owner Indra Fortney has been rocking bohemian style since she was a kid (keep an eye out for cool vintage family pictures on the walls), so it's not surprising that she opened a clothing store embracing floral maxi dresses, vintage denim, lace crop tops, and jewelry from local designers. The shop recently moved down the street, next to the Starbucks, and gets new arrivals in every week — A.K. // 1390 1st St. (Napa), shopboholifestyle.com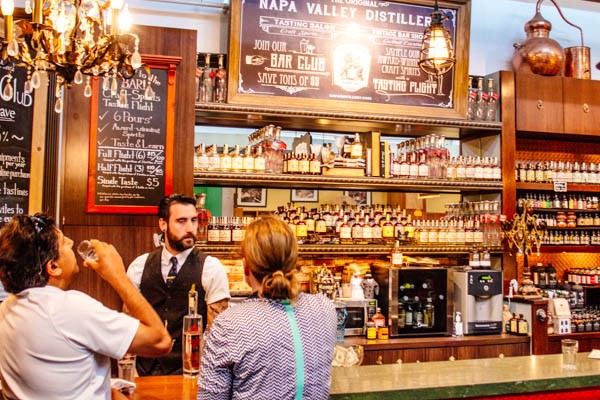 (Ana Kamin)
Jazz up your home bar with booze and bitters from Napa Valley Distillery and a cocktail hour at home will get a whole lot more exciting. Small batch spirits, handcrafted bitters, and knowledgeable bartenders in black vest, bring back a piece of old-school bars back. — A.K. // 610 1st St. (Napa), napadistillery.com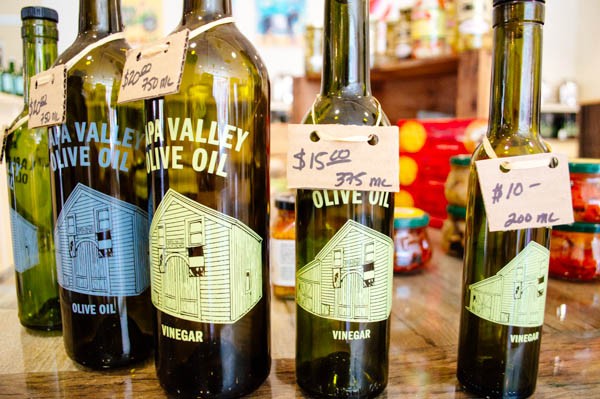 (Ana Kamin)
Napa Valley Olive Oil

Napa's famous olive oil is almost as coveted as its wine. Bring a bottle home and massage your kale with the best of the best.— A.K. // 1331 1st St, Napa, nvoliveoil.com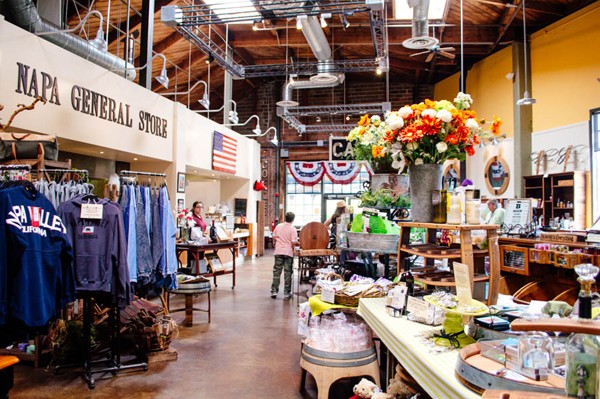 (Ana Kamin)
General Store Napa
Set in the old Mill, Napa General Store is half restaurant-half shop for all things about Napa and made in Napa. Souvenirs, wood boards and racks, as well as art and jewelry, will satisfy your souvenir needs. — A.K. // 540 Main St #100 (Napa), napageneralstore.com
TO-DO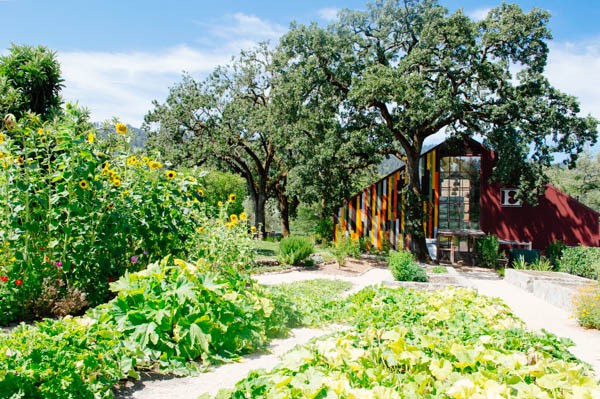 (Ana Kamin)
Wine Tasting

Wine tasting is why you came to Napa in the first place probably, right? Ditch the car and simply walk to these downtown tasting rooms.
Sequoia Grove
Get ready to break the wine and food pairings rules. "A taste for Cabernet" is an educational and fun tasting to learn what pairs well with Cabernet and how to keep the taste of wines you love when consuming it with different foods. — A.K. // 8338 St Helena Hw (Napa), sequoiagrove.com
Vintner's Collective

If you want to taste wine that none of your friends have ever heard of, head to Vintner's Collective where more than 20 boutique producers have partnered up. They have several tasting options available to enjoy in the downstairs tasting room, upstairs lounge or rooftop patio, housed in a former saloon and brothel from 1875. —J.L. // 1245 Main St. (Napa), vintnerscollective.com
Mark Herold Wines
You're guaranteed a good time at Mark Herold Wines, evidenced by the Happy Ending Wine Club and "sexual chocolate" pairing. Stop in this quirky tasting room, full of eclectic art pieces (there's a Ken doll in assless chaps) and sexual innuendos, conveniently next to the Oxbow Market. —J.L. // 710 1st St. (Napa), markheroldwines.com
Uncorked at Oxbow
This is the only place downtown offering barrel tastings and blending sessions. Taste wines from Ahnfeldt Wines and Carducci Wines and enjoy two complimentary pours upon arrival. Uncorked also hosts Open Mic Night every Thursday, and live music from local artists on Friday's. —J.L. // 605 1st St. (Napa), uncorked-at-oxbow.com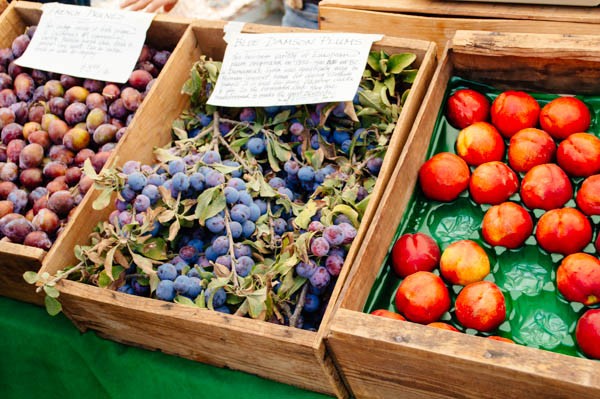 (Ana Kamin)
Farmer's Market
Sample fresh fruit, homemade products, and have a chit-chat with the farmers and makers. — A.K. // Oxbow Public Market Parking Lot, Tuesdays and Saturdays from 8am to 12:30pm, napafarmersmarket.org
Entertainment
Catch live music or a comedy show at one of downtown Napa's entertainment venues. And yes, they serve wine.
Uptown Theatre Napa
For a small town, Napa's Uptown Theatre attracts a surprising amount of big time musicians and comedians, from Willie Nelson to Snoop Dogg. Intimate shows take place in a historic landmark, a restored art-deco building from the 1930s with a classic marquee out front. —J.L. // 1350 3rd St. (Napa), uptowntheatrenapa.com
Silos
Head to Silos after dinner for live music on Wednesday-Saturday. Tucked away like a speakeasy, Napa's "Music Room" features live blues, jazz, rock, reggae, smooth jazz and motown from the best local acts around. —J.L. // 530 Main St. (Napa), silosnapa.com
Kayaking and Stand-Up Paddleboarding on the Napa River

If you get a bit "tired" of all the eating and wine tasting, paddle away on the Napa River flowing through downtown. For locations, rates, and times check out Napa Valley Adventure for kayaking and Napa Valley Paddle for stand-up paddle. — A.K.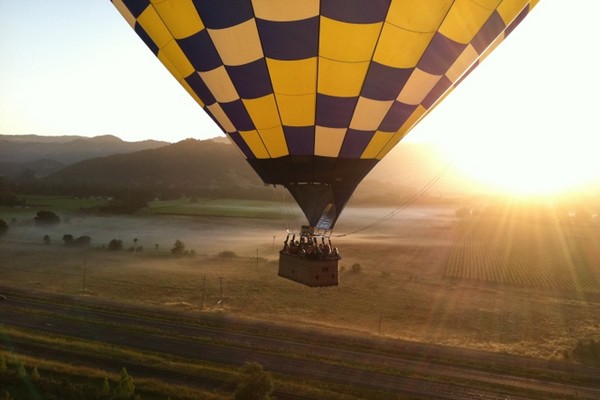 ( Image via Balloon Over the Valley)
Hot Air Ballooning
Soaring over rolling hills covered with vineyards in the morning sun is what dreams are made of. This dream can come true if you book your own flight with one of the few hot air balloon companies located in the valley. For more information check out Balloon Over the Valley, Napa Valley Aloft or Napa Valley Balloons, Inc. — A.K.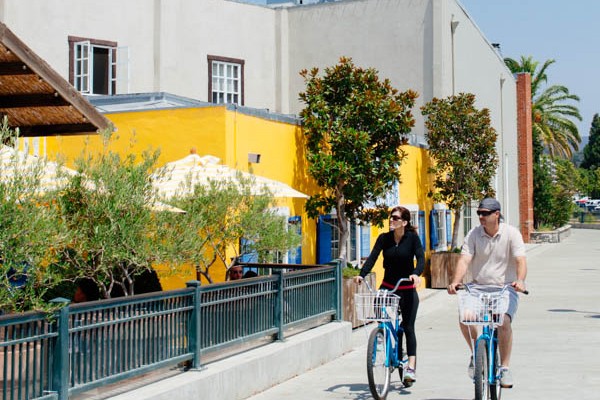 (Ana Kamin)
Biking

Prefer two wheels when getting around? For tours, locations and rates, check out Napa Cycle Sport or Napa Velo. For extended guided tours check our Napa Valley Bike Tours. There's a bike trail you can hop on right from downtown, that's recently been expanded all the way to Yountville. — A.K.
DON'T MISS A BAY AREA BEAT! SUBSCRIBE TO OUR NEWSLETTER.