With poolside glamour, Mid-Century Modern architecture, vintage shops, tennis at dusk, seriously delicious eateries, an old timer here and there, hot desert days and even hotter desert nights, what's not to love about Palm Springs?

Toss in a pinch of Old Hollywood glamour and new hipster cool, and Palm Springs is a spot-on destination for a chill long weekend, just an hour's flight from San Francisco.
---
STAY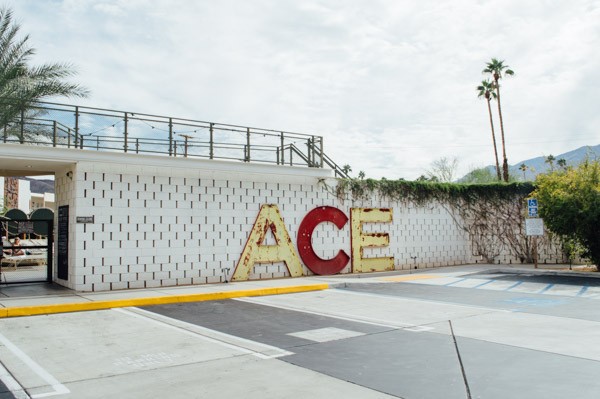 Ace Hotel
The Ace Hotel is a new institution in Palm Springs with chill vibes, a just hip enough ambiance, and a mix of industrial and ethnic design elements. And with two pools, room service by the outdoor fireplaces, a ping-pong table, spa and gym, you'll scarely have to leave. Plus, check out the hotel's online events page for dance and game nights. // 701 E Palm Canyon Dr., acehotel.com/palmsprings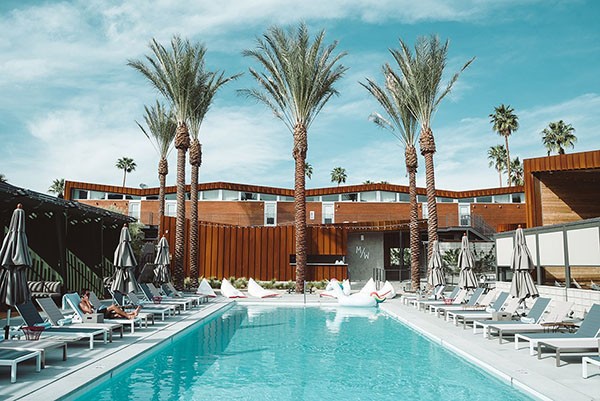 (Photo via SocietyGrl.com)
Arrive Hotel
The new kid in the desert, Arrive is Palm Springs' first hotel in decades to be built new from ground up. Cofounded by Ezra Callahan, one of Facebook's founding team, Arrive is a modern boutique hotel with 32 rooms, a restaurant, coffee shop, juice bar, and ice cream store-slash-gift-shop that targets locals as well as tourists. Unsurprisingly, there's a tech element—think no front-desk, the bartender has your keys—and rooms are equipped with Apple TV. Don't miss Dive-In movie nights by the pool. // 1551 N Palm Canyon Dr., arrivehotels.com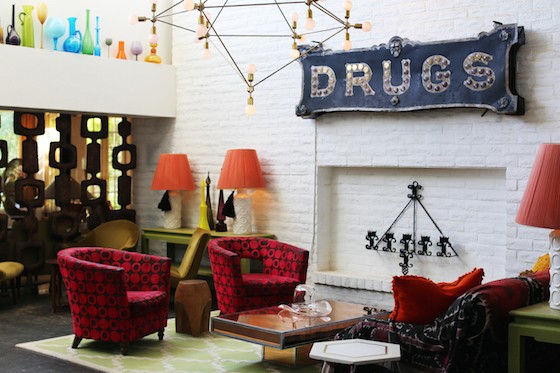 (Photo via Joie de Jude)
Parker Palm Springs
Welcome to the colorful world of Jonathan Ader and to the one of Palm Springs' most iconic high-end hotels. Wherever you stay, a trip to town isn't complete without some hang time at the Parker, where an eclectic mix of colors, textures, and design objets make the hotel eye candy for design freaks. // 4200 E Palm Canyon Dr, theparkerpalmsprings.com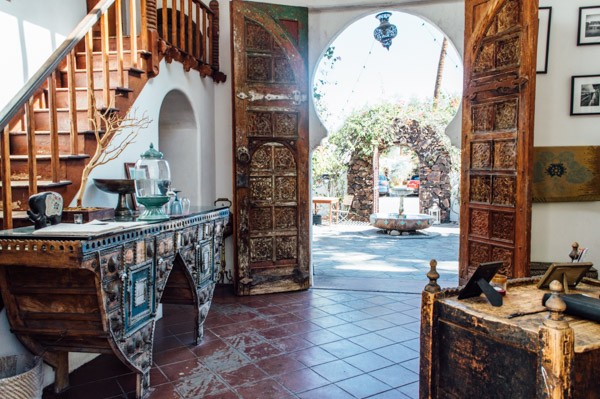 Korakia Pensione
Be transported into the serene Mediterranean-style universe or Korakia Pensione's two villas—one was once used as an escape for a Scottish painter; the other, the former home of a 1930s silent film star. Today, Korakia is one of "America's sexiest hotels" according to the New York Times, with bougainvillea climbing the walls of lovely bungalows and guesthouses, and multiple swimming pools, gardens, and gurgling fountains. Luxurious Moroccan-style rooms are inviting for afternoon naps. // 257 S Patencio Rd, Palm Springs, korakia.com
Alcazar

In Palm Springs' Movie Colony neighborhood, Alcazar is a short walk from the Design District and has some stylish trappings of its own. The revamped Spanish Colonial building is surrounded by lush pink bougainvillea, lemon trees, and, of course, a swimming pool, and it's a great affordable oasis to rest and relax. The hotel's two onsite restaurants, Cheeky's and Birba, are among the top food stops in Palm Springs. // 622 N Palm Canyon Dr., alcazarpalmsprings.com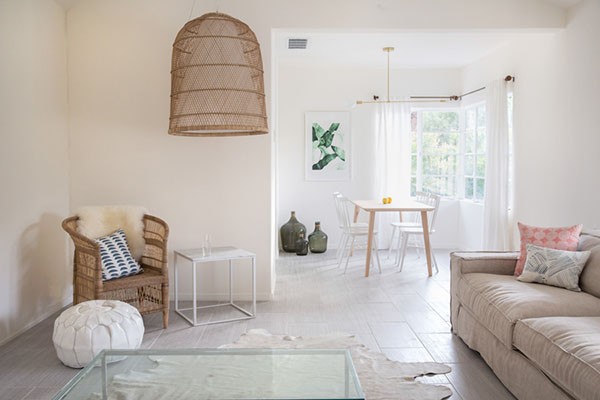 (Courtesy of The Junipero)

The Junipero Palm Springs
Brought to you by the fine folks of the stylish Amado, beloved by Airbnbers, The Junipero oozes design details from every corner, as well as a hot tub and pool. The hotel is also a great option if you are looking to rent a more private place for your next birthday bash, family gathering or company retreat. // 2021 N Junipero Rd., thejunipero.com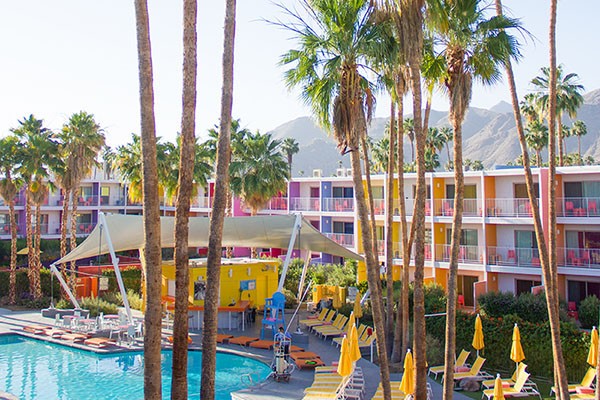 (Courtesy of StudioDIY.com)

The Saguaro
Whether or not you've heard of the Saguaro, you may have spotted its rainbow-hued facade, a darling of traveling Instagrammers. This is a kaleidoscopic hotel that, in addition to hosting quite the cocktail scene by the pool, offers yoga classes, complimentary bikes for cruising around, and spa treatments. // 1800 E Palm Canyon Dr, thesaguaro.com

Sparrows Lodge

Rustic barn charm, stone fire pits, communal space, and a vegetable garden make Sparrows Lodge a nice alternative to the mostly modern spirit of Palm Springs. Even if you're not staying at Sparrows, you can have food and drinks at Barn Kitchen, but we recommend getting a seat at the lodge's family-style supper served twice a week. Seats are limited, so call ahead for reservations. // 1330 E. Palm Canyon Dr., sparrowslodge.com

EAT & DRINK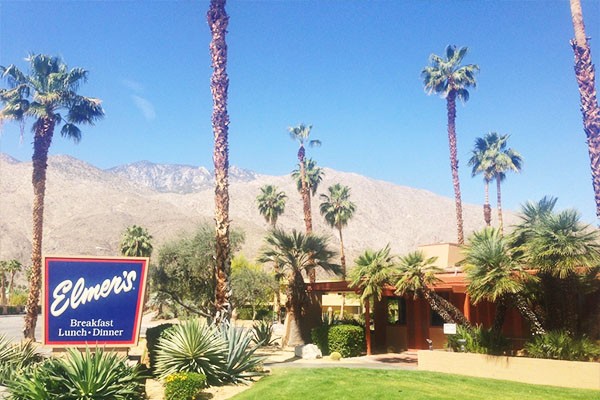 (Courtesy of FeelAttractExploreWithJanet.com)

Elmer's Restaurant
There are no hip design details or reclaimed wood here, but you will find a line of hungry brunch-goers at Elmer's, a goodie since 1960. Don't miss their original German pancakes. // 1030 E Palm Canyon Dr, eatatelmers.com

King's Highway
A contemporary bohemian diner, King's Highway serves refined and healthy brunches and dinners. Seasonal ingredients and a rotating menu inspired by world cuisines make King's Highway a must-stop when in Palm Springs. If it's on the menu, definitely try the Moroccan scramble and the date shake. // 701 E Palm Canyon Dr, acehotel.com/palmsprings/kings-highway

Koffi

Koffi is to Palm Springs what Sightglass is to San Francisco—locally roasted, freshly brewed, and accompanied with pastries. If it's too hot for coffee, cool off with a fresh smoothie. // 515 N Palm Canyon Dr, kofficoffee.com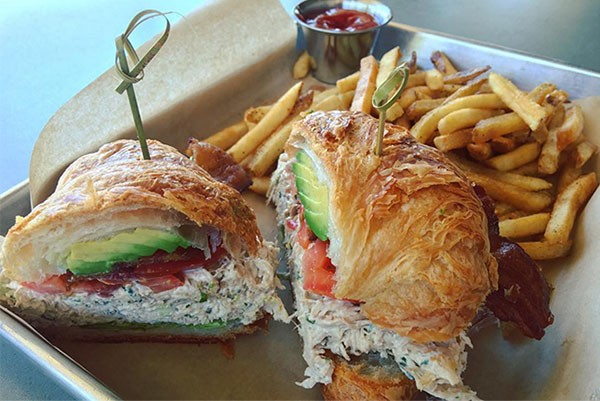 (photo via Arrive Instagram)

Reservoir
At the Arrive Hotel, Reservoir aims to connect tourists and locals over modern Southern Californian cuisine ranging from quick sweet bites (churros or granola bowls) to to egg creations, savory crepes, and build-your-own Bloody Marys. // 1551 N Palm Canyon Dr, reservoirpalmsprings.com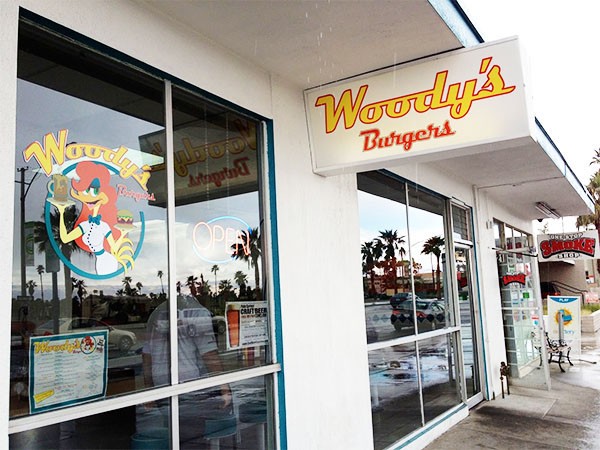 Woody's Burgers

Live bands, juicy burgers, crispy fries and luscious shakes are all you need for a fun, casual night out in Palm Springs. The events calendar at Woody's is packed with nightly local musician. Reservations totally recommended. // 317 N Indian Canyon Dr, woodysburgersps.com
Farm

A touch of Provence in the California desert, breakfast/brunch spot Farm dishes out French-style cuisine with a good portion of Golden State influence. The carte de jour is full of scrumptious dishes that will satisfy you until dinner. // 6 La Plaza, facebook.com/FARM.PalmSprings

Peninsula Pastries

This is a story of a French couple coming to Palm Springs and making buttery pastry dreams come true. Their flour is imported from the motherland, everything is baked daily and, while the husband is whipping up the delicious doughs, the wife takes care of the customers in the sweet-as-can-be pink-tiled shop. // 611 S Palm Canyon Dr #1, facebook.com/Peninsula-Pastries-Palm-Springs

(Courtesy of PalmSpringsLife.com)

Townie Bagels

Planning provisions for a hike or just needing a quick bite in the morning? This is where Townies Bagels comes in. What began as a stand at the local farmer's market has become an in-demand brick and mortar run by two passionate gentlemen who know a good bagel. Bagel lovers can bite into all imaginable varieties along with homemade cream cheeses. // 650 E Sunny Dunes Rd, towniebagels.com
Workshop Kitchen + Bar

If you're in Palm Springs to celebrate a special occasion, then your destination is Workshop Kitchen + Bar. The refined flavors and subtle elegance make Workshop a superb place to treat yourself and your significant other to an evening of farm-to-table pleasure and exquisite cocktails. // 800 N Palm Canyon Dr, workshoppalmsprings.com

(Courtesy of My City Everyday)

Appetito Deli

Homemade pasta, fluffy focaccia, fresh salads, loaded sandwiches, and mouth-watering antipasti are served at Appetito Deli, which successfully combines Italian and Californian flavors—luscious food in a relaxed atmosphere. // 1700 S Camino Real #2, appetitodeli.com
Cheeky's

If you haven't been to Cheeky's, you haven't had a proper Palm Springs brunch. Plan for a short wait to get a table and just order the whole menu—the chef's insanely delicious fancies run the gamut from Elvis French Toast with bananas, bacon and almond Butter to Brussels sprout kimchi fried rice and custard cheese scrambled eggs. Don't forget the bacon flight. // 622 N Palm Canyon Dr, cheekysps.com
(Courtesy of Visit Greater Palm Springs)

Ernest Coffee

Serving Stumptown Coffee with a variety of alternative milks, plus an offering of savory and sweet nibbles, Ernest Coffee is a great starting point for the day. Then, when your feet begin to burn from walking around town, stop in for a late afternoon beer or wine and soak in the mountain view from the patio. // 1101 N Palm Canyon Dr, ernestcoffee.com

(Courtesy of Local Wanderer)

Ice Cream & Shoppe

We all scream for ice cream at this shop that scoops homemade flavors (Dulce de Leche, Date, Pink Ginger) alongside a nicely curated gift shop. // 1151 N Palm Canyon Dr., icecreamandshop.com
Bar

Like things simple and inviting? So it is at the Bar, an establishment with cool drinks, dim lights, hot yummy pizza, good DJ beats, and an outdoor patio with a ping-pong table. // 340 N. Palm Canyon Dr., barwastaken.com
(Photo via Yelp)

Bootlegger Tiki

For a boozy night, your must find your way to Bootlegger Tiki, our favorite spot for good ole craft cocktails. Soak 'em up with bites from the hip speakeasy's tasty snack menu. // 1101 N Palm Canyon Dr, bootleggertiki.com

Birba

Find cheesy excellence at this Italian spot where the pizza is one of the best in the whole wide desert. Order up cocktails, as well as handmade pasta, meat and seafood courses, and nice desserts. The open dining space and outdoor bar make Birba even more attractive on long Palm Springs nights. // 622 N Palm Canyon Dr, birbaps.com

(Courtesy of A Beautiful Mess)

El Jefe

Be the weather hot or hotter, El Jefe is a great spot to hang out any time of the day. Mexican dishes, including orange-braised beef tacos and fried paddle cactus, are served in a space evocative of a Wild West saloon. The bar has an exquisite tequila collection. // 1800 E Palm Canyon Dr, thesaguaro.com/palm-springs

WHAT TO DO
Cruise Around

Most every hotel in PS offers complimentary bikes for exploring the many pretty neighborhoods and endless photo opps. For a manageable route, calm streets, and beautiful buildings and gardens, roll through Indian Canyon, Twin Palms, Historic Tennis Club, and Tahquitz River Estates.
Find #thatpinkdoor

Instagrammers with the travel bug have likely stumbled upon pics of #thatpinkdoor, probably the most famous door in all in all Palm Springs. Grap your camera and go on the hunt. We will give you a hint: It's in the Indian Canyon neighborhood.
Moorten Botanical Garden
For less than five bucks, you can enter the magical living world of Moorten's Botanical Garden, where cacti, succulents and other plants bloom in all their glory. An absolute must-visit. // 1701 S Palm Canyon Dr, moortenbotanicalgarden.com

Scooter Tours of Celebrity Homes
Skip the rental car and grab a scooter instead—with easier parking, you'll see more and have way more fun. Find a good map of old Hollywood stars' homes and get going; we recommend rentals through Scoot Palm Springs. // scootpalmsprings.com


Hike the Desert

The area around Palm Springs is dotted with amazing hikes that let you explore the wonders of the desert. Visit the world's largest fan palm oasis in Palm Canyon, hike the ancient trails of Tahquitz Canyon all the way to a 40-foot waterfall, or discover silence in the secluded Murray Canyon. Whichever hike you choose, bring as much water as you can carry, and be sure to wear layers and sunscreen . Bring a map (but don't obsess over it), and beware of rattlesnakes!

Aerial Tramway

Want to fly high? Aerial Tramway is an extraordinary ride over the majestic Chino Canyon. Get some food at the Pines Cafe or you opt for a hike through Mt. San Jacinto State Park. // 1 Tram Way, pstramway.com
Palm Spring Home Tours
Forget what you think you know about guided tours, and sit back and relax with a cold brew and snacks while exploring one of the many Palm Springs guided home tours which can actually be really fun and informative. For some inspiration which tours you can do check out official Palm Springs website.


(Courtesy of WhereIsRanchoMirrage.com)

Palm Springs Art Museum
As well as being a good hideaway from the heat, the museum is a great place to discover work by local artists and get inspired. // 101 N Museum Dr, psmuseum.org

(Courtesy of RoadsAmerica.com)

Day Trips

If your feet are itchy for more adventure, easy day trips from Palm Springs are plentiful. There is the vividly, colorful Salvation Mountain about an hour out, as well as, of course, Joshua Tree, for amazing sunrises and sunsets. Pioneertown is worth a stop for the barbecue at Pappy & Harriet's.
Modernism Week
Twice each year (in February and October), Midcentury Modern design fans make the trip for a week packed with events—tours of usually not-so-accessible places, exhibitions, movies, performances, and parties. Tickets sell out fast, so make sure you get yours on time. // modernismweek.com

SHOPPING
(Courtesy of Instyle.com)

Palm Desert

It's technically not Palm Springs, but there is good vintage and consignment to be had in Palm Desert at The Fine Art of Design, as well as contemporary brands (Vitamin A, Rag & Bone, MiH) at the tasteful Elisabeth & Prince.
Design District
The Design District abounds with cool interior shops, vintage stores, and fashion boutiques for spendy types. The splashy, sassy Trina Turk headquarters is a must; plus pick up some new mugs for your kitchen at Not Neutral.


The Frippery

Palm Springs is a vintage lover's heaven and the Frippery does a good job sourcing pieces from all decades. // 664 N Palm Canyon Drive, thefrippery.com