By
No longer just a sleepy SoCal enclave for posh retirees, Santa Barbara is getting in on the hipster scene with the rise of the Funk Zone, a warehouse district that's been transformed over the past few years by a new set of creative tenants—tattooed and Warby Parker–spectacled makers of all kinds.
Yes, the neighborhood's name feels like it's trying a bit too hard to be cool; but its boutique wine tasting rooms, art galleries, eclectic shops, microbreweries, and farm-to-table restaurants here are actually legit. Trust us! This is your guide to Santa Barbara's hippest 'hood. (PS: Here's a handy map. And, be sure to check the Funk Zone site for upcoming art walks and events.)
EAT: ALMOST AS GOOD AS THE MISSION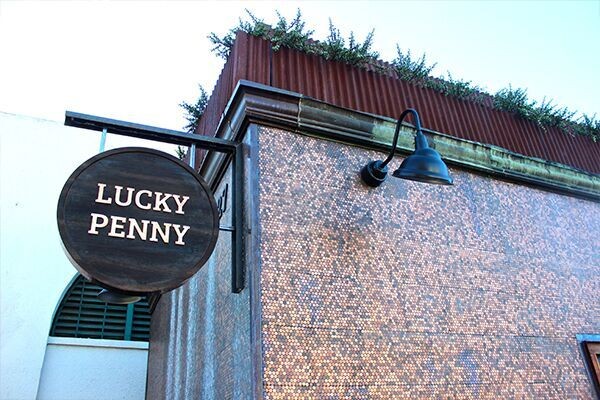 Lucky Penny
Let the wall covered in copper pennies tip you off to one of the Funk Zone's most popular eating spots. With its tiny interior and a wait for outdoor tables, you might think of Lucky Penny, known for its wood-fired pizzas, as Santa Barbara's answer to Pizzeria Delfina. Be sure to go back for breakfast—a fantastic little morning menu tempts with wood-fired baked eggs served with chorizo and fingerlings. // 127 Anacapa St., luckypennysb.com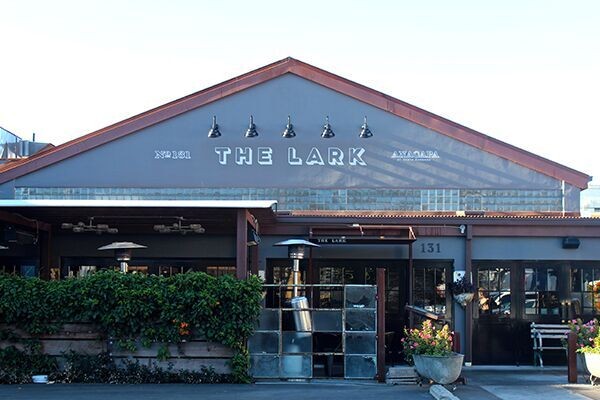 The Lark
Local, seasonal, and family-style are the watchwords at this ever-so-popular restaurant, sandwiched between Lucky Penny and Les Marchands Wine Bar. You'll want to try everything, so bring some friends to share globally inspired dishes ranging from southern pimento cheese to a Moroccan spiced chickpea tagine. The craft cocktails and 24-seat communal table feel imported from San Francisco. Reservations are definitely recommended. // 131 Anacapa St., thelarksb.com
Mony's Mexican Food
Mexican food is a must in Santa Barbara, and the Funk Zone happens to have one of the best taquerias in town. Known locally as Mony's Tacos, the place serves delicious tacos and interesting salsas (pistachio?) at wallet-friendly prices. Mony's is no frills, but there's always a wait. // 217 Anacapa St., facebook.com/Monysmexicanfood
DRINK: INDIE WINE, CRAFT BEER + SPIRITS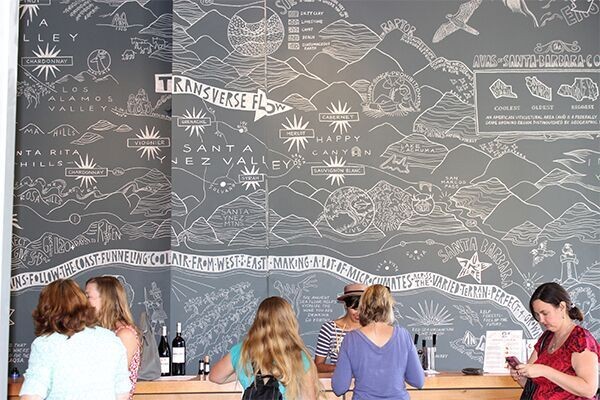 The Valley Project
A floor-to-ceiling chalk-art mural, depicting Santa Barbara County's winegrowing region, is the awesome focal point of winemaker Seth Kunin and Magan Eng's beautifully minimalist tasting room. Acquaint yourself with the lay of the land while sampling wines from Kunin's small label. Each bottle showcases the diversity of the area's terroir. // 116 E. Yanonali St., thevalleyproject.net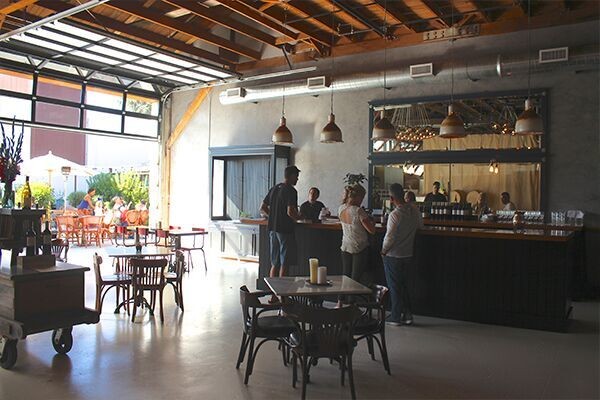 Santa Barbara Wine Collective
With four tasting rooms in one, this airy collective pours from a handful of Santa Barbara producers, including Notary Public and The Paring. Wines are offered in flights or by the glass or bottle, and can be sipped inside the industrial-chic space or outside on the patio. // 131 Anacapa St. C, santabarbarawinecollective.com
Lama Dog Tap Room & Bottle Shop
Named for owner Pete Burnham's Tibetan Mastiff, Lama (in turn named after the Dalai Lama), this new tap room and bottle shop is quickly becoming a neighborhood favorite. Twenty beers and four wines on tap, along with a huge selection of specialty bottled beers available for take out or to enjoy onsite, make this a beer lover's haven. Burnham sources craft beer from all over the world, but with a heavy focus on California. A large open indoor and outdoor communal space, along with elevated street food served inside from The Nook, and you may just find yourself never wanting to leave. // waterlinesb.com/lama-dog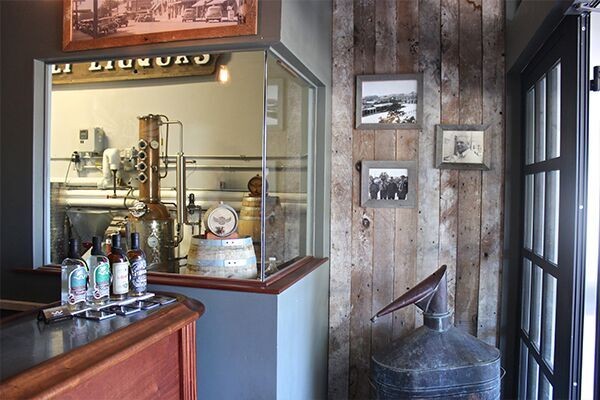 Cutler's Artisan Spirits
Cutler's Artisan Spirits is Santa Barbara's first legal distillery. Proprietor Ian Cutler is carrying on his family's tradition, crafting boutique spirits with local and organic ingredients. Don't miss the popular 33 Bourbon Whiskey or Grandma Tommie's Apple Pie liqueur. // 137 Anacapa St. D, cutlersartisan.com
Figueroa Mountain Brewery
With a casual vibe and sun-drenched patio, this happening taproom next door to Cutler's draws beer lovers with its rotating list of craft brews from the popular Figueroa Mountain Brewery in Santa Ynez. Regular happy hours and live music make it a favorite spot among locals. // 137 Anacapa St. F, figmtnbrew.com
SHOP: SOUVENIRS FOR COOL PEOPLE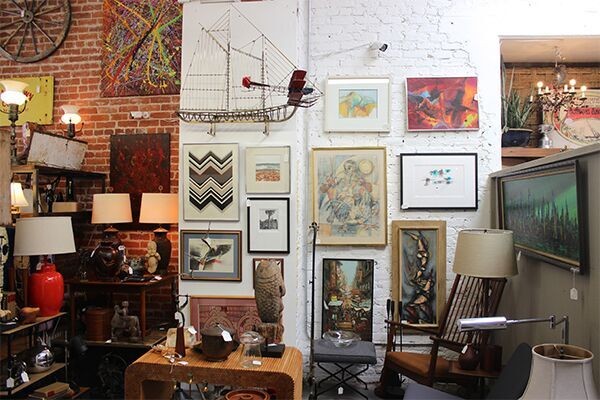 The Blue Door
Behind the large blue doors of this three-story shop awaits a hodgepodge of vintage and modern furniture, accessories, trinkets, and art. Pick up a vintage Louis Vuitton bag or a midcentury modern coffee table—new finds turn up daily. // 4 E. Yanonali St. thebluedoorsb.com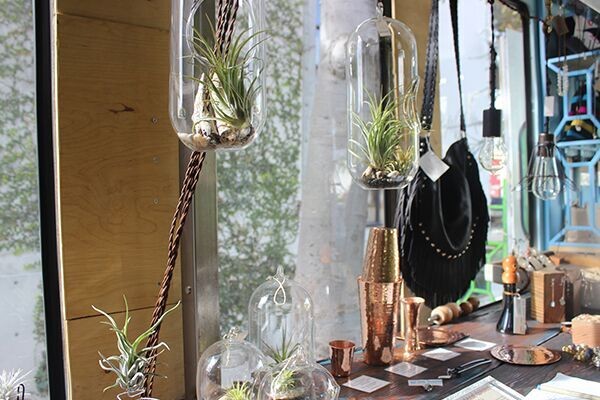 Stabiles Mobile
Truck culture has even caught on in Santa Barbara. Between tastings along the Urban Wine Trail, pop into this tiny shop on wheels for trinkets and housewares—everything from air plants to handmade jewelry and alpaca throws—curated by artist Samuel Guzmán. The mobile boutique makes stops in other parts of town, but usually parks in the Funk Zone on Fridays and Saturdays. // 715-799 Anacapa St. stabilessantabarbara.com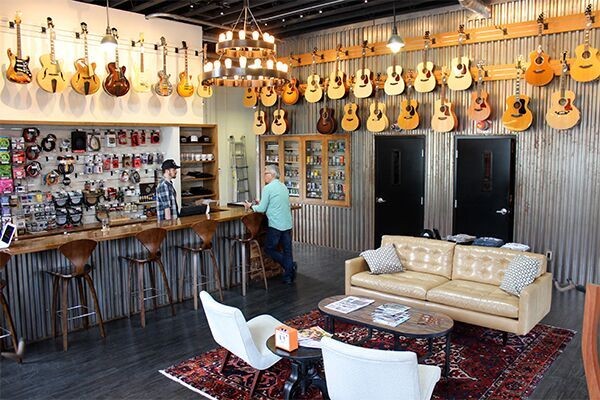 Guitar Bar
With a variety of guitars lining the walls and comfy couches for hanging out, the Guitar Bar is a musician's playroom. The bar doesn't actually serve booze, but at the heart of the Funk Zone, this guitar shop is a chill spot to sit and riff. // 137 Anacapa St., sbguitarbar.com
STAY: CHEAP, CHIC, BOUTIQUE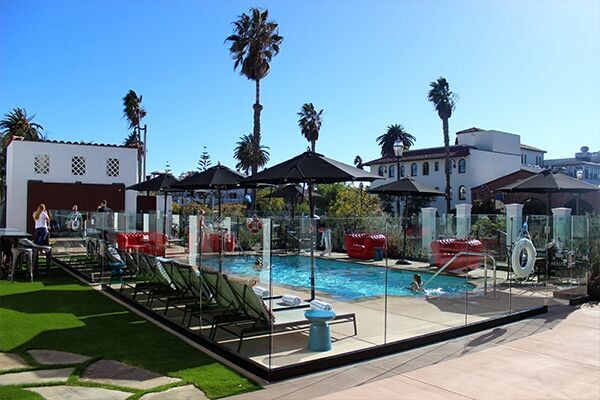 The Wayfarer
Calling all recent college grads and vacation-starved engineers: The Wayfarer caters to all budgets with dorm-style shared rooms, in addition to 31 private rooms, for a vibe that's fresh and playful. A community kitchen, organized pub crawls, lawn games, and Sunday morning yoga by the pool guarantee you'll reconnect with your fellow humans. // 12 E Montecito St., pacificahotels.com
Hotel Indigo
Located on State Street just a block from the beach and Stearn's Wharf, this 41-room boutique hotel is a chic and convenient homebase for any stay in Santa Barbara. The stylish rooms are on the smaller side, but rooftop patios, free Wi-Fi, and accommodation for pets sweeten the deal. // 121 State St., indigosantabarbara.com
DON'T MISS A BAY AREA BEAT! SUBSCRIBE TO OUR NEWSLETTER.