By
Bands give it all they've got at the Fillmore. With a history that's seen epic performances by the likes of The Grateful Dead, Jimi Hendrix and The Who, the place is a rock temple. Even today's arena caliber bands bring their A-game musicianship, should the ghosts of Fillmore past be listening.
And it's not a stretch to imagine that they are. The Fillmore mezzanine is lined in chronological order with the famed Fillmore posters, a keepsake to concert-goers after most sold out shows. The posters haunt the place with some serious music mojo, and seem to follow you like the eyes of the Mona Lisa as you wind up the stairs for a drink on the balcony. It's famous music promoter/legend Bill Graham who's behind this perennial rock tradition, one of the coolest contributions to the rock art scene to come out of the city to date.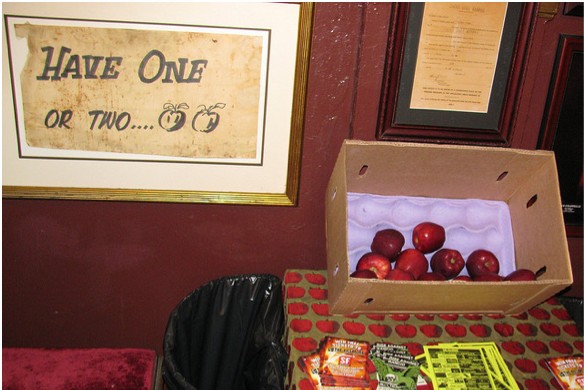 Graham started giving away free posters (and apples in a bucket at the top of the venue's stairs) at the first show he booked for the Fillmore, a Jefferson Airplane concert in 1966, and the traditions have continued ever since. The sense of music cred bestowed on you after being handed a limited edition Fillmore poster is even today, undeniable.
Paul Grushkin, author of music bibles The Art of Rock and the Art of Modern Rock, explains the appeal. "It's our way of remembering what it was like to go to these wonderful shows. 'Oh my God I was there!' That's what it's all about in any generation." Though Grushkin's own collection includes some of the first Jefferson Airplane Fillmore posters, he doesn't turn his nose at newer music. "The hardest thing for anyone involved in Rock n' Roll merchandising is not to look down at somebody else's music. It's very easy to say 'it was better in my youth.' But you can't tell a 13-year-old who's just discovering music that the music of his generation will never be as good as mine. That's a pretty shitty message to transmit. It's all about the attitude. It doesn't matter when you got on the bus, it's that you got on the bus.'"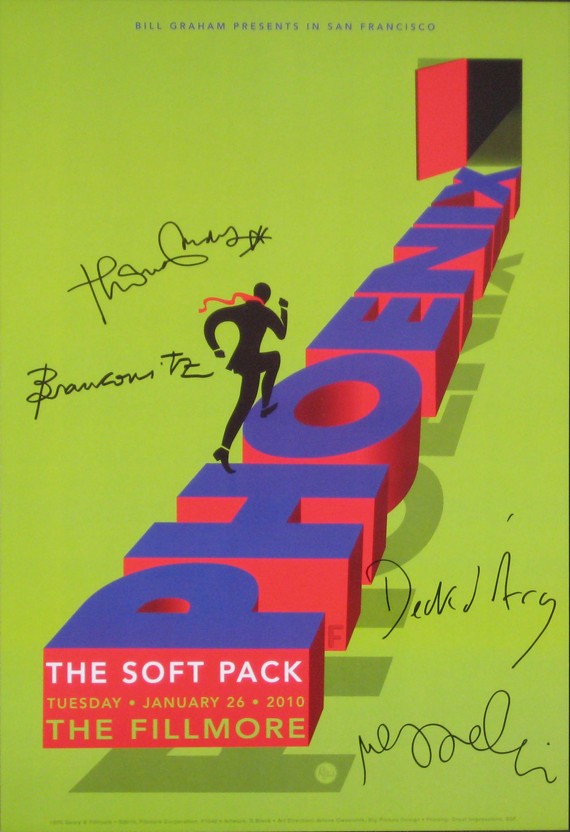 So in that vein, we'll be auctioning off seven posters from what we think were some of the most epic Fillmore shows of the last few years.  We've got signed-by-the band posters from Phoenix (shown above), Grizzly Bear (June 21 and 22, 2009), Kings of Leon (July 18, 19, 20, 2005), Pixies (May 30 and 31, 2005), Death Cab for Cutie (April 23, 2008), Sonic Youth (July 14, 2006) and Gnarls Barkley (July 18 and 19, 2006) shows for you to bid on. The proceeds from the auction will benefit both The Bill Graham Foundation and The San Francisco Conservatory of Music. 
Check out all the bidding details here >

We've also decided it was high time to give a nod to the small group of original Bill Graham Presents employees who have carried on the Fillmore traditions after Bill Graham's 1991 death in a freak helicopter accident.

Here's how the poster process works: Arlene Owseichik, Graham's former art director, still oversees the design of every single Fillmore poster (she's done over 1,100). We bet you'll find Owseichik s name at the bottom of every single Fillmore poster you own, along with Great Impressions, the printer.  There's no real rhyme or reason to who she selects as a poster artist (she's been known to commission relative unknowns), but in the 80s, she relied heavily on big-timers in the psychedelic scene like Alton Kelley, Rick Griffin, Stanley Mouse and Wes Wilson. Owseichik says Graham, though demanding and with a reputation for being stubborn, was continually pushing to transform the live music scene in San Francisco. He wanted to create a universal bond over the core love for music itself, and he did this in many ways with art. "Bill Graham was one of the lights of my life," says Owseichik, "he was energetic, passionate, funny, demanding…and sexy."

It's Michael Bailey, another original BGP member and now the Director and Producer for the Fillmore at Live Nation (Live Nation acquired Clear Channel which acquired Bill Graham Presents in 2000) who has the final say on the posters as the booker of the Fillmore. He orders posters into production if Live Nation thinks a show is going to sell out, but not necessarily every time: "If a band has played six months or a year before we may skip a show cause it's a little overwhelming," says Bailey. "We want to give as many different fans and artists the opportunity to have a poster." It's never announced to the public when a poster is being produced. In fact, you don't know if you're going to get one until after the show, which adds to the aura and mystique of it all.
For shows that have been deemed poster-worthy, enough are printed at Great Impressions in South San Francisco so that every patron gets one at the bottom of the stairs at the end of the show. When you get one, you're holding a limited edition art piece of San Francisco's rock history.
The poster auction, which will be live for the bidding next Tuesday, benefits the Bill Graham Memorial Foundation and the San Francisco Conservatory of Music. Here's a little info about each of these organizations:
Formed in 2008, The Bill Graham Memorial Foundation focuses on grant giving (primarily for arts and education), but also supports social work, environmental protection and other community projects. Just like the man himself, the foundation often benefits those whose needs are oftentimes not served by larger philanthropic organizations. With all the fine work that they do, there's no reason not to bid high on your favorite posters. Let the bidding war begin!
 
The San Francisco Conservatory of Music has been educating some of the world's most gifted music students since 1917. They rely on the loyal and generous support to maintain the artistic and educational mission of the Conservatory. Support to the Conservatory helps to pay for teachers, education and student performances at hospitals, schools and events throughout the city.
DON'T MISS A BAY AREA BEAT! SUBSCRIBE TO OUR NEWSLETTER.