A popular local hike, the 4.3 mile trek up to St. Joseph's Hill Open Space Preserve is time and effort well spent; enough that you'll be pondering about when you can make a return visit. The one caveat is it's not flat, with a steady, and at times steep, elevation gain that'll net you 750 feet during your ascent. While it's a delight any time of year, a summer hike here is best done in the morning or after dinner as the upper reaches are exposed to the afternoon sun.
To Get There: St. Joseph's is accessible from both the town of Los Gatos (through Novitiate Park or further West via Lexington Reservoir off Hwy. 17. Parking on weekends in Los Gatos can be a challenge; there are parking lots off University (take the Los Gatos-Saratoga Rd. exit). Lexington Reservoir County Park has a vehicle entry fee; to access it from San Jose, take the Bear Creek Road exit and proceed over the overpass and re-enter Highway 17 north to take the Alma Bridge Road exit (as well as those coming from Santa Cruz).
What You'll See – Wildflowers galore at this time of year and at the top of the hill, awesome views of the Santa Clara Valley to the East and the Santa Cruz Mountains and Lexington Reservoir to the West.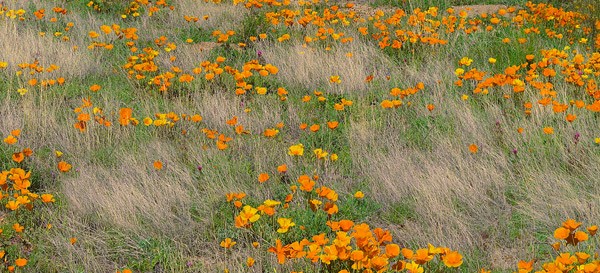 What Trails to Take – From downtown Los Gatos access the Los Gatos Creek Trail from E Main St. at the South end of the bridge over Hwy 17. Go only about fifty feet or so and make a left at the fork onto the Flume Trail. This is a pleasant half-mile meander through Novitiate Park and soon the trail begins to turn to the left and joins the Jones Trail which is more fire road than trail. Continue another quarter mile more to the Novitiate Trail which soon meets up with the Manzanita trail. The choice here is yours: take one and return on the other to make a nice loop up to the crest of St. Joseph Hill. Your dog is welcome on a leash.  No water is available on the trails. Take the Jones Trail back for a more gentle descent. Restrooms and a picnic area are down in the parking lot of the Lexington Reservoir Parking area. A detailed map is available from the Midpeninsula Regional Open Space District.

Treat Yourself - Los Gatos has numerous cafes and restaurants. On Sundays there's a lively Farmer's Market in the Plaza in central Los Gatos – with a number of vendors selling delicious street food. I found the Mexican food to be particularly good.