This week is filled with a range of delights, from the San Francisco's Symphony's posh opening night to the SHN premiere of Phantom of the Opera.
Looking for something more low key? Don't miss the Ghirardelli Chocolate Festival, Comedians With Criminal Records, Sunday Streets, and more.
---
Monday, September 3rd
Bloody Marys on the Bay

When: 10am to 12:30pm
Where: Schooner Freda B - Slip 907, 100 Bay St. (Sausalito)
Why: Enjoy a light breakfast of pastries, fruit and cheeses while sipping on a Bloody Mary or mimosa. Then hit up the Sausalito art festival. // Tickets ($75-$89) are available at eventbrite.com
Sausalito Art Festival
When: 10am to 5pm
Where: Marinship Park, 2200 Marinship Way (Sausalito)
Why: Explore art from over 250 creators across 14 mediums, feast on gourmet bites, sip on fine wine, champagne, and beer, and listen to live music in the perfect Labor Day weekend event. // Tickets ($3110-$150) are available at eventbrite.com.
There's A New Steakhouse On The Block

When: 11:30am to 2pm and 5pm to 10pm
Where: ALX, 680 Folsom St. Suite 125 (SOMA), alxgastropub.com
Why: Alexander's Steakhouse has a new spinoff sister concept opening with ALX, the perfect spot for next-level pub food and casual Californian eats in a trendy, hip atmosphere. Female power duo, Executive Chef Jessie Lugo and Executive Sous Chef Emily Lim, are whipping up batches of burgers, bacon, fries, and dips that pair perfectly with a new curated beer, wine, and cocktail list. Pony up for dishes like goat cheese tater tots, skillet mac 'n' cheese, or the foie-gyu burger, then roll yourself home—stuffed and happy.
Tuesday, September 4th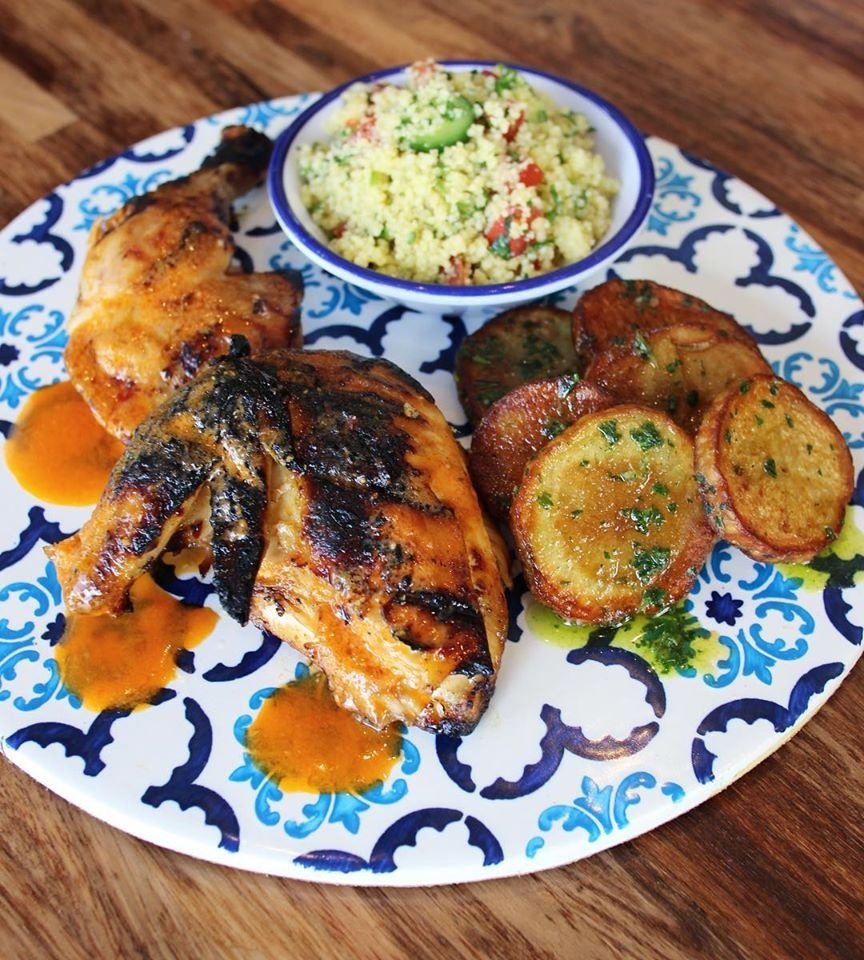 (Courtesy of Piri Pica)
Pira Pica Hits the Mission
When: 11am to 10pm
Where: Piri Pica, 590 Valencia St. (Mission), piripica.com
Why: Welcome Piri Pica to the Mission, a Portuguese-style, fast casual eats concept by Khalid Mushasha (Lolinda, Black Cat) and Chef Telmo Faria (Tacolicious, Uma Casa), with a focus on flame-grilled piri piri chicken. Faria has anchored his restaurant around four chicken flavors: spicy, extra spicy (aka Pica! Pica! Pica!), zesty lemon and herbs, and mild. Pick your style and make it a crispy chicken sandwich, wrap, or go a la carte with a half or whole chicken.
Comedians With Criminal Records
When: 8pm
Where: Punchline SF, 444 Battery St. (FiDi)
Why: LOL with Stroy Moyd, an Oakland-based comedian who's opened for Dave Chappelle, Tracy Morgan, the Wayans Brothers, Hannibal Buress, and more. He's also a three-time winner of the Fresh Faces Comedy Competition at the Laugh Factory in Hollywood, CA and has performed at numerous comedy festivals around the country including our very own SF Sketchfest. // Tickets ($17) are available at punchlinecomedyclub.com
Odd Salon

When: 6:30pm to 10pm
Where: Public Works SF, 161 Erie St. (Mission), publicsf.com
Why: Listen to tales of travelers and investigators on the forefront of discovery. Think: maritime escapades of a treasure fleet and roaming the vast lands of the Antarctic. // Tickets ($15-$25) are available at eventbrite.com
Wednesday, September 5th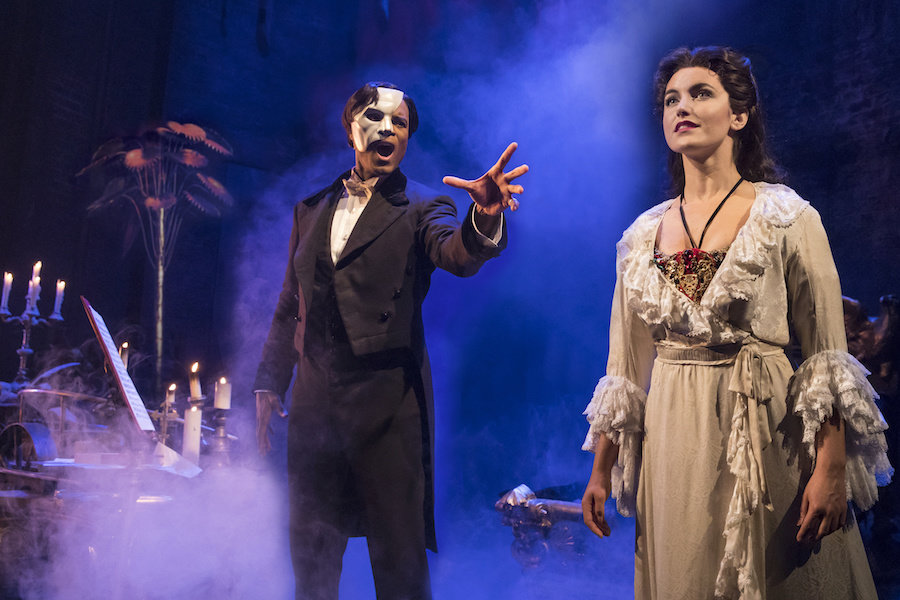 Derrick Davis and Eva Tavares in Phantom of the Opera.
(Matthew Murphy)
A Boozy Affair
When: 3pm to 7pm
Where: The Douglas Room, 345 Taylor St. (Tenderloin)
Why: Celebrate Griffo Distillery's newest release, Cold Brew Coffee Liqueur, a collab with Equator Coffees & Teas. They'll have a special menu with coffeelicious liqueur and Griffo's full line up of gins and whiskeys. In the industry? Get drinks on the house with a paystub or business card. // eventbrite.com
Opening Night Gala
When: 8pm to 12am
Where: San Francisco Symphony, 201 Van Ness Ave. (Hayes Valley), sfsymphony.org
Why: Pull out your fanciest outfit and hang with celebrity artists in a night of music. Listen to Gershwin's An American in Paris, and violinist legend Itzhak Perlman. There's even an after party post- concert with more live music, cocktails and dancing. // Tickets ($325 to $750) are available at sfsymphony.org
When: 7:30pm to 10pm
Where: SHN Orpheum Theatre, 1192 Market St. (Civic Center), shnsf.com
Why: See Cameron Mackintosh's new production of The Phantom of the Opera, which many are saying is bigger and better than before with new scenic design, Tony Award®-winning original costume design, and more. // Tickets ($56-$226) are available at shnsf.com
Thursday, September 6th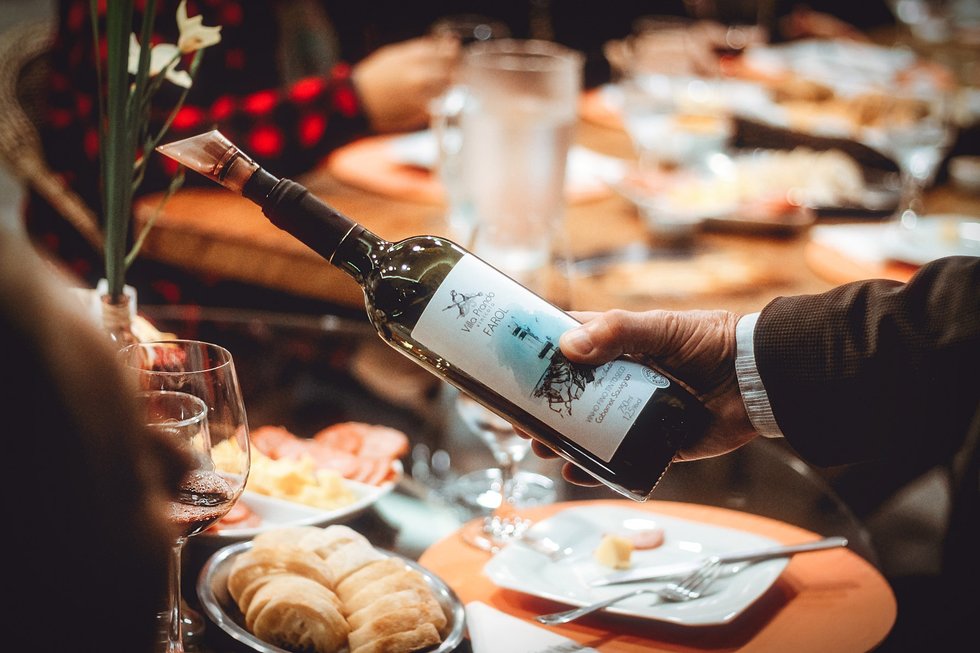 (Willian West)
Credo Beauty x Mafia Bags Launch Party
When: 5pm to 7:30pm
Where: Credo Beauty, 2136 Fillmore St. (Pacific Heights), credobeauty.com
Why: See the launch of the limited-edition makeup bag made from upcycled boat, windsurf and kitesurf sails. Inside are fall clean beauty essentials including tinted balm, facial cream, toner, clay cleanser and more. Meet the founder of Mafia, sip on refreshments, and get your bag monogrammed for free at the party.
Around the World Wine Tasting
When: 5:30pm to 8:30pm
Where: W San Francisco, 181 3rd St. (SoMa), marriott.com
Why: Explore wineries from all over the world including Argentina, Australia, Austria, Chile, France, Germany, Italy, Portugal, Spain, Uruguay and more and taste over 300 wines curated by master sommelier Evan Goldstein. // Tickets ($70) are available at eventbrite.com
Friday, September 7th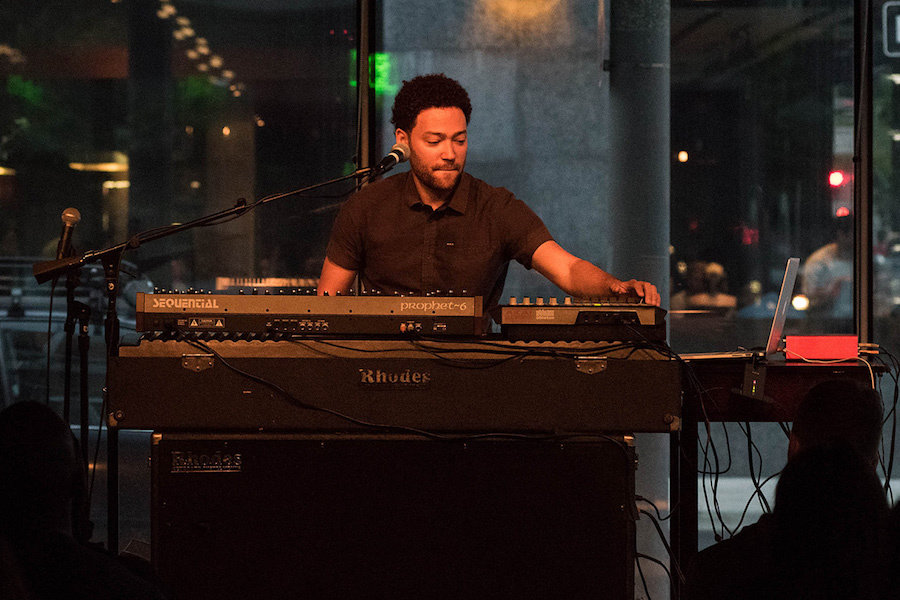 Taylor McFerrin.
(Courtesy of SFJazz)
Groove to Taylor McFerrin
When: 7pm and 8:30pm
Where: SF Jazz, 201 Franklin St. (Hayes Valley)
Why: Catch the Brooklyn DJ, producer, keyboardist and beatboxer—and son of Bobby McFerrin—on the dance floor at SFJazz. // Tickets ($30-$35) are available at sfjazz.org
Foodie Festival In Tahoe
When: Various times, starting 5pm Friday through 5pm Sunday
Where: The Village at Northstar, 5001 Northstar Drive (Truckee), northstarcalifornia.com
Why: It's that time of year again up at our favorite lake—the Lake Tahoe Autumn Food & Wine Festival is taking over Truckee for three days of non-stop eating and drinking. Get your buzz on with interactive cocktail classes, watch culinary cook-offs, enjoy multi-course farm-to-table feasts, and wrap it all up with a grand tasting featuring an epic 25 chef showdown. Looking for a place to stay? The Ritz Carlton is hosting a number of the events and is an easy, no-brainer choice. // Tickets ($20 -$280) are available at eventbrite.com
Saturday, September 8th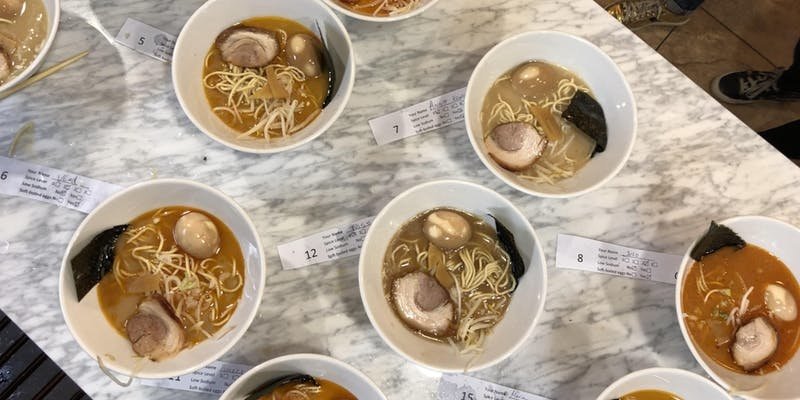 (Courtesy of the Story of Ramen)
Rum Time
When: 3:30pm to 6:30pm
Where: SOMArts Cultural Center, 934 Brannan St. (SoMa), californiarumfestival.com
Why: Sip on more than 40 premium rums from around the world and hear from the industry's top luminaries at the 4th California Rum Fest. There will be tastings, seminars, live music, and a tiki bazaar to shop goods from local vendors. // Tickets ($60) are available at californiarumfestival.com
Time To Get (Chocolate) Sauced

When: 12pm to 5pm Saturday and Sunday
Where: Ghirardelli Square, 900 North Point (Fisherman's Wharf, ghirardellisq.com
Why: The 23rd Annual Ghirardelli Chocolate Festival is back to soothe our sweet tooth. Stroll along the waterfront and enjoy chocolate samples from various vendors, dance to festive live music and catch culinary demonstrations as you fully immerse yourself in all things chocolate. // Tickets ($27-$55) are available at eventbrite.com
Make Ramen Noodles From Scratch
When: 1pm to 3pm
Where: Story of Ramen, 3231 24th St. (Mission), thestoryoframen.com
Why: After renting out different kitchen spaces for over two years, The Story of Ramen is finally settling into a new brick-and-mortar space. Chef and instructor, Manville Chan, will offer both hands-on evening ramen making classes as well as a full-service ramen eats as a lunchtime restaurant. Classes are kicking off this week, and there's no better time to pop in and get deep in the dough. // Tickets ($55) are available at eventbrite.com
Sunday, September 9th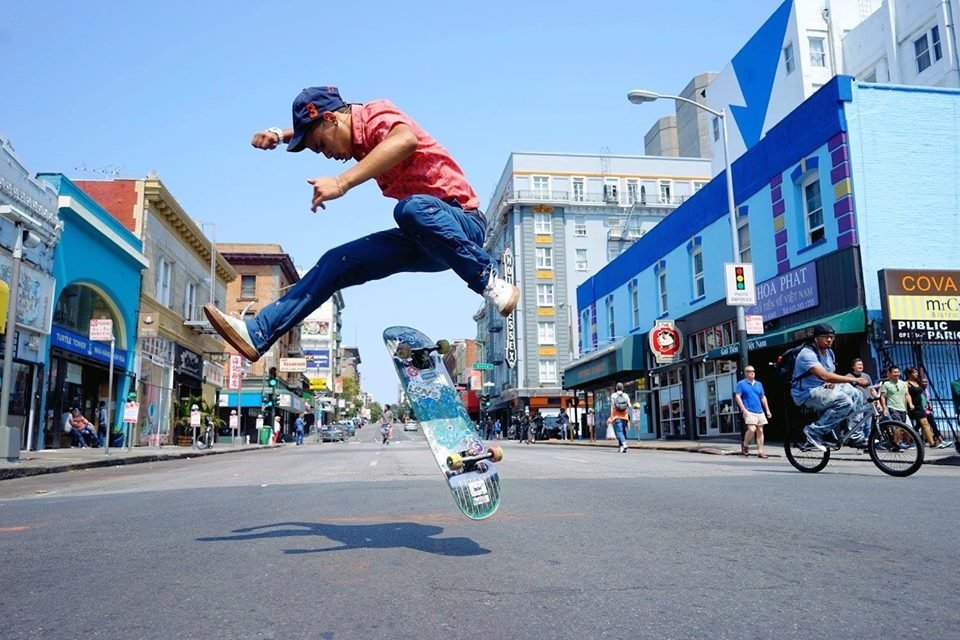 (Courtesy of Young Chau via Sunday Streets)
Sunday Streets
When: 11am to 4pm
Where: Fillmore, Fulton and Baker Streets (Western Addition), sundaystreetssf.com
Why: Hang out in over a mile of car-free streets. This one introduces the addition of a good marketplace on Fillmore with an emphasis on African American artists and makers. There will also be live music and other fun activities at this roving block party.
Watch "Dirty Dancing" at on Outdoor Rooftop Bar

When: Doors open at 7pm, screening at 8pm
Where: Dirty Habit, 12 4th St. (SoMa), dirtyhabitsf.com
Why: Dirty Habit is kicking off our real summer in the city with a Sunday outdoor movie series featuring film favorites, themed cocktails, and delicious eats. Cozy up on their outdoor patio as it transforms into an epic, intimate movie theater for a special screening of "Dirty Dancing." Movies kick off this Sunday and run till October 28th. Did someone say Sunday Funday? // Tickets ($17) are available at eventbrite.com