Despite being surrounded by water, San Franciscans seldom engage with our most striking natural feature: the Bay. Yet venture down to the water's edge and you'll discover a thriving boating community that welcomes all. Here are five easy ways to go from landlubber to savvy shipmate.
---
Getmyboat is the Airbnb meets Uber of boating (yeah, we know, but it's true). Their well organized site lists a large inventory of local boats available to charter with or without a captain. San Francisco is home to a huge sailing community but you'll also find yachts, schooners, and a towering America's Cup racer. Whether you skipper the boat yourself or relax while an owner pilots, you can cruise beneath the Golden Gate Bridge and explore lesser known destinations on day or overnight excursions. Think BYOB summer bashes on the Bay. Cap the outing with a beer on the large sunny deck at Sam's in Tiburon or Sausalito's historic Corinthian Yacht Club and claim boatsperson status for the day.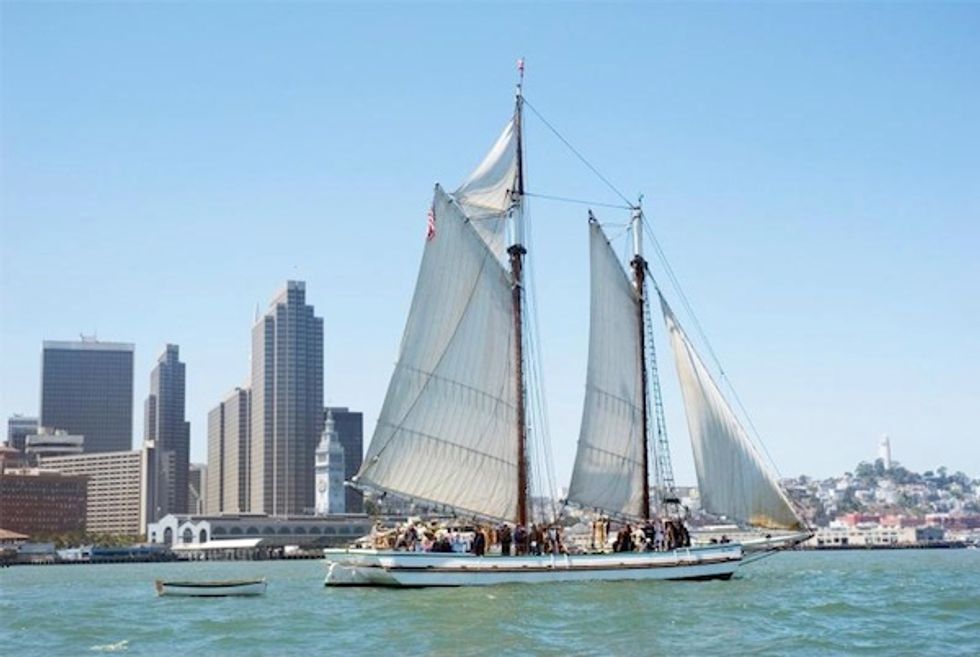 Image courtesy of San Francisco Maritime
What sounds like a burly boating instructor is actually the name of a historic 60-foot scow schooner docked at Hyde Street Pier. Throughout the summer, the National Park Service offers 4 hour outings aboard the unique 1891 vessel. While sleek, contemporary boats are built for speed, Alma is flat and wide, constructed for hauling heavy cargo from San Francisco to the Delta. Translation: it's an incredibly easy ship to be onboard, appropriate for all ages and abilities and ideal for those who turn green at sea. In addition to dramatic vistas, you'll get insight into local Bay history, from Spanish explorers to the Gold Rush. View Alma's sail schedule and book dates here.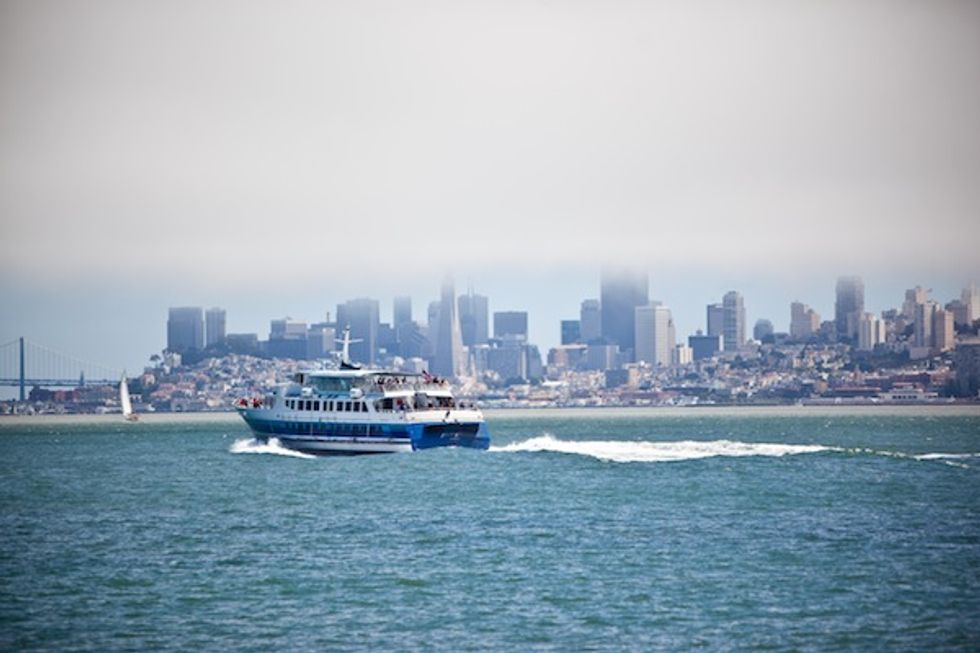 Image courtesy of Golden Gate Bridge Highway & Transportation District
While a ferry may not conjure the most romantic seafaring images, consider all the elements: you depart from the Ferry Building which means the best picnic at sea ever; you'll be treated to "wow, I live here" views of the Golden Gate Bridge and pass Alcatraz close enough to read protest graffiti; it's one of the easiest, least expensive ways to get on the Bay; and, Sausalito's charming waterfront and Larkspur's hip Marin Country Mart are part of the deal. There's plenty of free bike storage as both destinations are starting points for exceptional road and mountain biking. Check the site for frequent daily departures as well as special event service for sporting—Giants home games!—and music events.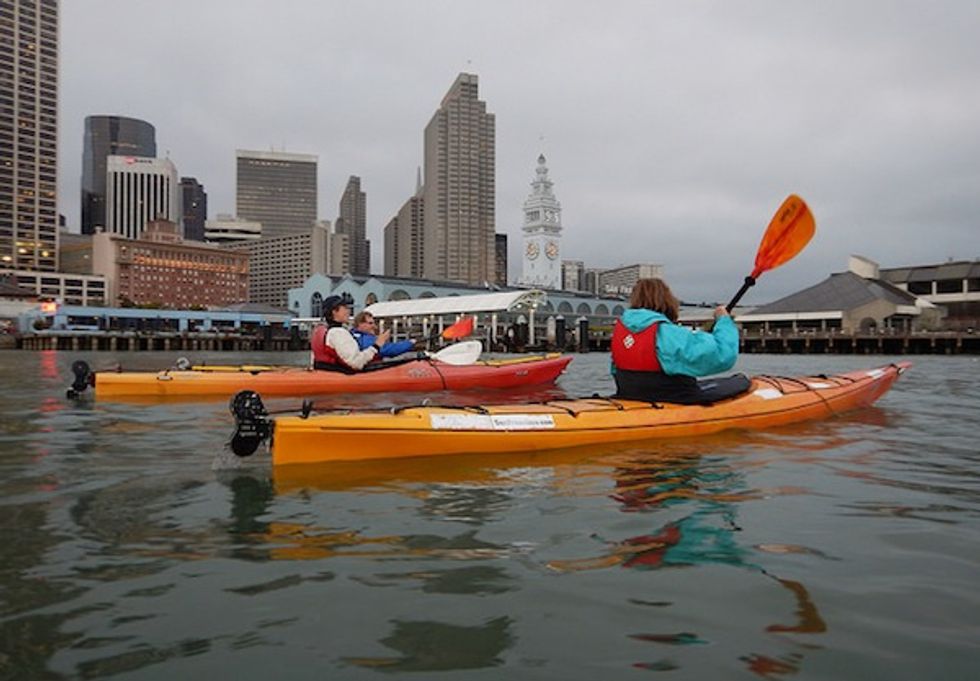 Image courtesy of City Kayak
Kayak
This self-contained option is just you, your biceps, and a herd of harbor seals. City Kayak rents sit-on-top kayaks that put in at Pier 40 with immediate access to McCovey Cove and the Embarcadero waterfront. Or hook up with San Francisco Kayak & Adventures for guided tours in a more comfortable—and drier—closed-deck kayak. In addition to skirting the Embarcadero skyline, they'll paddle you out to Sausalito's calm and wildlife filled Richardson Bay. Sign up early for, dare we say magical, sunset and full moon paddles offered by both companies.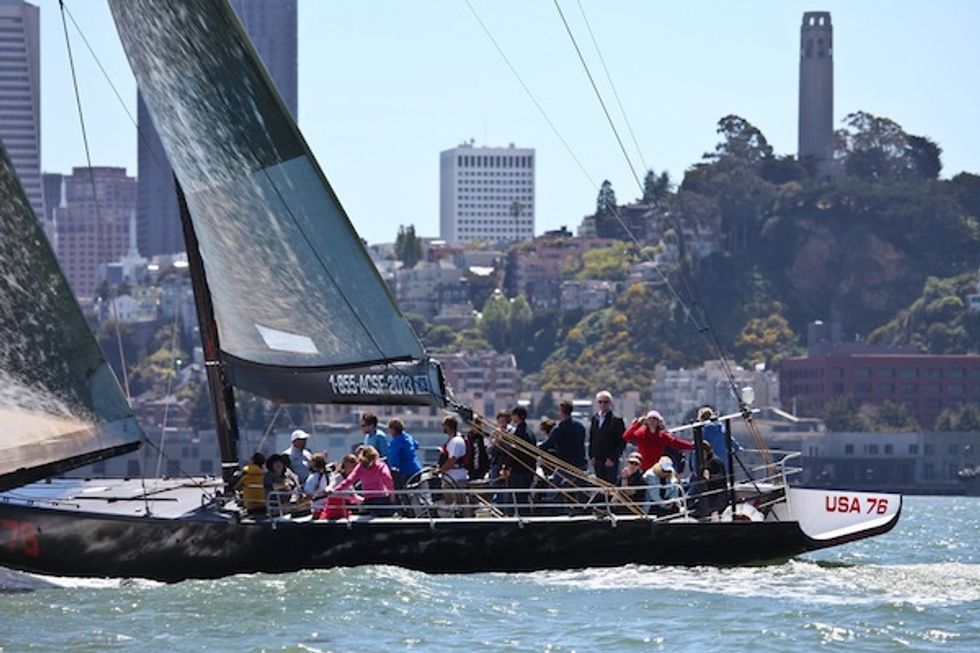 Image courtesy of ACsailingSF
Get past the uneasy pun and take advantage of numerous sailing events—some free, others paid—at this international celebration the weekend of June 20-21. The website isn't the easiest to pilot but highlights include learning to sail a J-23 sailboat with Treasure Island Sailing Center and public sails aboard an 80' classic schooner and an America's Cup yacht.