Going coastal? Forget a "room with a view" and get a view with a room. From Big Sur to Bodega Bay, we've scoured Northern California for the best waterside retreats where sea vistas rule. From patio to pillow, these nine hideaways will have you sightseeing blue 24/7.

Sweeping ocean vistas meet sprawling golf greens at the Scottish Manor of Ritz Carlton Half Moon Bay (above). If you can get in on this ritzy coastal classic, snag a room with your very own fire pit. Warm your toes, cook s'mores, or cozy up with your better half - all while soaking in the gushingly picturesque views. And to ring in the jaw-to-the-floor Pacific sunset, bagpipers (in full-on kilts!) are definitely a sight to see.


---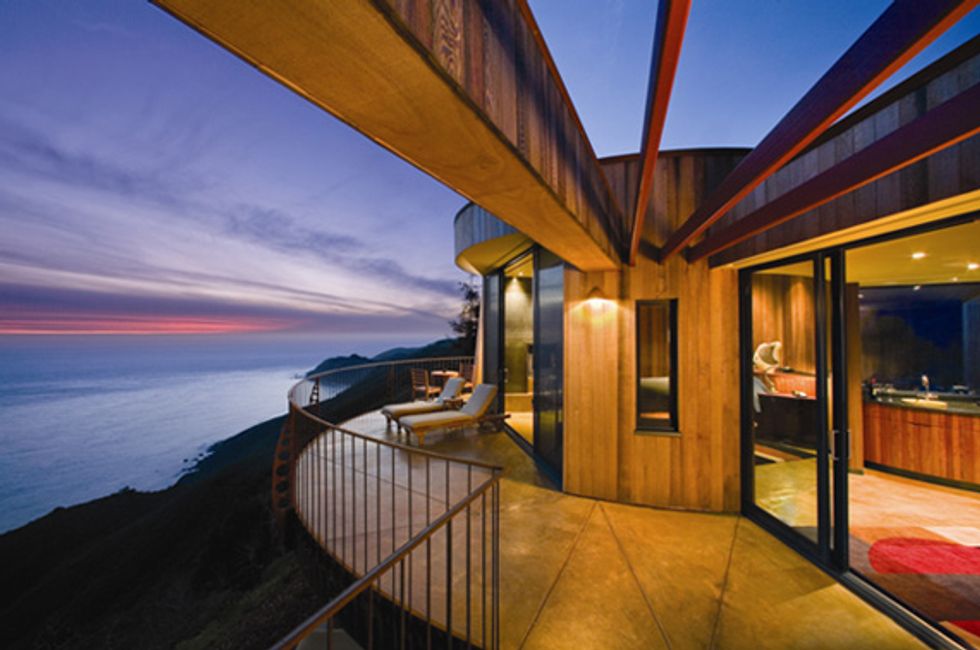 For eye-popping vistas of Big Sur, Post Ranch Inn's ultra-luxe, many-windowed cliff houses will have you drooling in all directions. Lounge on a chaise from your deck as the awesome sights of the Pacific hundreds of feet below send you into zen-worthy vibes. Take a starlit dip in your private hot tub and in the morning, awake to sweeping views from your pillow. And as you bathe in your spa shower with hawks soaring by, you'll wonder how on earth the architects knew where to place all those windows.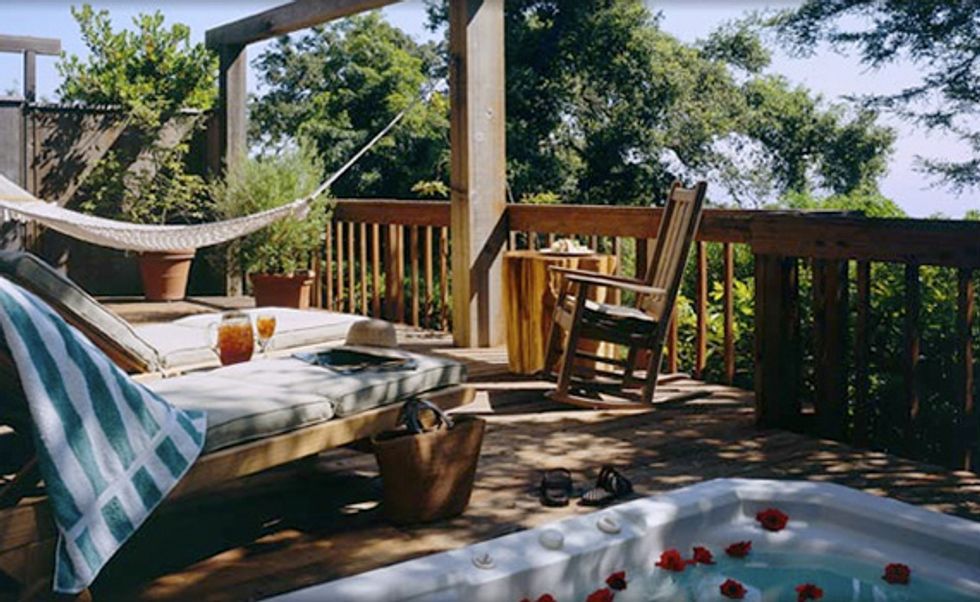 Although Ventana Inn & Spa offers up just a slice of far-off ocean vistas, when combined with its wilderness surroundings – the quality of this Big Sur hideaway's views are pretty rockin'. Whether unwinding on your balcony hammock or blissing out in your private hot tub, you'll catch glimpses of distant waters through the lush forest. Enjoy the sights of towering redwoods from leather armchairs or the spacious floor-to-ceiling windowed bathroom. For unobstructed panoramas of the Pacific, just a short walk beyond your wood-paneled abode leads to Restaurant at Ventana's awe-inspiring vistas.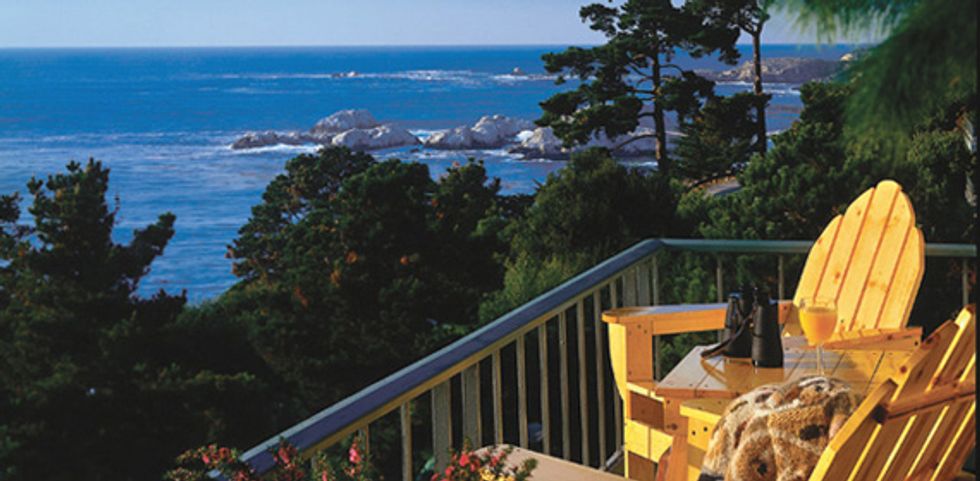 Binoculars in every room–that's simply the norm for the family-friendly, swankily refurbished Hyatt Carmel Highlands. Take in whale watching from your terrace, perched hillside overlooking the slate-blue seas. Or chill with a glass of vino as you gaze on the watery landscape dotted with Carmel's signature Cypress trees. Inside, the views don't quit and you (or you and six of your closest pals) can soak in the sights from one of the largest, middle-of-the-room soaking tubs ever.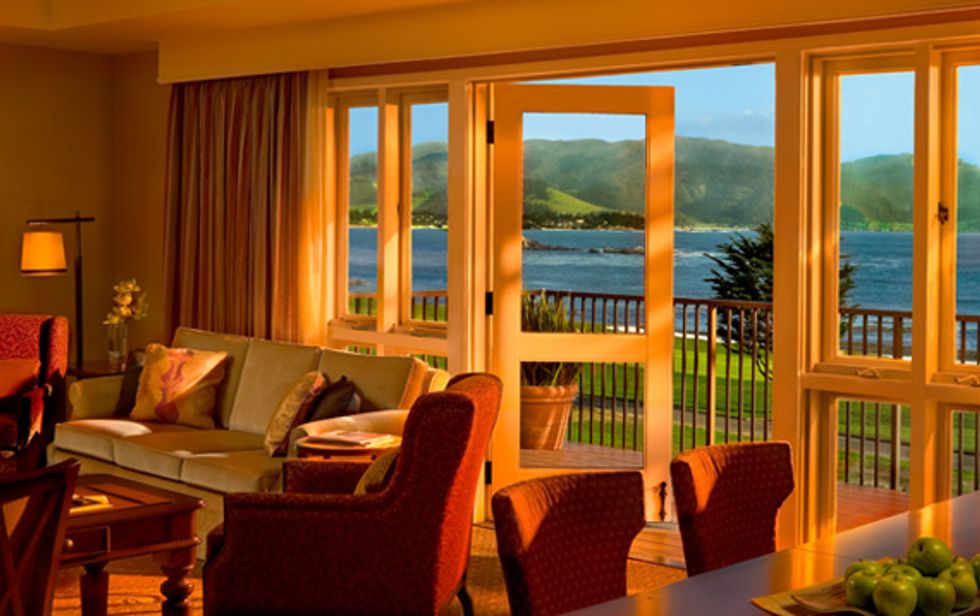 Sure, the famed 17-Mile Drive is just seconds from your door, but if you've got the deep pockets to score an oceanfront suite at the world-renowned Lodge at Pebble Beach – staying put is a pretty sweet option. With French doors leading from your room to a veranda overlooking the legendary 18th hole – you've got front row seats to Carmel Bay's unparalleled surf. Cheer on golfers, ogle the impeccably manicured greens flanking the rugged coast, and gawk at the neighboring $30-million mansions.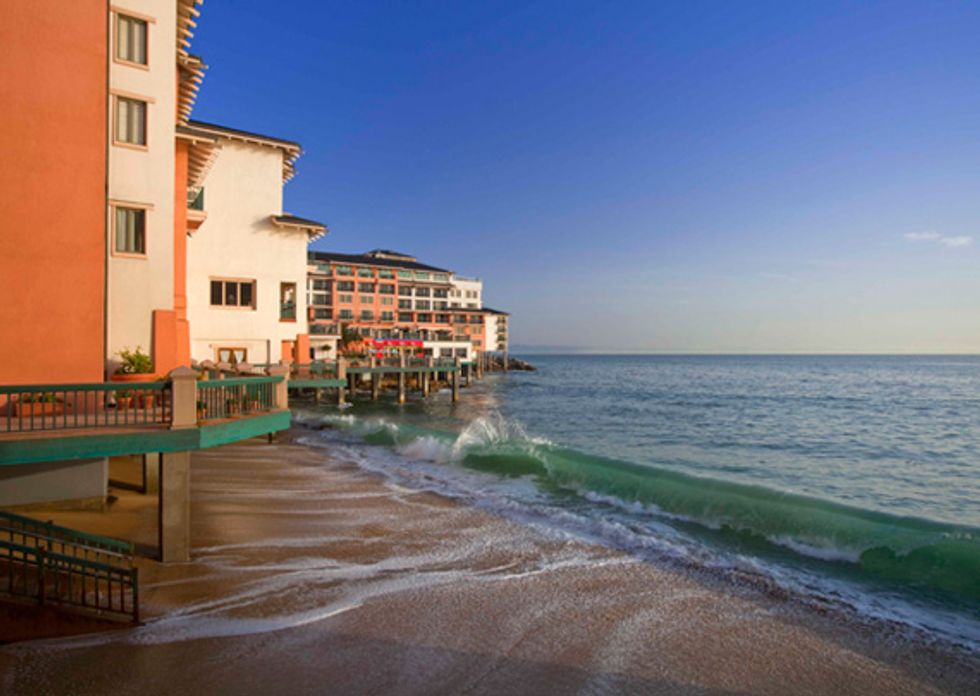 For rooms so close to the sea you could practically fish off your balcony, head to the Mediterranean-inspired Monterey Plaza Hotel & Spa. Suspended over serene Monterey Bay, these waterfront suites deliver awesome coastal panoramas – both day and night. Watch sea lions, otters, and dolphins swim backstrokes from the comforts of your elegant guestroom (think yellow-striped walls and rich mahogany woods). Then elevate yourself to the rooftop patio complete with fireplace, chaises, and two whirlpool tubs. In the evening, the lights of nearby Monterey County illuminate the sea.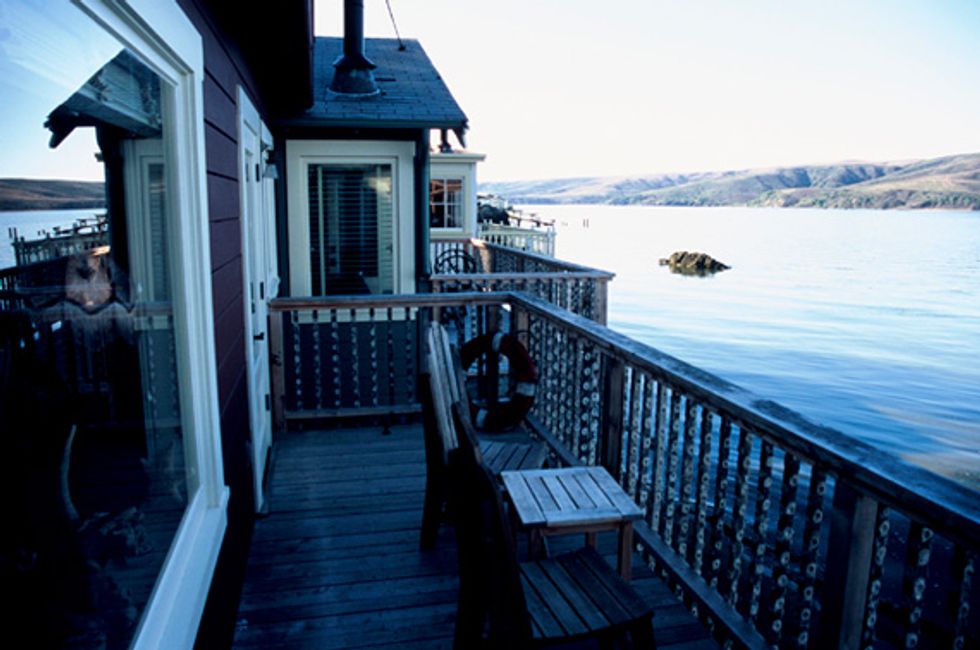 If you've ever had fantasies of owning a waterfront cottage (and what San Franciscan hasn't) – Nick's Cove is the ultimate hideaway to pretend. Past cows, sheep, and acres of farmland, the twelve cozy Tomales Bay bungalows ooze with East Coast charm. Decked out with nautical touches, knotted wood, and luxe amenities, Nick's Cove is the perfect place to do nothing but watch (and listen) to the water lapping against the shore as you cuddle with your sweetie by the wood-burning stove. And for an oh-so-romantic treat, chow on the adjacent roadhouse eateries' seafood goodies from your private deck jutting over the tranquil seascape.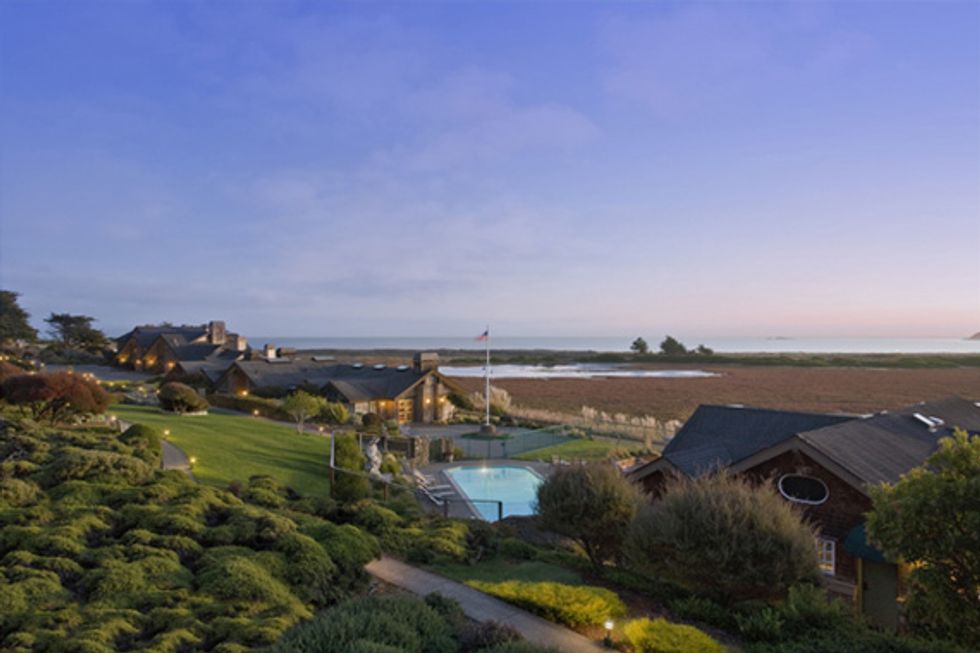 For an all-in-one coastal view (ocean, bay, beach, and bird sanctuary), cruise to the hillside haven of Bodega Bay Lodge. From the terrace off your upscale mountain-lodge-esque abode, soak in the serenity and the Hitchcockian flocks of birds–ultra-appropriate, considering The Birds was filmed nearby. Sneak a peek through the in-room binocs and zoom in on the galloping Doran Beach horseback riders and Bodega Bay kayakers, kiteboarders, and windsurfers. Or set your sights on the romantic beach fauna and drool-worthy gardens that complete the peaceful surroundings.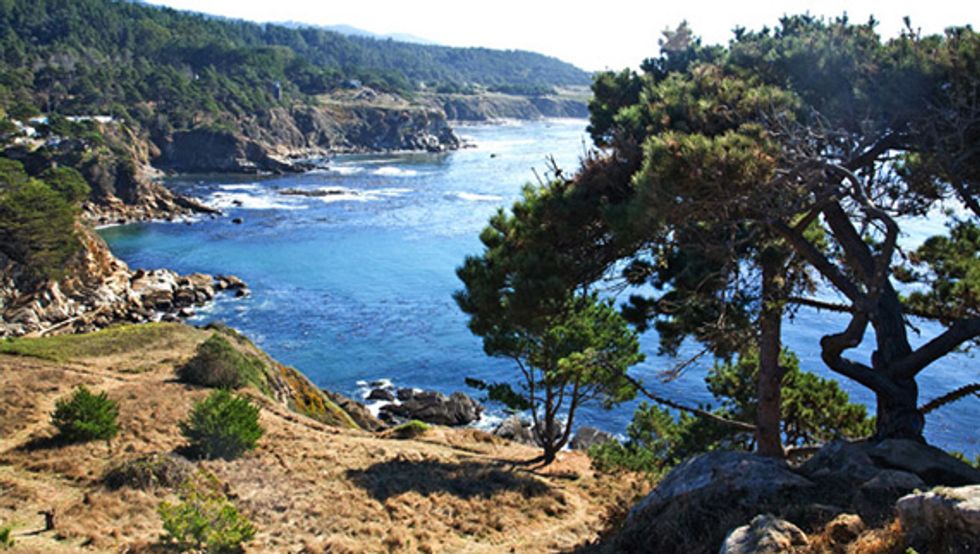 For a kitschier, more affordable option, haul yourself to the remote digs of Timber Cove Inn. After joy-riding north of Bodega Bay through nail-biting curves on the edge of Highway One's crazy-high cliffs, you'll find this nearly fifty-year-old establishment. Nestled on a secluded rocky bluff, the Frank Lloyd Wright-inspired retreat features dramatic vistas of the white-capped Pacific swells from the comforts of your rustically funky, log-beamed abode. Snag a seat on the balcony, hold on to your wind-blown hair, and ogle the churning waters and picturesque grounds below.