Anchored by Thomas Keller's The French Laundry, Yountville is California Wine Country's crown jewel of fine dining.
But there's something that's been missing in this tiny, 1.5-square-mile town until now: a classic chophouse. Enter Perry Lang's, Yountville's latest restaurant addition by chef Adam Perry Lang, a master of all things meat.
---
Tucked back from Yountville's bustling Washington Street, Perry Lang's is located inside the historic Groezinger Estate House, a modest brick mansion built in 1870 as part of a 23-acre estate (which includes the V Marketplace) that once operated one of the largest winemaking facilities of its day. The restaurant took care to preserve the integrity of the original building; the brick walls seamlessly add to the masculine ambiance created by a merging of the bricks with wood, leather, and metal elements. The interior is classic but not stale thanks to contemporary accents and an Art Deco flair. It's Lang's second restaurant opening in roughly 18 months, following APL Restaurant in Los Angeles.
There's a floor-to-ceiling window that peers into Lang's pride and joy, the dry-age chamber, where giant cuts of meat spend weeks or months awaiting their fate. Lang has a one-of-a-kind approach to aging, making subtle adjustments to humidity and airflow to coax out the intended flavors. But even from my seat, I looked right out at a lineup of large steaks atop a serving bar, successfully whetting my appetite for the ensuing meal.
Saving a glass of local red wine from the Napa and Sonoma-heavy list (of course) for my steak, I started the meal with one of Perry Lang's original craft cocktails. While the Tipsy & Tanned might sound like a tropical concoction made for the beach, it's actually a murky mix of Illegal Mezcal Joven, Montenegro Amaro, yellow chartreuse, and lime that creates a delicate balance of smoky and sweet.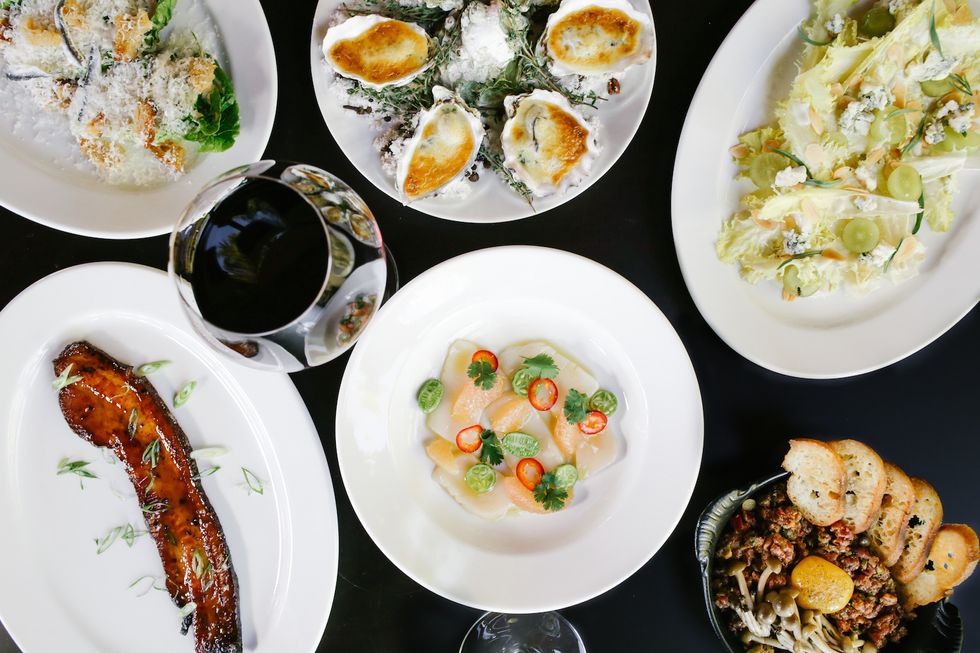 (Jordan Wise)
The standout dish of the night was, quite surprisingly, the first one we ordered: the carpaccio. It's not a menu item that I typically find very memorable, but now I'm not sure I can ever order it again because no other carpaccio could possibly live up to Perry Lang's. Aged for roughly 80 days, the beef was buttery like prosciutto, topped with local oil and a flavorful sprinkling of salt from Tuscany, ground bay, and juniper.
By no means did the meal go downhill from there. Another favorite side was the grilled thick-cut bacon, a long, singular piece with crispy, melt-in-your-mouth edges that easily feeds two. It was seared on the grill with a sugar cane maple glaze that the chef handpicks from his family's sugar cane farm in Florida. Served on a bed of seaweed, the oysters Rockefeller from Washington were enormous—almost too big to take down in one bite—and topped with smoked béarnaise sauce, a clever homage to the steakhouse setting.
When it came time to order our entree, my date and I chose the bone-in ribeye for two, dry-aged 145 days. Minutes later, Chef Lang emerged from the kitchen with our handpicked cut, making sure it was to our satisfaction (it was). When it was served, it came out pre-sliced alongside the bone for our convenience, the juicy, bright red inside revealing itself to us outright. It was nice to simply enjoy the steak, not worry about the grunt work of navigating the bone and fat, but we still got to use Lang's fancy "felony knives," which he forges himself by hand (he studied this at Maine's New England School of Metalwork). To deter people from stealing them, he prices them at $950.01, one cent over the threshold of what constitutes a felony in California. I typically go for the béarnaise sauce with my steak, but the rich, cabernet bone marrow jus won me over this time.
For sides, the classic buttery mashed potatoes were the star, so thick and cheesy with not a single lump to be found. But even the pickiest of veggie eaters won't want to miss the creamed spinach gratin or the brown butter roasted mushrooms served in black truffle butter, a nice change from the overdone bacon and brussels trend.
We also got to sample a couple of other entrees. Barbecue is where Lang really got his start, so while it seems ludicrous not to go all-in on the aged beef while dining here, the delightfully smoked St. Louis pork ribs with crispy garlic and peach barbecue sauce certainly won't disappoint—plus, they're a steal at only $19. Lang also brought out a new dish that will be fun for adventurous diners: a wild game stew with wild boar, elk, and pork. Dessert was, admittedly, unmemorable, but I was there for the meat, not something sweet.
//
6539 Washington St. (Yountville), perrylangs.com