Have blue-chip taste in art but can't afford a Chagall or find time to peruse the galleries? Now you can view works by the masters—think Pablo Picasso and French surrealist artist Yves Tanguy—right from the gallery walls...in your own space, on your own time.
Weinstein Gallery, the multidisciplinary gallery in San Francisco's SoMa that specializes in non-objective and surrealist art, is now the first private art gallery to utilize Beam Smart Presence technology so we can take virtual and interactive tours of Weinstein's collection via remote video connection through your computer. (The Beam System has also been used by the de Young Museum, the American Museum of Natural History, and the Kennedy Center.
---
Rowland Weinstein interfaces with a virtual gallery tourist via the BeamPro robot.
How it works: First, you'll need to get to know Weinstein's gallery director, Kendy Genovese, who will send you an invitation via email to download Beam's software. You'll also need a mouse. Once the program is installed, you can schedule a time to go inside the gallery and explore it in real-time and have a "face to face" conversation with gallerists who can answer all your burning questions about its artists and their works. On the gallery end of things, you will appear on a monitor on the BeamPro robot; with the click of your mouse, you can move forward, backward, and zoom in for closeups as your webcam streams live paintings, sculptures, and installations.
Weinstein gives a virtual tour of the gallery.
As real-world interactions continue to blur with the virtual world, this type of technology is only becoming more prevalent—even President Obama enjoyed the BeamPro in July of 2015 when, from the White House's East Room, he talked to Alice Wong, founder and project coordinator of the Disability Visibility Project, to mark the 25th anniversary of the Americans With Disabilities Act.
"We work with many European art collectors, and this is a great way to be in touch and communicate with them," says Genovese, "and it is a good way to bring in more people" to the gallery. Currently on view is the exhibition "Chance Meeting on Dissection Table," featuring a hanging mobile by Alexander Calder, trippy oil paintings by American surrealist Enrico Donati, and "Man with Hoops," a sculpture by David Hare.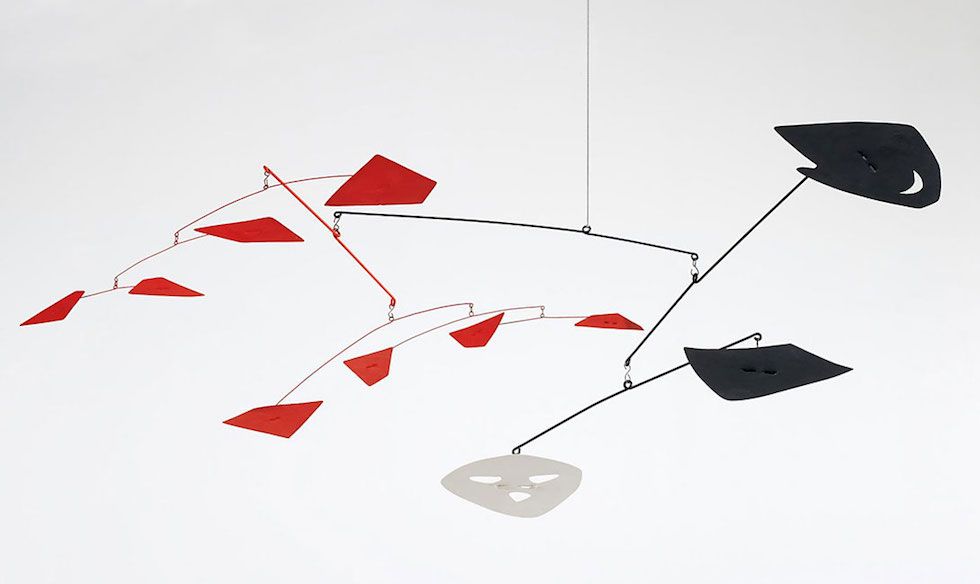 "White Face," by Alexander Calder(Courtesy of Weinstein Gallery)