This article originally appeared on California Home + Design. 
---
Two miles inland from the San Mateo coast sits a restored 1910 dairy farm that has revolutionized how milk paint is made. Yes, you read that right – an artistic medium coming from a farm.The folks at Harley Farms in Pescadero have already perfected their award-winning goat cheese, but they saw potential in milking their business for all it's worth (so to speak) and expanding into the fine art sector with the introduction of their very own line of Harley Farms FarmPaint, made with goat milk.
If you are a DIYer, home renovator, or just have a knack for craft, you may be familiar with milk paint already. It is inherently earthy and lends a distinctive rustic, worn finish to distressed painting projects, like this one. Adding goat milk to the mix takes the authentic feel of the paint one step further and introduces a suede-like, old world European look when applied to a surface.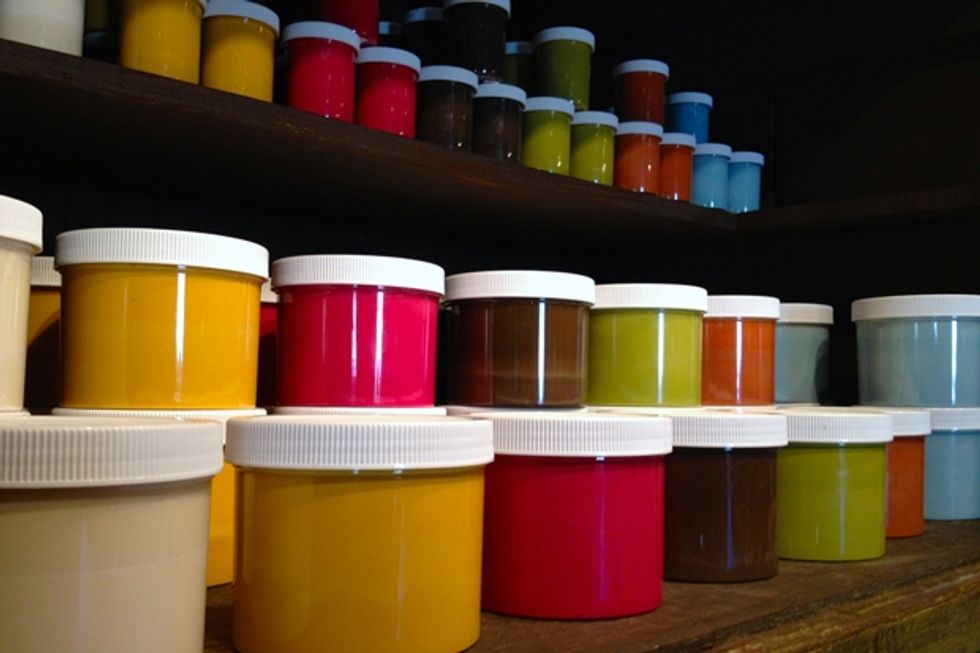 The process starts with a 5:30 a.m. goat milking. While most of the milk is allotted for cheese making, a portion is crafted into beautiful soap. That smaller batch is driven up to Eilis, the soap maker, a self-proclaimed "alchemist of soaps, lotions, and potions." She transforms the milk into soap, and then it's off to the paint maker. Alex grates the soap into fine, parmesan-thin shavings and throws them into a melting pot. A couple of hot, boiling hours later, he mixes the two ingredients together, slowly swirling in the non-toxic pigment.
Click here for more information about Harley Farms FarmPaint!