There are certain blocks in this city that seem like mini-universes. Each week, we'll highlight a stretch of pavement where you could spend an entire day and night. Next up? Clement Street between 4th and 5th Avenues.
---
Where to get your fashion fix: Seedstore is a lovingly curated boutique (with a few vintage items added for good measure) run by sisters Jennifer and Cynthia Huie that both guys and girls can stock up at. It's packed with colorful racks of classic Americana clothing and accessories (ranging from casual to dressy), amidst vintage housewares and artwork that you can buy right off the walls. If you want wardrobe staples that you won't be throwing in a "get rid of" pile for years and years to come, head here.
Where to stretch your brain: Park Life is a little gallery and shop that feels like a true oasis from the outside world. You can get lost for a decent chunk of time taking in one of their exhibitions (often showcasing local artists), or sifting through their quirky boutique items, magazines and books that always inspire and amaze.
Where to warm yourself on a cold day: You can't go wrong with a huge plate of down-home food when you're freezing cold, hungover, or just plain starving. Out here, locals head to Q Restaurant and Wine Bar for lunch, brunch, dinner, and excellent glasses of wine to wash it all down. It's a playful atmosphere with friendly staff and letter magnets all over the walls to spell out profane things with. But, onto the food: You can't go wrong with their tater tots, fried chicken, and mac n' cheese (duh). We also recommend their fish dishes (beer-battered catfish, grilled Loch Duart salmon) or their applewood smoked pork spare ribs with baked beans, Kennebec fries, and spicy slaw. We've also heard tell of an off-the-menu brunch mimosa, called the Hodge Podge Mimosa, made with orange grapefruit, and pomegranate juice, for just $6.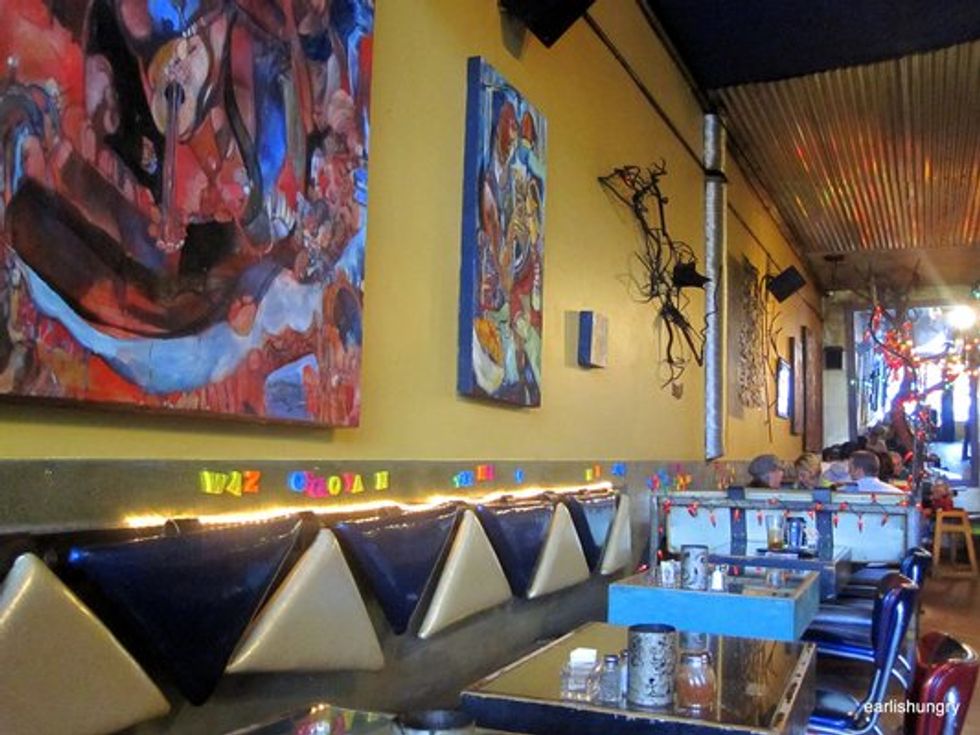 The quirky inside of Q Restaurant, photo by Yelper Earl G.
Where to get fresh-baked bread, and maybe a coffee too: There's something so...European about buying fresh bread from your local bakery, instead of at the supermarket. Grain D'Or is the spot to do it when you're out here. We dig their jalapeño bread, pesto rolls, whole grain loaves, and baguettes. They also open early, making it a good spot for early birds to infuse their blood streams with caffeine and get a pastry....or two.
Where to get needles stuck in you: Seriously, people rave about the acupuncture at Johnson You, LAc. The team also runs a Stress Center, where they do acupressure, reflexology, and deep-tissue massages to treat back and muscle pain. We don't normally treat Yelp reviews as gospel, but there was one we could not ignore, from user Liza V.: "His human connection, caring, unexpected sense of humor and unsurpassed knowledge make the experience the only choice for me." Acupuncture enthusiasts, take note.
Where to take a date...and wait in line: You may have a hefty wait to get inside Burma Superstar, but there's a reason for the line. It's damn good. And because they know it's cold outside, they'll warm you with hot tea to make the wait more bearable. Burmese food is basically a unique mash-up of Indian, Chinese, Loasian, and Thai flavors, so you can expect the food to pack a punch and taste unlike much you've ever put on your tongue before.  Obvious must-orders are the oft-raved-about tea leaf salad (they go all the way to Burma to get the tea leaves for it) and the Rainbow Salad (made with a mind-boggling 22 different ingredients...four types of noodles alone). Also try the Mint Chicken (a street food dish made with minced chicken, jalapeños, mint and gloves of garlic). Their menu is huge and trust us when we tell you you can't go wrong.