You may have noticed that plant-based milks are insanely popular right now. Hemp, macadamia, oat, hazelnut, flax, coconut, cashew, walnut, and even pea milk are sprouting like spring flowers in the grocery aisles. But before you abandon tradition, you should know about this old-school milk alternative that's making a splash around town.
Horchata—that suspiciously brown-tinted rice milk ladled from a plastic barrel in your local taqueria—is getting a makeover at Bay Area restaurants and bakeries.
---
Although most of us think of it as a Mexican beverage, horchata actually originated in Valencia, Spain, where it was made from barley. Everywhere horchata lands, locals tweak the recipe with their own particular flourishes. The Moors added almonds and tiger nuts, which are a kind of groundnut. In El Salvador horchata is made with morro seeds, while Venezuelans add sesame seeds and Puerto Ricans dose their horchata with coconut and, of course, rum.
In keeping with this tradition, Bay Area chefs and baristas are taking local liberties with the ancient libation. Here's a taste of horchata options available nearby, including three recipes you can make at home.
Nopalito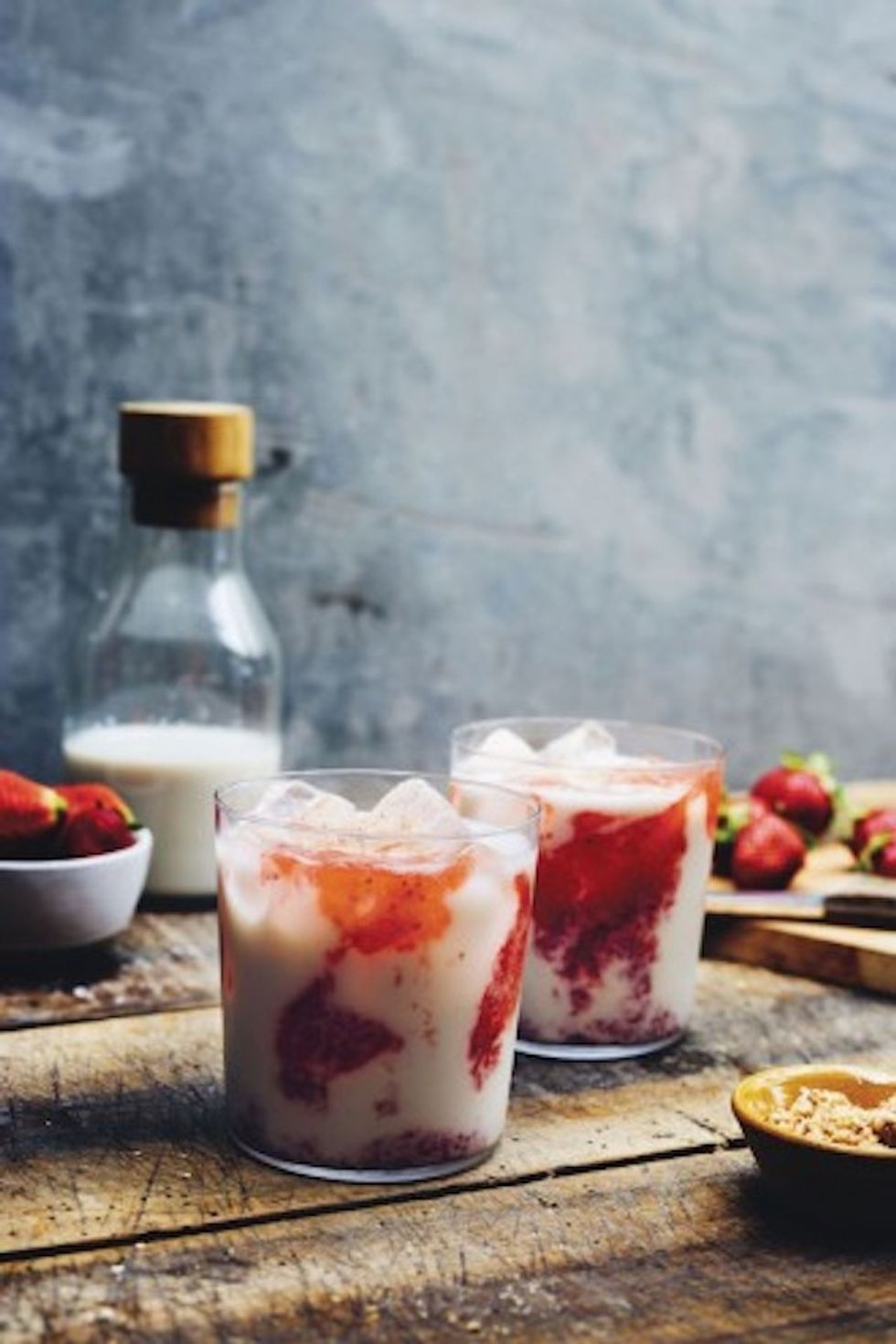 (Eva Kolenko, Ten Speed Press)
Organic + Seasonal
Nopalito uses brown rice to add richness to both their almond and seasonal strawberry-almond horchatas. As with all of their offerings, Nopalito sources local, sustainable, organic ingredients where possible. // 1224 9th Ave (Inner Sunset); 306 Broderick St (Lower Haight), nopalitosf.com
Make it at Home
Nopalito incorporates almonds for a nutty flavor, and uses agave nectar instead of sugar since it blends more easily. The nuts make for a richer consistency than you'd find in a typical agua fresca, somewhere between a glass of milk and a smoothie.
Ingredients:
1 ¼ cups cooked long-grain brown rice, preferably organic
1 cup raw almonds
¾ cup plus two tablespoons agave nectar
¼ teaspoon freshly ground cinnamon
Oaxaca-Style Horchata
1 cup cleaned and stemmed strawberries
½ cup agave nectar
1 ½ teaspoons freshly squeezed lime juice
¼ teaspoon kosher salt
Horchata (preceding recipe)
Directions:
Pour 3 cups water into the bowl of the blender or large mixing bowl and add the brown rice, almonds, agave nectar, and cinnamon. Let soak overnight. Blend in a high powered blender until smooth, then mix with an additional 6 cups water. Strain through a fine-mesh strainer. Serve over ice.
Oaxacan-Style Horchata
In a blender, combine the strawberries, agave nectar, lime juice and salt; blend this syrup until smooth.
For each serving, fill up a 1 ounce glass with ice and fill three-quarters of the way with horchata. Pout two ounce Oaxacan-style syrup on top.
Reprinted with permission from Nopalito, copyright 2017 by Gonzalo Guzman. Published by Ten Speed Press, an imprint of Penguin Random House LLC.