Best Modern Dance: Alonzo King's LINES Ballet
---
Next year marks Alonzo King's LINES' 30th year as San Francisco's classical-meets-modern ballet company. King's choreography is known for its experimentation. For this spring season's Triangle of the Squinches, he collaborated with the Grateful Dead's Mickey Hart, who composed ethereal music, and architect Christopher Haas, who built several large pieces, including a cardboard wall, on which the company performed. In other words, don't hold out for Swan Lake come October, when King's next program will have its world premiere set to traditional Sephardic music. Yerba Buena Center for the Arts' Novellus Theater, 700 Howard St., 415-863-3040
Best Way to Propose: With Sand Artist Andres Amador
Getting engaged on the beach may sound like a cliché but not when sand artist Andres Amador is involved. In February, guerrilla marketer Jason Fordley hired Amador to help him pop the question to his girlfriend, Kelly Riplinger. Amador and Fordley's friends raked an expansive floral design and "Will you marry me, Kelly?" into Ocean Beach. After an enthusiastic "yes," the couple and close friends broke out champagne, took a limo across the Golden Gate Bridge to In-N-Out, and then returned for a beach bonfire. Top that.
Best Photo App: Instagram 
With a couple of artistic filters, Instagram can turn iPhone pictures of your dogs, kitchen disasters, and Dolores Park picnics into retro snapshots worth sharing with the world. The startup headquartered in South Beach took just four months to reach its first 2 million users—faster than both Facebook and Twitter. The free app is simple and fast, but more importantly, it gives amateur shutterbugs a new lens. Heck, even a blurry picture of a Muni bus looks good as a 1970s Polaroid or movie filmstrip.
Best Jukebox Playlist: Murio's Trophy Room
Inside Murio's Trophy Room, a dank dive bar in the Upper Haight, is a wall-mounted jukebox that plays everything from Mexican banda and ska records to the usual Rolling Stones, Radiohead, and Kings of Leon picks. It's something of a relic and is sometimes out of commission. But among the 100 CDs on tap ($1 for three songs) are mixed discs made by staff plus rare treasures such as Neutral Milk Hotel and SF folk rock duo Two Gallants—coming to you at decibels that make conversation nearly impossible. It's OK, though, because it's the end of the night, and you're drinking PBR tall boys, which makes Twisted Sister's "I Wanna Rock!" sound all right. 1811 Haight St., 415-752-2971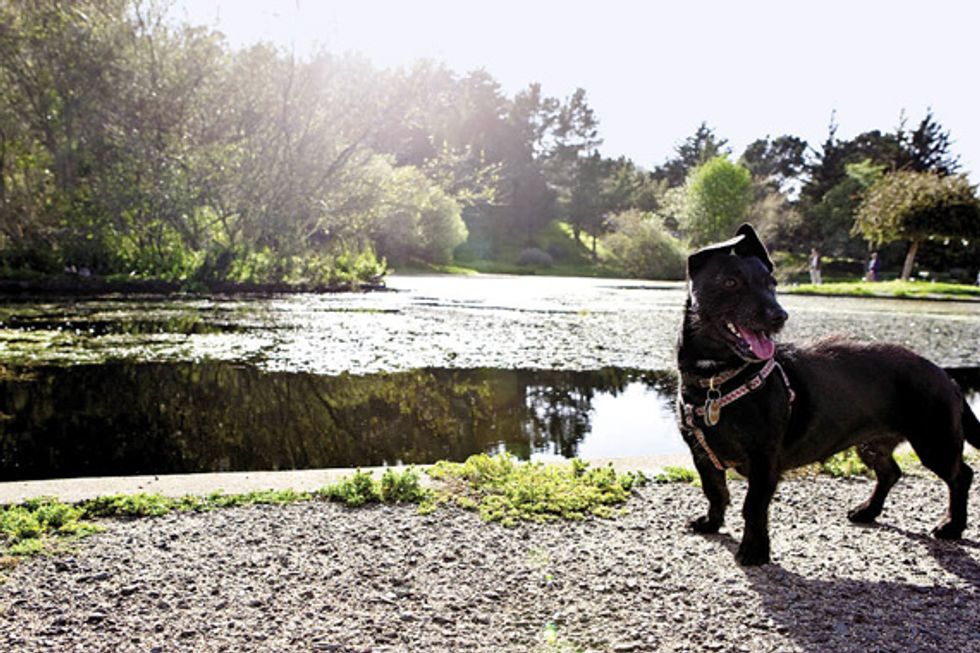 Best Doctor's Office: One Medical
While Congress members butt heads over the future of healthcare, boutique medical groups like One Medical offer a pretty cushy option. Think same-day appointments, spa-like waiting rooms, online prescription requests, emails with your primary care doc between visits, and in-house acupuncturists, nutritionists, and naturopaths. Access to the medical group comes with a $149 yearly subscription, and they take most insurance plans and Medicare. With four downtown offices and a sister clinic in Noe Valley, One Medical physicians see at most 16 patients a day (compared to the national average of 25). Translation: Less stressed-out docs and patients too.
Best Sunrise Lookout Spot: Bernal Hill
Come dawn, dusty-looking Bernal Hill turns a brilliant rose as the sun heads up over the bay and shipyard in the east. Combine that with the lofty 360-degree view that sweeps over the city. Grab one of the benches in the southeast corner for excellent viewing, or take the trail to the very top of the 475-foot summit, lean up against the fence surrounding the radio tower, and point yourself toward Mt. Diablo. Afterward, walk down to Cortland Avenue for a morning coffee and pastry from Sandbox Bakery, which opens at 6 a.m. Folsom and Ripley streets
Best Night at the Museum: Exploratorium After Dark
Daytime visits may remind you of your favorite fifth-grade field trip, but the Exploratorium's After Dark is for adults only. Every first Thursday of the month from 6 to 10 p.m., there's a cash bar for beer and mixed drinks to accompany film screenings, live music, and special installations in addition to the hundreds of hands-on exhibits. Past nights have covered surrealism, sex, and solar energy. Enjoy the curious and provocative blend of art and science for a memorable date or simply as a night out with friends. 3601 Lyon St., 415-561-0360
Best Music Stream: Rdio
This past August, Skype cofounders Niklas Zennström and Janus Friis launched Rdio, an Internet music streaming service, in SoMa (of course). For a small subscription fee of about $10 a month, you get access to more than 8 million songs and whole albums with unlimited, ad-free listening wherever you are—on your computer or smartphone. Put your crush's tracks on heavy rotation, rediscover The Toadies during a '90s flashback, or loop Britney's Femme Fatale until your ears bleed.
Best Neighborhood Gallery: Paul Thiebaud Gallery 
Established 10 years ago by the son of pop artist Wayne Thiebaud, whose paintings of gumball machines and lipstick tubes can be seen at the de Young and on several covers of The New Yorker, the Paul Thiebaud Gallery emphasizes expressive oil paintings by contemporary American artists. Inside the pristine, gray-shingled North Beach space is an exhibition highlighting Philadelphia native David Fertig through June 11, while other original pieces from artists such as Laura Adler and Michael Tompkins rotate along the gallery's white walls. 645 Chestnut St., 415-434-3055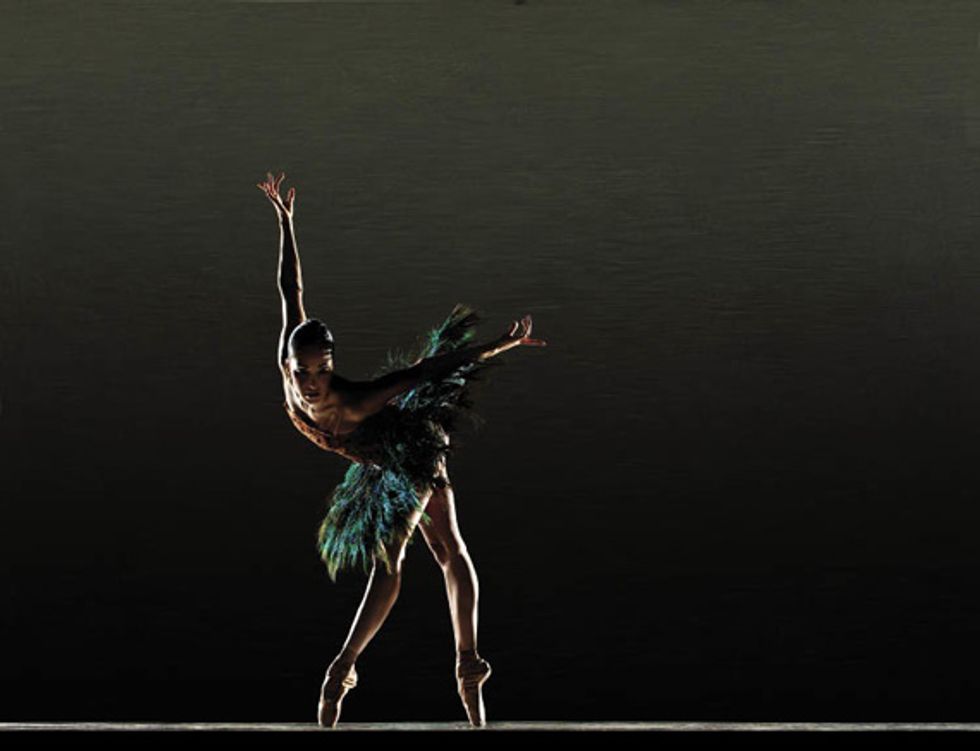 Best Birthday Blowout: YamaSho Japanese Karaoke Bar and Restaurant
For your next birthday, start the night off with sake bombs, pick up a mic, and embrace the pop sensation you knew you were meant to be at YamaSho Japanese Karaoke bar and restaurant in the TenderNob. They've got private rooms to rent (starting at $45 per hour) with flatscreens and sleek lounges that seat anywhere from 5 to 20 of your friends. Between songs, order drinks and sushi rolls from the restaurant menu via an in-room phone line. With more than 100,000 songs to choose from, "Happy Birthday" is just the warm-up. 1161 Post St., 415-346-2222
Best Dance Party: Non Stop Bhangra
In Hayes Valley, the DJs at Non Stop Bhangra night mix Punjabi music with hip-hop, electronica, and shoulder-bouncing reggae for a diverse set of clubgoers—many of whom aren't even drinking. Indian-Americans in everything from colorful tunics and bright, flowing skirts to skinny ties and girlfriend jeans circle round mustachioed Missionites trying to keep up. A short primer introduces some of the foot-hopping moves (imagine Slumdog Millionare), followed by a performance from Dholrhythms Dance Company before the dance floor opens up. At Rickshaw Stop the third Saturday of the month, 155 Fell St., 415-861-2011

Best Late-Night Ride Home: Zingo
So you drive to The Plough and the Stars in the Inner Richmond for some old-timey music, but come midnight and several pints, your buzz rules out getting behind the wheel again. No worries. For $20, plus $3 a mile (after two free miles), you can call up Zingo, and a designated driver will scooter over, fold his collapsible bike in your trunk, and drive you home. It's a great deal when you consider the cab you'd have to take home plus the ride back to the bar in the morning to pick up your car. Thursday 8 p.m.–2 a.m.; Friday and Saturday 8 p.m.–3 a.m., 855-663-8422
Best Cocktail With a View: Marriott Marquis Hotel
A few minutes before the sun goes down, take the Marriott Marquis Hotel elevator to the 39th floor's The View bar, and turn west. (There are two sides to this sky-grazing lounge: One looks to the bay and beyond, while the other points to Upper Market and Golden Gate Park.) A huge clocktower-like window frames an amazing view, from which the city appears a dreamy gold and pink. Or maybe that's the Dark and Stormy talking. 55 Fourth St., 415-896-1600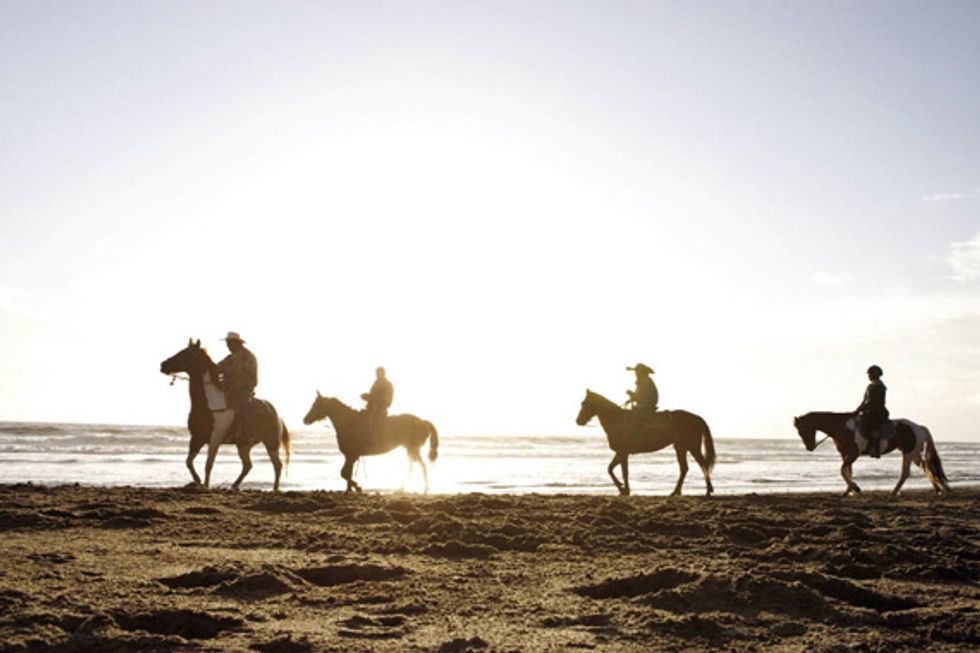 Best Dog Park: John McLaren Park
With some 312 acres of rolling hills, trails that wind through thick pine groves, and swimming holes full of water birds just asking to be chased, John McLaren Park in the Excelsior is a dog's ultimate playground. The second-largest park within SF limits is one of the few that still allows designated off-leash play. On warm days, the ponds are the place to watch retrievers leap into the water after sticks and tennis balls—over and over again—before shaking dry and getting everyone around them wet. Mansell Street at John F. Shelley Drive 
Best Saturday Adventure: Horse-Back Riding at Mar Vista Stables
Think you've done it all? Just south of the San Francisco Zoo, right above Thorton Beach's sand dunes, is this stretch of the coast's best-kept secret. Mar Vista Stable leads guided horseback rides through rolling trails down to the beach, where, if you're experienced and confident enough, you can take your horse (pricing starts at $40 for an hour) for a gallop in the surf—beautiful whether the fog's in or not. 2152 Skyline Blvd., Daly City, 650-991-4224