A handful of curious stories you may have missed this week, including Elon Musk's red Tesla orbiting the sun.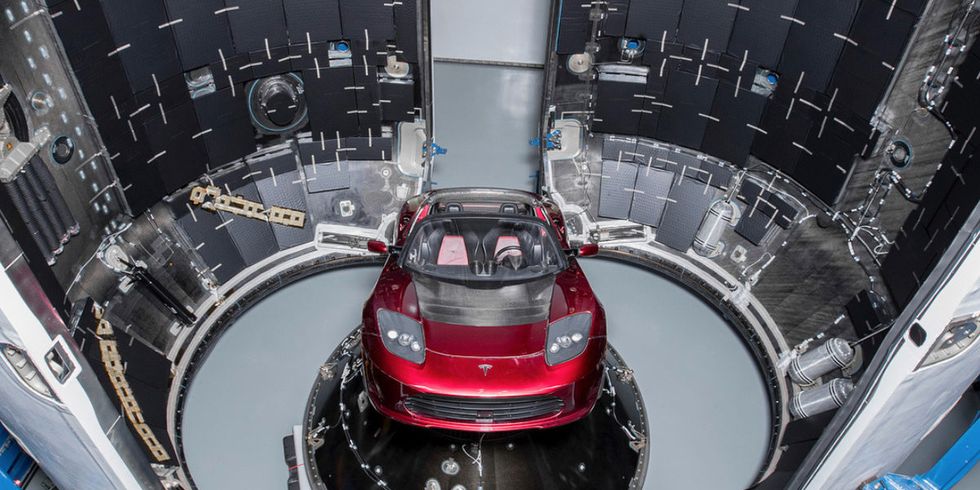 Falcon Heavy takes off with a roadster inside.(Courtesy of SpaceX)
Lake Tahoe estate featured in 'Godfather' movie listed for $3.75 million, SF Gate

An estate that was created in 30 days by a crew of 300 men specifically for a gala naturally is fitting to be in the Godfather. The property has 17 residences, servants' quarters, multiple small cottages, a yacht club and boathouse; all built within a month. Read more.
San Francisco one of the world's 10 most congested cities, SF Curbed

Considering SF is a tech capital—and the cost of living here is cray—it only makes sense that hoards of people are constantly flooding in and out. Apparently, it's 3rd most congested in the United States though, and 5th worst in the world. Read more.
Falcon Heavy, in a Roar of Thunder, Carries SpaceX's Ambition Into Orbit, NY Times

A massive rocket was just launched into space, and not by a government space agency. Elon Musk's SpaceX shot the Falcon Heavy into orbit, carrying Musk's red Tesla with a mannequin inside wearing a SpaceX spacesuit to circle the sun for hundreds of million of years. Read more.
Looks Like Soho House Really Will Turn SF Armory Into Private Club, Eater SF
After much back and forth, the historic landmark has been purchased by an LLC with ties to Soho House. The private club has 18 locations across the country with 14 restaurants in corresponding cities. The transition of the institution here could very well bring with it a handful of restaurants available to members and nonmembers. Want to join? That'll be $2,100 for membership to one, more to have access to them all. Read more.
SF safe injection sites expected to be first in nation, open around July 1, SF Chronicle

San Francisco will soon be the first in the U.S. to allow drug users to shoot up under supervision at two safe injection sites scheduled to open in July. Other cities, too, are in talks about it including Seattle, Baltimore and Philadelphia. Perhaps by summer's end, we'll hopefully no longer see needles on our streets. Read more.