ICYMI, refurbished Airstreams are all the rage. You can book one for the night on Airbnb. You can belly up to one for tastings of Central Coast rosé. And now you can hop aboard for an even wilder ride.
This month, San Francisco–based sex toy company Crave is rolling out its Build-a-Vibe workshop on wheels, inside a 1961 Airstream painted a sassy shade of orange.
---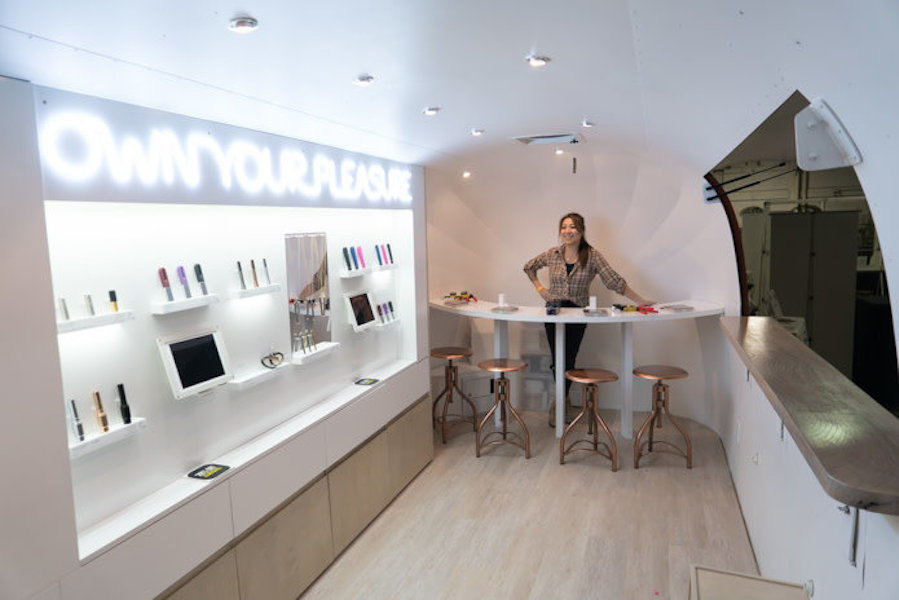 Cofounder Ti Chang at the Airstreams Build-a-Vibe bar.(Courtesy of Crave)
Part showroom, part design studio and mini factory, the sexed up trailer is taking the brand's popular DIY classes, in which women get the chance to customize their own toys, to cities across the country in a tour entirely funded through crowdsourcing on Indiegogo. The mobile Crave Design Factory made a recent stop at SXSW in Austin, TX; later this month, she'll park at The Dinah, the annual lesbian fest in Palm Springs.

Founded by industrial designer Ti Chang and entrepreneur Michael Topolovac, Crave is well known for the subtlety and elegance of its modern designs—the award-winning Vesper is a vibrator-no-it's-a-necklace!—but is also unafraid to stir up blunt conversation about sex and relationships in public (we all loved their recent portrait series at Folsom Street Fair). So since social networks prevent companies like Crave from posting vibrators to their feeds, the team is hitting the road for an IRL social campaign.
"With the Build-a-Vibe tour. we would like to encourage women to explore their sexuality, enjoy it, and not be ashamed of using a vibrator," says Chang, who's personally embarking on the trip, along with her dog Mac Jacobs, and will be on hand to educate her guests on the history of female sex toys. "Participants will receive a kit with all different parts of the sex toy. Then our technicians will walk them through the complete and final creation of the vibrator."
And the Airstream is fully equipped for the mission. A neon sign emblazoned with the words Own Your Pleasure announces the mobile design space, which gleams with glossy white paint and retail-style shelving to show off the company's various gadgets. On the tour, participants in the workshop ($99/person) will get to customize their own special edition Duet Pro vibrators, launched just for the occasion.
Have a nice ride! // lovecrave.com, indiegogo.com/projects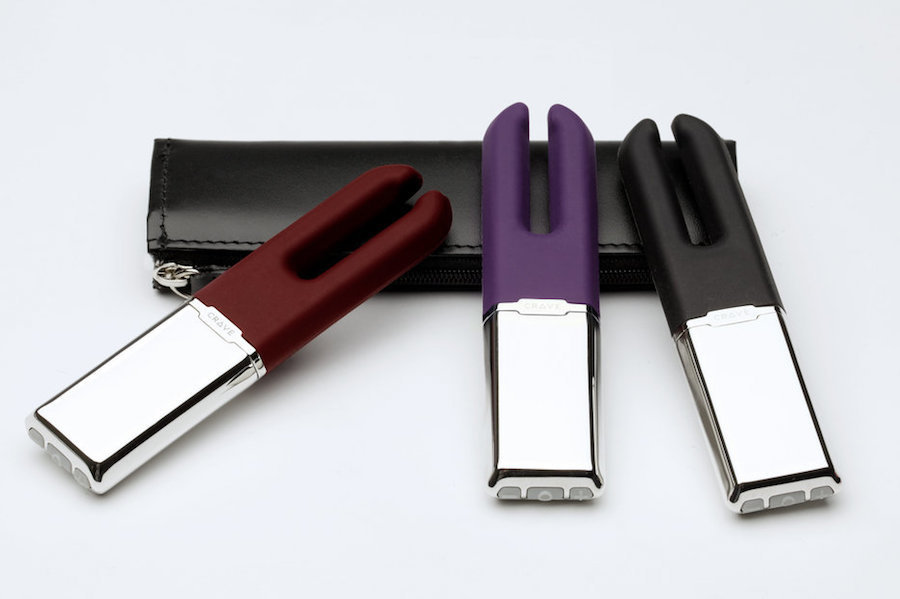 Crave's Duet vibe ($149) is available in three colors.(Courtesy of Crave)