San Francisco may be famous for sourdough, calf-crunching hills, and beloved eccentrics, but nothing characterizes the city quite like the long lines people stand in to eat, drink, and be entertained. It's as if the ice cream tastes sweeter if you've had to stand on shaking legs in the quickly approaching fog for over an hour. And SF not only promotes this behavior, it makes a business out of it. The general understanding is that lines boast the quality of what people are waiting for, and the hundreds of exceptional restaurants in SF know it. But are they worth the wait? We got in line to find out.
---
Tartine Bakery is one such Mission hot spot famous for creating a line down Guerrero Street and serving the mysterious morning bun, which everyone will recommend to you but be unable to describe.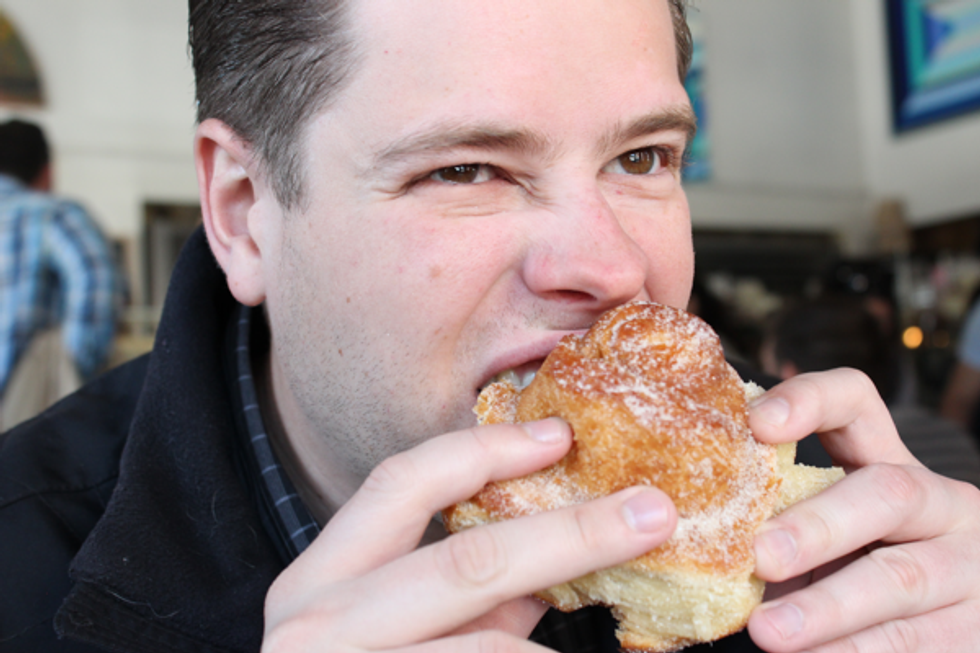 Photo by Ali Wunderman
We queued up at 11:55 a.m. on a Sunday to experience its splendor, and within minutes, dozens more patrons took their places behind me, eager to eat and Instagram their delicious treats.
The family in front of us was visiting from Marin, though they originally hail from the UK. The youngest daughter, Orla, graciously helped me count the number of people in line, which totaled 57. Her father turned out to be Bryan Meehan, chairman and co-owner of Blue Bottle Coffee, which recently acquired Tartine.
It's pretty obvious why he and his family would visit the restaurant, so we asked why he would stand in line for food he could clearly didn't need to wait for. Meehan responded, "being in line calms me down, and gives me a moment to reflect. With something so delicious waiting, it's nice to have that moment." He added that, "I meet people in lines, always," and he was spot on—we were two groups out of many that were happily engaging in conversation with strangers.
The Tartine line even got to experience a True San Francisco Moment when an angry local pushed by and shouted, "Don't take up the whole f**king sidewalk, white boy!" Granted, the line was, in fact, mostly made up of white people, but not all of us were male.
The group of women behind us—Diana, Rande, and Claire—were visiting from Los Angeles and had never been to Tartine before. They were familiar with the cookbooks and knew the reputation of the food, but wanted to experience the real thing, which they did not know included the line. We asked how they felt about having to be in a line for Tartine, particularly since their time in SF was limited. "We're on vacation so it's not a big deal. Plus, we're waiting for a friend to park so it actually makes it less stressful!" they said. Who knew that SF's famous long lines would counterbalance our famous parking difficulties?
Besides facilitating human interaction, which can be rare these days, the Tartine line offers a view into the kitchen, as well as enticing aromas from the front door, so you have something to look at and wiff while waiting. After 45 minutes in line and making 10 new friends, it will be time to make your selection.
Though you won't see a menu until you are minutes away from ordering, the sense of community created in line means someone will make sure you get one. Plus, we already know you're getting a morning bun. 
---
How does the Tartine line stack up?
Line organization: 4/5 stars
Friendliness of people in line: 5/5 stars
Restaurant engagement: 3.5/5
San Francisco-ness: 4/5 stars
Overall line experience: 4.5/5 stars