Come September, Wine Country is packed with grape stomps, vineyard picnics, and harvest celebrations. The good news? Everyone's invited. Whatever your pleasure, plan to book in advance as most parties sell out.
---
NAPA VALLEY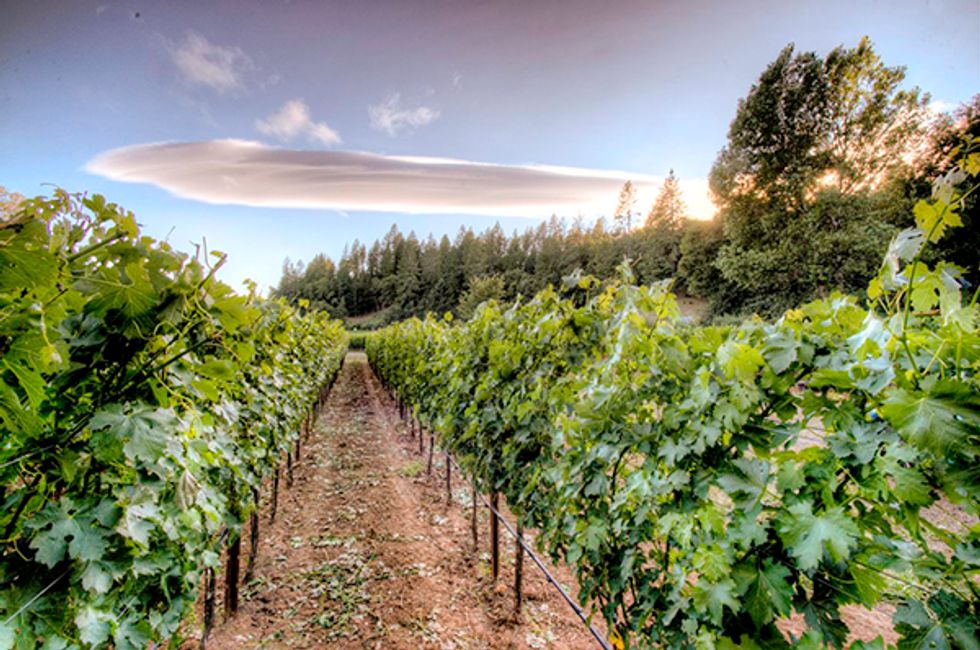 Image of Las Posadas Vineyards, courtesy of Pine Ridge Vineyards

Amphora has a wine school party of sorts on their calendar. Winemaker and owner Rick Hutchinson will spend the afternoon teaching guests about grape harvesting and winemaking. After time in the vineyard, students return to the winery for a close-up view of the crush and sampling of fresh run juice, before tasting from the barrel and bottle. Light snacks and wine tasting included. RSVP required, $40 per person, limited to 20 people. September 14, 10 am to 2 pm
Pine Ridge Vineyards is commemorating the kickoff of their 35th harvest with a dinner at the source. Kick back and enjoy a three-course meal paired with Pine Ridge's finest wines in their Las Posadas Vineyard, located 2,000 feet above the Valley floor. Price also includes a two-pack of featured dinner wines $275. Saturday, September 21, 5­– 9 pm 

Tradition at Fritz Underground Winery means paella. Tapas and wine start flowing at 5 pm, followed by two styles of paella with side dishes at 6 pm. The Dry Creek Valley view from the patio is bound to make you linger long after dinner is served. RSVP required, $50 per person. September 21, 5 to 8 pm
The same fabulous folks who give us Clif Bars and monthly bike rides through Napa Valley host an annual Harvest Party at their Clif Family Winery. Along with wine tastings and live music (Winery founder, Gary Erickson is also known to occasionally join the band on his trumpet), the party offers garden tours and guests are able to pick fruits and vegetables from the garden. RSVP required, $60 per person, $20 ages 20 and under. A portion of the proceeds support the Community Alliance with Family Farmers. September 28, 4 to 9 pm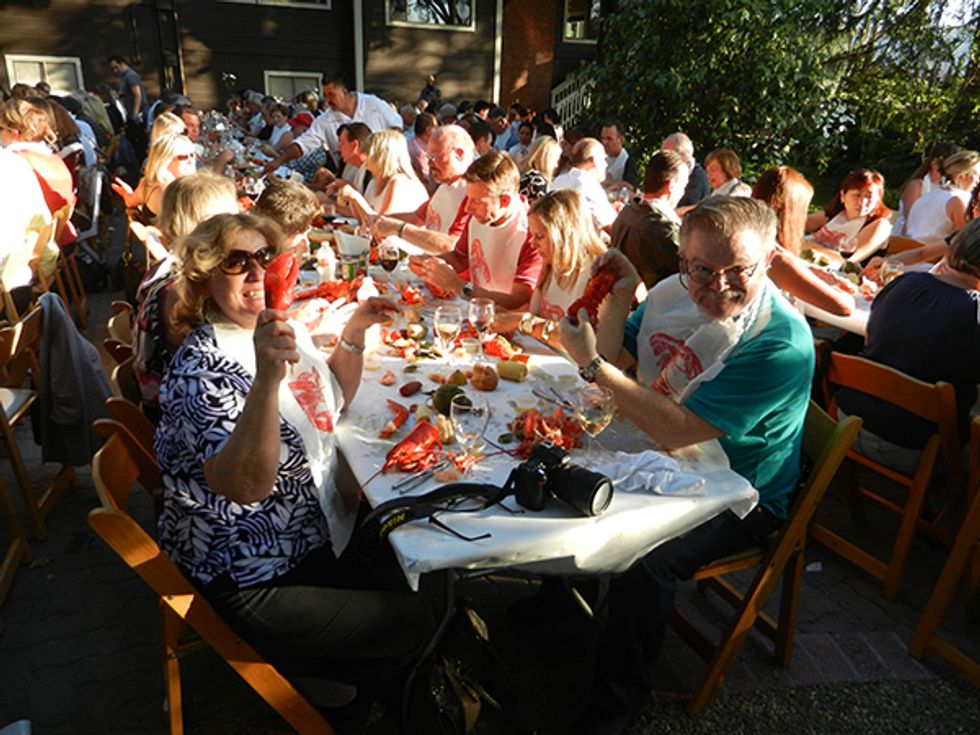 Image courtesy of Sequoia Grove
Sequoia Grove takes wine seriously, but lets loose to celebrate harvest season. Here you'll get a bit messy competing in a grape stomping competition. Then you'll strap on your bib and finish the job in a Lobster Feed, brought to you by Napa's infamous Lobster King. $115. Saturday, September 28, 4:30 – 8 pm.

Bell Wine Cellars invites you into the vineyards to pick grapes and crush 'em in a contest for prizes. Get your courage up with a glass or two of wine and then enjoy sips of all they offer, paired with tasty treats prepared in their outdoor oven. $30. Sunday, October 6, 4 pm.
More Napa harvest events here. 
SONOMA COUNTY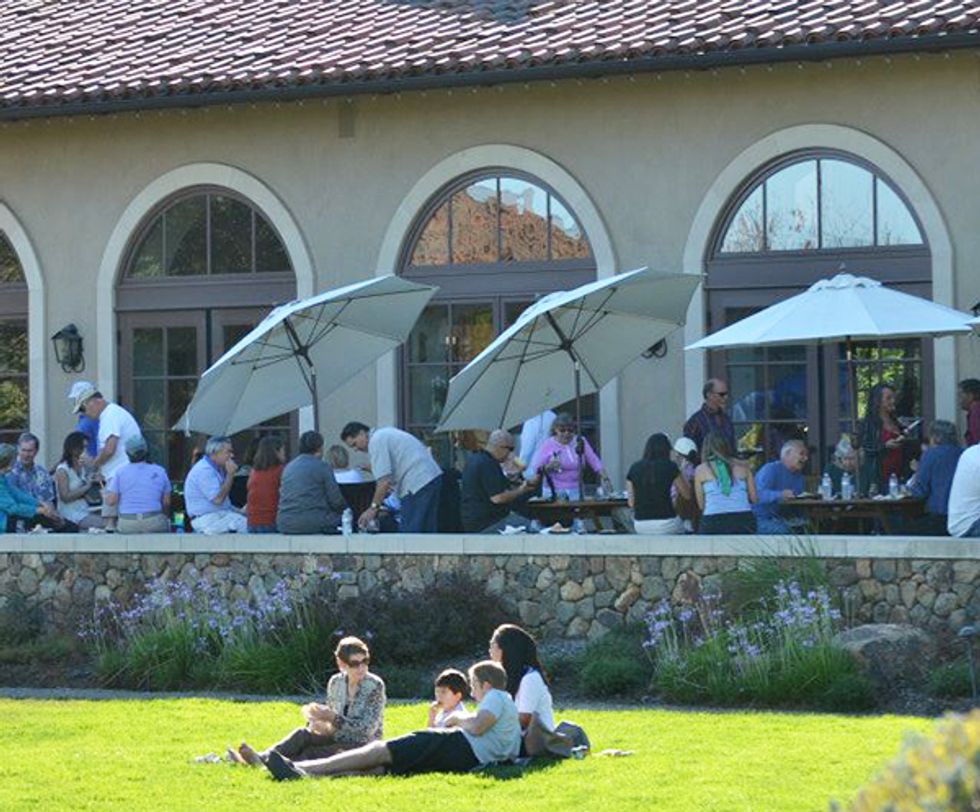 Image Courtesy of St. Francis Winery
St. Francis Winery is hosting a Zinfandel Harvest BBQ, and is the place to be for all Zinfandel lovers. In addition to special Zinfandel pricing and pre-release tastings, St. Francis offers Zinfandel barrel samples and even live music from crowd favorite band, The Zins. $45, Saturday, September 14, 2­– 5 pm.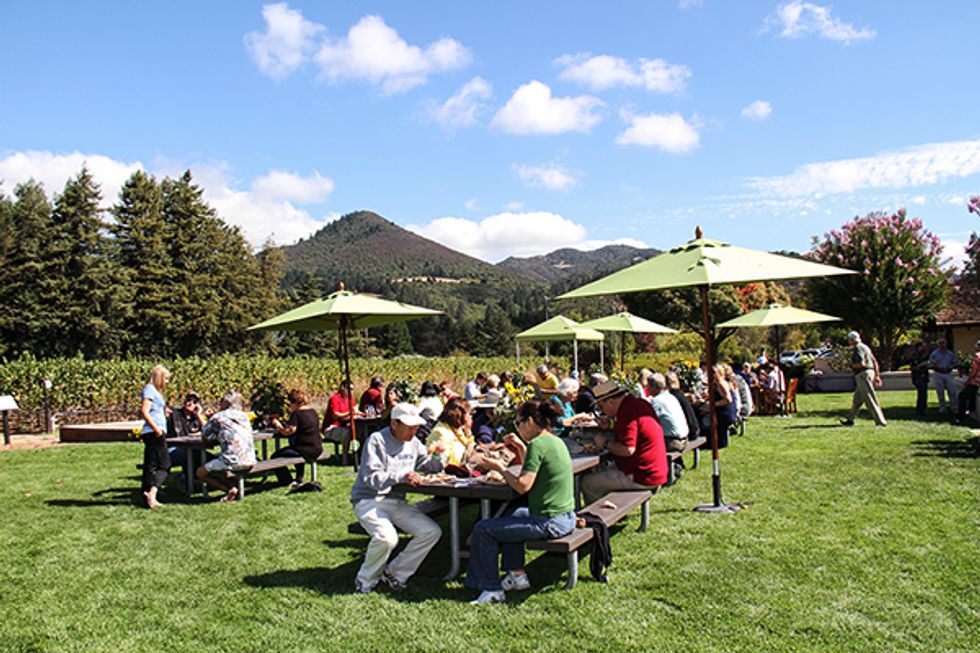 Image courtesy of Landmark Vineyards
Landmark Vineyards Harvest Festival features an abundance of outdoor fun, wine, and food. Grab a pizza from the Tuscan wood-fired pizza oven, dance to live rock n' roll, take a vineyard tour on a horse-drawn carriage, or play a few games of bocce. $30, Saturday, October 5, 11 am– 3 pm.
If you simply don't want to commit ahead of time, Dutton-Goldfield has a party every weekend in September. Here you can sample current releases, check out the harvested grapes and processes, and even try some fermenting juice. The official party is on October 19, when they'll offer food and perks in celebration of 15 years of winemaking. $15 (or free with wine purchase) Saturdays in September, 10 am – 4:30 pm.

If biking through Wine Country sounds like a nice way to spend a day, this Harvest Party is for you. Pedroncelli Winery turns their Harvest celebration into a daylong affair, culminating in the Club Ped Harvest Dinner. It's fun for a good cause, and you'll work up an appetite at the Asti Tour De Vine before dinner. The 25k, 50k, 100k, or 100m (century) bicycle tour in Northern Sonoma County is a fundraiser for the Rotary Club of Cloverdale. All are invited to register and ride along, or cheer other riders along before heading to the winery for Bocce, wine and dinner. RSVP required, $60 per person. October 19, 5 to 9 pm
If you've never been to Quivira Vineyards in Dry Creek Valley, this should be tops on your list. This organic and Biodynamic winery is loaded with long list of unexpected extras that pay tribute to Sonoma County's rich agricultural history, like a garden with 120 raised produce beds, honey bees, a dozen heirloom chickens and the queen of the farm, Ruby the pig. The Figs & Pigs Festival will focus on three things: wine, figs and pork. The Fig Buffet will be loaded with fig and bacon dishes, and tutored wine tastings will be held beneath the 135-year-old fig tree in the middle of their vineyard. There's even a Grape Stomp Competition planned. RSVP required, $50 per person. October 19, Noon to 4 pm
It's also worth a call to the wineries featured last year, as many will be rocking out again. 
Text by Dana Rebmann and Ian White