There's little about Louisiana that translates in San Francisco. You're not going to receive an open-arm reception to the soupy humidity, the headhunting mosquitoes, or the crooked right-wing politics. A New Orleans-style daiquiri drive-through? Forget it (although it sounds kind of fun).
---
However, crawfish etouffée? Maybe some chicken and sausage gumbo? Now you're talking to our stomachs. That's what Boxing Room, the latest venture from the Absinthe team, is headed straight for with a menu of traditional and not-so-traditional Creole and Cajun dishes cooked up by chef Justin Simoneaux, a native of the Louisiana coast, who made some waves at the Moss Room in the Academy of Sciences.
Located in Hayes Valley in the old, industrial Citizen Cake space, Boxing Room has cleared out the former pastry area to make way for more tables. Both a high bar and a low oyster bar wrap around the open kitchen. The whole space is wood, cement, and soaring ceilings. From exposed rafters, huge, modern, glowing circles of light hang. There's nothing funky or rickety or New Orleans about it, but the Rebirth Brass Band and The Meters playing on the sound 
system won't let you forget what you're here for.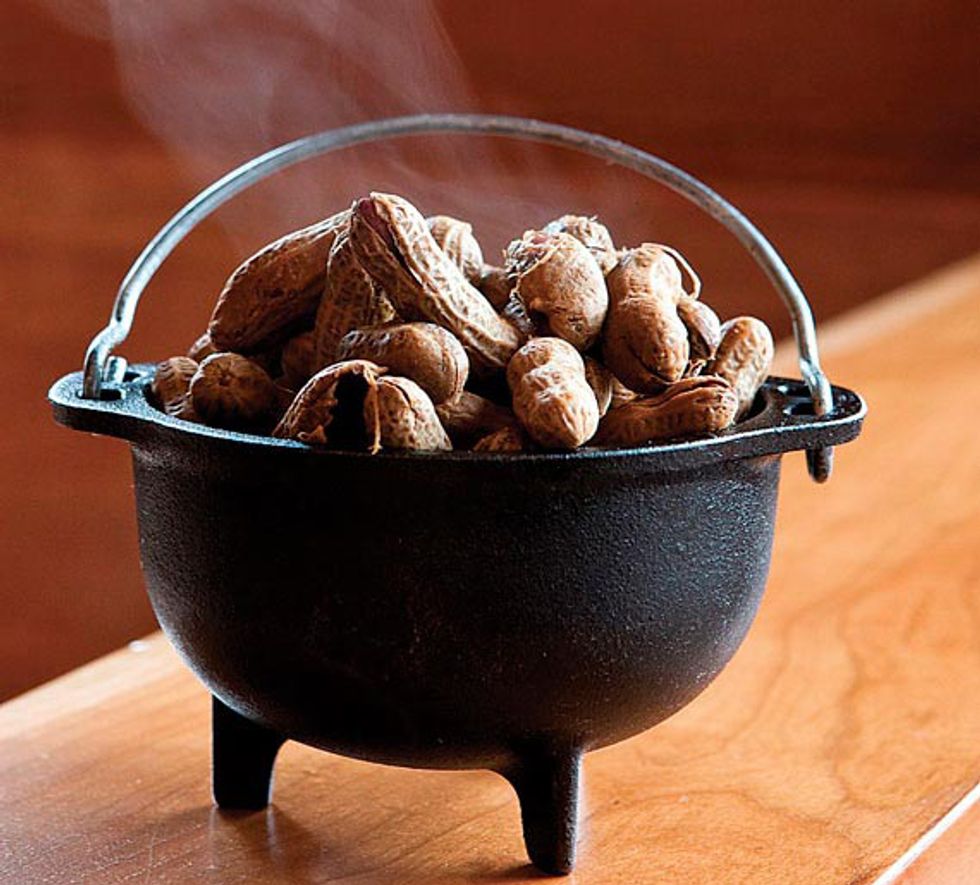 The menu is reasonably priced and elegant enough for pre-opera sequins yet casual enough for jeans and tennies. Thursday through Saturday, the last call for food is at 1 a.m., and there are plenty of tempting late-night eats. There's the perfectly executed, if massive, shrimp po'boy literally spilling over with fried shrimp, garnished with a mound of thinly shredded lettuce, and served with a few hush puppies to gild the lily. The deep-fried alligator with rémoulade is good too, though it's more about the batter than the gator. Then there's the crispy boudin balls and the fried chicken with mashed potatoes and gravy served with corn maque choux. Remember, the South is the place where people register for a Fry Daddy for their wedding.
Simoneaux hasn't forgotten about the delicate California souls though. Oysters on the half shell come with the traditional mix of ketchup, horseradish, and lemon cocktail sauce. At the tail end of spring, a beautiful shaved Delta asparagus salad with blue crab and a soft-boiled egg could have fit right in at Chez Panisse. Braised collards, which come in a cute little cast-iron kettle, are thankfully flavored with ham hock, but you can have them made pork-free. The excellent etouffée and gumbo both come with white or—mon dieu!—brown rice. Dessert, though, will ruin any designs on keeping it light, particularly if you order pastry chef Bill Corbett's decadent ice cream sundae with chunks of praline over it, which you absolutely should.
Boxing Room wasn't able to get a full liquor license before opening, so you can't indulge that Southern pastime here. Fortunately, Absinthe's bar, just a block down, makes a mean Sazerac. If I were you, I'd start there and then head south.
399 Grove St. (at Gough), 415-430-6590