When it comes to his two favorite things in life, chef Joseph Manzare has ruined himself. "Once you have good sushi, you can't go back," he says. Manzare would say the same about tequila. His new Union Square restaurant, Hecho—an improbable yet surprisingly synergetic concept that brings together tequila and sushi—is something Manzare's been dreaming up for years. If it seems unlikely, consider that whiskey and sushi are a common pairing in Japan.
---
After losing a space he'd started construction on in SoMa, Manzare—the chef-owner of Globe, Zuppa, and Tres Agaves (now called Tres)—landed in the old Midi location, next to the Galleria Park Hotel. A remodel has given the two-story space a new life. Huge, two-dimensional tuna swim along the wall, courtesy of a custom-made canvas inspired by a fishmonger stall outside the Tsujiki fish market. The sushi bar is made of blond reclaimed Monterey cypress, and the second floor has a massive communal table. Like Globe, Hecho keeps long hours, serving food until 1 a.m.
The restaurant is outfitted with squat Japanese stools, and Manzare—a big guy from the Bronx—looks kind of funny on them. It's hard to envision him as the Japan-ophile that he is, endlessly going on trips to Tokyo. But fine sushi first grabbed Manzare's heart when he was in LA at a mind-blowing omakase meal at Matsuhisa. "It was like 20 courses at the time when it was Nobu Matsuhisa's only restaurant. He personally made the meal for us."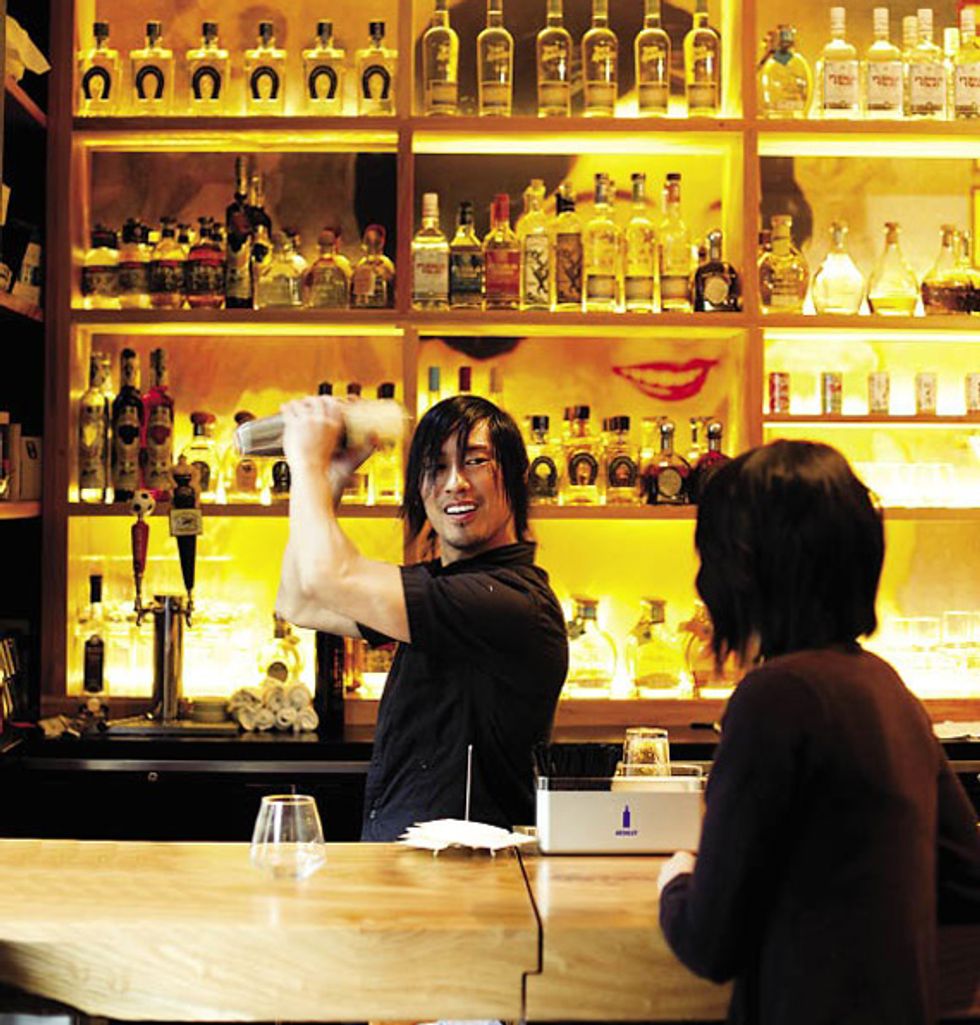 Couple this with a similar awakening in Mexico on an R&D trip for Tres. "The first time Julio Bermejo brought me down to the Jalisco area—that was the height of my tequila experience," says Manzare. "It was so enlightening to meet the tequila producers and their families."
The fact that Hecho has a selection of almost 100 tequilas could spur rumors that there will be 49er rolls and shots of all around. But Manzare didn't hire a chef from Mas Sake. He hired Masa Sasaki, most recently of Sebo, the serious Hayes Valley sushi restaurant.
Sasaki is not joking around. If you're feeling conservative, there are the usual selections, but there's plenty to expand your mind, starting with the tuna kama, a massive grilled yellowtail tuna collar—a rubbernecker kind of dish. Then come skewers of grilled Kurobuta pork belly or Masami Kobe-style beef, followed by fluke sashimi paired with crispy cucumbers and a dab of Sasaki's own fermented chili paste. A selection of gorgeous sashimi is served on black slate with a little bowl of milky-white cod sperm in ponzu sauce accompanying it. Whole raw baby octopus, creamy and sweet, is a true sign of freshness. To meet the tequila halfway, Sasaki is also starting to use chiles in his preparations. Raw shrimp are dunked in tequila and served with a tiny bit of grapefruit and candied habanero.
In the city, restaurants serving this caliber of sushi are few. But with tequila? Hecho has this market cornered.