Easily accessible, the Tomales Bay Trail offers sweeping vistas of Inverness Ridge to the west and Black Mountain to the east. 
---
What You'll See
Wildlife abounds here, particularly around the pond located about ¾ miles into the trail. On warm, late summer days, you may encounter a gopher across the trail or a turkey vulture circling overhead. Down along the marsh area of the Lagunitas Creek estuary you'll likely see egrets, perhaps a blue heron, and maybe even an otter.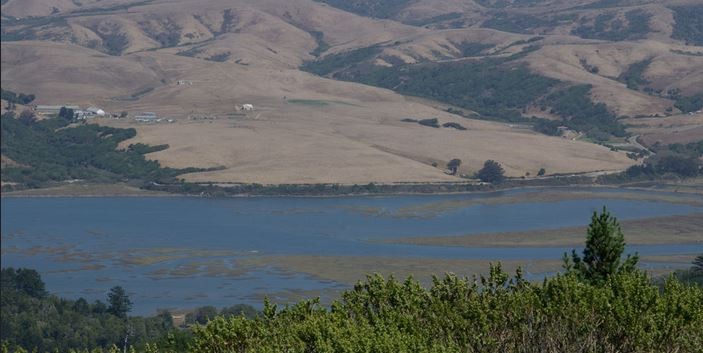 How to Get There
1. Take the Lucas Valley Rd. exit off 101 (15 miles north of the Golden Gate Bridge).
2. Head west 10 miles to the Nicasio Valley Rd. and turn right.
3. Proceed another 4 miles though Nicasio and past the reservoir.
4. Turn left at the intersection with the Point Reyes Petaluma Rd.
5. After the dam turn right at the bridge and go 2.8 miles to Hwy.1.
6. Turn right on Hwy.1 and go about 1.2 miles and then make a left into the parking area for the trail.
The Hike
The easy hike is about 1 mile to the end of the bluff above the estuary and 1.9 miles to the end of the trail. Elevation change is only 120 feet. There are no restrooms or drinking water here, so be sure to bring your own water. The weather in West Marin can be variable, so layered clothing is recommended. Hats and sunscreen are advisable, as there is little shade to be found.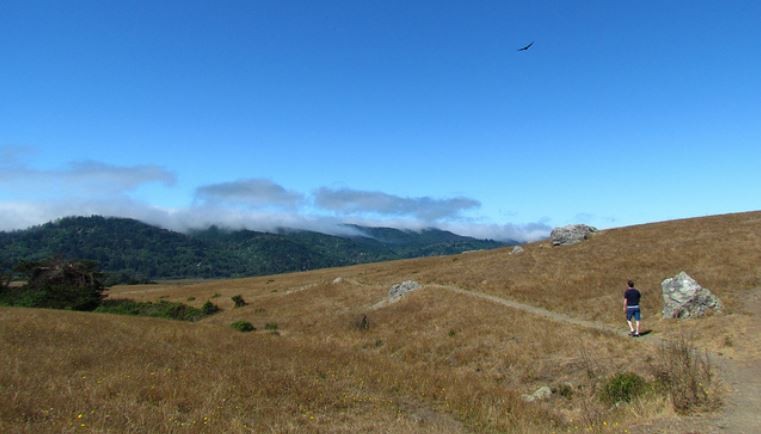 Things to Do Before or After
There are good eats in Point Reyes Station – the supermarket has a deli, across the street is the Bovine Bakery, and on Saturdays there is a farmer's market in the morning at Toby's Feed Barn. You'll also find a number of good restaurants, from the family friendly Station House Café to the more upscale Osteria Stellina. Also serving sandwiches (as well as amazing cheese) is the delightful Cowgirl Creamery, located between 4th and 3rd behind the bakery. There is a small public park behind Toby's on mesa road with restrooms, a picnic bench and a playground.