With fall in full swing, we are once again approaching the time of year when the roads leading to Yosemite's high country close for winter bringing the focus of the park back to Yosemite Valley.
Compared to summer, fall in Yosemite can feel like an entirely different place. By late October the crowds have thinned, the sun-angle lowered, foliage has turned, and there is a softer energy about the place. The swing in temperature between sun and shade means you better have both a pair of shorts and puffy on hand. It feels like the mountains are supposed to feel: an uncrowded, serene, glacial-carved playground.
---
I was recently reminded of how pleasant Yosemite Valley can be in the fall. I was there with friends from Taylor Stitch. We were in the valley to give their beloved chamois Yosemite shirts, released each fall, a proper field test.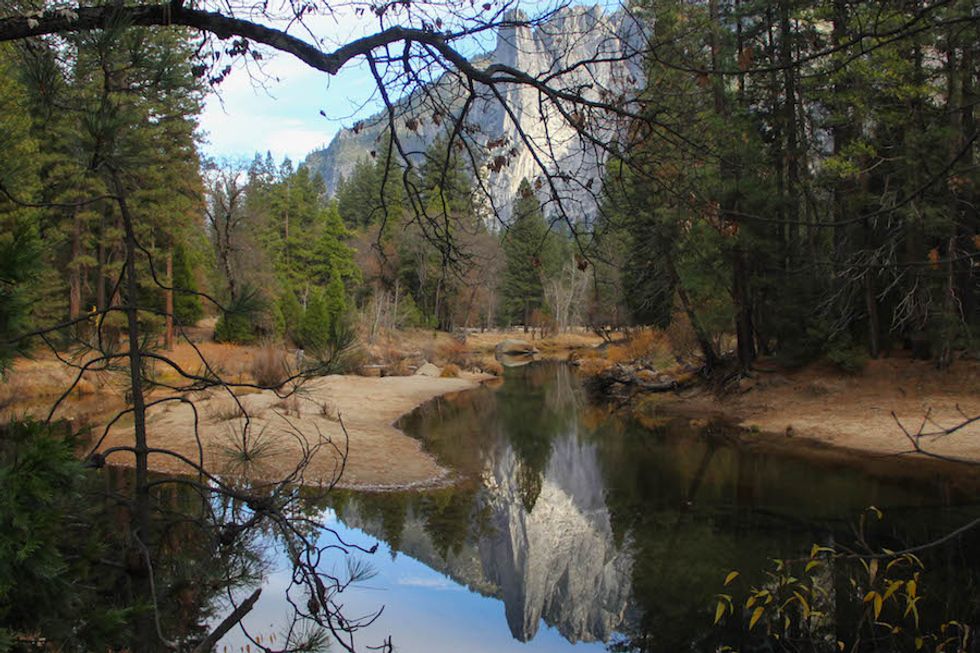 Sentinel Rock reflecting on Merced River.(Aron Bosworth)
For the outing, we opted to hike the Four Mile Trail. The route climbs 3,200 feet over 4.5 miles, ascending the south rim from the valley floor near Sentinel Rock, culminating at Glacier Point with a full view of the valley below. It was the perfect day to soak in Yosemite's splendors. Not only was the weather exceptional, common for this time of year, but we encountered almost no one on the trail. Having lunch all to ourselves at Glacier Point's Geology Hut, with its postcard backdrop of Half Dome, Tenaya Canyon, and the Clark Range, is something you just couldn't dream of during the summer.

Fall in Yosemite, particularly beyond mid October (excepting the Thanksgiving holiday), offers a quieter, peaceful experience. You can actually find solitude and enjoy your own private Yosemite in places. It's something that typically doesn't happen in the spring and summer, and the fairly arduous Four Mile Trail isn't the only place where this applies. Other trails like the Giant Staircase Loop that climbs above Vernal and then Nevada Falls, the Mirror Lake Loop that passes under Half Dome's towering north face, and the Columbia Rock hike that leads up to the south rim near Yosemite Falls, are all spectacular fall hike options.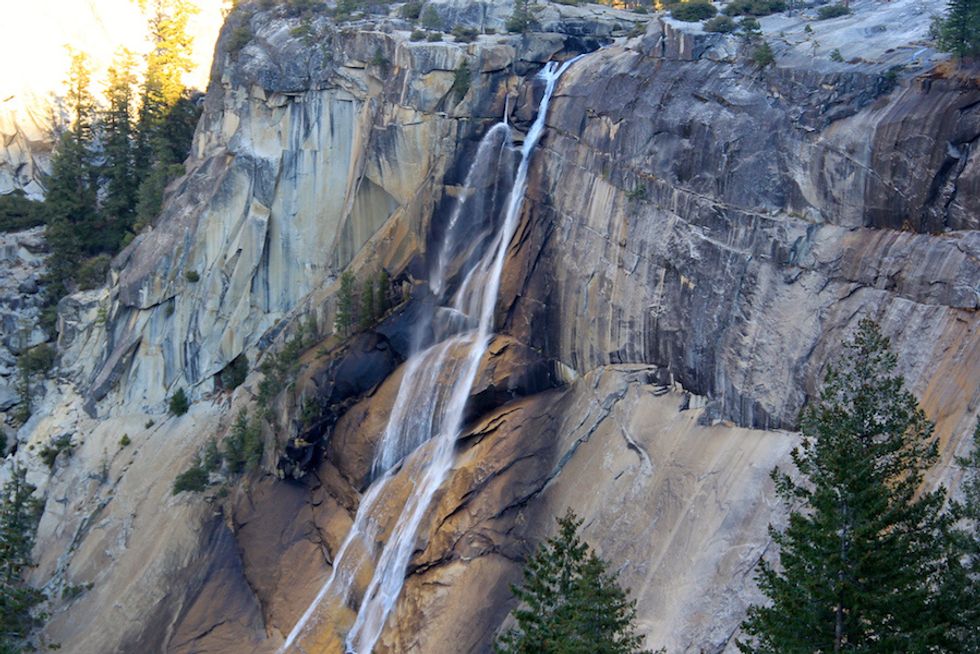 Nevada Falls marks the upper step of the Giant Staircase.(Aron Bosworth)
Fall is also the perfect time for exploring the Yosemite Valley floor by bike. Tour the valley's iconic landmarks on your own time and without the stress of summer car traffic. If you are a climber, then you already know that fall is one of the best times to climb in the valley. Daytime temperatures are generally mild, and you won't encounter lines, as can sometimes happen in summer, to climb the valley classics.
By mid fall, even the odds of getting a campsite within Yosemite Valley without planning months in advance are in your favor. Upper Pines Campground, which remains open year round, typically has spots available upon arrival this time of year. Walk-in Camp 4 is less crowded, too. We'd still recommend stopping by the campground reservations office on the earlier side of the day to ensure you get a spot, but cold valley nights typically mean fewer Yosemite campers. Just make sure to bring plenty of firewood to keep warm. —Aron Bosworth, Outdoor Project