There's only one word to describe the cost of a typical Tahoe vacation: exorbitant. With lift tickets at the larger resorts costing upward of $100 and even flea bag hotels charging sky high rates, it's hard to avoid Tahoe's financial frostbite. So how do you have a fabulous Tahoe winter vacation without breaking the bank?
---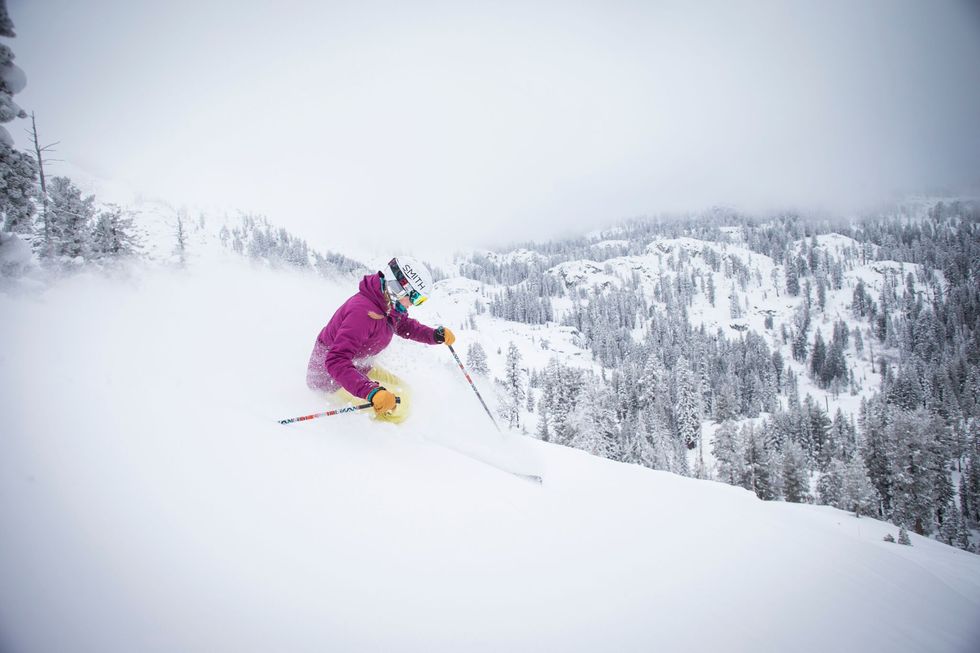 Inches of fresh snow await at Squaw Valley Ski Resort. (photo via the resort)
LIFT TICKET DEALS
Head to Sierra-At-Tahoe
One of Tahoe's most affordable ski hills, Sierra-At-Tahoe is now 100% open and, unlike larger resorts, is still selling their unlimited adult season pass online for $409 and a Sunday-Friday value pass for $279. The pass also includes three days at any Powder Alliance resort: Silver Star, Snowbasin, Crested Butte, Stevens Pass, Mountain High, Schweitzer Mountain Resort, Angel Fire Resort, Timberline Lodge and Ski Area, Mt. Hood Ski Bowl, China Peak, Arizona Snowbowl, or Bridger Bowl.
Passholders, Take Advantage of Free Days
Unlimited season passholders receive four days of complimentary skiing/riding at either Squaw Valley or Alpine Meadows. You can redeem Sundays through Fridays (except holidays). Value passholders get two free days of skiing at either Squaw or Alpine. Each Sierra-at-Tahoe passholder must show their valid 2015-16 season pass at the Pass Office, not a ticket window, to redeem free skiing/riding privileges and discounts.
Bring Your Friends for Free
Sierra's "BFF" ticket program get your pals on the hill for just $50. Unlimited season passholders receive four BFF tickets per season (or six BFF tickets if you renewed your 2014-15 Unlimited Pass); Sierra's value passholders receive two BFF tickets. There's a limit of two redemptions per day and the passholder must be present to redeem. Sierra also allows passholders to bring a friend to the slopes for free on January 8th and on select March dates (to be announced). Passholders must be present to redeem.
Go for More Than a Weekend
The Tahoe Super 4-Pack is a great deal for skiing the Squaw/Alpine mega resort. The four-day pass ($329 adults) allows you to ski for less than $83 a day with no blackout dates. That means you save about $56 per day on lift tickets—enough for a killer après ski feast of beers and pizza in Squaw's village.
The Tahoe Powder Pack is even better, and allows six unrestricted days at Squaw Valley, Alpine Meadows, and Sugar Bowl for $429. That's less than $72 per day with no blackout dates. The Tahoe Super 4 Pack and Powder Pack are for one individual and are non-transferable.
Try Night Skiing
Boreal offers an unlimited season pass that includes day and night skiing from 9am to 9pm (12 hours of slope time daily!) for only $299. Their Night Pass is only $149, which allows you to ski or ride every night of the season (an affordable way for beginners to practice their turns.)
Also of Note: Before you go, check out discounted tickets online on Liftopia or Costco's Snowbomb e-voucher for Bear Valley, China Peak, Homewood, and Mt. Rose.
In the spring, be sure to check out resort websites to see if a purchase of next year's season pass will allow spring skiing, a potential super bonus in this El Niño year.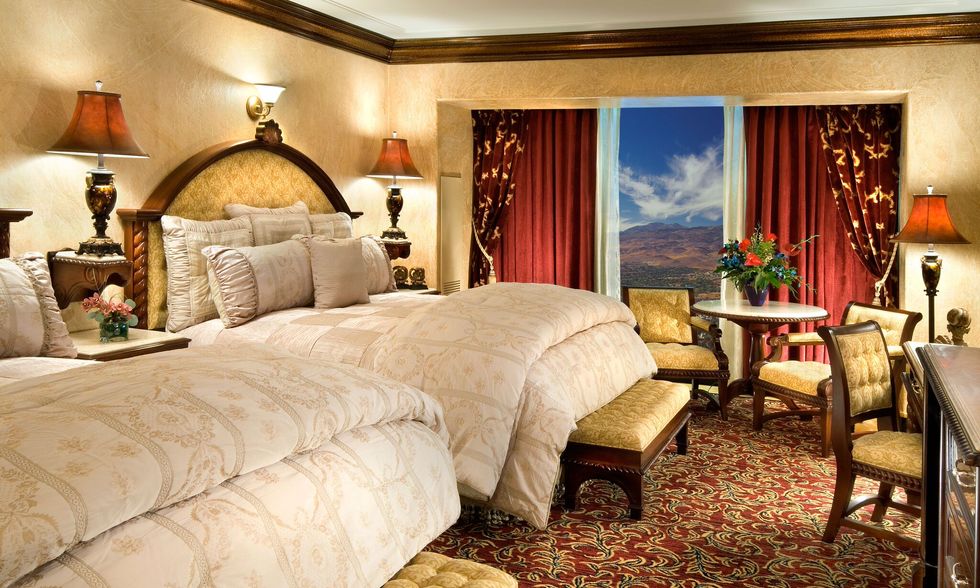 Relax after a long day of boarding in Reno's lush Tuscany Tower. (photo via Peppermill Resort)
LUXE LODGING FOR LESS
One of our favorite ploys for saving big bucks on lodging is to stay in Reno at the Peppermill Resort's luxurious Tuscany Tower using Costco's pre-paid e-voucher. For $119, you get an over-the-top, Italian-marble-lined, rain shower-HDTV-jacuzzi-equipped bathroom, and a really comfy bedroom replete with gilt-frame mirrors. The discounted rate includes a $45 per night resort credit for Sunday through Thursday stays and a $20 per night resort credit for Friday and Saturday stays. There's no better deal to be had in the Tahoe region, as long as you don't mind being in Reno instead of scenic Tahoe.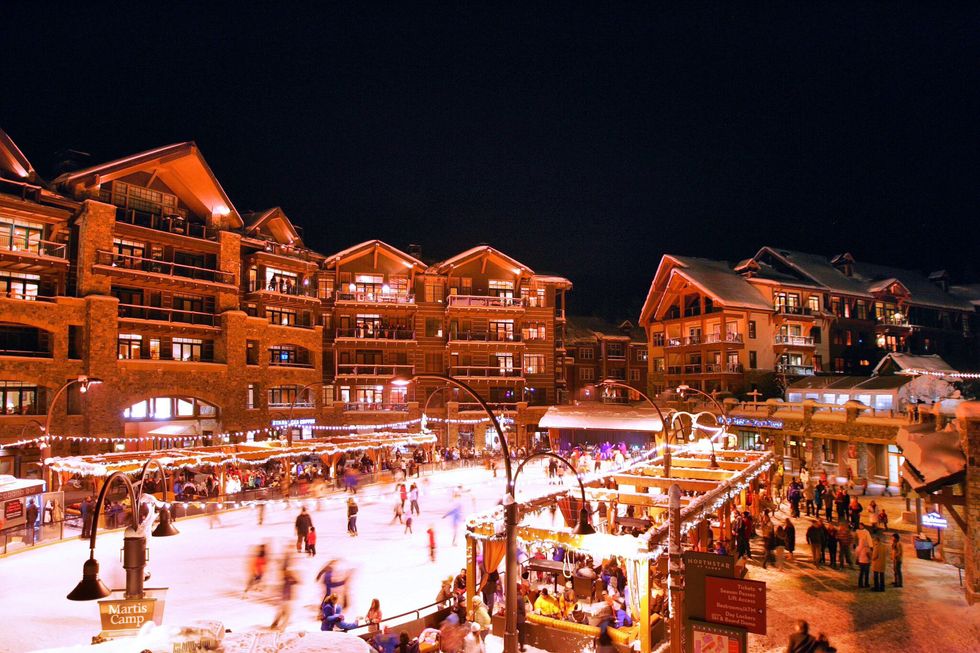 Strap on your skates or enjoy a refreshing cocktail by the fire pits. (photo via Northstar)
FREE ICE SKATING
Located in the heart of the Village at Northstar, a 9,000 square foot ice skating rink is a perfect way to enjoy the Sierra winter splendor. Enjoy a refreshing cocktail or two by the outdoor fire pits surrounding the rink or take a few laps to burn off any energy left over from skiing or riding. The skating rink is open noon to 9pm, weather permitting, and is free for all. Skate rentals are available for $10-$15. There's also free music on the adjacent stage in the afternoons, Fridays through Sundays, and on holidays.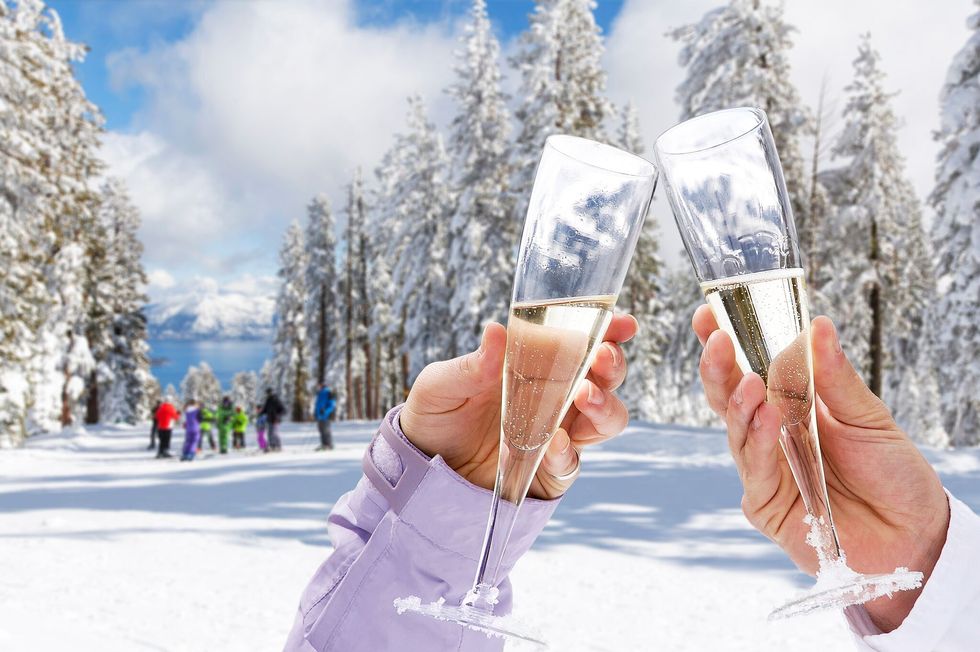 Northstar Resort hosts a Champagne toast every day at 2pm on the slopes. (Photo via Northstar)
AFFORDABLE FOOD, DRINKS, AND TREATS
For a deluxe après-ski treat, check out Plumpjack Squaw Valley's happy hour on weekdays from 2 to 4pm: $11 burgers and fries, $5 beer, wine, and well drinks, $6 olives and wine or popcorn and beer combos, and $5 plates of chicken wings.
Every day during the winter season Northstar hosts tōst, a free celebratory champagne toast on the slopes. Raise your flutes and sip bubbles each day on East Ridge run at 2pm.
Also at Northstar, munch free s'mores every day at 3:30pm, when chefs dressed in whites hand out the classic chocolatey treats to resort guests around the skating rink.
On the South Shore, check out local favorite Lakeside Inn for their happy hour ($3 beers and $2 well drinks) and hearty $4.99 breakfast specials.