How many times have you heard it? You have to go to Tulum. The off-grid bohemian enclave on the Mayan Riviera sits about a two-hour drive from the tourist trap that is Cancun, making it a perfect semi-secret escape for fashionable wanderers, yogis, and wellness devotees looking for untouched swaths of beach and hippie-chic jungle stays where they can chill out without the crowd.
But word got out, as word has a way of doing, and tourism has blown up in Tulum in recent years, shrinking the distance between it and Cancun, at least in terms of the vibe. Since when was Tulum's pockmarked beach road—once suited only to flip-flopped daytime strolls and devil-may-care rickety bike rides back to your room after late nights by the grill at Hartwood—lit up by police car lights patrolling the once-quaint ice cream hut that now attracts stiletto-clad night moves with thumping hip-hop and the mezcal-fueled chant of I Scream Bar! (Shudder.) If you got to Tulum way back when—or even just a few years ago—a trip today will likely leave you longing for the quieter times (even if all those green juices and organic cotton maxi dresses did feel a bit contrived). But if you ask around, where's the next Tulum, there's a word being whispered from well-traveled lips: Holbox.
---
Pronounced ole-bosh, Holbox—actually Isla Holbox—is often likened to an off-grid-ier version of off-grid Tulum. Much quieter. Less hip. More authentic. It's like Tulum was before, they say. But is it The New Tulum? We'll see.
Getting There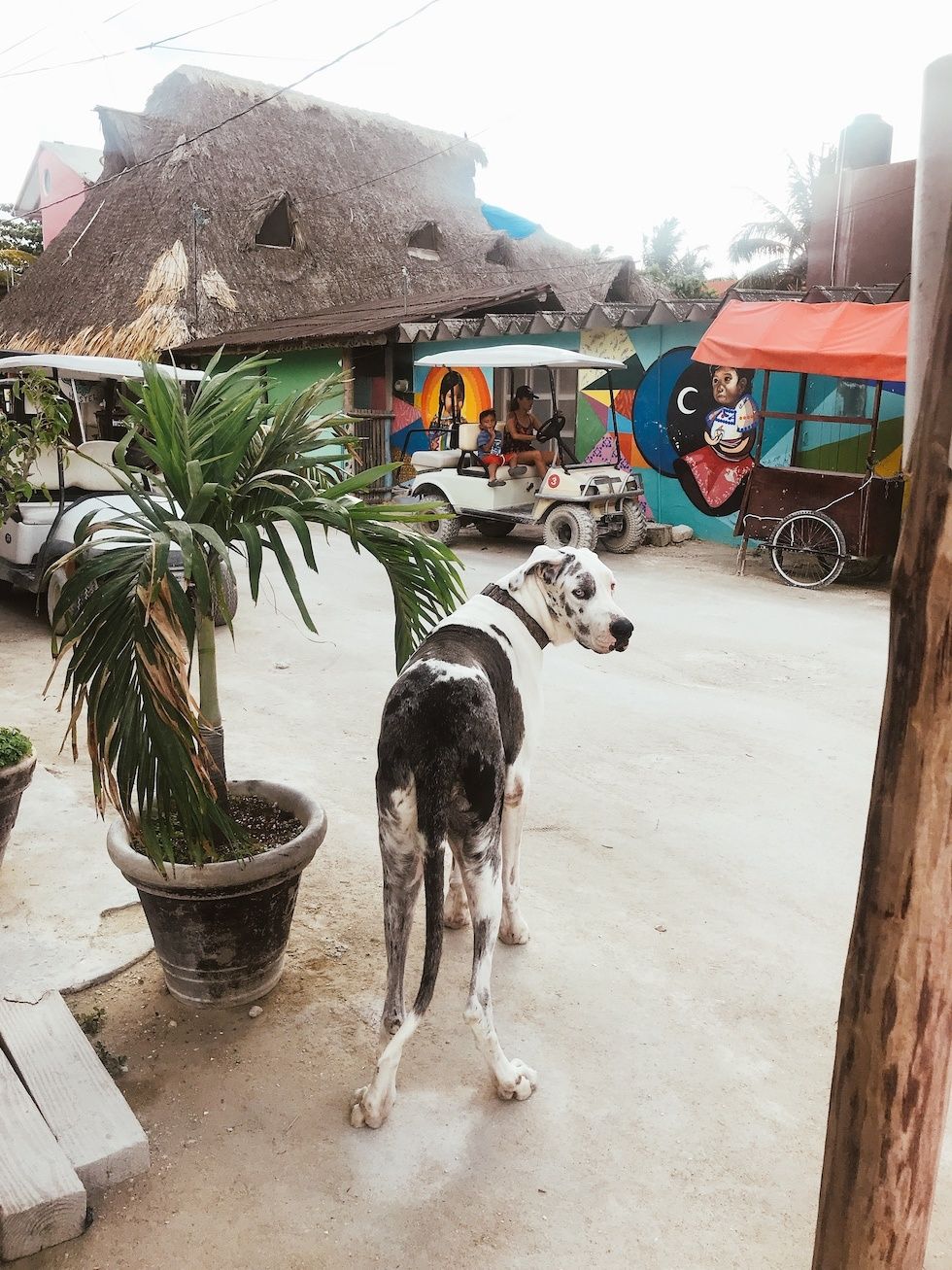 Golf carts are the primary mode of transportation on Holbox. The local dogs are a bonus.
If you've ever traveled to Tulum from San Francisco, you know it's about as conducive to a weekend getaway as a trip to New York. Cancun is located on the easternmost tip of Mexico on the Yucatan Peninsula, in the state of Quintana Roo; south of that is Tulum, which is way closer to Cuba than it is to Baja California, making it a perfect jaunt for East Coasters (and a pleasing vacation spot for both Western Europeans and South Americans), but just enough of a stretch for Bay Areans so as to feel truly afar. Direct flights from SFO are five hours-plus; the drive from the airport is shy of another two. Factor in the time change and Tulum is truly a whole day away—but its world-away magic always made the effort feel worth it for two or three days in paradise.
Like Tulum, Holbox is located on the Yucatan Peninsula—well actually, it sits just off the peninsula since it's an island, after all—on the northern end, somewhere between Cancun and the cultural ex-pat mecca that is Merida. It's closer to Cancun than Tulum as the crow flies, but fewer major roads and the problem of water between it and the port town of Chiquila make the trip from Cancun Airport a bit of an endeavor. Expect a roughly two-and-a-half-hour drive from the airport, plus a 30-minute ferry trip. Factor in wait time for when the ferry arrives late (in this writer's experience, the posted ferry schedule is only there for looks), and your day-long journey to the outer reaches of the civilized world has now officially tipped into overtime. But you're soon to be transported, right? Yep, by golf cart, that is. Since there are no cars on the island (bonus), your hotel is a short and sandy (and should it be raining, splashy) cart ride away.
Word to the wise: Exchange your cash before you fly. The rates at Cancun Airport are too high, and the sole ATM on Holbox exists in a shady hallway above the police station and is often out of order.
Where to Stay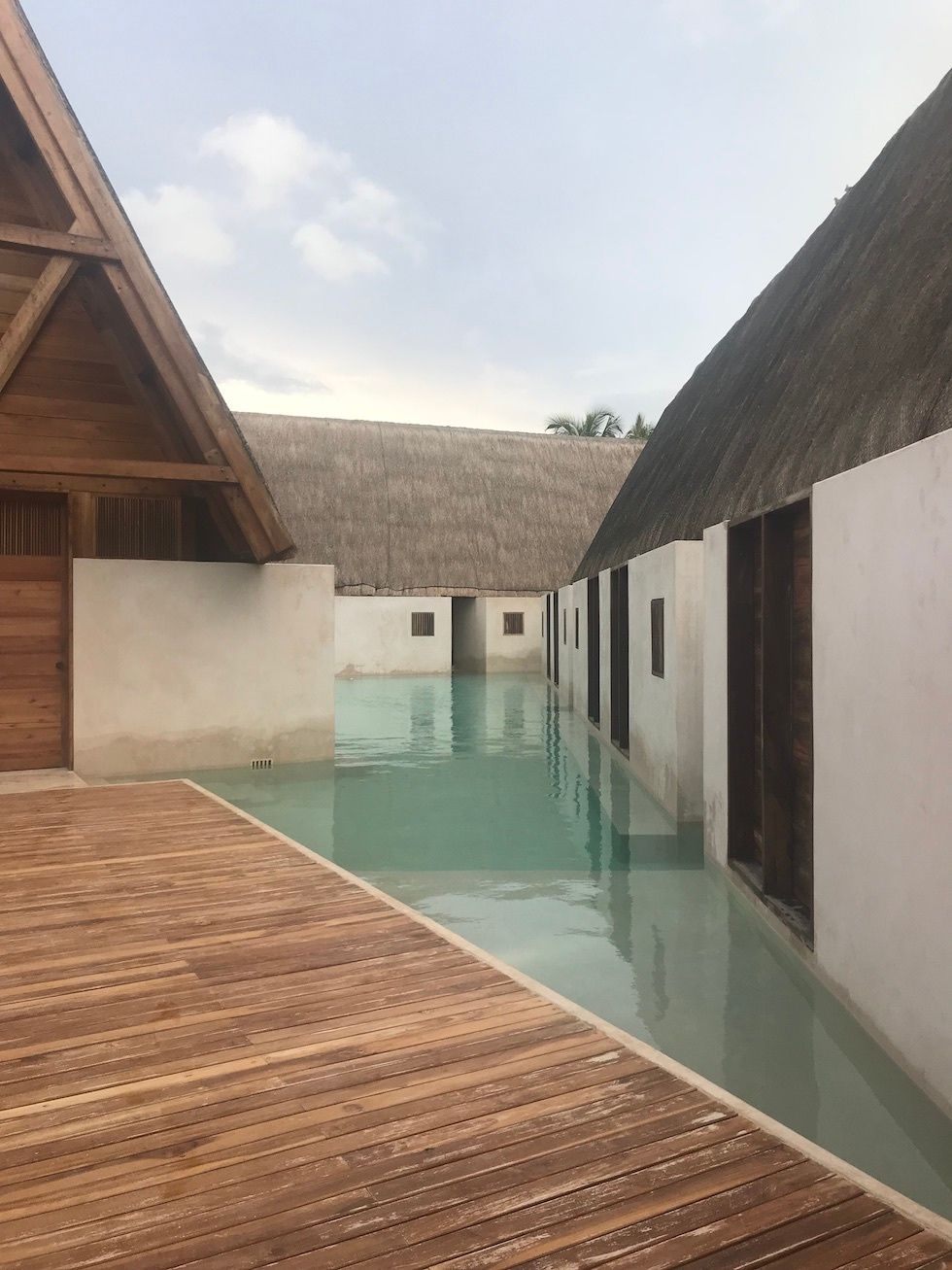 The slice of pool at Punta Caliza connects all rooms to the common area that doubles as an al fresco bar and breakfast room.
Tulum's hotels, and even some of its Airbnbs, are the stuff of Instagrammer dreams. All whitewashed and wabi-sabi, the stays there hold the promise of fresh fruit breakfasts, sun salutations in the sand, and often, thanks to an influx of affluent visitors, meticulous hospitality and service in the hands of hoteliers who caught the bug and made the move from urban centers such as SF (as at Zamas) and Los Angeles (as at Sanara). Which is to say that few people in Tulum's oceanside hotel zone are actually from Tulum, and no one lives at the beach; if you wish to soak up local culture (i.e. see street art, drink mojitos, and eat the best cochinita pibil), you hop on your bike or scooter or grab a 15-minute taxi into town.
Holbox, however, is as island-y as islands come, which is to say that it's still a sand dune in the ocean. There are few paved roads, and the town is basically a beach—a barefoot-if-you-dare walk from centro to pretty much any hotel you choose. There are understated-yet-luxurious stays that have been here for a while: You'll find Casa Las Tortugas and Ser CasaSandra on the must-stay lists of glossy travel and fashion magazines, and if it's style and well-catered leisure you seek, you will no doubt find yourself here for cocktails, dinner, spa-ing, and light shopping.
But if you've come to Holbox in search of B.T. (before Tulum) vibes, you may want to check into a smaller, homier spot. Opened in December 2017, the 12-room Punta Caliza is the place. Owned and hands-on operated by sister-brother duo Claudia Muñoz Vargas and Cuauhtemoc ("You can call me Temoc") Muñoz, the beachfront-ish property is an architectural wow moment on the humble island. Designed by the Guadalajara firm Estudio Macías Peredo Arquitectos, the boutique hotel makes an opportunity of its odd triangular lot with A-frame-inspired rooms that center on a stylish geometric plunge pool that doubles as a way to the bar (or breakfast) should you wish to swim. Clad all in red cedar harvested from the Guadalajara family's own land (the trees were originally planted with the intent of funding the siblings' college educations before an economic downturn foiled the plan), Punta Caliza has a warmth you might expect from a Lake Tahoe cabin—and that's just fine with us.
The hospitality here is what you would expect of a petite, family-run stay: Imperfect in its newness (during our stay in Spring 2018) and sweet in its lack of corporate-ness; wholly lighthearted and personal. Upon checking in, it was Claudia, in her cutoff shorts and espadrilles, who circled her favorite restaurants on the map; and when our impromptu tequila tasting lingered well past happy hour and into drunk-and-hungry territory, it was Temoc who led us on foot to dinner. Given the late hour (most restaurants here close at 9pm), our meal would be had in the converted garage of a local home (given away by a trip to the family bathroom where there were toiletries in the shower), where the menu consisted of every possible combination of protein, tortilla, and cheese. It was a moment that would have never happened in Tulum, where reservations are made well in advance for a meal at Hartwood and where entire vacations were planned when Michelin-starred Noma chef Rene Redzepi decided to pop up in the jungle this past year. Was the food as good? Certainly not—it wasn't memorable at all. But Redzepi never gave anyone a personal guided tour of Tulum, either. Choose your own adventure.
Speaking of food (more on this in a moment), Punta Caliza doesn't have much. Breakfast is included in your stay and is cooked in a subterranean kitchen designed for hobbits—accessed only by those who limbo beneath the bar. The fare is classic Mexican—think chilaquiles and those delicious traditional postres (none of those Tulumian smoothie bowls or gluten-free options here), and it is likely to be served by Claudia herself. Should you wish to snack from your chair on the beach (loungers are complimentary to hotel guests), you can order up a freshly made guacamole or ceviche with chips. But if you are one who lives to eat (hi!), a bit of planning is key.
Eat + Drink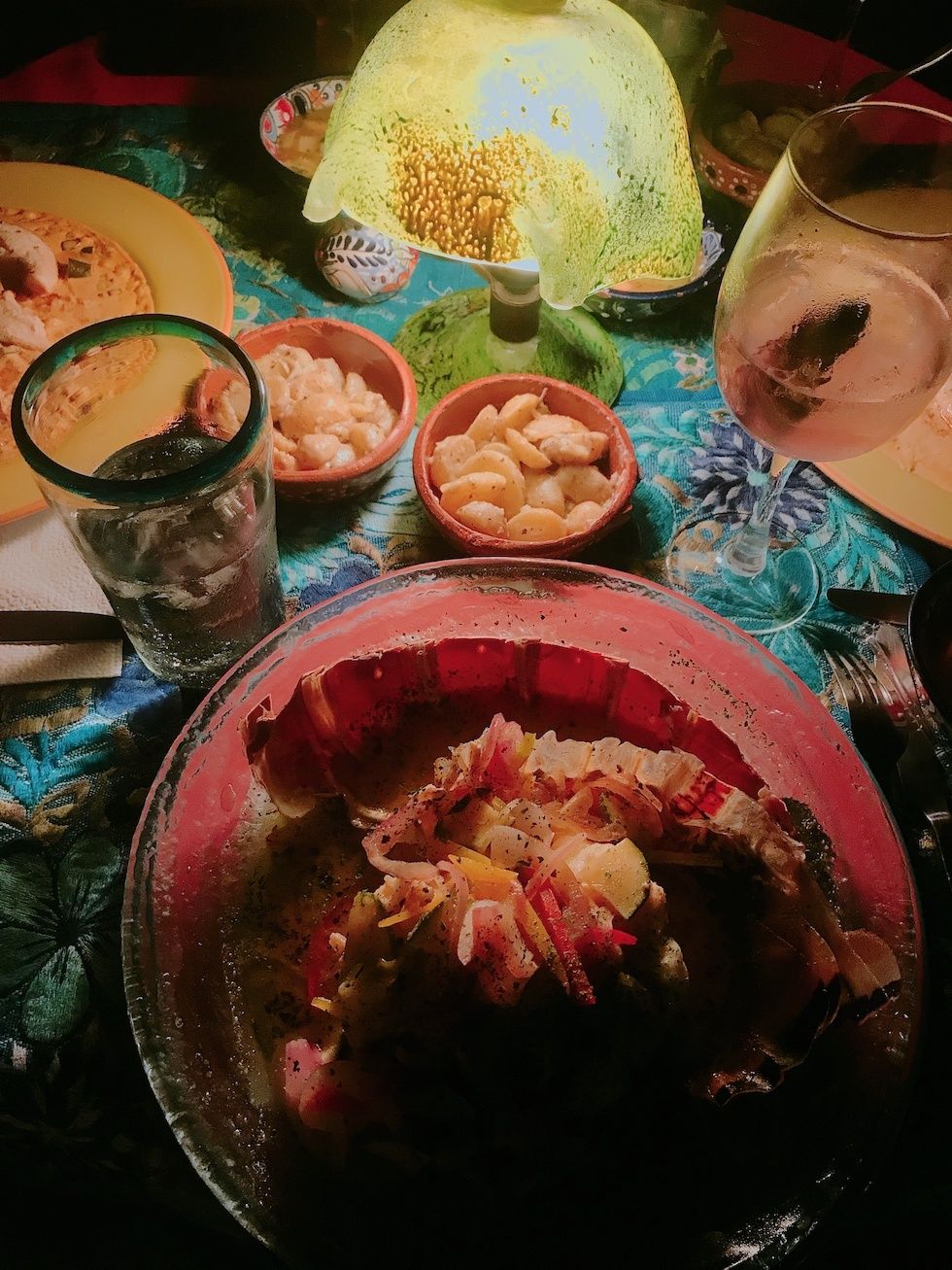 A dark and moody dinner of the day's freshest crustacean at El Chapulim.
This is where things get real.
If you are anything like me (if you're not, you're in luck!), you are already planning lunch while still ordering your breakfast. And if you are a particularly healthy eater or have any kind of dietary restrictions whatsoever, Tulum is culinary heaven, a mystical place where you could easily stay loyal to a gluten-, dairy-, sugar-free meal plan just by walking up to a place—practically any place—and sitting down to eat. In Tulum, fresh grilled fish, fruits, and vegetables are the rule; and restaurants like The Real Coconut and Posada Margherita (that pasta, omg) are as good as any Zuni or Cala or Frances back home. Poems could be written about hours-long, throw-pillow-in-the-sand dinners of hot-off-the-grill lobster and octopus at Nomadé.
No verse has yet been penned about such inspired cuisine on Holbox, and perhaps it never will be. While Tulum stirs up a witches brew of Mayan and global flavors with a wellness bent to totally unique effect, Holbox is still happily rooted in Mexico. Whether this is patriotism and pride or the naivete that comes from being literally cut off from the world both geographically and socially (the phones and internet are constantly down), is difficult to say. It is both, I suppose, and somewhere in the question lies the id of Holbox: It doesn't want to be the next Tulum. It doesn't seem to want to be anything at all.
But we were talking about food, and there's enough deliciousness to sustain one through a weekend if you only know where to look. Breakfast at Mandarina—the beach club and restaurant at Casa las Tortugas—is as good as it gets, with pastries that beg for pre-bite photo ops and juices and smoothies (rare on the island) in addition to more traditional Mexican fare. Let it be said that the cocktails here are top-notch—if there's a coffee-cacao-mezcal situation on the menu, order it. No, order two. For drinks and tapas after sunset, pass through the hotel to sultrier Luuma. At nighttime, the twinkling candles and swaying palms of CasaSandra's beachfront dining space Ser Esencia is impossible to resist—and you won't likely be disappointed by the elevated Mayan fare coming from the kitchen helmed by Chef Roberto Solis, who actually did time at Copenhagen's Noma. But for our money, there's no better meal on Holbox than the daily offering at El Chapulim, a casual, cash-only spot in town run by Chef Erik Winckelmann, a so-grumpy-he's-funny American ex-pat who knows that, yes, his contemporary Mexican food is that good. Be willing to wait for a table on the bustling sidewalk (on our visit, the muggy dining room smelled of fish) and then listen carefully as the chef himself tells you what's for dinner—four main courses change daily. On our visit, the fresh-caught lobster—deftly cut in half and presented in its gorgeous shell—was among the most memorable meals we've had lately.
Activities on Holbox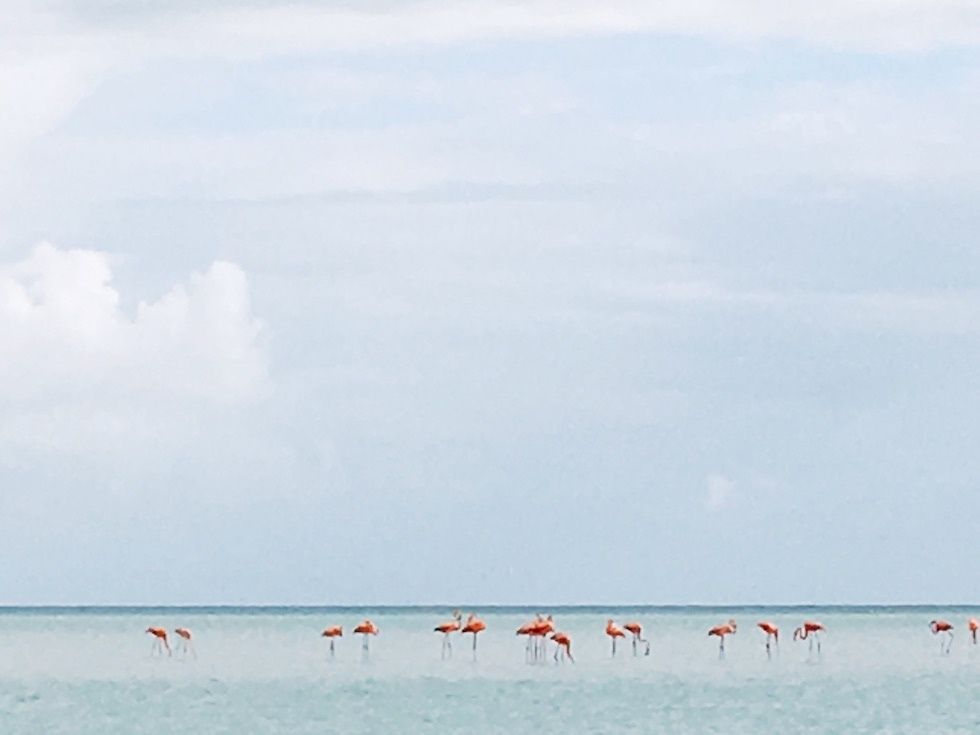 Squint and you can make out the gamine birds in the wild at Punta Mosquito.
Swimming with gentle giants is undoubtedly the number-one attraction on Holbox, as the island is a favorite destination for whale sharks, the world's biggest fish (up to 30,000 pounds) whose mouth alone stretches open about four feet wide (all the better to eat you plankton with!). Whale shark season is technically mid-May to mid-September, and there are various outfitters to take you—excursions to nearby Isla Pajaros are also popular. But should you arrive while a massive tropical storm is brewing (as we did), you may find yourself beached.
The beaches in Holbox basically number two: Any Instagram search of the island will quickly yield dreamy, blue-skied photos of Holbox Beach, where brightly colored letters spell the island's name in the sand and rainbow hammocks flap gently just above the water. The allure is undeniable, but if you're island-bound with designs to swim you may meet with disappointment thanks to a sandbar here that stretches out so far that you might literally wade knee-deep into the sunset in bath-warm, crystalline water. So forget catching waves (our favorite Tulum pastime); not once during our trip did we see so much as a ripple. On the western edge of the island, Punta Coco (a solid bike ride away) is touted for its sunsets and seems to draw more locals than tourists. And while a picturesque dock makes for a lovely image, we found the water to be cold and mucky with seaweed. You can, of course, make the lengthy trek down Holbox Beach and over the lagoon to Punta Mosquito to see the flamingos, but know this first: There is absolutely no swimming here out of respect for the wading wildlife. Unless you are one of those embarrassing Americans who the locals say chase down the beautiful birds to get a photo op (we will, they say, eventually run the flamingoes off the island and ruin it for everybody), they are really just elegant fuchsia specks on the near horizon. Pack your iPhone X with the fancy camera and the DEET (seriously, our nontoxic stuff was useless against the critters here).
Passing by the many vivid murals and primary-colored small businesses of the town centro, you might catch a locals' pickup game of basketball. There are a few shops here and there—none of them so suited to the Tulum regular as Le Bazaar, the tiny boutique next to Casa Las Tortugas that stocks vintage and handmade clothing and accessories.
The Takeaway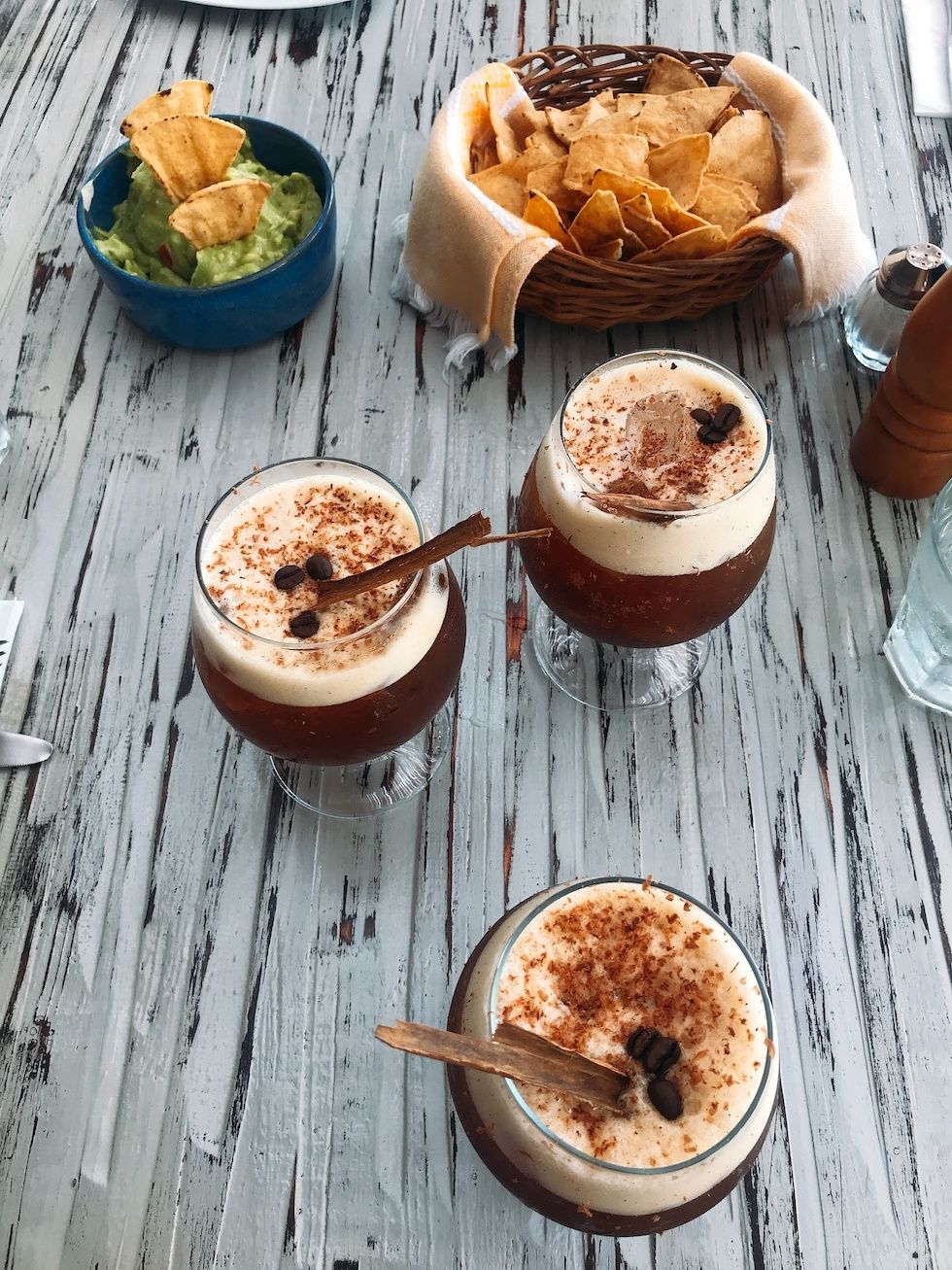 Cacao-and-coffee-infused mezcal cocktails at Mandarina demand a second round.
To be quite honest, there's not much to do on Holbox. There are none of Tulum's upscale yoga retreats or sound baths or temescals or cenotes or juice bars or World Heritage sites or biosphere reserve. No plethora of shops in which to buy gauzy maxi dresses or restaurants to keep you eating for weeks on end. No miles and miles of pristine water intended for actually swimming. No scooters for rent. No, Holbox is just Holbox—a remote island with sand, sea, hardly more than a thousand local people, chips and guac, little connection to the outside world, and, thankfully, mezcal.
So, if you long for the days before Tulum had all of the above—when it was simply a stretch of sand and ocean hidden away by distance and the wild jungle, then Holbox is for you.
But word is getting out, remember, as word tends to do.