The Bay Area has long been fertile ground for literary talent - from Jack London to Amy Tan to Dave Eggers. Litquake, now in its 11th year, is our annual celebration of the written word, and it blows through town October 1-9. It's a whirlwind of lectures, parties and lit-events, so pick and choose what suits your fancy, but definitely aim to hit up something. Here are the biggies this week:
---
Monday, October 4: Words and Waves: An Evening of Surf Lit is Litquake's first-ever and promises to be a party. It combines specialty cocktails by Blue Angel Vodka, music, videos and readings to express the literate surfer's love of riding waves and the humbling powers of nature. If you donate $5-10 for admission, you get to order off the happy hour menu all night. It's held at Ocean Beach too, so bring your scarves.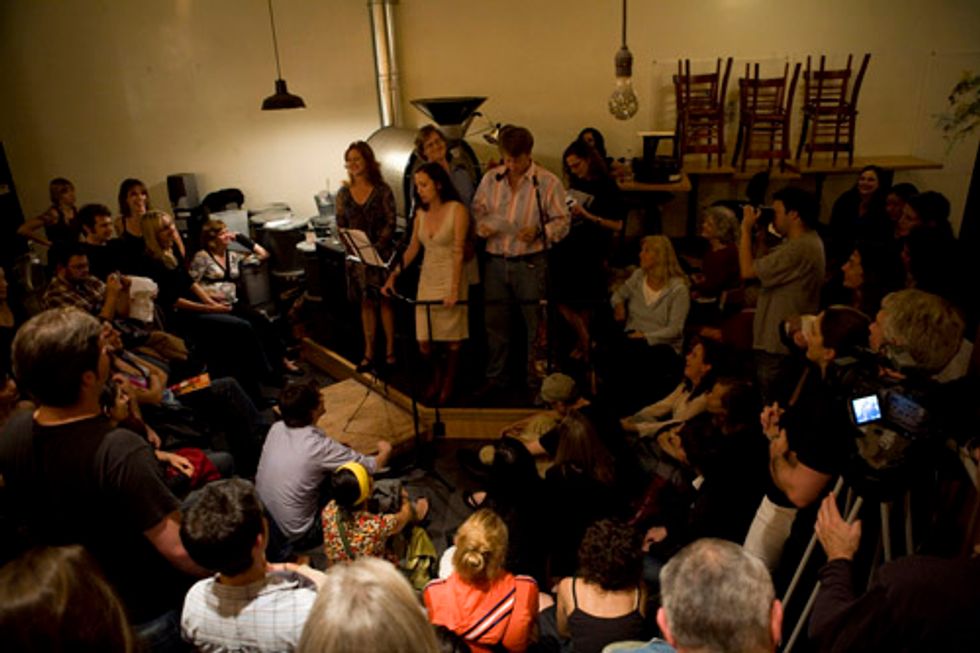 Tuesday, October 5: Virtual Reality: The Effects of Fiction on Your Mind at the Mechanics Institute Library challenges us to think: what do you really know about the characters on the page of a book? Is it healthy to visit imaginary worlds? Elaine Petrocelli, Robert Burton, and Mark (son of Kurt) Vonnegut will help us decide.
There's also Tales of Hollywood Hell at Herbst Theatre, a one night impromptu show of true stories from the weird entertainment machine of LA. It features Exene Cervenka (from 80s punk band X), Litquake founder Jack Boulware, filmmaker Michael Tolkin, novelist Joyce Maynard and more.
Wednesday, October 6: Kidquake at the San Francisco Public Library's Koret Auditorium is one of the festival's most popular events. This particular session caters to young adults from 6th to 8th grade. It's a morning of readings, discussions and special workshops with children's book authors and illustrators that will help fuel the imaginatiosn of your kids. It's also free for school groups!
On the flip side of the coin, Bawdy Storytelling at the Blue Macaw features people telling stories of their sexual exploits in ten minutes or less on stage. Watch actors, comedians, authors, poets and even regular people share their misadventures over drinks at this Mission nightclub.
Thursday, October 7: Litquake Bites is a lunchtime foodie event held at the Ferry Building. Feast on goods from Cowgirl Creamery, Rancho Gordo and other fine purveyors of food at this tasting event.
Stories on Stage, new to the festival this year, is a cool way to bring to life short stories by acclaimed authors. On stage at the Berkeley Rep Theater, look forward to stories about love by Daniel Handler, Daniel Alarcón, and Yiyun Li (included on the New Yorker's latest list of 20 best fiction writers under 40) directed by Sean San Jose, who is part of the award-winning theatre company Campo Santo.
Friday, October 8: Jonathan Lethem heads to the Jewish Community Center to talk about his new novel Chronic City, which he describes as concerning "a circle of friends including a faded child-star actor, a cultural critic, a hack ghostwriter of autobiographies, and a city official. And it's long and strange."
Teen Crawl takes over most of the day in a multi-faceted tribute to young writers. First, Litquake features readings and discussions with published teen authors. Next, there will be loads of workshops for teens who aspire to write novels,  poetry and even make zines, put on by 826 Valencia, WritersCorps, Streetside Stories, Dawn Marie Knopf and Annie Yu.
Saturday, October 9: Litquake culminates in an epic Lit Crawl that spans over 60 galleries, bars and other venues. Dozens of authors will be there to stimulate your brain while kicking a few back. There's too much going on to list here, so check out Lit Crawl's Phase 1 to get a taste of what's in store.