Starting next Tuesday, October 11th, lunch options at the Tuesday Ferry Plaza Farmers Market will be increasing with the addition of Wise Sons Jewish Deli. Owners Evan Bloom and Leo Beckerman, along with partner Joe Wolf, will be serving up pastrami sandwiches on house made rye with sides like fingerling potato salad and coleslaw, all featuring seasonal ingredients. Lox sandwiches, on Beauty's Montreal-style bagels, will be topped with pickled and fresh market veggies. The trio cold smokes and cures all the fish for their bagels, and will feature seasonal selections including salmon, sturgeon and
black cod. Over time, Wise Sons plan on offering other deli favorites such as matzo ball soup, chopped liver, whitefish salad and borscht.

The following Tuesday , October 18th, Humphry Slocombe will be joining us at the market with popsicles, single serve cups and pre-packed pints of their delicious ice cream and sorbets. Humphry Slocombe owner and chef, Jake Godby, tells me to expect crowd favorites like Secret Breakfast, but to also look out for seasonal flavors like pumpkin five-spice, Thompson grape sorbet and white miso pear. Jake's partner Sean Vahey says, "Our Winter flavors are so cool. As the weather changes we get really creative and the menu will change from week to week, so there's always something new to try."



---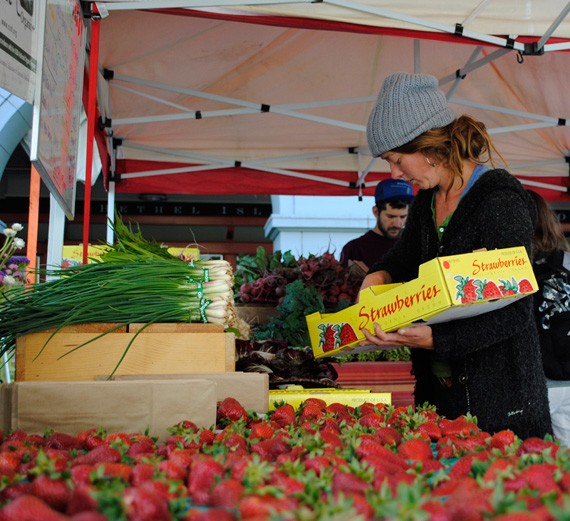 Sean and Jake from Humphry Slocombe

Also joining us on Tuesday's this month is Jesse Friedman's SodaCraft SF. Previously operating from Hapa Ramen's tent on Tuesdays, Jesse will be branching out into a space of his own. In addition to his seasonal sodas and ginger ale, warm drink options will be available as well. "I'd like to do an apple cider, but with more interesting spices, like star anise and vanilla," he tells me. Taking advantage of their new neighborly relationship, SodaCraft SF and Humphry Slocombe will also offer unique soda floats. "The olive oil ice cream and the ginger ale are awesome together," Jesse says, "and any of the booze flavored ice creams work really well too."

The Tuesday Ferry Plaza Farmers Market is open year round, rain or shine from 10 am until 2 pm.