When most young San Franciscans think of the Mission, they think of Dolores Park and the Valencia Street corridor, that ever-bustling bastion of gentrification where it seems impossible to squeeze in even one more hipster bar or restaurant.
But San Franciscans who've been around remember toting their New York Times (yes, the actual print edition) to curb it outside Universal Cafe on Sunday mornings, where they would wait for the city's best brunch in an otherwise kind-of-desolate part of the neighborhood, then a stone's throw away from what was once the beloved Slow Club—but not much else.
Today that pocket of the Mission, which is still home to Universal (which is still truly great), is having a bit of a heyday, thanks to the slow and over-time opening of various arts venues and independent shops as well as the more recent arrival of legit cult brands. Now the swath of San Francisco from 18th and Harrison to 21st and Bryant streets seems deserving of a neighborhood moniker all its own. Take a day to check out its award-winning bars, destination eateries, and cutting edge arts.
---
Where to Eat + Drink in Mission-Potrero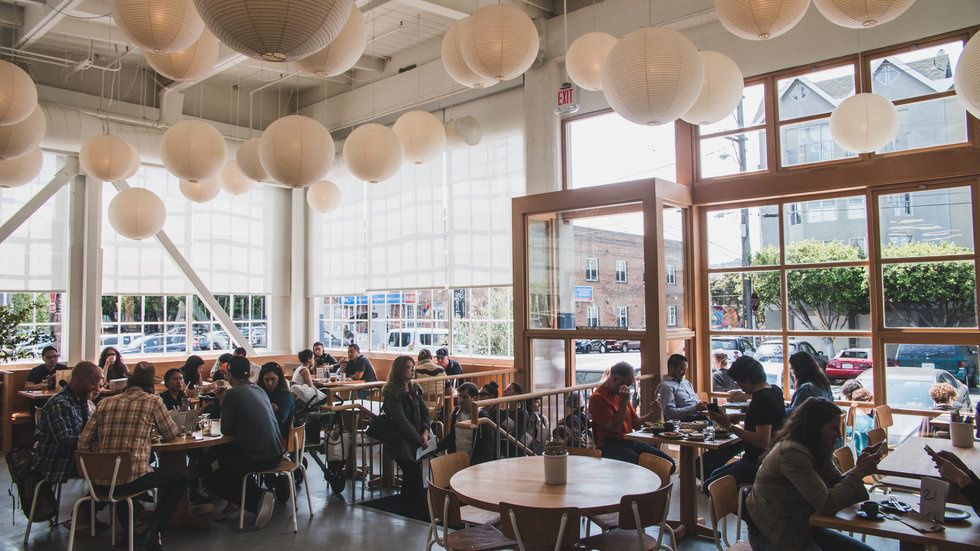 Tartine Manufactory has everything you need from breakfast to dinner, from croissants to cocktails.
(Courtesy of Tartine Manufactory)
Universal Cafe
Whatever you want to call this little sub-pocket in the Mission, Universal Cafe started it. When it first opened over 25 years ago, much of San Francisco would have considered it a destination restaurant: Popular for brunch, the little eatery in then-underdeveloped no-man's-land—save for nearby Slow Club (RIP) and KQED's HQ—still merits the wait outside on Saturday and Sunday mornings (though they also serve weekday brunch as well as dinner). Chef Leslie Carr-Avalos' sustainable, Northern California–style menu is simple yet decadent, with favorite dishes including the brioche French toast; soft scrambled eggs with spinach, pecorino, and tapenade; and the house veggie burger sandwich. Over the years, a colorful outdoor mural has been added to brighten the industrial feel of the surrounds. // 2814 19th St., universalcafe.net
Flour + Water
Now in its 10th year, chef Thomas McNaughton's Flour + Water is officially OG for the neighborhood. A skillful pasta maker, cook, and restaurateur, McNaughton's home restaurant was conceived as an escape to Italy, but with a modern, Californian twist. You must order pasta: Try the wild rice and mushroom casoncelli, or go all in for the tasting menu of five pastas paired with Italian wines. A vegetarian menu is also available, though meat lovers would do well to check out sister restaurant Salumeria—a traditional alimentari with salumis, cheeses, olive oils, and more—nearby. // 2401 Harrison St., flourandwater.com
Tartine Manufactory
The arrival of the Tartine brand here is an official make moment for the neighborhood. With its cult reputation for delicious bready things in tow, Tartine Manufactory feels like the culmination of Liz Prueitt and Chad Robertson's artisanal approach to making food, but with drinks. The disruptive bakery-cafe-restaurant-bar serves everything you need from breakfast to after-dinner—from croissants to crudo to cocktails by L.A. bar star Julian Cox—in a lofty, casual space that blends Scandinavian and Japanese design influences. GM and wine director Vinny Eng has also curated a comprehensive wine program with bottles from around the world. As is the case at every Tartine location from 18th Street to Los Angeles to Seoul, expect to wait for good things to come. // 595 Alabama St., tartinemanufactory.com
Trick Dog
In an industrial-warehouse-meets-French-apothecary-style space, the ever-crowded Trick Dog has become ubiquitous in San Francisco nightlife—as such a regular stop on the craft cocktail circuit, this bar from the Bon Vivants feels like it's been here forever. But thanks to ever-changing and uniquely creative cocktails menus, Trick Dog remains fresh (and keeps winning awards). The recently released Lucky Number 13 cocktail menu was designed with original work by the artists at Idle hand Tattoo, with each piece of tattoo art inspiring an associated drink. Pantera, with an image of a panther, comes with Union mezcal, Rancho Tepua bacanora, Averna, cold brew coffee liqueur, tejate liqueur, and bitters. Elevated bar food (chicken tricknuggets, kale salad, beef tartare) is also on hand. // 3010 20th St., trickdogbar.com
Farmhouse Kitchen Thai Cuisine
Flowering vines decorate the entrance to this unpretentious restaurant geared toward communal and counter dining (though there are regular tables if you're seeking intimacy). An honoree of Michelin's Bib Gourmand title since 2016, chef Kasem Saengsawang taps his Bangkok roots to produce a menu inspired by Thailand's street food. Traditional dishes include pad Thai and fried rice with cage-free egg, but there are also more contemporary offerings—think king prawns with curry made with spicy-fresh turmeric, kaffir lime, and young coconut meat, served with garden vegetables and the chef's signature blue flower rice. Friendly and laid-back, this spot is perfect for birthday celebrations (they'll even sing you a song) Also look for locations in Oakland and Portland. // 710 Florida St., farmhousethai.com
Bon Nene
A cozy Japanese restaurant with just a few tables and an open kitchen, Bon Nene is the project of co-owners and first-time restaurateurs Stephanie Chan and Mia Fukuta, who serve mostly small plates inspired by Japan. On weekends, go for the choshoku breakfast with grilled fish, rice balls, and chickpea miso soup. Minimal in design with rotating art, the restaurant's ambiance has just the slightest French bohemian touch. // 2850 21st St., bonnene.com
True Laurel
Opened in 2017 from Michelin-starred chef David Barzelay (Lazy Bear) and award-winning bartender Nicolas Torres, True Laurel is a destination for cocktails geeks and those who like to eat past 11pm. Dressed in a sophisticated, mid-century modern look, the cozy-yet-vibrant bar serves up manicured cocktails with excellent names. Because We Carrot, for instance, is made with Gentian wine, carrot, rosemary, Meyer lemon, and a touch of rum; Grandma's to Blame has Islay gin, clarified grapefruit, manzanilla, lavender, and honey ferment. The food menu, designed by Barzelay, includes small bites like beef cheek and aged cheddar fondue, roasted lamb ribs, and cacio e pepe popcorn. // 753 Alabama St., truelaurel.com
Cool Shops in Mission-Potrero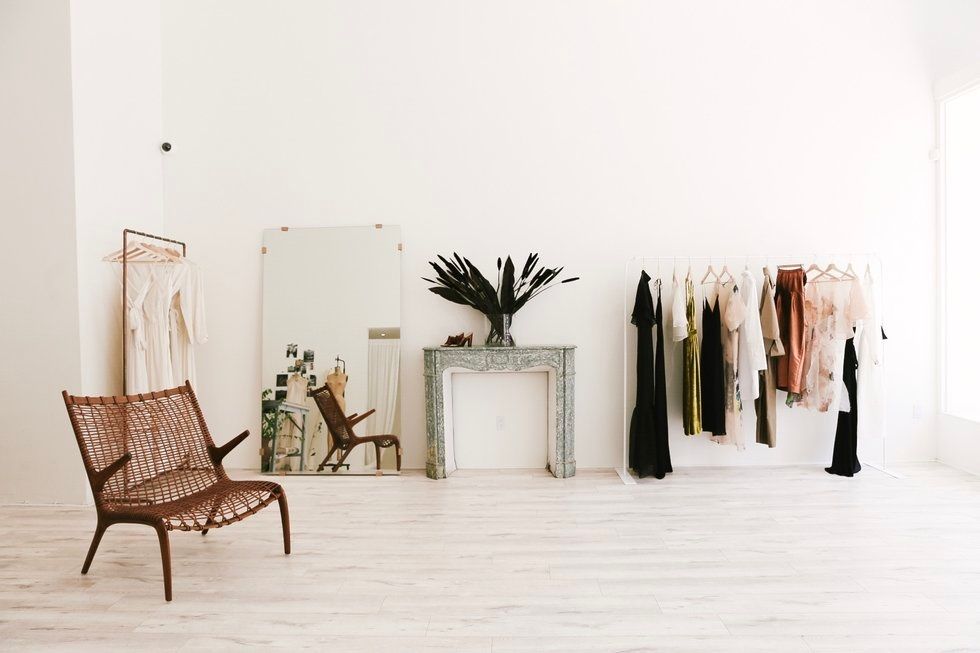 Kamperett's new Mission home is an airy gallery for floaty dresses.
(Courtesy of Kamperett)
Heath Ceramics
Founded in 1948 in Sausalito by Edith and Brian Heath, the beloved ceramics company now has a destination in the Mission, sharing the 60,000-square-foot building with Tartine Manufactory. The Heath space functions as a design hub with a tile factory and gallery-slash-store. The shelves are stocked with the brand's signature earthenware, as well as wares from local makers, a newsstand, clay studio, and sewing studio. // 2900 18th St., heathceramics.com
Playmountain East
Located in the boiler room of the Heath Ceramics building, Playmountain East—the West Coast sister to Tokyo designer Shinichiro Nakahara's Landscape Products—features year-long clothing and accessories projects designed by Japanese and Japanese-influenced artists with an eye for minimal aesthetics and practical wearability. // 555 Alabama St, playmountain-east.com
At this letterpress shop, a young craftsman by the name of James Tucker is lending his modern touch to an ancient profession through custom and one-of-a-kind works in letterpress and foil printing. The store also has a stationery corner where you can purchase cards, posters, notebooks, pens, and pencils on the run. Tucker also offers limited-edition art prints, some inspired by the California coast, online. // 555 Alabama St., theaestheticunion.com
Kamperett
After a few years of moving around, womenswear designers Anna Chiu and Valerie Santillo have found a home in this hybrid showroom and fashion lab where you can shop Kamperett's signature floating dresses, jumpsuits, pants, and blouses. // 3686 20th St., kamperett.com
Le Tote
Followers of this online fashion subscription service already know these bright and glamorous headquarters, open just for loyal clients who come for onsite consultation, special events, and users testing sessions. // 3130 20th St., letote.com
Arts + Culture Spaces in Mission-Potrero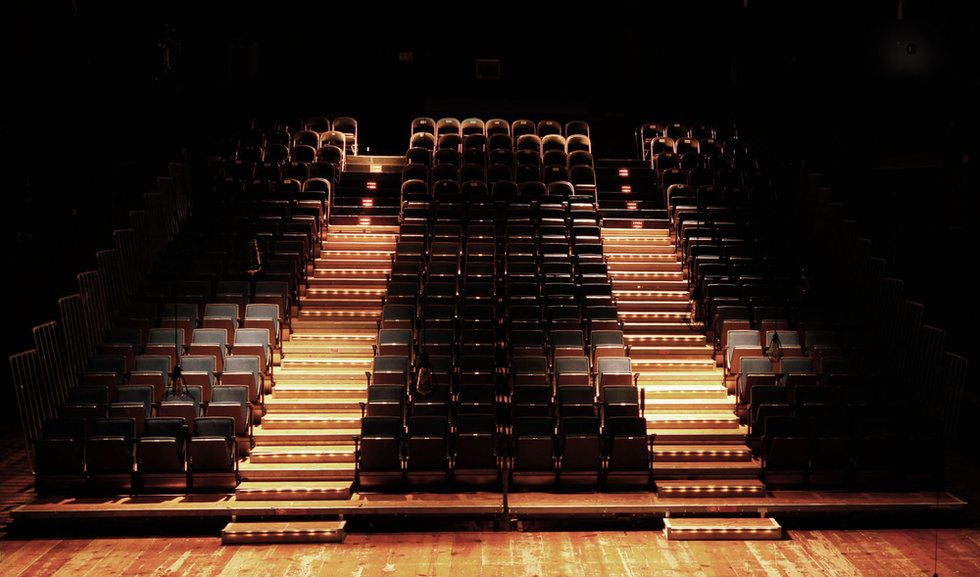 A former can factory serves as a modern space for an array of performances at Z Space.
(Courtesy of Z Space)
Southern Exposure
A nonprofit committed to supporting visual artists, Southern Exposure has hosted programs highlighting both local and national talent since 1974 (yep, another neighborhood OG). Through May 25th, catch $1.25: A Ticket for The Next Generation, an exhibit developed by the org's teenaged Youth Advisory Board that introduces young artists from around the Bay Area in an exploration of gender and sexual identity, self-image, friendship, and lifestyle. // 3030 20th St., soex.org
Joe Goode Annex
This rehearsal space for the Joe Goode Performance Group, led by the notable choreographer of the same name, also serves as a performance venue where the company shows its own smaller-scale works. On May 10th and 11th, swing by for Darling, don't make it easy, cabaret-style performances at 7pm and 9pm; the weekend kicks off with a fundraiser on Thursday night. // 401 Alabama St., joegoode.org
Z Space
Housed in an old can factory, this popular performance venue stages theater, dance, and cabaret produced by and starring local, national, and international artists. May brings a diverse lineup, including Abraham in Flames (May 9-12)—a world premiere opera inspired by the poetry of Iran's Ahmad Shamlou; Max 2019: A Space Festival (May 16-18), a convergence of science, engineering, and art; and Ripped (May 22 through June 15), another premiere about the college travails of a girl named Lucy. // 450 Florida St., zspace.org
Kadist
The contemporary art nonprofit has headquarters in Paris, but the San Francisco division is a full-fledged venue for shows, public events, residencies, and educational experiences with a focus on national and international artists. This summer, the gallery will open its doors to Pio Abad: Kiss the Hand You Cannot Bite (June 5 through Aug. 10), the first solo show of the London-based Filipino artist after his residency in SF. Through sculptures, paintings, prints, and photographs, Abad explores histories related to Ferdinand and Imelda Marcos, who were removed from power in the Philippines in 1986. // 3295 20th St., kadist.org
// Looking for your first home or your next home in the Mission or Potrero? Start your search and find your home at zephyrre.com. Thank you to our sponsors at Zephyr.