Everything slows down in Geyserville, which by the way, doesn't actually have any geysers. The old-timey storefronts that line the tiny main street of this Sonoma County town appear frozen in time, but a handful of trendy dining establishments now operate behind original brick walls where general stores and blacksmith shops first stood.
When the Kincade Fire broke out on October 23rd, Geyserville was directly in its path. Thankfully, the first responders jumped swiftly into action and the damage was minimal, but like its neighbors in Healdsburg and Windsor, the town's businesses were shut down for at least a week, making Geyserville much sleepier than usual.
So how can you help? Easy. Plan a restful weekend, or even a day trip, and support the local business owners in the aftermath of the fire.
---
Where to Eat + Drink in Geyserville, California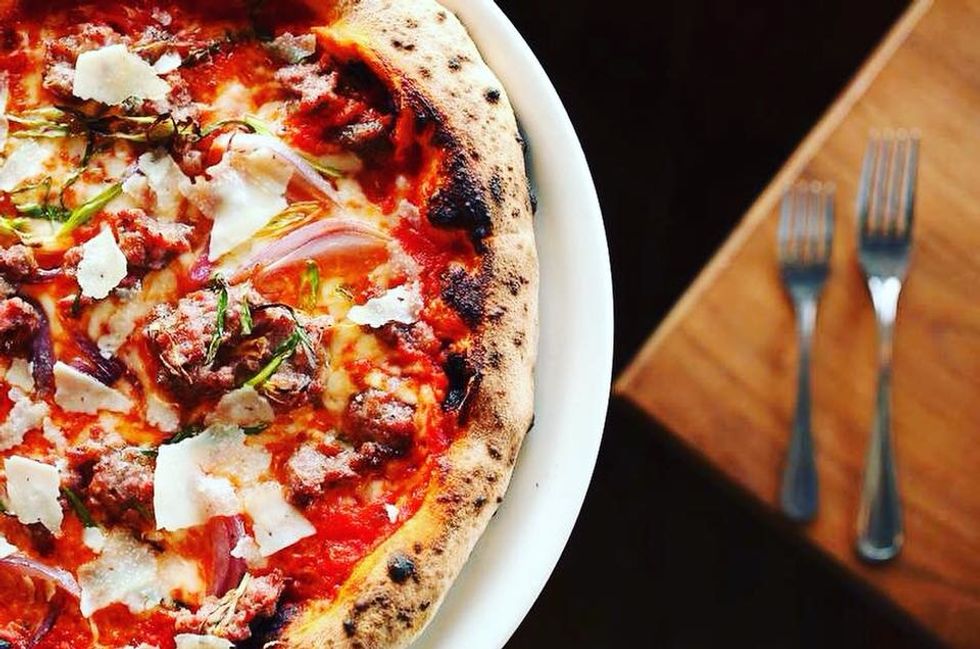 (Courtesy of Diavola)
Diavola Pizzeria & Salumeria
Trust us when we say that this tiny, brick enclave and it's back patio is always buzzing, so be prepared to wait a few for a table as they don't take reservations. Creative Neopolitan pies topped with house-cured meats and other delights come fresh out of their wood-burning oven. Start with an order of buttermilk fried sweetbreads and then order The Dictator (marinated short rib, garlic, mozzarella, scallions, serrano chiles, kimchi, kewpie mayo, and shichimi) to share. // 21021 Geyserville Avenue (Geyserville), diavalopizzeria.com
Geyserville Gun Club Bar & Lounge
This is the perfect place for a nightcap or a cocktail while you wait for your table next door at Diavola. Housed in the town's historic, brick-walled Oddfellows Building, a taxidermy deer head greets you at the door, but the Gun Club is a seamless blend of old country and modern vibes. Cocktails are what they're known for; try the Spaghetti Western, made with Griffo Stout Whiskey, Carpano Antica, Campari, and tobacco and orange bitters. The bar also serves local beers and premium wines, including a $115 bottle of 2005 Saint-Chamant Brut Champagne, and elevated plates, like fresh fish crudos, an Impossible Burger, a fried octopus sandwich, and the GGC Tijuana Dog (bacon, jalapeno, fried onion, pico de gallo, cheddar, and secret sauce). // 21025 Geyserville Avenue (Geyserville), geyservillegunclub.com
Catelli's
This authentic Italian restaurant is a Geyserville institution. Originally opened in 1936 by a pair of Italian immigrants, it's now run by third-generation Catelli siblings, Domenica (who works double duty as chef) and Nicholas. Catelli's was closed for a week during the Kincade Fire and 95 percent of their staff was evacuated, but in the meantime, Domenica was out helping to feed refugees in her local community. They're officially back in business with their full menu featuring several original recipes, like Nonnie's Minestrone and their classic, handmade ravioli, mixed in with modern-day additions from the current generation. With over 100 selections, the wine list gives you plenty of opportunities to support other local Sonoma wineries while you dine. // 21047 Geyserville Avenue (Geyserville), mycatellis.com
Where to Taste Wine (with Amazing Views) in Geyserville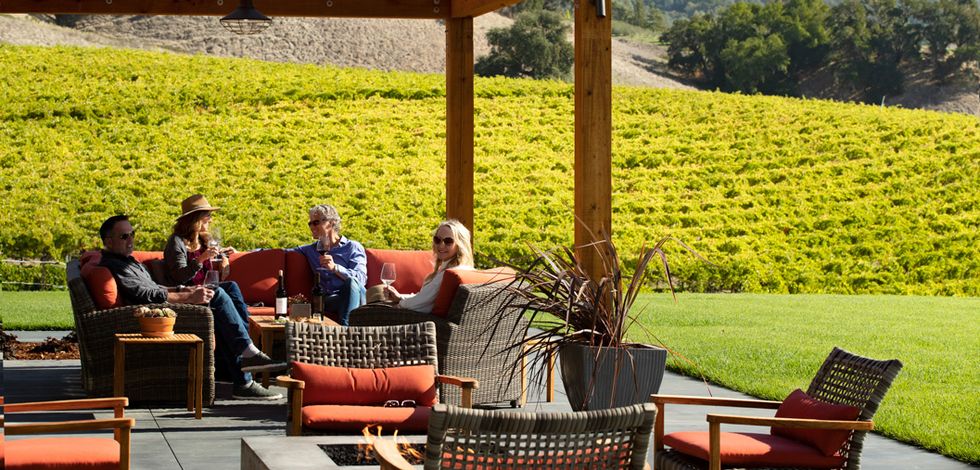 (Courtesy of Robert Young Estate)
Robert Young Estate Winery
An OG to the famed Alexander Valley growing region, the Young family has been in Alexander Valley since 1858, starting out as prune farmers. In 1963, Robert Young was the very first to plant cabernet sauvignon in Alexander Valley and now his children continue to build on his legacy with the Robert Young Estate. The Kincade Fire destroyed an outbuilding, some farming equipment, shipping containers, a garage, and a field of grass hay for the family's cattle (which all survived), but luckily the vineyards prevented the flames from reaching the tasting room and family homes. Make an appointment to hang out on the Scion House terrace, soaking up a wine country panorama while tasting through a flight of wines. // 5102 Red Winery Road (Geyserville), ryew.com
This historic and stunning slice of Alexander Valley was in the direct path of the Kincade Fire. When the flames came over the hill and headed for the Garden Creek winery, owner Justin Miller and a small crew of workers picked up some 1940s-era, five-gallon backpack hand pumps and worked to save it. In the end, six structures were lost, but not the most important ones, in addition to two-thirds of their cabernet sauvignon crop—a pretty devastating loss for the 2019 vintage (in 2017, they lost 90 percent of it due to the fires). Miller grew up on the ranch, which his father purchased in 1963. Planting their first cabernet in 1969, they were one of the first to seriously grow grapes in the Alexander Valley. Today, Miller and his wife Karin, who also grew up in Alexander Valley, run the small, but premium operation themselves. Make an appointment for a personalized experience at their no-frills tasting room. // 2335 Geyser Road (Geyserville), gardencreekvineyards.com
Gustafson Family Vineyards
You'll be hard-pressed to find better views in Geyserville than at Gustafson Family Vineyards—they are, after all, the highest elevation winery in the Dry Creek Valley region. Pack your own picnic or order a cheese or charcuterie board to enjoy with a flight of wines overlooking Lake Sonoma. Want to stay the night? Book their vacation rental, complete with your own private pool, spa, and gardens. // 9100 Skaggs Springs Road (Geyserville), gfvineyard.com
Francis Ford Coppola
In the summer it's home to one of Wine Country's best pools, but Francis Ford Coppola Winery has plenty to offer year-round, from their wine tasting experiences to bocce ball courts to Italian restaurant Rustic, where Neopolitan pizzas are their specialty. Stop in the Movie Gallery before you leave to browse one-of-a-kind memorabilia from Coppola's film career. You can also visit their sister estate, Virginia Dare Winery, to taste their wines and hard ciders. // 300 Via Archimedes (Geyserville), francisfordcoppolawinery.com
Locals Tasting Room
Right in downtown Geyserville, Locals may seem like it's catered to, well, locals. But it's actually a great place for visitors to discover amazing wines from a collective of local and boutique producers. // 21023 Geyserville Ave (Geyserville), localstastingroom.com
Where to Stay in (and Around) Geyserville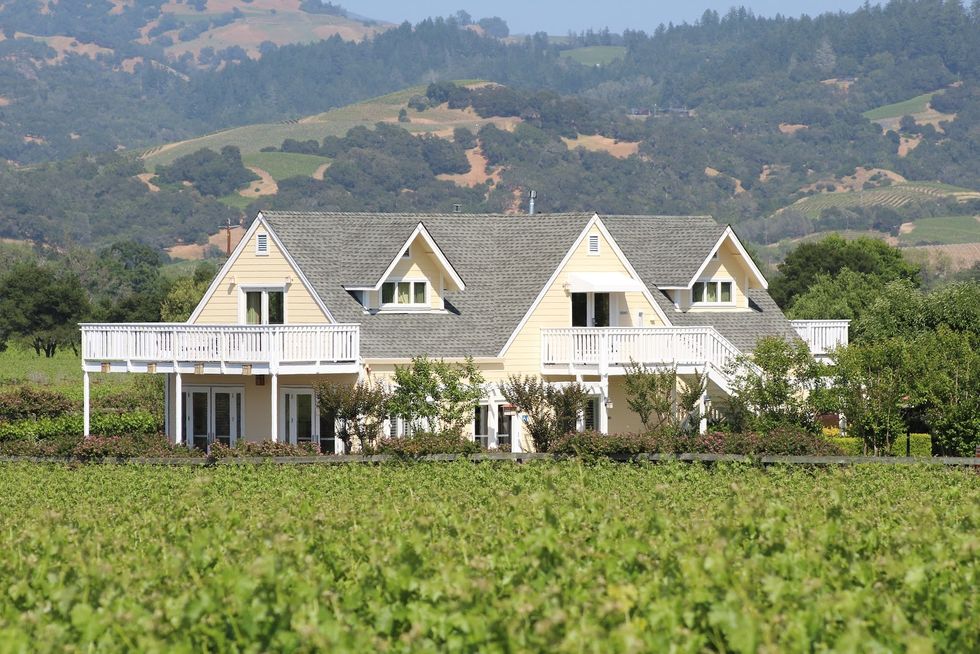 (Courtesy of Geyserville Inn)
Geyserville Inn
The charming Geyserville Inn just completed a $2 million renovation, which included bright and modern updates to its guest rooms, many of which come with vineyard-view balconies and in-room fireplaces. This fall, the inn opened its very own on-site tasting room Duo, where you can sip flights of wine from two local wineries: Entrusca Wines and Tonti Family Wines. Completely enveloped in Alexander Valley vineyards with views of the Mayacamas Mountains, and yet a quick walk to Geyseville's small, downtown strip, the inn offers a true wine country getaway with convenience. There's also a pool and a restaurant, The Geyserville Grille; we suggest the chilaquiles and a Champagne Mule for brunch. The third and final phase of the remodel is a new spa, so keep an eye out for that. // 21714 Geyserville Avenue (Geyserville), geyservilleinn.com
Hope-Merrill House
Unplug at the Hope-Merril House, a restored Victorian that's been carefully furnished to accurately fit the period. Each of the eight rooms is completely unique, right down to the custom silk-screened wallpaper, and they vary in amenities from clawfoot tubs to fireplaces to private patios. Wander the grounds, full of gardens, arbors, and vineyards (plus a pool that opens seasonally), and start each day with a hot country breakfast in the formal dining room. // 21253 Geyserville Avenue (Geyserville), hope-merrill.com
Geyserville Wine Country Vacation Home
Prefer some privacy? Grab a group for a wine country retreat at the five-bedroom Alexander Valley Lodge. Perched high up on a wooded ridge, this 53-acre estate is the best place to catch the sunset, boasting killer views of the Russian River, Geyser Peak, Mt. St. Helena, and the Alexander Valley. The villa can accommodate up to 12 and comes with a pool, cabana, hot tub, tiki bar, and sunroom. // From $307/night; alexandervalleylodge.com
Or, there's always Healdsburg....
Part of Geyserville's charm is that it's rustic and not over the top, but if you want something a little more posh, book a room just 10 minutes away in Healdsburg—which was also evacuated during the fire—where choices of luxury stays include Hotel Healdsburg and Single Thread.
PS: Please also consider donating your dollars or volunteer to support the fire relief efforts throughout Sonoma County.