To many a San Franciscan, San Mateo is just another Peninsula suburb along the Caltrain route, and as the western point of the San Mateo-Hayward Bridge, home to absolutely terrible highway traffic.
But true foodies also know that San Mateo is arguably the Bay Area's ramen capital, and actually the place is anything but boring. Skip the traffic and take the train for craft beer, Michelin-starred sushi, inventive Indian-inspired cocktails, and gorgeous views.
---
Here are the best restaurants, bars, parks, and more in San Mateo.
Where to Eat in San Mateo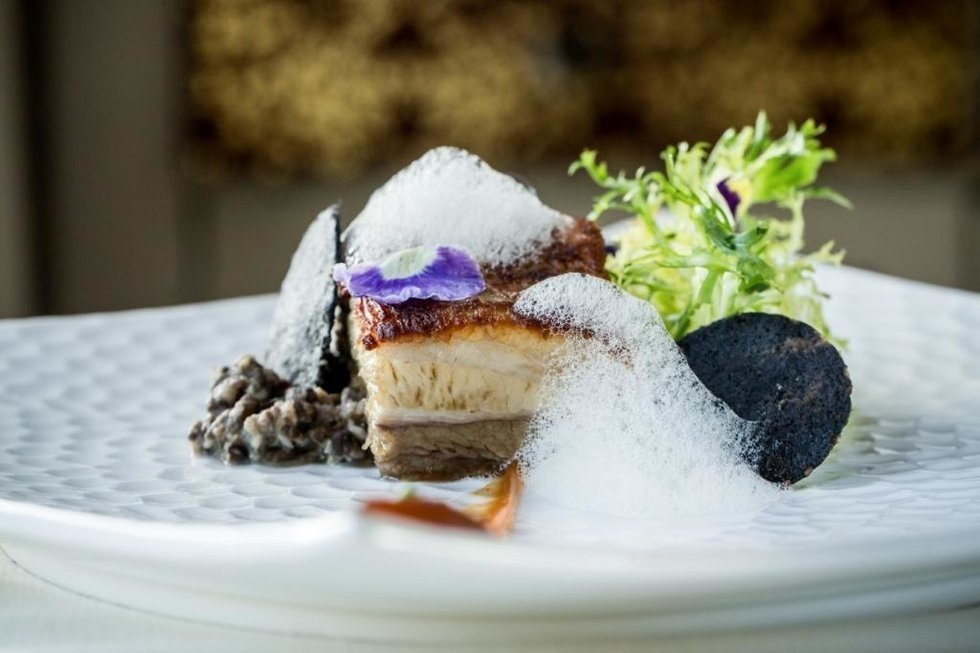 A preview of what's to come at All Spice.
(Courtesy of the restaurant)
Kitchentown
At the northeastern edge of San Mateo, well removed from downtown, Kitchentown is both a kitchen incubator for entrepreneurs and a café for those of us just trying to eat great food. The café portion offers cups from Chromatic Coffee in Santa Clara and a wide variety of tempting breakfast options that usually showcase the city's darling bakery and Kitchentown tenant, Backhaus, from Germany native Anne Moser (she hopes to open a permanent café and bakery soon). Shakshuka comes with Backhaus toast; the egg, cheese, and bacon breakfast sandwich comes on a Backhaus English muffin (or on a Portside croissant baked in Sausalito); or just skip bread and opt for housemade granola with Greek yogurt and Just Date (another Kitchentown tenant) date syrup. // 1007 Howard Ave., kitchentowncentral.com
Ramen Dojo and Santa Ramen

If there's one thing that San Franciscans know about San Mateo, it's the city's esteemed ramen sibling duo: Ramen Dojo and Santa Ramen. Of course, neither is a secret, and even on a random Tuesday at 1pm it can feel like nobody is working and everyone is waiting for a bowl. Santa Ramen goes the more traditional route (get the miso with tender stewed pork) in a bright and buzzy room, while Ramen Dojo specializes in spicy ramen broths, usually punched up with plenty of garlic, served in a more intimate setting. There's no going wrong with either, so you'll just have to come back for seconds. // Ramen Dojo, 805 S B St. (San Mateo); Santa Ramen, 1944 S El Camino Real.
Sushi Yoshizumi
One of the Bay Area's most spectacular omakase dinners comes courtesy of Akira Yoshizumi and his namesake Michelin-starred restaurant. During the lavish feast of Edomae-style sushi ($158 per person), you can expect to taste 10 types of nigiri featureing fish from our local waters as well as the best of Japan. // 325 E 4th Ave. (San Mateo), sushiyoshizumi.com
All Spice
San Mateo's best known fine dining restaurant is also a Bay Area-wide favorite: All Spice has been tantalizing tastebuds with contemporary Indian food—think cardamom-cured sea bass and citrus-brined fried chicken—since long before this style of cooking became a trend in SF. Husband-and-wife owners Sachin Chopra and Shoshana Wolff opened the restaurant in 2010 in a restored 1906 Victorian home, and it's been a local culinary icon ever since. // 1602 S El Camino Real (San Mateo), allspicerestaurant.com
31st Union
If you're looking for a low-key dinner with seasonal California bistro vibes, grab a table at 31st and Union, order the signature crispy pig ears, then enjoy some vadouvan-spiced lamb tacos; homemade ricotta gnocchi; and a large plate cooked in the wood-fired oven. The NorCal-focused beer and wine program are just as impressive as the sometimes rustic, sometimes edgy fare. // 5 S. Ellsworth Ave. (San Mateo), 31stunion.com
Bay Meadows
The Bay Area's housing crisis yields all kinds of creative ideas, and one of the most drastic transformations in recent years has been the conversion of San Mateo's Bay Meadows Race Track into a sleek mixed-use area combining pricey condos for 2,000 residents, tech company offices, and well respected local chains. Here you can grub on Roam Artisan Burgers and ice cream from Tin Pot Creamery, or grab a beer or a cold brew from Fieldwork Brewing and Blue Bottle Coffee respectively. Sure, all of these concepts can be found elsewhere around the Bay, but it's pretty startling to sit with an espresso and think thoroughbreds once sprinted here. // 3081 S Delaware St (San Mateo), baymeadows.com/retail
The Best Bars in San Mateo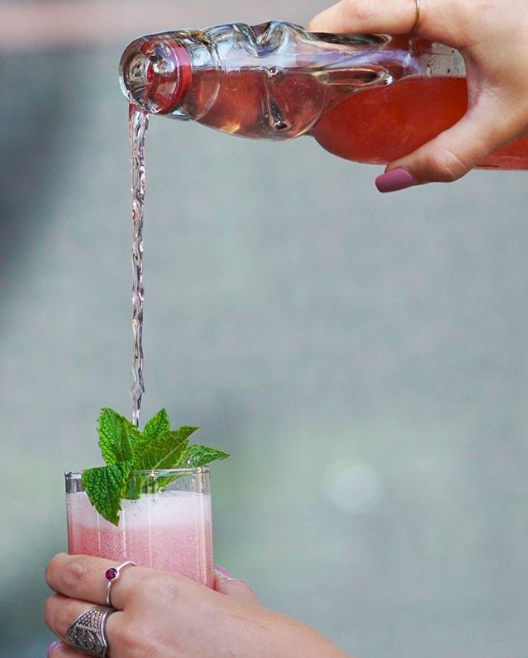 (Courtesy of @mortarandpestlebar)
B Street & Vine
A classic wine café, not to be confused with a wine bar, B Street & Vine serves a pleasant roster of panini and small plates. But you're really here for a glass of southern French rosé or the option to design your own tasting flight. Drink half-price by-the-glass offerings weekdays from noon to 5pm, or catch live music most nights. If the weather is pleasant, grab a seat on the patio. // 320 S B St., bstreetandvine.com
Wursthall
For a beer paired with a terrific assortment of sausages, Wursthall is a boisterous, German-inspired spot filled with tech bros. Expect a strong selection of Belgian and American craft beers alongside seasonally minded beer garden grub from celebrated Serious Eats writer and tech-minded cooking author J. Kenji López-Alt. // 310 Baldwin Ave., wursthall.com
Mortar & Pestle
If you like Indian food and live in the Bay Area, you are no doubt familiar with the somewhat ubiquitous street food chain Curry Up Now. But unless you live/work in San Mateo and San Jose, you may not be in the know about the chain's delightful bar concept, Mortar & Pestle. Energetic with Bollywood feels, it's San Mateo's best cocktail bar by a mile. The bartender creations take a cue from ingredients in Indian cooking; try the Holi Bhang, made with coconut ghee-washed rum, rye, fennel syrup, aqua faba, and coriander-infused orange bitters. // 130 Main St. (San Mateo), curryupnow.com/mortarandpestlebar
Grape & Grain
At Grape & Grain, eight taps pour powerfully hoppy IPAs and funky sours from craft brewery darlings likes Mikkeller and Barebottle; there are also 25 to 30 small-production wines by the glass. This is a chill place to just have a good time with good drinks. // 227 S San Mateo Dr. (San Mateo), grapeandgrainbar.com
San Mateo's Best Hikes, Parks + Views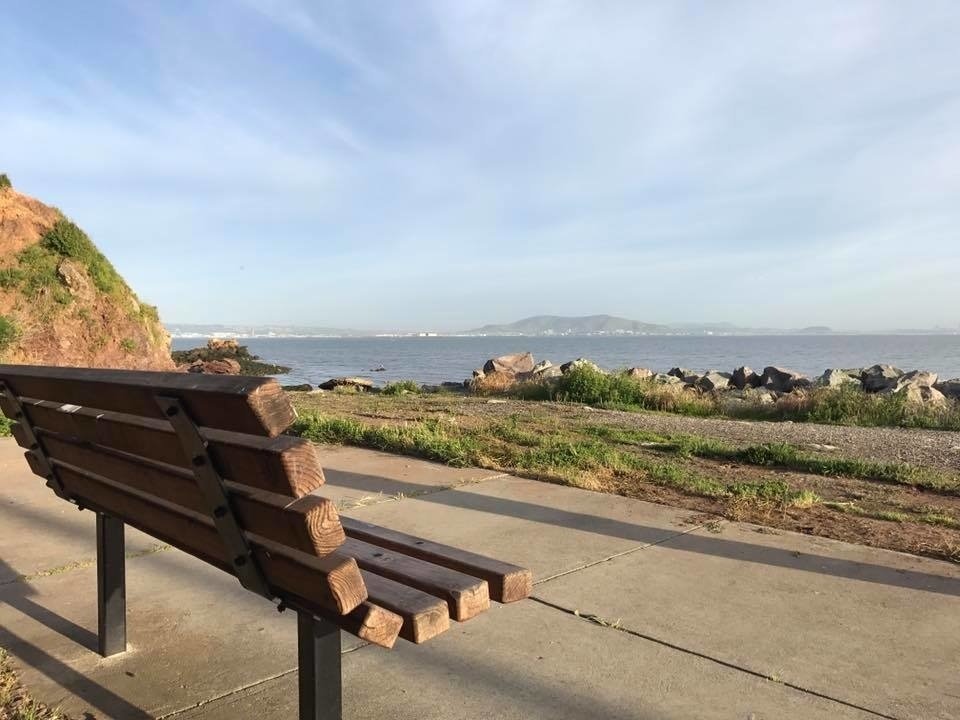 Pull up a park bench and take in the view from Coyote Point.
Coyote Point
The popular bayfront regional park is known primarily for two things: its giant castle and playground for kids, and the best viewpoint on the water for watching the planes land at SFO. Of course, there is a whole lot more here than slides and planes, with ample biking and walking trails on the beach promenade, as well as the chance to see some rare shorebirds in their home habitat. // 1701 Coyote Point Dr., parks.smcgov.org
Central Park and Japanese Garden
Manhattan famous park of the same name may be about 1,000 times bigger, but San Mateo's 16.3-acre Central Park, at the edge of downtown on what was previously the Kohl Mansion estate, has a destination-worthy crown jewel: the Japanese Garden. Designed by renowned landscape architect Nagao Sakurai (he was the chief gardener at Tokyo's Imperial Palace for two decades), the garden is wonderfully serene space that includes a tea house, koi pond, granite pagoda, and bamboo grove. As a bonus, entrance is free. Before leaving the park, make sure to say hi to Leon, the 14-foot-tall giraffe sculpture by Burlingame artist Albert Guibarra. // 50 E 5th Ave., cityofsanmateo.org
Sawyer Camp Segment
Like most cities on the Peninsula, San Mateo's center of activity is close to the 101 and the bay. The further west you go towards highway 280, the quieter it gets; on the other side, you'll find the Peninsula Watershed and an abundance of hiking trails around Crystal Springs Reservoir and San Andreas Lake. The 6.7-mile paved Sawyer Camp portion of the extensive Crystal Springs Trail is certainly a favorite outdoor destination for San Mateo residents, whether for walking, jogging, or biking. Back in the 1800s, the trail was part of the main road connecting San Francisco with Half Moon Bay. There are no stagecoaches now, but the trail is indeed equestrian friendly. For a quick visit, you can explore the gorgeous southern end by Crystal Springs Dam where San Mateo Creek enters from the foothills and exits east towards the Bay. From there, it's roughly 3.5 miles to the trail's signature feature, the 600-year-old Jepson Laurel tree, which is absolutely worth seeing if time permits. // Skyline Boulevard and Crystal Springs Rd., parks.smcgov.org