The Bay Area is celebrating Negroni Week from June 6 through June 12, and you'd be hard pressed to find a local bar without a Negroni special or event this week.
---
And just in case you frogot, the classic Negroni consists of equal parts gin, sweet vermouth, and campari, served up or on the rocks, with orange peel. Cheers!
EVENTS
Whitechapel will be hosting a happy hour fundraiser for SF-Marin Food Bank on the second day of Negroni Week, Tuesday, June 7 from 6 to 9pm. Head to the Gin Palace in the back, where you'll find a special menu of classic and creative Negronis, including the Flower Power Negroni, made with Campari, Bulldog Gin, Sweet Vermouth, rose water, orange flower water, and patchouli. Be sure to try the Campari Key Lime Pie. // 600 Polk St. (Tenderloin), whitechapelsf.com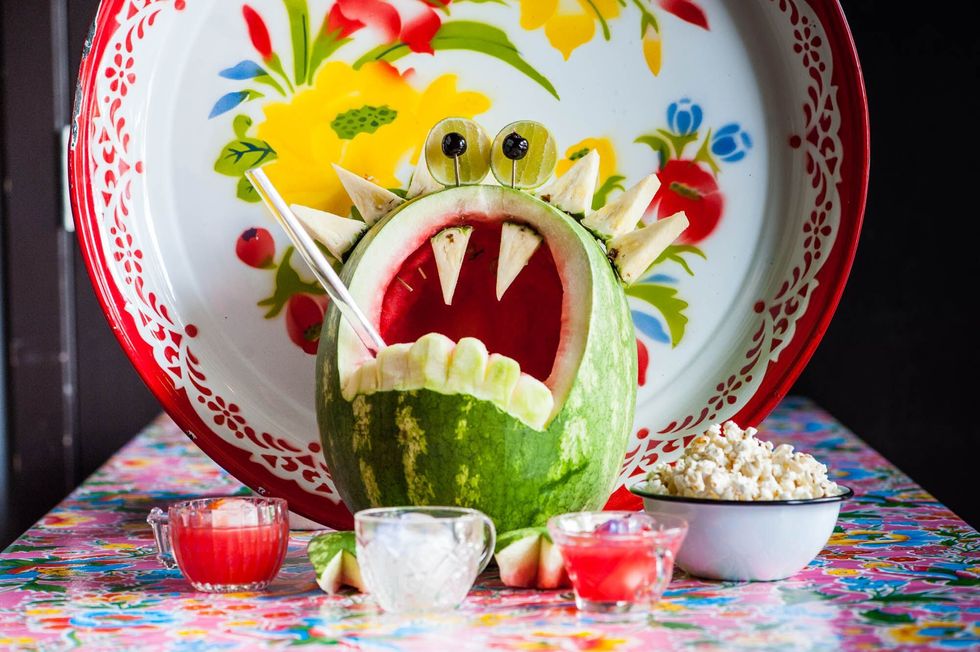 Tropical Negroni Punch at Holy Mountain(photo by Wes Rowe)
Holy Mountain, the rum obsessed bar above Hawker Fare on Valencia Street, has a summer tradition of creating inventive punch bowls made out of fruit that resemble animals, monsters, people and buildings. On Wednesday, June 8 from 6pm to 9pm, they'll be serving tropical Negronis out of coconuts, pineapples, watermelons, and oranges – all in support of La Cocina. A special tropical DIY photo station will be set up inside for guests who want to get fruit loopy with their cocktail for Instagram.
The "bold hatmakers" in North Beach, Goorin Bros., are hosting a Negroni cocktail hour on Thursday, June 9 from 6pm to 9pm, featuring snacks, Negronis sips, and a live reading by Duggan McDonnell, author of Drinking the Devil's Acre: A Love Letter from San Francisco and her Cocktails. During Negroni Week, Gooring Bros. will donate a percentage of all red feather and fedora sales to the American Red Cross. RSVP required: rsvp@goorin.com // 1612 Stockton St. (North Beach), goorin.com
Lazy Bear is offering 3 negroni-inspired drinks paired with Lazy Bear snacks in the upstairs mezzanine at 9:45pm on June 10 and 11 for $75/person. Proceeds benefit Creativity Explored, a Mission arts charity that gives artists with developmental disabilities the means to create, exhibit, and sell their art. // 3416 19th St. (Mission), Tickets are available online.
Alamo Drafthouse will be screening the Fellini classic, La Dolce Vita, on Saturday, June 11 at 4pm. Perhaps no other film captures the luxurious decadence associated with Campari. During the movie, Alamo will be serving Negronis and Boulevardiers from the tap, as well as Malted Chocolate Negronis, Frozen Tropical Negronis and, of course, the Dolce Vida Negroni. Stick around for the after party, which starts at 6pm. Proceeds benefit Tipping Point. // 2550 Mission St. (Mission), drafthouse.com/sf
Close out Negroni week on Sunday, June 12th from 11am to 3pm with a celebratory bartenders brunch hosted by ABV for industry friends, family and Negroni Week supporters. A benefit for the Michael J. Fox Foundation for Parkinson's Research, the closing brunch for Negroni Week will feature a special menu of ABV favorites, classic Negronis and variations, and a couple of surprises, such as the Lamborghroni, made with Campari, Old Raj 110 Proof, and Matthiasson Napa Valley Sweet Vermouth ($20), and the Negroni Petit Four: gin and vanilla cookies with Campari mousse, sweet vermouth caramel, and garnished with candied orange peel ($7). // 3174 16th St. (Mission), abvsf.com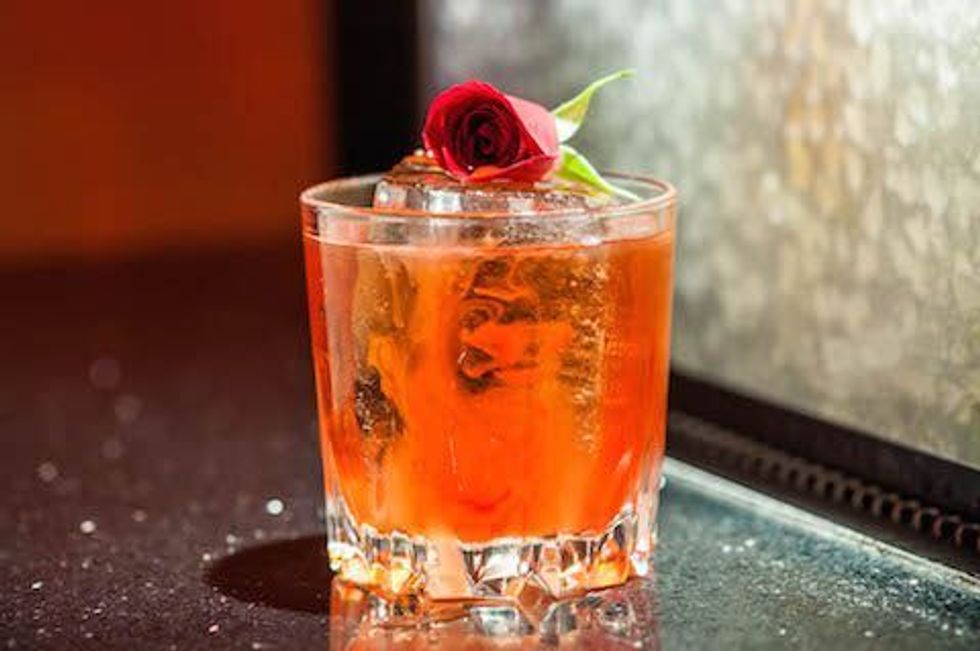 The Dulce Negroni at Alamo Drafthouse(photo by Wes Rowe)
DRINK SPECIALS
San Francisco
Elixir is launching a one-week only Negroni menu featuring five $11 versions: Classic, Basil, Barrel-aged Basil, White, and Sherry-finished Boulevardier. For each Negroni sold, Elixir will donate $4 to the Leukemia and Lymphoma Society. // 3200 16th St. (Mission); elixirsf.com
Blackbird is offering a four-course Negroni Tasting menu. Go for mini flight of all four for $15, or go big with full-size cocktails for $12 each. // 2124 Market St. (Castro), blackbirdbar.com
One Market Restaurant will be serving two different Negroni cocktails this week: a classic preparation and a bottled version, just in case you need one for the road. For each Negroni sold, CUESA will receive a $1 donation. // 1 Market St. (FiDi), onemarket.com
E&O Kitchen and Bar will offer a unique tea-inspired Negroni for Negroni Week. The Chaiwalla Negroni is made with Red Rooibos and Chai tea-infused gin, Carpano Antica and Campari. The drink gets its name from the "Chaiwallas" who tend the Chai tea stalls lining the streets of India. E&O will donate $1 to Heifer International for each Negroni purchased. // 314 Sutter St. (Tenderloin), eosanfrancisco.com
Gaspar Brasserie has created the Bolv'r for Negroni Week, made with equal parts Elijah Craig Small Batch Bourbon, Pama Pomegranate Liqueur, and Campari, all barrel-aged since March. The cocktail is $12 and $1 of every cocktail sold will be donated to CUESA. // 185 Sutter Street (Tenderloin), gasparbrasserie.com
In addition to four special Negroni cocktails - the Old Tom Cat Negroni, Apple Brandy Negroni, Tequila Negroni Sour, and Negroni Spritz - Perbacco will be serving Negroni Caramel Corn with gin-spiced sea salt. A dollar of each cocktail sold will benefit Meals on Wheels. // 230 California St. (FiDi), perbaccosf.com
Maven is featuring a liberal twist on the Negroni called Dusk Till Dawn ($12): a three-part combination of applejack brandy, cumin oleo-saccharum, and Campari topped with a Zinfandel float, resulting in a beautifully layered and dangerously drinkable libation. Dusk Till Dawn will be on the menu throughout Negroni Week. // 598 Haight St. (Lower Haight), maven-sf.com
Presidio Social Club is offering two versions of their bottle-aged negronis, including one with Citadel Gin and Cynar and one with Gordon's Gin. Drink them on-site, or buy a bottle to take home. // 563 Ruger St. (Presidio), presidiosocialclub.com
Jasper's Corner Tap & Kitchen is serving a Bulldog Cucumber Negroni, made with Bulldog Gin, Cucumbers and Campari. // 401 Taylor St. (Tenderloin), jasperscornertap.com
You'll find three Negroni variations at Wildhawk: the Breakfast Negroni, the Red Light, and Negroni by the Bay. // 3464 19th St. (Mission), wildhawksf.com
1760 will be serving several variations on the Negroni, including a classic Negroni, Negroni Sbagliato, Negroni 17, Sage Negroni, Cacao Negroni, and Ants on a Logroni, made with Campari, Rutte Celery Gin, Peanut-infused Cinzano 1757, and Scotch-poached golden raisin garnish. // 1760 Polk St. (Tenderloin), 1760sf.com
Horsefeather is featuring the Foamy Negroni ($12), made with Campari, Bulldog Gin, Cinzano 1757, and Stieg Radler Foam. // 528 Divisadero (Lower Haight), horsefeatherbar.com
Tosca's Negroni Week contribution is the Hard Bargain ($12), made with Campari, Plymouth Navy Strength Gin, Cocchi Torino Vermouth, Small Hands Orgeat, Lemon, Coriander Flower ($12). Proceeds support North Beach Citizens. // 242 Columbus Ave. (North Beach), toscacafesf.com
Burritt Room + Tavern will be serving Smoke and Pearls ($13), made with with Campari, Hendricks Gin, Silencio Mezcal, Dolin Rouge, charred watermelon juice, carbonated water, salt, and paprika. Proceeds benefit The Culinary Institute of America. // 417 Stockton Street in the Mystic Hotel (Chinatown), charliepalmer.com/burritt-room-and-tavern/
Turnkey at Cantina is supporting Rocket Dog Rescue with Bar Star Kevin Diedrich's Negroni Gives You Wings ($13), made with Campari, Tanqueray Gin, Cinzano 1757, and Cold Drip Coffee Negroni Concentrate. // 580 Sutter St. (Union Square), cantinasf.com
In addition to the traditional Negroni, MKT will be featuring a trio of variations on the classic cocktail, including the Smokin' Negroni made with Del Maguey Chichicapa Mezcal, the barrel-aged Tomaso Negroni made with Hayman's Old Tom Gin, and the barrel-aged Boulevardier, made with Buffalo Trace bourbon. // 757 Market St., Four Seasons Hotel, 5th Floor (Tenderloin), mktrestaurantandbar.com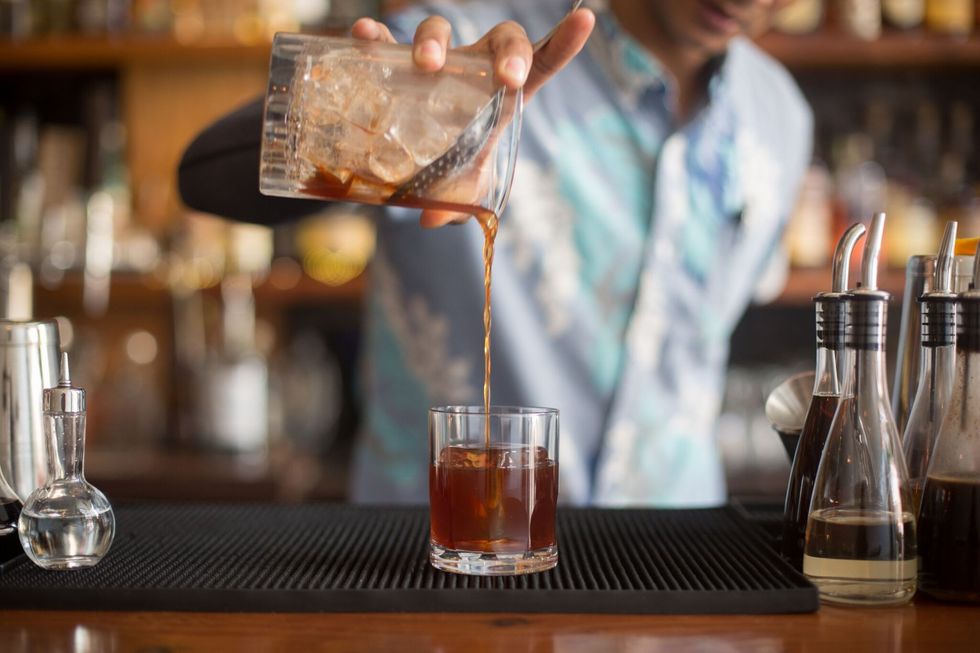 Negroni Gives You Wings at Turnkey(Grace Sager Photography)
East Bay
Bocanova bartender John McKenna has created the BocaNegroni made withSt. George Botanivore Gin, Campari, Carpano Antica, Dolin Sweet Vermouth and a pinch of salt to bring out a touch of sweetness. Proceeds from the special cocktail benefit local Oakland charity, Youth Alive. // 55 Webster, Oakland (Jack London Square), bocanova.com
A16 Rockridge pizzeria will be featuring aperitivo classics and custom Negroni variations all week, with proceeds benefiting the Alameda County Community Food Bank. // 5356 College Ave. Oakland (Rockridge), a16pizza.com
Cafe Eugene is serving the Negronivit ($12), made with Krogstad Aquavit, Campari, Gran Classico, House Meyer Limoncello, and garnished with a flamed orange peel. Albany SchoolCARE will receive 100% of the proceeds from the sale of this cocktail. // 1175 Solano Ave. (Albany), cafeeugene.com
South Bay
Locanda Positano in San Carlos will be offering both classic Negronis and Negroni Sbagliatos ("Wrong" Negronis) for $7 each. // 617 Laurel St. (San Carlos), locanda-positano.com
Sausalito
Poggio Trattoria's lead bartender, Tony Diiorio, is known as Tony Negroni. He will be shaking and stirring a few signature drinks, along with some playful variations, including the Tony Negroni, Negroni Old Style, Cardinale, Negrosky, Negroni Sbagliato, and the Dirty Negroni. For every cocktail sold, $1 will be donated to Willow Creek Academy. // 777 Bridgeway (Sausalito), poggiotrattoria.com