Few neighborhoods blend sophistication and charm like San Francisco's Jackson Square.


Bounded by Broadway and Washington Street on the south, Columbus Avenue on the west, and Battery Street on the east, Jackson Square is where you go for a shot of retail therapy and a stroll through streets lined with serious historical cachet. What was once a part of the notorious Barbary Coast—a nest of brothels, bars and gambling dens during the heyday of our Gold Rush era—is now a crosshatch of spotless streets and brick buildings where cool boutiques rub shoulders with contemporary art galleries and one can partake of a refreshing cucumber gimlet without feeling the crush of tourists from nearby North Beach or Chinatown.
---
Art & Design in Jackson Square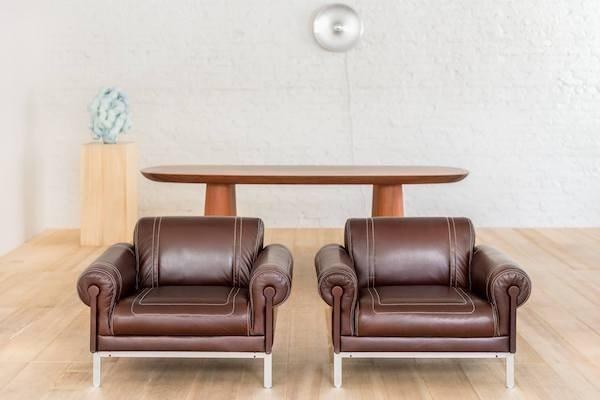 Hedge Gallery
(Courtesy of Hedge, via Facebook)
Galleries
One would be remiss if you didn't check out at least one gallery when you're in the area. Jackson Square has been a locus of contemporary art galleries, including the beautifully allocated Gallery Japonesque (824 Montgomery St.), which is home to artworks by Alessandro Twombly (artist Cy Twombly's son) and the compelling ink paintings of Japanese artist Yuichi Inoue. // Just a few steps down is SB Fine Arts (843 Montgomery St.), a private gallery and art consulting firm run by Stephanie Breitbard and a team of four other talented ladies. Pick up an atmospheric landscape by Markham Johnson, or, if you aren't sure which to pick, defer to the extensive expertise of their in-house consulting team. // Those looking for something a little more historical will find plenty to inspire them at Foster-Gwin Art & Antiques (38 Hotaling Pl.). Amble through the high-ceilinged rooms stocked with a beautifully curated collection of Greco-Roman antiquities placed alongside cutting-edge modern art. // Hedge Gallery (501 Pacific Ave.) hosts the works of independent designers and artists whose high-end pieces—think heavenly French leather lounge chairs that fetch more than a Mini Cooper—dot the minimalist gallery space.
Shopping
Part of the appeal of the expansive art supply and gift shop Artist & Craftsman Supply (555 Pacific Ave.) is the ornate building that it occupies: a former Barbary Coast dance club with elaborate fixtures still in place. Don't miss the downstairs tunnel segment that the staff claims was once part of larger network used for the, ahem, unsavory illicit diversions. // Housed in an 1854 bank building, William Stout Architectural Books (804 Montgomery St.), a design-lover's mecca, is piled high with both current and rare titles of architecture, art, and every design discipline under the sun.
Click through for more boutiques and bars in Jackson Square.