A Bay Area bucket list isn't complete without a day at Golden Gate Fields.
The historic horse racing track tucked into the shore of North Berkeley has stunning panoramic views of the Golden Gate Bridge and the San Francisco skyline when Karl isn't in the way, and yet it feels like another place entirely. If it's your first time at the races, there's no better introduction than on a Sunday Dollar Day at the track. So gather your group and use this as your guide to a day at the races.
---
Every Sunday (including Sunday May, 26) there are races at Golden Gate Fields, fans and newbies alike gather to take advantage of what's probably one of the best deals in the Bay Area. And this isn't Dollar General–style trickery—most offerings are actually a dollar—with $1 admission, parking, hot dogs, beers, and mimosas. Beware: Lines for $1 beers can get so long you might just pony up for the more expensive, craft options.

How to Get There
From SF, an Uber or Lyft is your easiest and quickest option. If you're coming from anywhere else BART-able, there is a free shuttle to the fields from the North Berkeley station. Just be sure to check the schedule. There's also ample parking if you choose to drive (and it's only $1 on dollar days).
What to Wear
You're going to see absolutely everything, so you do you. Most people are dressed very casually and in layers (because Bay Area temps), but feel free to dress up and don that Derby hat. You just might stand out a bit.
What to Bring
Cash! If you plan on wagering on the races, you'll need cash for the machines and/or tellers. ATMs are available throughout the grounds, but expect lines and large fees. You'll pay for all the dollar items with tokens; you can purchase batches of them at a time.
You may also want to pack sunscreen since much of the grandstand is unshaded.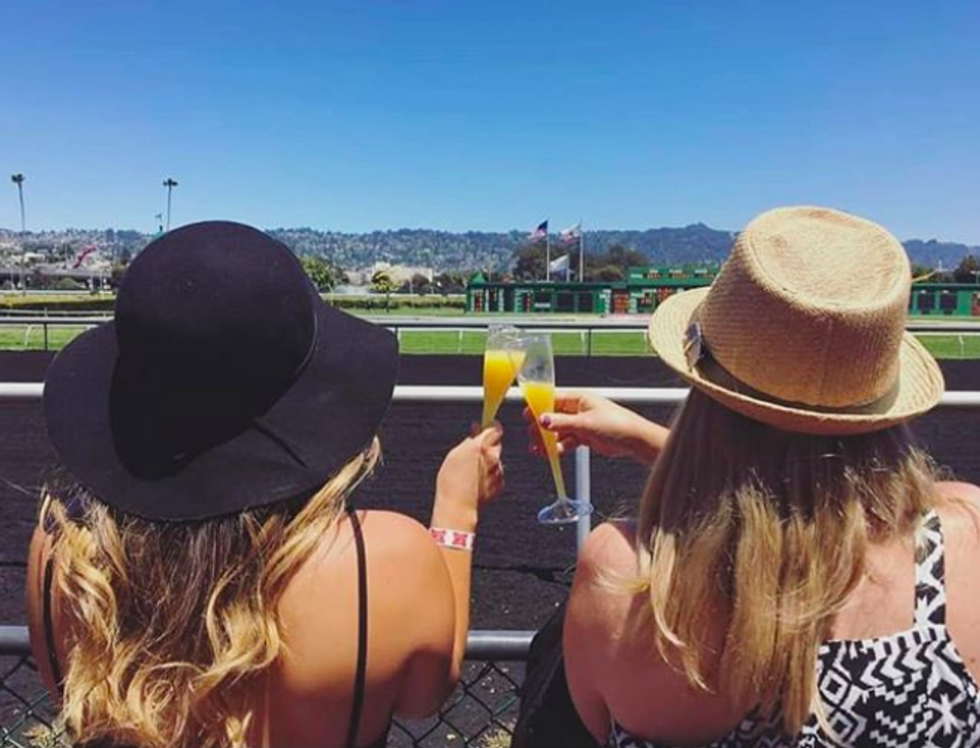 (Courtesy of @thepeachfile)
What to Eat

$1 hot dogs may be the way to go, as most of the fare throughout the fields isn't much of a step up. If stadium food is your thing—think nachos and burgers—there's plenty of that to go around at a reasonable price. The condiment stations tend to get incredibly messy as the day goes on so, ketchup-lovers, you've been warned.
Where to Sit
Dollar Days include general admission, which means you can sit anywhere in the grandstand and roam around as much as you like. Make sure to head up to the rail for at least one race to watch the horses speed by up close. You can also visit the paddock for more views of the horses and jockeys.
How to Bet
If you're an amateur, purchase a program and head to one of the tellers. Don't worry if you don't know how to bet—most people don't! The tellers are usually friendly and they even have lines designated for beginners. There are also signs posted to help you know what to say when your turn arrives You'll want to know the type of bet you want to make (win, place, show, etc), the race's number, the amount you want to bet, and the number of the horse as it is referred to in your racing program.
Once you get the hang of it, you can bet at one of the machines for a faster transaction. The machines also don't take credit cards—you'll need to get a credit voucher at a voucher machine or use a winning ticket to wager. You can also bet on races going on all over the country. If you walk around the grounds, there's usually a serious contingency of older men watching the TVs to see how their other bets are doing. People watching at its finest. You can also study up on how to bet in advance.
// Race days are typically Thursday through Sunday; track is open now through June 9, and Aug. 15 through Sept. 29 (check the website for complete yearround schedule); Golden Gate Fields, 1100 East Shore Hwy. (Berkeley), goldengatefields.com.