We attended a dizzying array of Noise Pop performances last week. Here's our list of noteworthy performances and bands to watch.
---
Bands to watch:
Chelsea Wolfe, Los Angeles, CA
One of the most captivating performances of the entire Noise Pop melee was one that almost no one witnessed -- Chelsea Wolfe at Cafe Du Nord. The doom and glorious gloom of the black-veiled goth chanteuse set the bar high for the entire night of the show, headlined by How To Dress Well. Her crystalline alto pipes, in the vein of Zola Jesus, are encased by scratchy guitars, droning keyboards and howling drums; music perfect on dark, rainy days or if you ever find yourself inhabiting a cave.
How To Dress Well, Chicago, IL

Tom Krell is one of the most confounding onstage presences we've seen in years. He's a skinny, bespectacled white dude crooning in a sumptuous falsetto that rivals the stylings of Ginuwine and The-Dream. He performs alone on stage, hiding behind nothing but a single microphone, and the result is dazzling, babymaking music for the hipster set. And it's not just regurgitated sweet nothings; Krell's lyrics seem ripped straight from the journal pages of a a turbulent mind.
Shannon & the Clams, San Francisco, CA

Forget Best Coast. Yeah, Bethany Cosentino has a pitch-perfect pop voice ready-made to be played in Urban Outfitters, but if she had a sing-off with San Francisco's own Shannon Shaw (also of Hunx & His Punx), Cosentino would get clobbered. Shaw and her Clams (savage guitarist Cody Blanchard and drummer Ian Amberson) have huge hooks and soul to boot in their roiling, delightfully damaged 60s pop songs.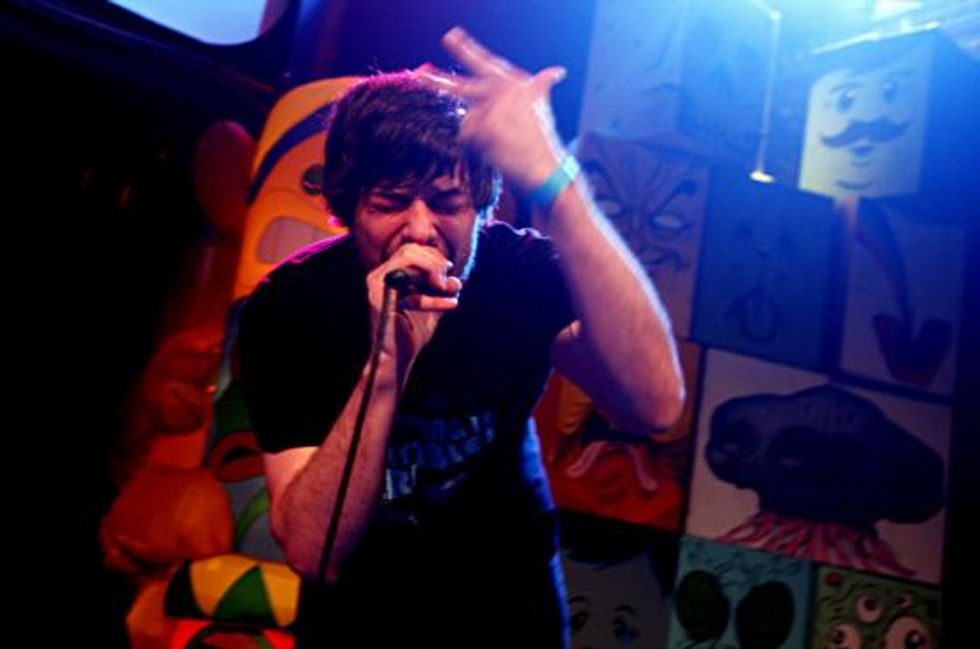 Most buzzed about performances:

Stone Foxes, San Francisco, CA
This local band doesn't give a damn that you think they kinda sound like the Black Keys. The Stone Foxes attack each song, from the deliciously bluesy jealous rant of "I Killed Robert Johnson" to the get-the-Led-out swagger of "Fever" as if their lives depended on it.  Ending their Independent show with an ultra-reverent cover of Black Sabbath's "War Pigs," the Stone Foxes prove that no matter how cool you think you are, you're no match for the bombastic, pelvis-moving grooves of that bygone era.
Aesop Rock & Kimya Dawson, San Francisco, CA & Olympia, WA
When you're fronting a project so new it doesn't even have a proper name, people are gonna get excited. When that project sports two disparate artists like rhyme-slaying Aesop Rock and quirked-out Kimya Dawson, well, hold on to your butts. Bouncing around a stage bedecked with the cartoon renderings of Jeremy Fish (which were later thrown into the crowd) with collaborator Rob Sonic, the main duo injected a load of spontaneity into the night by occasionally forgetting lyrics and spewing songs about chores as metaphors for everyday life. Who can't get down with that? It was just how live shows should be; unpredictable, hilarious, and just weird enough to make you feel normal again.
Dan Deacon, Baltimore, MD
Dan Deacon can turn even the biggest curmudgeons into sweating, dancing fools -- quite a feat for a one man show. His glitchy analog jams sound bigger than the world when they hit warp speed and unleash mayhem. Combine that with a million maddening strobes, and it feels a lot like you're traveling through a wormhole. Once you come out the other side, you're in a completely different place.
Check out all our Noise Pop 2011 coverage & photos here!
Aesop Rock photo by Misha Vladimirskiy