From a new spot for quality cocktails at Swan's Marketplace to a crave-able New York-style pizzeria in Uptown, it's all happening in Oakland this week. 
---
Swan's Marketplace is now home to Deep Roots/Hen House, a combination cocktail and food outfit headed by Brendan Eliason of Persicope Cellars in Emeryville. The drinks section, Deep Roots, has a selection of cocktails, wine on tap, and Hamm's beer; while food comes courtesy of Hen House, with chefs Celeste Cooper of Pizzaiolo and Alexandra Lopez of Oliveto. Their Italian comfort food menu features pizzas, salads, and a rotating weekly entree.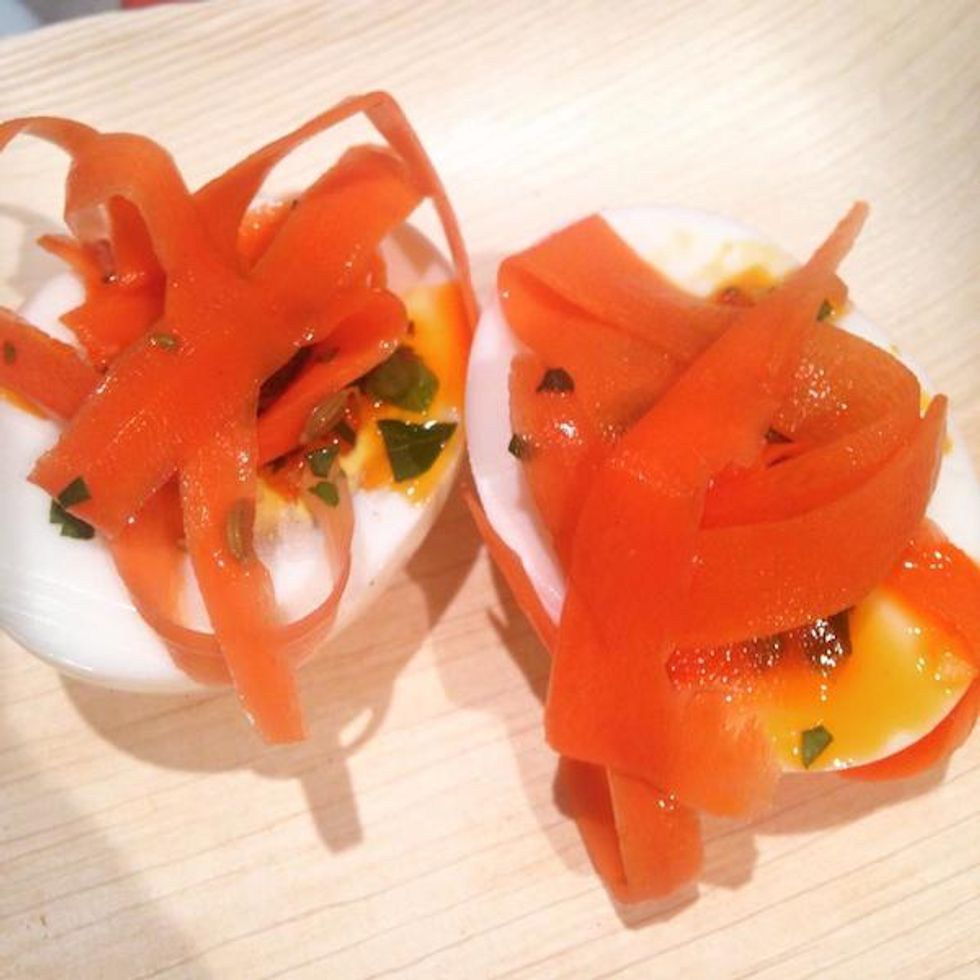 House Deviled Eggs from Hen House.
Speaking of pizza, Buma's is open and slinging pies uptown. The pizzeria comes from Jon Kosorek, formerly of Marrow and Jon's Street Eats, and features a menu of New York-style pies topped with Molinari salami, "Calabrian Love Sausage," and more. There is a selection of slices, salads, and wings on offer too. It's worth noting that Buma's is named after Kosorek's close friend who passed away from brain cancer, and 1 percent of proceeds will be donated to a brain cancer research organization.
Keep to the classically-inspired theme with a stop at Analog, an old-school bar now open in downtown Oakland. The spot remains true to its name with a jukebox chock full of 45s, and look out for an ample number of VHS tapes, too. They're offering a sandwich-centric food menu — keeping in the vinyl theme, Side A has selections for "Fine Young Carnivores," while Side B is "Like A Vegan," and fully veg-friendly.
A couple of events to keep on your radar — on February 7, Lungomare in Jack London Square is celebrating their second anniversary with a Mardi Gras-themed bash benefiting the Peralta Foundation (which raises scholarship funds and grants for students). Tickets include drinks, appetizers, a dessert bar, music, and a silent auction.
Finally, Flora is starting a series of cocktail classes on Sunday February 8 — the sessions occur once a month, with tickets available for individual classes or two class packages. The first focuses on Old Fashioneds and Manhattans; specifically, the use of classic bitters in both. Keep an eye on their website for the chance to purchase tickets — each class will be limited to 10 people.