Mugnani, the maker of those beautifully tiled, wood-fired pizza ovens from Italy, is making a lot of money off of Wine Country these days. Earlier this summer, we reported on what had become a pizza inferno sweeping Napa and Sonoma and now, Pizzando in Healdsburg tosses their pie into the fold — or flame as it were.

The team behind H2 Hotel and SpoonBar have transformed the corner space at Healdsburg Avenue and Matheson Street, which was formerly a newsstand and café, by stripping it down to its glass and concrete bones and adorning it in their simple no-nonsense style. They also brought in Liza Shaw, whose career as a traveling pizza crust consultant began at A16, to mentor the chefs on all things rising.


---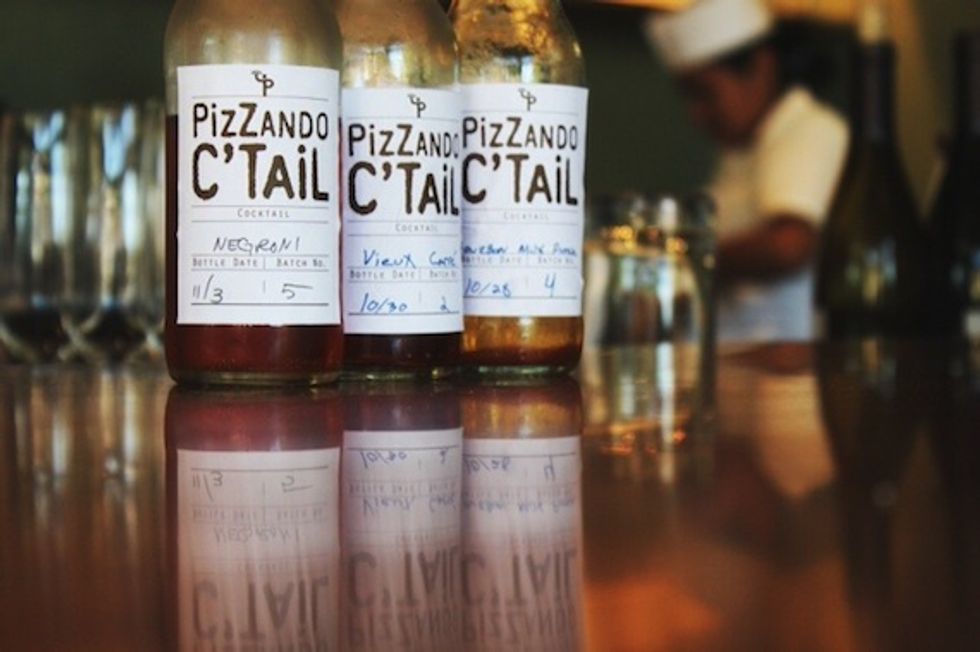 The oven may be of Italian heritage but the pies are straight out of California with toppings like persimmon, mustard greens, pecans and orange oil. Pizza may be Pizzando's raison d'être but the appetizers are nothing to skim over. Roasted baby carrots served with avocado, grated horseradish and pickled ginger prove the place has more in store than tomatoes and mozzarella. House-made pastas and a selection of meat dishes fill out the menu.

In the beverage department, bartender Cappy Sorentino is crafting signature cocktails from afar: Each of the three rotating drinks on the list are made and bottled at Sorentino's outpost in nearby SpoonBar. Poured over ice and garnished with a lemon peel, drinks like the bourbon milk punch, which is clarified through milk curds giving it surprising acidity and the vieux carré (Rye whiskey, vermouth, brandy and benedictine) are more than just a novelty; they're delicious.