"Look at all you people. What are you doing here?" Taylor Guarisco asked the crowd when he and his fellow bandmates from GIVERS hopped onstage Wednesday night at the sold-out Rickshaw Stop, as if he thought his band was the butt of some flashmob public stunt joke. Of course, there was a time when that would have been a reasonable question, before word got out about this magical pop quintet from Lafayette, Louisiana. The band has just one album out — In Light — but it's seen its star rise since a few breakthrough performances at SXSW earlier this year and some key kudos from various points of influence, hence the frenzied, pogo-ing group of fans singing along with stupid smiles last night, present company included. 
---
Most GIVERS songs are frameworks for multiple songs and melodies to co-exist ("Ripe" would be the best example), bridges rarely leading back to verses, and some choruses abandoned after one go. And each song inevitably comes equipped with some spiritually affirming moment of melodic bliss and/or a breakdown freak-out.
The proceedings began with "In Light," the oddly syncopated and dubstep-y title track from their debut album. After the fetching, dreamy tune "Ceiling of Plankton," vocalist/percussionist Tiffany Lamson turned around a lyric from the song, telling the crowd, "You guys make us blush," and the feeling was entirely mutual. What really turns the cheeks pink is a bandleader who can howl like Neko Case and fill out ridiculously complex percussion sections in the same song, all the while flicking her natural blonde hair backwards time and again, devastating more than a few of the plainly lustful gentlemen in the crowd. 
Lamson and Guarisco were given a proper duet spotlight "Go Out at Night," a slower jam that had the crowd swaying arm-in-arm, while the two vocalists played compelling foil to the other. Keyboardist/flutist Nick Stephan was an unsung hero, most notably on "I Saw You First," always game for a mind-blowing riff or two in a song. He steals the show on "Atlantic," conjuring some Middle Earthen place with an extended flute solo.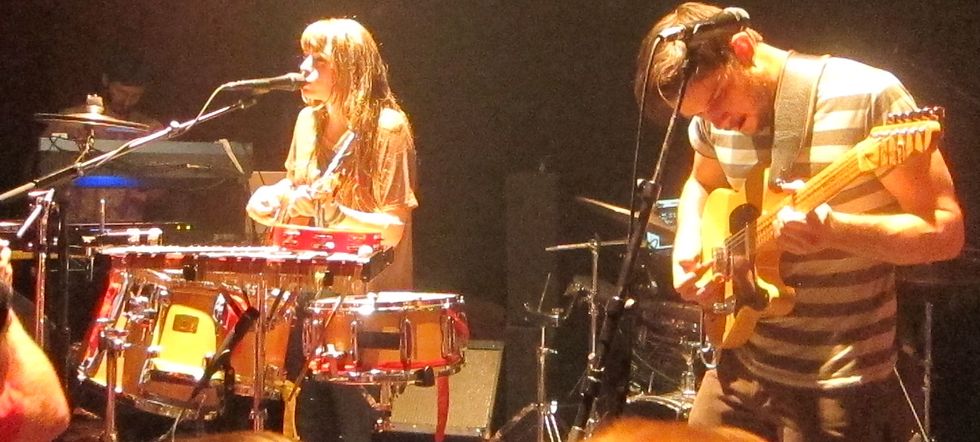 An encouraging sign of this young band's earnest ambition was the re-working of several intros — sometimes bending sonic ideas for 45 seconds or so before we realized what it was actually playing. The artistic impulse is strong with GIVERS, and we should expect that to continue given what we heard last night.
The band nodded to a few of its influences with cover songs toward the end of the show, including a melody of three Talking Heads songs — "Girlfriend is Better," "This Must Be the Place" and "Sugar On My Tongue" — which served as a bit of an a-ha! moment. Not only does the band have similar oddball pop sensibilities, but Lamson is a spitting image of Talking Heads bassist Tina Weymouth. A surreal moment for an altogether surreal night of inventive but super accessible pop music.