---
In the new economy we share everything from clothes to cars, so why not awards? That was the case at Fortune Magazine's fifth annual "40 Under 40" party, held this year at the Airbnb headquarters, where two men shared the top honor as most influential in business.

"They also gave it to another guy. It's a sharing app, so it's all good," joked Brian Chesky, Co-Founder of Airbnb, who shared the number one spot with Uber founder Travis Kalanik.


Fortune says its list of young business leaders is about "power, influence, and entrepreneurial risk-taking," traits every guest at the event seemed to posses. And what guests! Whether it was Danielle Fong, the fascinating young founder of LightSail Energy telling us about the difficulty in funding new green energy initiatives, Marc Benioff noting the success of the recent Dreamforce conference ("An economic boom for the city, $100 million,") or Polyvore CEO Jess Lee sharing her frustration at finding office space for her growing company, everyone had an interesting story to tell about the successes and struggles of their businesses.

But the "40 Under 40" honorees themselves were the real talk of the party. While local tech stars on the list did not appear, such as Mark Zuckerberg, Jan Koum, Marissa Mayer, Jack Dorsey, Kevin Systrom, or Ben Silbermann, many amazing people flew in for the party, such as Rahul Sharma, founder of India's massively successful cell phone manufacturer, Micromax Mobile.

We also spotted NYSE President Tom Farley and Blackstone's senior managing director, Peter Wallace, who arrived from New York, and Ben Rhodes, the Deputy National Security Adviser to the President.




Other Fortune honorees at the event included Vijaya Gadde, Gary Vaynerchuk, Sam Nazarian, Lyndon Rive, Anthony Watson, Julie Smolyansky, Joshua Tetrick, Kevin Chou, Nate Morris, Tristan Walker, and Michael Patterson.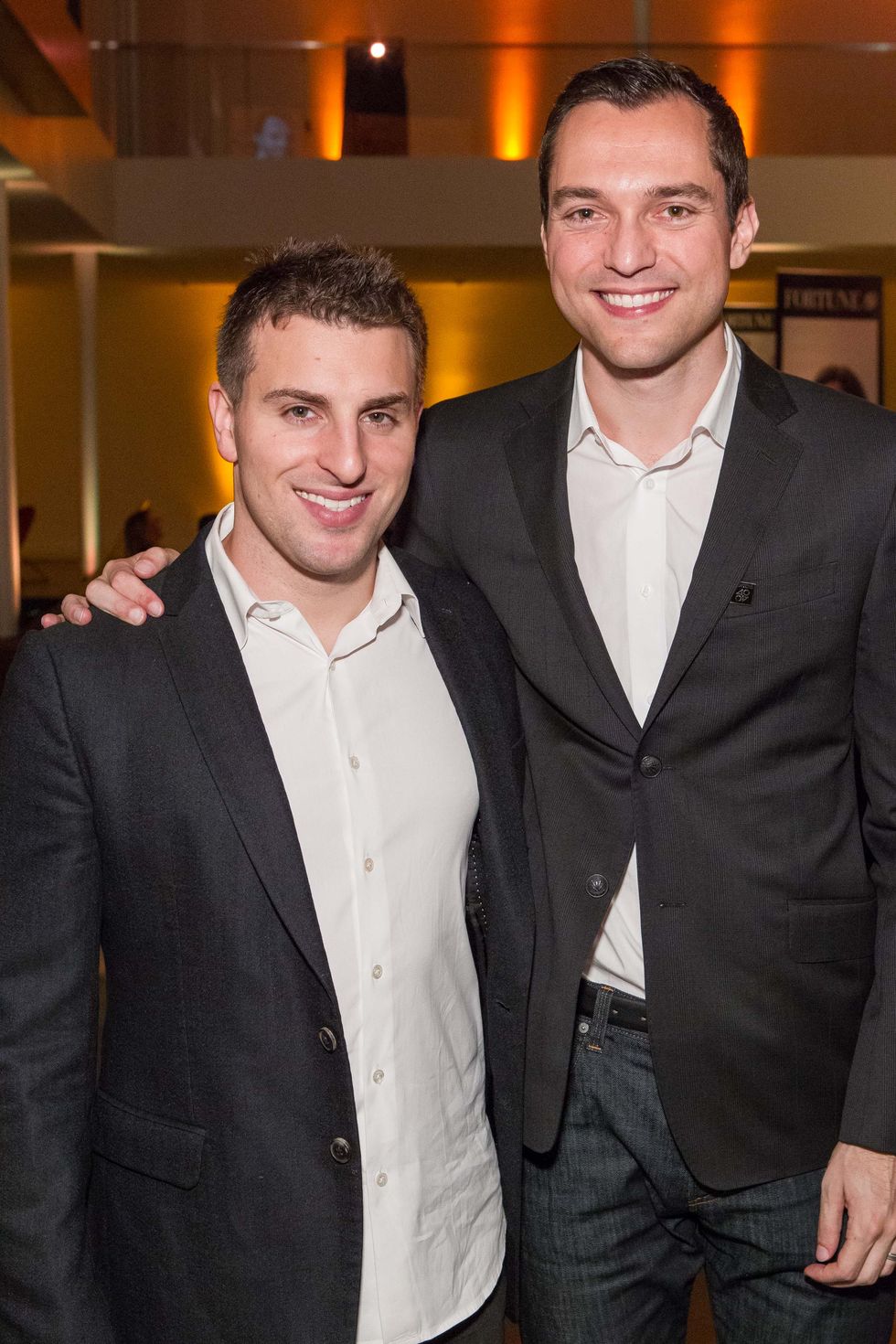 Brian Chesky and Nathan Blecharczyk
There was no denying, though, that it was Brian Chesky's night -- the party was held at his company's headquarters, after all. He was joined by his girlfriend Elissa Patel, and Airbnb co-founders Nathan Blecharczyk (with wife Elizabeth), and Joe Gebbia, in celebrating the milestone, a big achievement as he and Travis Kalanik take an honor previously bestowed only on Marissa Mayer, Larry Page, Sergey Brin, Mark Zuckerberg, and Marc Andreessen.
The next milestone? We hear that an upcoming employee stock sale could value the company at $13 billion, making Chesky and his co-founders billionaires.
So who will be in the number one spot in 2015? With entrepreneurs getting younger, fortunes getting grander and the race for power, influence and fame as fierce as it has ever been, we'd be fools to guess now, but we're already looking forward to the party!
See the full list of Fortune's top 40 business leaders under 40 at Fortune.com

Photos: Drew Altizer