When it comes to beach weekends, getting there and dealing with the crowds can sometimes take up half your time. Not so with Redondo Beach, a sleepy little enclave just eight miles south of LAX where you can get in quick, avoid the crowds and traffic further north in Venice or Santa Monica, and get busy relaxing.

Base yourself at the recently renovated Portofino Hotel and Yacht Club, situated on its own little peninsula, out past a marina where glistening yachts bob temptingly. The décor, a mix of maritime, modern, and colonial, features soothing yellows and deep blues. Each room has a private balcony or patio overlooking the marina (and just beyond a shorebreak, the Pacific). Some rooms also have fireplaces, and the soaring but cozy lobby is a great place to relax with a book by a roaring fire as well. Once a hangout for race car drivers, the hotel lobby was the finishing line for the '70s-era cross-country Cannonball race made famous in the movie Cannonball Run, and it still retains a kind of moneyed playboy vibe.


---
Don't underestimate the hotel's eatery, Baleen. Set across the way in a separate building, it's not your usual uninspired hotel restaurant. Chef Jesse Souza has earned high Zagat ratings for good reason. The requisite seafood is here—especially good is the cane-sugar-seared ahi with coconut—but there's also a toothsome lamb Bolognese, a Frenchie "hole in one" with an over-easy egg , asparagus, and mushrooms in brioche, and a truly memorable appetizer of duck carnitas: confit duck on cornmeal crepes with blackberry-chipotle sauce. You can almost make the carnitas a dinner, if you add on the BLT salad.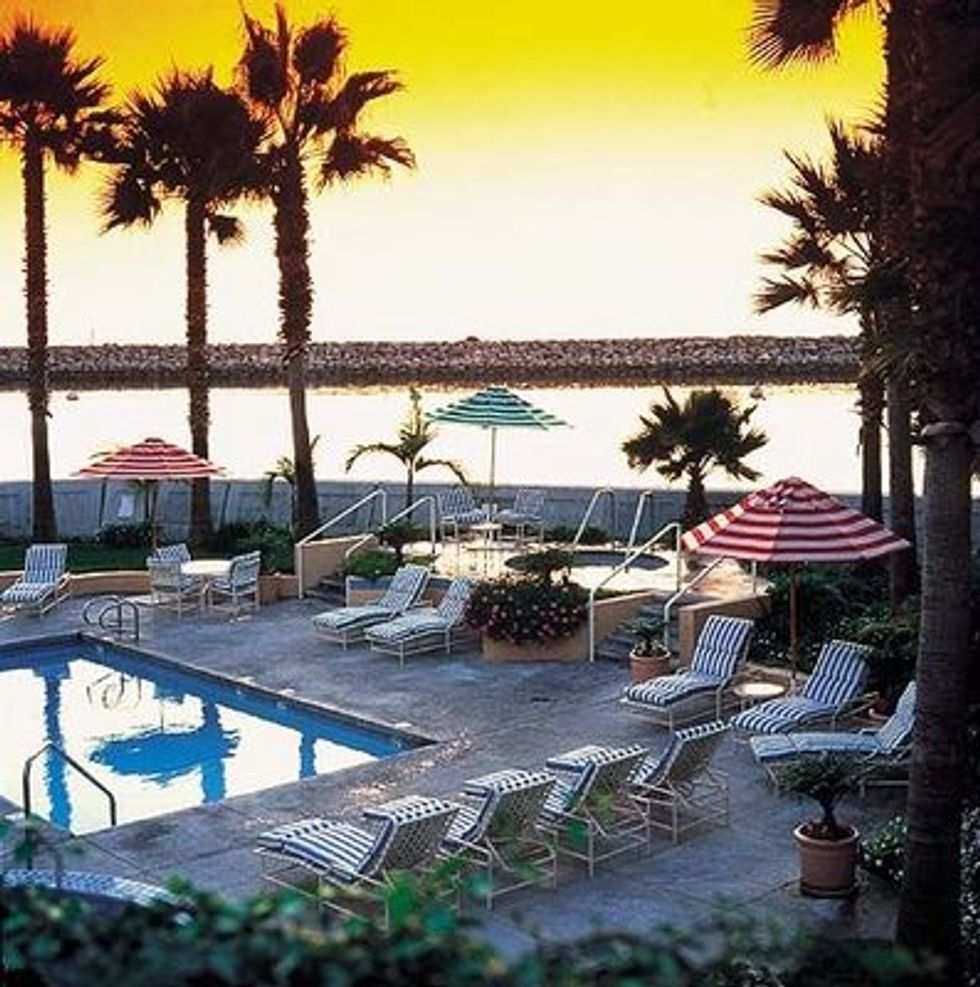 Another fine dinner option is Ortega 120, a rustic cantina on Pacific Coast Highway where you can fill up on classic enchiladas and moles or more imaginative chile-braised short ribs. (Ortega's also got duck-confit chilaquiles on the menu; maybe it's a Redondo thing?) For breakfast, Wildflower Café isn't much to look at—just a small corner bakery with a few tables. But the de rigeur omelets, scrambles, and pancakes are super-fresh and organic, and there are several good vegetarian options.

Activity-wise, assume you'll spend the bulk of your time hanging by the smallish but swanky pool at the Portofino or else lounging on Redondo Beach itself, a long sandy swatch just south of the hotel. Because let's face it, any beach where a San Franciscan can actually swim is a beach worth visiting. The beach abuts Redondo Pier, where locals cast fishing lines and you can gather all manner of necessity or souvenir. When you tire of lounging, borrow a free cruiser from the hotel and bike along the Strand, a paved 22-mile oceanside trail that runs north through Hermosa and Manhattan beaches all the way up through Marina Del Rey, Venice, and Santa Monica if you're ambitious.

Of course, if you're not, you can just go a few miles, turn back, and head back to the pool or sand.