In the depths of the Tenderloin, unnoticeably tucked in between what Google Maps calls the San Francisco Drug User's Union and Aunt Charlie's Lounge, lies SF duo Chasms' unassuming, almost abysmal practice space. It's a part of the city most would avoid because of its seedy reputation for illicit activities and general insanity. But while some would consider this a dismal locale, others are channeling its darkness and thriving off of it.

Not one to be afraid of the dank, I accepted an invitation to watch the band practice just days before they'd set off for a second round of shows in Los Angeles and San Diego. Adding to the excitement is the fact that this would be for the release of their debut EP, When it Comes, due June 26th.

Guitarist and vocalist Jess Labrador had just finished checking her makeup while Shannon Madden sat cool-like wearing a baggy, white t-shirt with a stretched out collar, clutching her bass. A tangled mess of chords, pedals and equipment sat at both of their feet, not far from the drum machine. With the lights down low, just the way they like it, the private performance began.

They moved through lengthy songs (they don't cater to short-attention spans and would rather let the songs breathe) provided a lush soundscape, spot on vocal delivery and a vibe every bit as foreboding as the EP's title suggests. Labrador later explained that it's a reference to the acceptance of one's own demise. "Being okay with what you're doing, being okay with death. Would you be satisfied?" she pondered.






---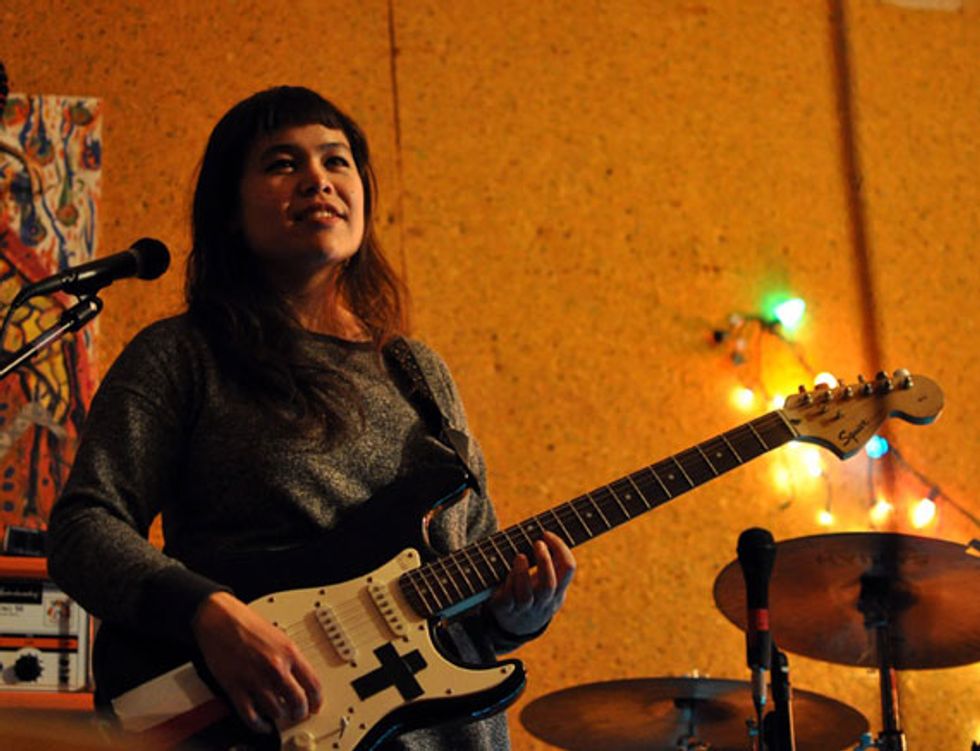 And it's her haunted howl that can be heard both live and on the cassette (to be released on Dream) where you realize the powerhouse potential of her voice that maybe hasn't quite yet matured, or is just holding back at times. Perhaps those obscured vocals and sometimes drowned-out lyrics are symbolic of the aforementioned mortality. After all, it isn't clear what happens or where you go when you die. The shroud could simply be affect.

"I have gotten a lot more comfortable," Labrador said about being fairly new to the stage. "My knees shake every time we play. It's a physical anxiety that overtakes my body. It stays with me throughout the set." But when you see them live you can tell she's just warming up and when she arrives, you hear the emotion in her voice.

With Madden, her collaborator, the two couldn't be more perfectly matched.  They knew they wanted to work together creatively, even considering a screenplay, but it was about a year and a half ago when things really took off via email in a word association-like approach to writing lyrics. Madden said she carried a packet of text she had written with random words and phrases for her bandmate to interpret. She said at first she couldn't offer much besides her imagination.

You could put Chasms somewhere along the lines of having heavy industrial or shoegaze influences, but the bottom line is this: The difficulty of categorizing them neatly on a bill is a great testament to their uniqueness. What has emerged is something that is both menacing and beautiful. I like how they put it themselves when they simply said, "We shred."








You can see them do just that July 20th at Thee Parkside with Moonbell.