Santa Clara del Cobre Bud Vase ($75), hand-hammered and made by artisans in Santa Clara del Cobre, Mexico.
Oval Oak Meccano Candleholder ($45), Scandinavian candleholder set is buildable and places together like a jigsaw puzzle.

---
For those with perpetual wanderlust, a new SF-based website, StyleVISA, can provide a temporary travel fix. The site features finds from France, Sweden, New Zealand, Japan, Africa, Mexico, Tunisia, Canada and across the US, ranging from home goods to skincare to accessories. Each product has a story and a complimentary Tumblr blog extends the StyleVISA trip via inspirational world photography.
Founded by a globetrotting husband and wife duo who collectively speak Spanish, Italian, French and Portuguese, StyleVISA is a way to share their love of travel and stay involved with designers and artisans from different places.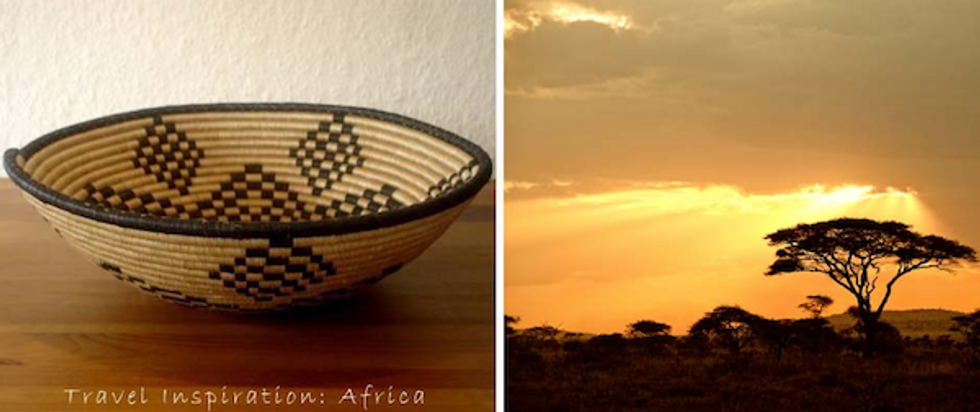 Eduardo and Suki moved from New York City to San Francisco in 2009, where they "Fell in love with the stunning views and architecture of the city — it's such an inspiring place to be visually. We also see San Francisco as a great hub for design, and a city that appreciates unique goods and craftsmanship. These factors made it a natural fit for styleVISA."
While India, Brazil and Russia are next on their travel wish list, StyleVISA is already adding new finds from Lebanon, ceramics from a Japanese artist now based in the US and handmade furniture from Nepal.
When asked about their favorite international-inspired places in SF, Suki elaborates "One of our favorite things to do is stop by Café de la Presse and sit at the bar where you can read through all types of foreign magazines. For German fare we always head to Suppenküche and we never pass up dim sum at Yank Sing. On a cloudy day we like Outerlands, the interior is so cozy and it reminds us of the great gastropubs in London. We're obsessed with the chilaquiles at Primavera in the Ferry Building farmer's market on Saturdays."
Shop online or take their San Francisco tour, let StyleVISA be your guide.
Sam Durbin (sami.7x7@gmail.com) is a California lifestyle writer who honed her blogging skills as Editor of FabSugar.com. Sam graduated from The Fashion Institute of Technology, and also writes for 7x7 Magazine and Gilt City.