This article originally appeared on California Home + Design
---
Like any spice hunter worth her, um, salt, Olivia Dillan, proprietress of Spice Ace, a San Francisco mecca of all things flavor enhancing, expertly briefs customers on the characteristics of the 300 spices, peppers and dried herbs in her inventory—if only to prevent bodily harm. Do not, she warns, sample more than one sansho peppercorn at once. The Japanese export's intense lemony aroma may tempt you to overindulge, but just a single bud packs an astringent, palate-crushing punch and enough mouth-numbing effect to induce mild-to-moderate anxiety. Despite her cautionary words, Dillan likens the stuff to Pop Rocks candy and recommends steeping the peppercorns in vodka for provocative cocktails.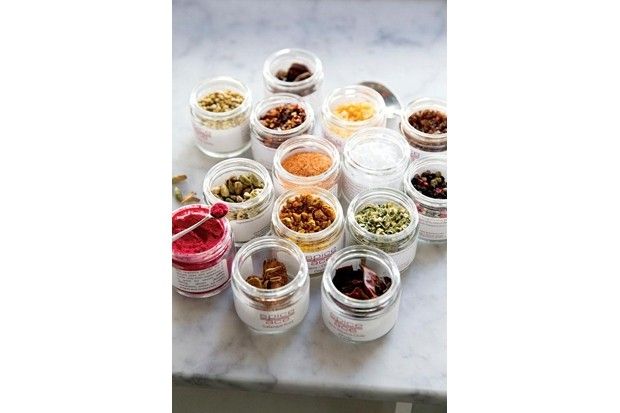 Dried chili peppers, cardamom pods and a bright punch of dehydrated raspberry powder are among the offerings available at spice ace.
Don't let Dillan's former life as a software executive fool you—her culinary education runs deep. Slow-simmered marinara sauce, redolent of oregano and garlic, practically runs through her veins (a condition inherited from her Southern Italian grandparents); and thanks to her Greek step-grandparents, Dillan's outlook is always sunny with a chance of lamb meatballs—lovingly infused with dill and lemon.
"Food is my true obsession," says Dillan, who would unwind from stressful Silicon Valley workdays by braising cumin-scented lamb shanks or grilling haloumi sprinkled with oregano and mint. "Spices aren't just great for enhancing flavor, they also do wonders for stirring up memories."