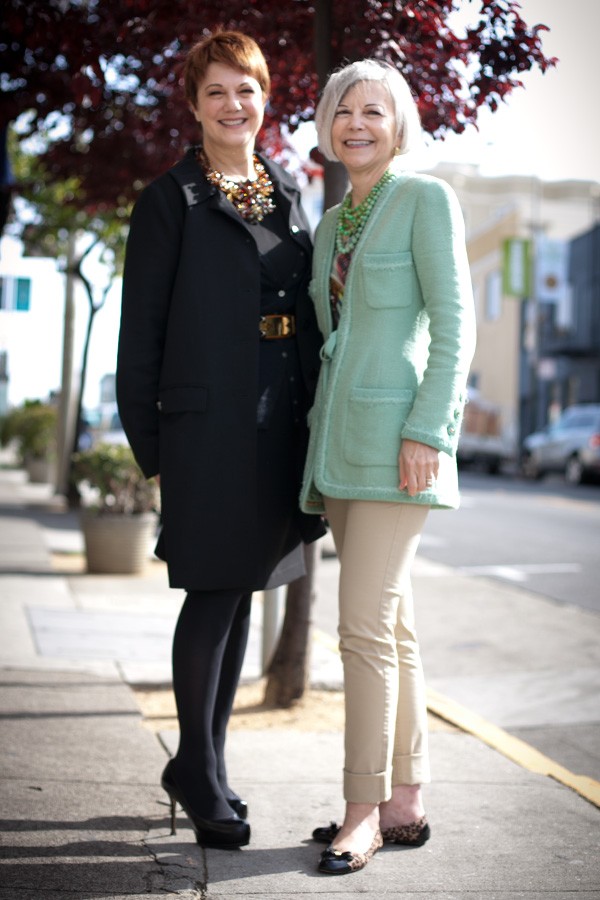 ---
Last weekend, we caught up with sisters and best friends, Nancy Hershey-Lalli (left) and Barbara Heckman (right), storming the amazing consignment finds at Cris, in Russian Hill. 
Originally from Pennsylvania, both sisters lived in San Francisco until Nancy moved to NYC, years ago.  Nancy, a learning specialist for Sunglass Hut, and Barbara, a dental hygienist who teaches at the UCSF School of Dentistry, are the epitome of high-fashion-meets-down-to-earth. Both claim Cris boutique owner, Cris, as their fashion muse. "She has the best style we know," said Nancy, "Shopping there is our 'Girl's Club'."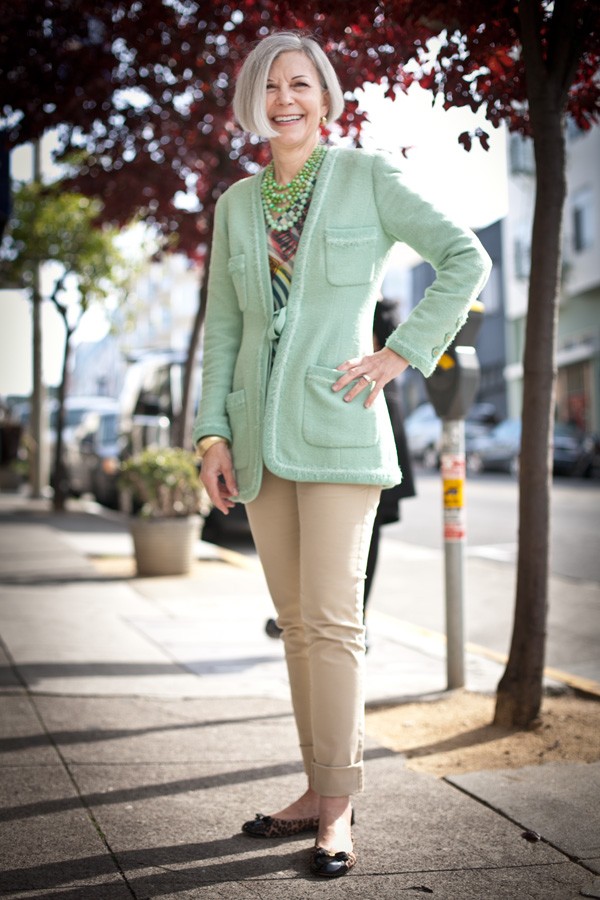 What Barbara's wearing:  Seafoam green Chanel jacket, purchased from Cris; Save the Queen top, gifted; Tan Mossimo Supply Co. skinny pants, purchased from Target; Leopard print Tahari flats with patent toe cap and bow detail, purchased from TJ Maxx; Multi-strand beaded necklace, purchased from Cris; Single strand jade necklace, gifted; Cuff purchased from the MoMA Store; David Yurman rope ring, purchased from Neiman Marcus; Engagement diamond and anniversary diamonds combined wedding ring and band, purchased from Bella Gold, and Vogts Jewelry in Allentown, PA.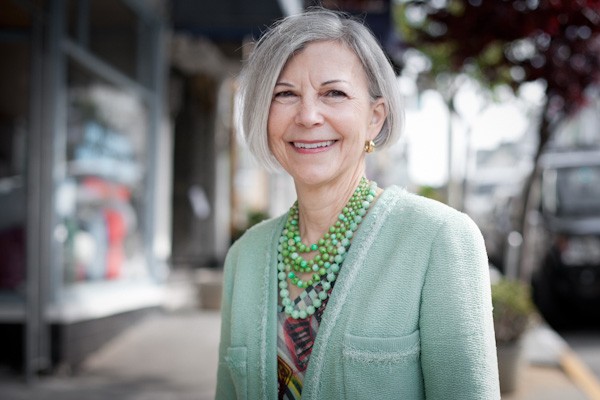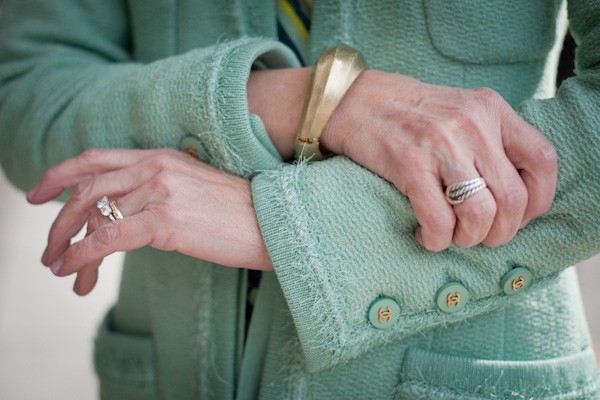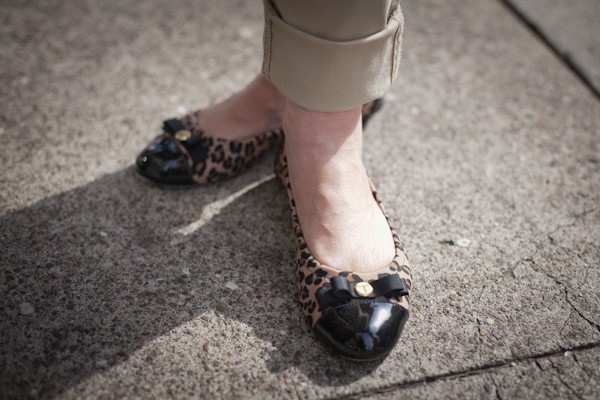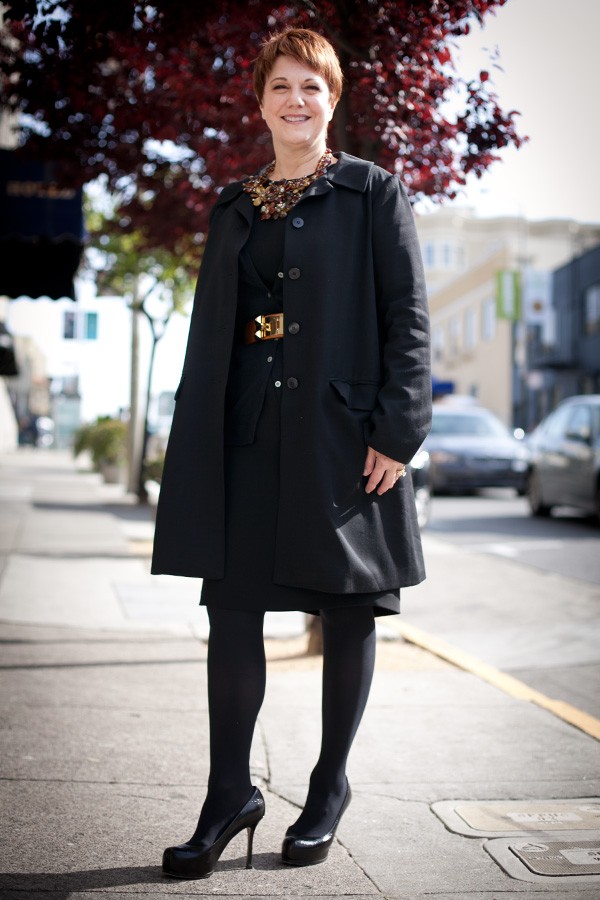 What Nancy's wearing:  Black Agnes B jacket, purchased from Cris; Chanel pocket pin; Martin Osa cashmere cardigan; Black dress by Tahari, purchased from Bloomingdale's; Hermes leather belt with hardware, purchased from Cris; Black opaque tights from Duane Reede; Black YSL platform heels; Jewel necklace, purchased from Cris; Chanel watch; Gold Chanel ring, and custom engagement ring designed by Nancy's husband, Franco.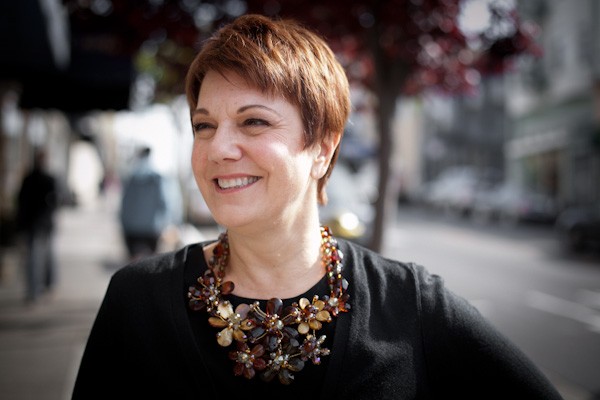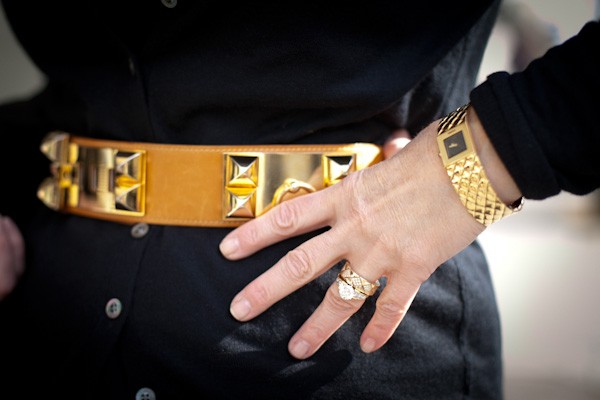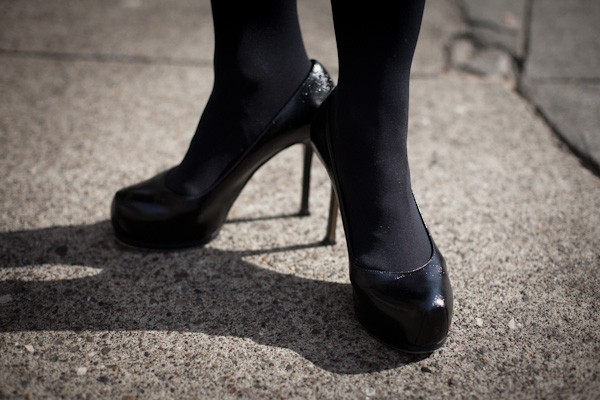 Seven style questions for Barbara and Nancy:
1. In three adjectives, how would you describe each other's personal style?
Barbara:  Nancy is luxurious (luxury magnet), bold (statement pieces) and beautiful (always)! Nancy is so outgoing and generous -- she offers fashion advice and style tips wherever she goes!
Nancy:  Sorry, three words aren't enough! Sophisticated with sass, and there is always an element of surprise -- whether it's the color or accessory. Her grey hair is such an amazing, bold statement, too. She is stopped constantly and complimented on her hair and personal style. There is no one like Babs -- the kindest person in the world, with a brilliant mind and personality -- she's Mother Teresa and Mary Tyler Moore combined! 
2. What's your single most prized possession? 
B:  Health and the love in my life, followed by the ring that symbolizes it.
N:  My husband! I am one lucky woman. In the material world though, my Birkins and my beautiful Hermes scarf collection -- it's very sentimental. I can remember my life through my scarves. 
3. If you had to choose, shoes or jewelry? 
B:  A painfully difficult decision! The only way around this would be to have shoes with jewels on them, or jewelry with a shoe as a design theme.
N:  Ah! Tough one. Jewelry. Once again, it's sentimental -- each piece has a story and each ring, necklace, or earring is a great conversation starter. My accessories are noticed before my shoes. 
4. Other than shopping at Cris, what are your favorite things to do in SF?
B:  Walking through North Beach, Chinatown and Crissy Field, spending time at Cafe Trieste, Puccini, Bohemian, and Peet's. Also, in addition to SF's great opera, symphony, ballet and museums, my other art favorites include Chanticleer, the Coit Tower murals, Bimbo's 365 Club, and Yoshi's. For food, Cafe Jacqueline, The House and U.S. Restaurant. 
N:  North Beach restaurants like family style U.S. Restaurant, the new Original Joe's, Balboa for burgers, Mario's Bohemian Cigar Store for the best ricotta cheesecake, Village Pizza, Dim sum at Yank Sing, and I can't live without my Peet's (Please, come to NYC!). I also love walking through Chinatown to go downtown, Crissy Field, and hanging out in North Beach cafes. 
5. What do you not leave the house without?
B:  Lipstick. 
N:  Sunglasses, Becca Skin Perfector (I have worked in the cosmetics industry and there is nothing like it!), Hermes scarf, one of my watches from my husband, iPad, Chanel fragrance and a smile!
6. Where do you go for a bit of pampering? 
B:  Katherine Sawyer and her great team at Future salon in Oakland, Merry Manicures and, of course, seeing my dental hygienist regularly. 
N:  Katherine Sawyer is the hair whisperer. Her Future Vanity/Novelty Salon is in Oakland and I travel to California just for her to cut and color my hair. There is no one more passionate about making you look your best. Merry Manicure, Tru Spa's facials and massages. 
7. What's your greatest style tip?
B:  Be open to style wherever you might find it. I love the idea of high/low style that includes combining Hermes and Chanel with items found at stores like Target, TJ Maxx, Marshalls, Forever 21, and Old Navy. It's even better when the items are on sale.
N:  Spend your top dollars on accessories -- not basics like tops or LBDs. I have seen women spend a fortune on basics and look bland, simply because they don't personalize their looks with accessories, scarves, etc. You can acquire the magic of many fashion houses with extraordinary sunglasses, too. Accessories are the best investment to personalize your style! 
Lily Ko (lily.7x7 @ gmail.com) studied fashion design and merchandising at Central Saint Martins and the Academy of Art University. In addition to writing for 7x7, Lily is an editor at SF Station, and works as a freelance stylist and apparel designer.