Ever hungry for the next best restaurant, San Franciscans begin calling in favors for reservations before the doors have even opened. But for all the pre-launch hype, there are no guarantees. Here's a look at the 10 most talked-about restaurants of 2012 and what they really bring to the table. The proof, as they say, is in the pudding.
---
Rich Table (Hayes Valley)
Opened: July 26, 2012

The Hype: Married chefs Sarah and Evan Rich (who honed their collective skills at Quince, Michael Mina, and Coi) teased SF with their pop-up, Chefs' Night Off, for five months while Rich Table was in the works. The food community placed bets on whether they could deliver on a more consistent basis.
Check, Please: 
The chefs proved themselves with clean California flavors. In October, they landed on 7x7's Hot 30, and SF Chronicle critic Michael Bauer gave Rich Table a rare three and a half stars, calling it "the next Frances." Food & Wine editor in chief Dana Cowin tweeted a picture of the rabbit confit, writing, "I'd sworn off anything w/an egg on top—'til now."
Order: Sardine chips, something from each section of the menu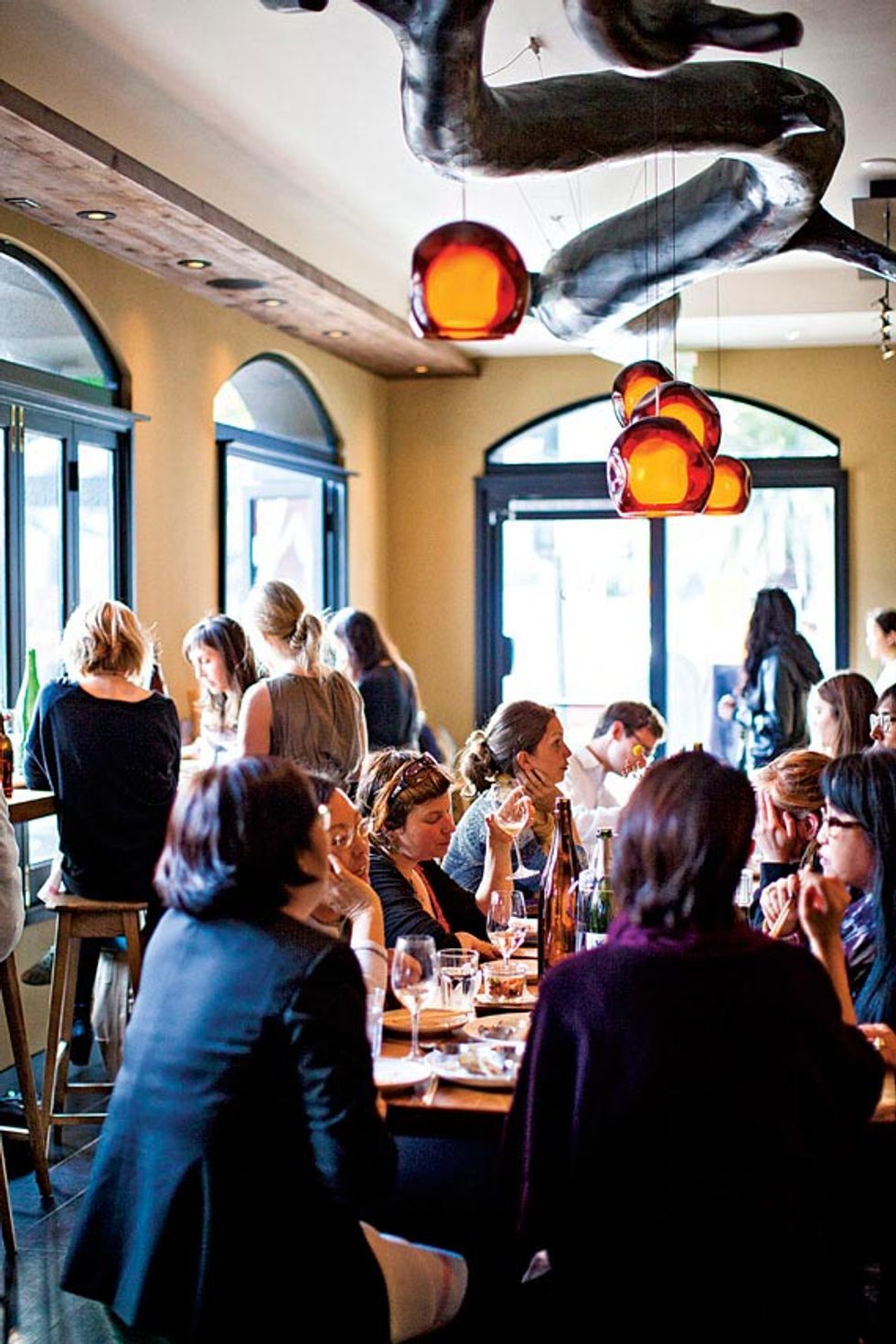 Namu Gaji, photo by Eric Wolfinger
Namu Gaji (Mission)
Opened: April 11, 2012

The Hype: Namu owners, brothers Dennis, Daniel, and David Lee, stole hearts with their brand of Korean-American fare and then shocked the city by closing their space in the Richmond in favor of prime digs on Dolores Park. They promised a more refined comeback riffing on the izakaya.
Check, Please: Namu Gaji is the hipper, grown-up version of the first iteration, and it has the fancy waiting time, heavyweight patrons (including French Laundry's Timothy Hollingsworth), and rave reviews to prove it. For SF Weekly, Jay Barmann noted "unusual food that speaks to the times," while the SF Guardian's Virginia Miller called the Lee brothers "an SF staple."
Order: Beef tongue, Bonito-topped okonomiyaki, Gamja fries
The Abbot's Cellar (Mission)
Opened: July 24, 2012

The Hype: The Monk's Kettle crew set the expectations high for SF's spiffiest brew hall yet—an Olle Lundberg-designed stunner complete with a beer bottle-shaped bathroom sink. With more than 120 rotating beers and nightly tasting menus, the owners claim to be a "market leader" in food and beer pairings.
Check, Please: Those fancy brews get pricey quick, but where else can you try a champagne beer with your appetizer? Some critics didn't immediately warm to the food, but Bauer's three-star review solidifies The Abbot's Cellar as a winner.
Order: A dessert-beer pairing such as Key lime meltaway cookies with Firestone Walker's Double Jack IPA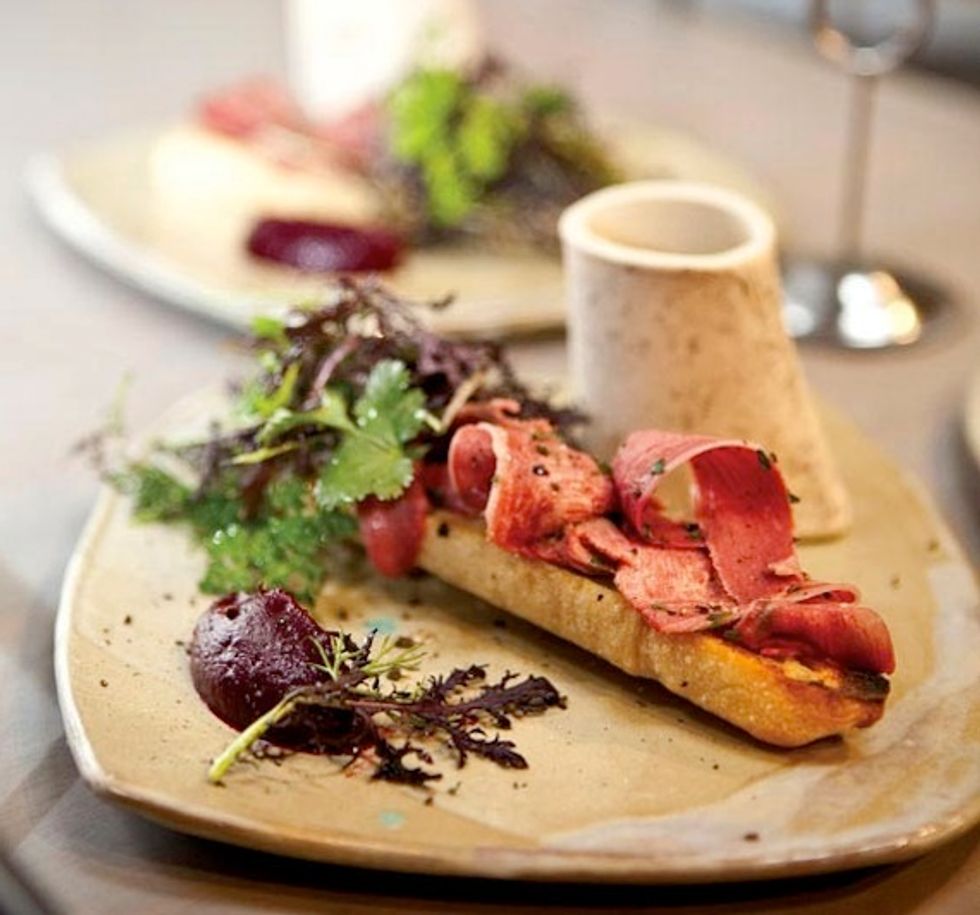 State Bird Provisions, photo by Laura Flippen
State Bird Provisions (Western Addition)
Opened: Dec. 31, 2011

The Hype: Having vanished from the scene for three years, former Rubicon star chefs Stuart Brioza and Nicole Krasinski made a much-anticipated return with a New Year's Eve debut of their crazy dim sum–inspired restaurant.
Check, Please: The first month was rocky, as the couple was "still feeling this service concept out," wrote Sara Deseran on 7x7.com, noting that the dim sum–style presentation didn't do "the good food any favors." But those willing to try something new were rewarded with boundless flavor. Bauer added it to his Top 100, while Bon Appetit and Esquire both named State Bird Provisions a best restaurant of 2012.
Order: The "CA state bird"
St. Vincent
Opened: May 7, 2012

The Hype: Owner David Lynch, a Bon Appetit wine columnist and former Quince sommelier of note, seemed guaranteed to bring a following. Then the food community licked its proverbial chops at the announcement that former Bar Tartine chef Chris Kronner would consult on the menu.
Check, Please: The Kronner partnership didn't work out, but Bill Niles, also a Bar Tartine alum, took the toque, exceeding expectations with sophisticated spins on pub fare—his pickled eggs made Bauer feel like he was "on an LSD trip." St. Vincent is mostly about wine, but craft beers selected by cicerone Sayre Piotrkowski are a welcome surprise.
Order: Anything with sea urchin paired with Julien Labet Cotes du Jura Chardonnay "En Chalasse" 2008
Gioia Pizzeria (Russian Hill)
Opened: April 18, 2012

The Hype: After a yearlong stint at NYC cult pizzeria Roberta's, the owners of North Berkeley's beloved slice joint Gioia revealed plans to bring their New York–style pies to Polk Street.
Check, Please: NYC pizza aficionados might question toppings like butternut squash, gorgonzola, and zucchini pesto, but Gioia is a crowd-pleaser, turning out roughly 1,500 pizzas a week. The "runaway success" (according to 7x7.com) scored two-and-a-half stars from the SF Chronicle. Expect hour-plus waits.
Order: The Julian or Salsiccia pizzas, Burrata salad, the meatballs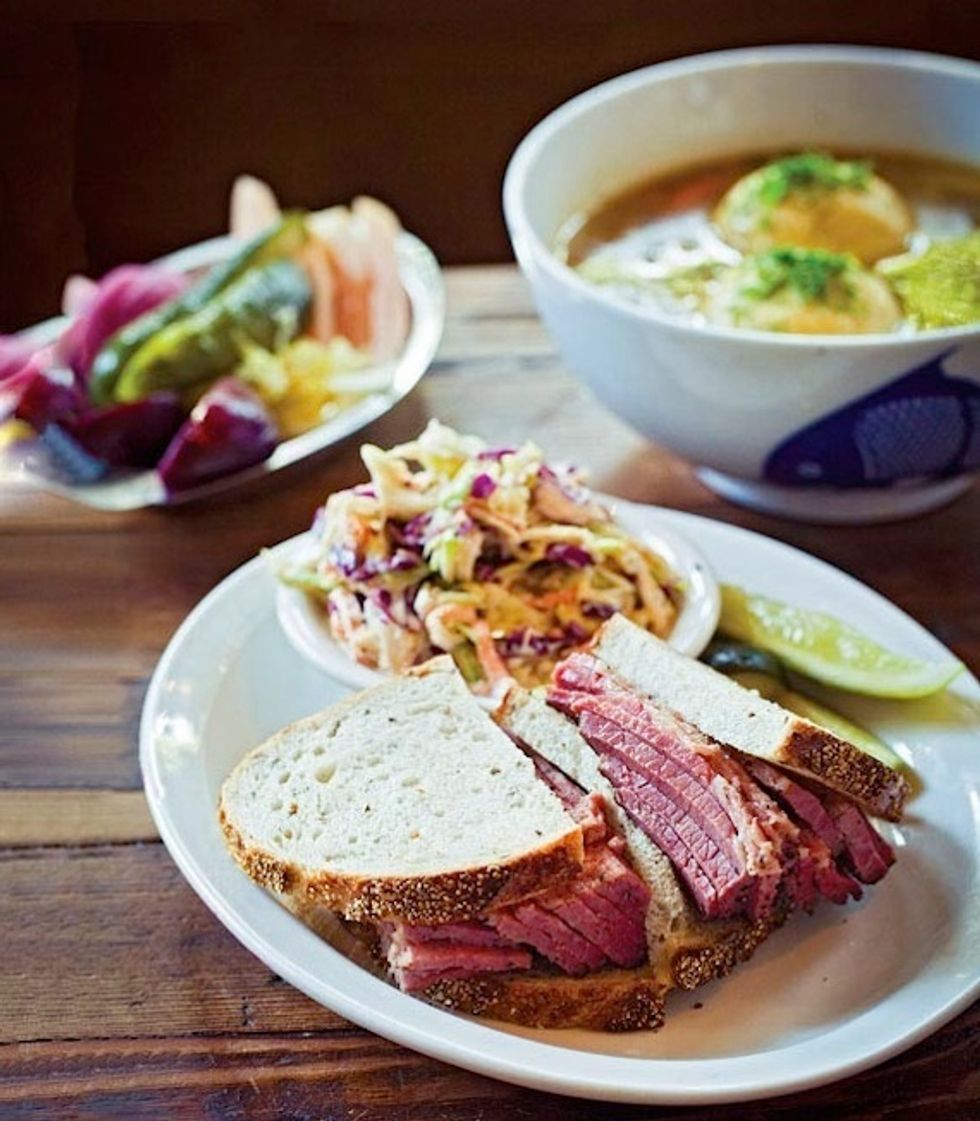 Wise Sons Deli, photo by Eric Wolfinger
Wise Sons Jewish Delicatessen (Mission)
Opened: Feb. 28, 2012

The Hype: Jewish college friends Leo Beckerman and Evan Bloom had a hit on their hands with their Ferry Plaza Farmers Market pop-up, serving made-from-scratch pastrami, Reubens, pickles, and bialys. The boys started accruing a modest but enthusiastic following on Twitter and Facebook, even before opening their 
brick-and-mortar Mission deli.
Check, Please: From day one, Wise Sons "garnered an instant following" (7x7, May 2012), making it tough to keep up with demand. But by November, the guys had operations streamlined and began offering door-to-door delivery. A New Yorker would gasp at the prices, but the ingredients are impeccable.
Order: Reuben or pastrami sandwich, Guittard chocolate babka
Original Joe's (North Beach)
Opened: Jan. 26, 2012

The Hype: Loyalists of the 75-year-old institution Original Joe's have buzzed about its resurrection since a fire shut it down in 2007. Gavin Newsom donated $50,000 to help rebuild it, and the new address was the source of much speculation until it opened on Washington Square.
Check, Please:  Serving a near-carbon copy of its former Italian-American menu, Original Joe's is "better than ever," wrote Patricia Unterman in the The Examiner. A new rendition of fritto misto is "shatteringly crisp and light" (7x7.com), and Bauer bestowed two-and-a-half stars despite "flabby" ravioli and coffee that's as "weak as tea." The heart of the old place may be enough to overlook its flaws.
Order: A lightened-up version of the original eggplant parm and $6 classic cocktails
Central Kitchen (Mission)
Opened: May 10, 2012

The Hype: The blogosphere was rabid to dissect every morsel of news around the Flour+Water team's sophomore venture. Before it opened, SF Eater called Central Kitchen a "neighborhood game changer," preview dinners sold out, and high-profile hires including chef de cuisine Michael Gaines (Manresa) stoked anticipation.
Check, Please: Despite throngs of diners at the start, precious plating and high prices discouraged return visits, and the insanity died down by the end of month one. Just after Bauer's two-and-half-star review, Gaines left, and executive chef Thomas McNaughton said pre-opening hype had "affected the restaurant negatively." But the general public still has trouble wrapping its mind around what the chef calls a "soulful interpretation of Northern California regional cuisine." The biggest draw remains the courtyard—an urban oasis designed by Paxton Gate.
Order: Pass on the tasting menu, and instead go for pork-belly benedict at weekend brunch.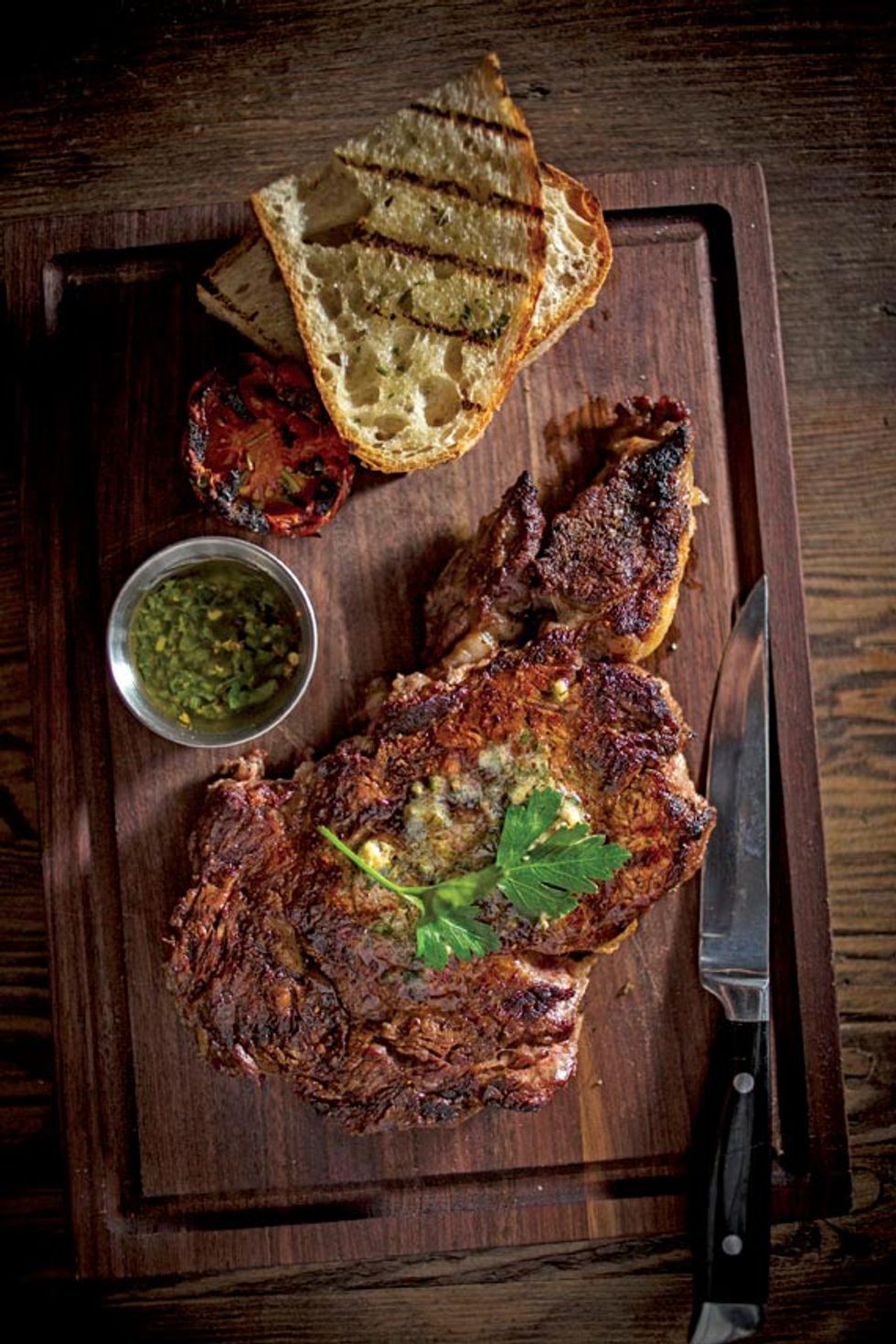 Lolinda photo by Eric Wolfinger
Lolinda (Mission)
Opened: Aug. 14, 2012

The Hype: Rumors began swirling in 2010 when restaurateur Adriano Paganini (Beretta, Delarosa) leaked word of his new concept—an Argentine steak house in a gargantuan 220-seat space. The hire of bar manager Lane Ford (formerly of New York trendsetter Death & Co.) further whetted thirsts.
Check, Please: Bauer gave Lolinda just two stars, calling it "a slightly disappointing follow-up" to Beretta. But four-star Yelp status indicates the popularity of the steakhouse—which is "a much sexier reimagination" of the old Medjool (7x7.com). Ford departed, being replaced at the bar by Tradition's Chris Lane.
Order: Ceviche mixto, Corn empanada, Asado mixto, Mi Amaro cocktail



This article was published in 7x7's February issue. Click here to subscribe.