If you've passed by the SFMOMA's Garage street-level windows on Natoma and Minna lately, you've probably noticed a pretty scary looking bird installation staring out at you. The piece's got impact, and it's by prolific street artist Jesse Hazelip, who is also currently showing at 941 Geary (the newest gallery from Justin Giarla of White Walls and Shooting Gallery) through August 24. The heron, who's sporting a machine gun as a head, is a commentary on both capitalism and greed as it relates to the BP oil spill.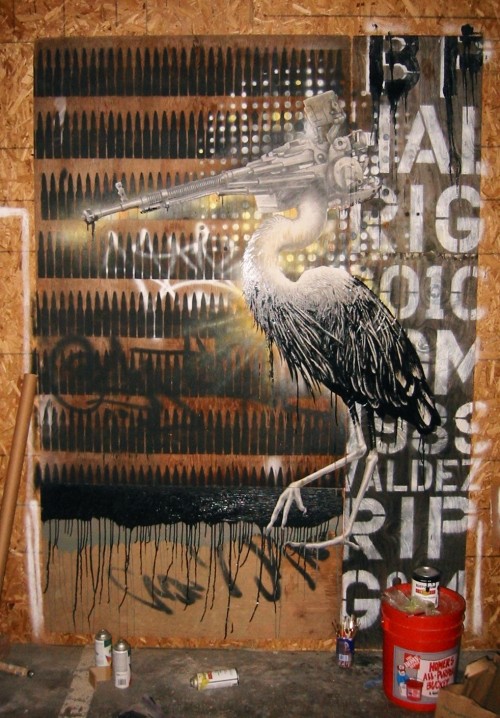 ---
This Saturday, Hazelip will participate in an artist talk at the SFMOMA Artists Gallery to discuss his installation. It will be moderated by prolific artist Rob Clayon, who is Hazelip's former mentor and professor at the Art Center College of Design.
Hazelip's all about melding together incongruous iconic imagery to confront the military industrial complex. You may have seen his WWII-weaponry-headed buffalo on the streets of Berkeley or LA. It's pretty show-stopping.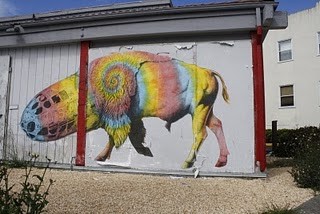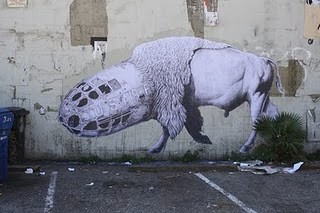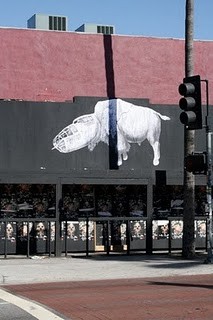 The event will be held at Fort Mason's SFMOMA Artists Gallery on Saturday, August 21 from 2 to 3:30 pm.