Enter a feminist wonderland where you can swim in a pool of tits.
The brainchild of Jamie Shaw—creative director of Eleven ad agency in San Francisco—That Lady Thing is an art-meets-protest pop-up putting cheeky installations to work at sharing activist messaging on issues such as sexual harassment and gender and wage inequality.
---
Opening Sunday, August 5th inside the Mission's Great Northern events space,
That Lady Thing
aims to start discussion via three unique experiences.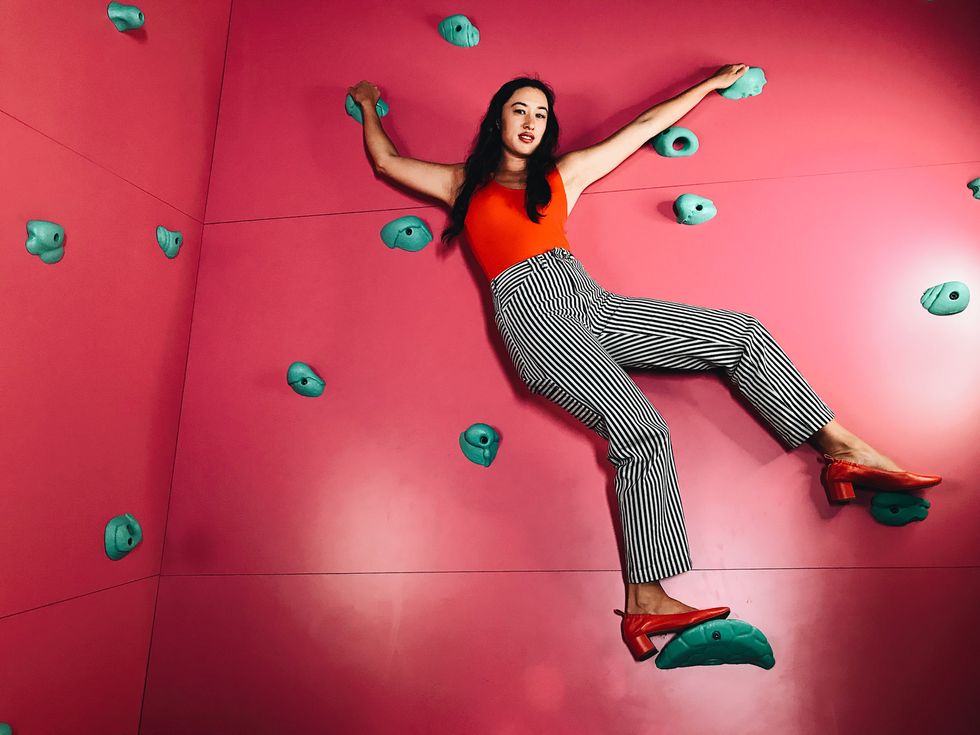 Erin Fong of Western Editions scales the Corporate Climb rock wall.
You can test your stamina on the pink Corporate Climb rock wall; try your best to grab hold the fake bills flying around the Money Maker box; and take a plunge in the Sea of Objectification—yes, that's the aforementioned aqua-tiled titty pool with soft foam boobies floating about. The message: Ladies are not playthings.
A final installation, called "Wallflowers," turns feminist themes (beauty and self-acceptance, imposter syndrome, intersectionality, and more) into eight fabulous wallpapers we could easily imagine in a splashy bachelorette pad. (We're super partial to artist Flavia Gonazales' Art Deco-inspired "Money Fan" print that makes a statement on the wage gap.)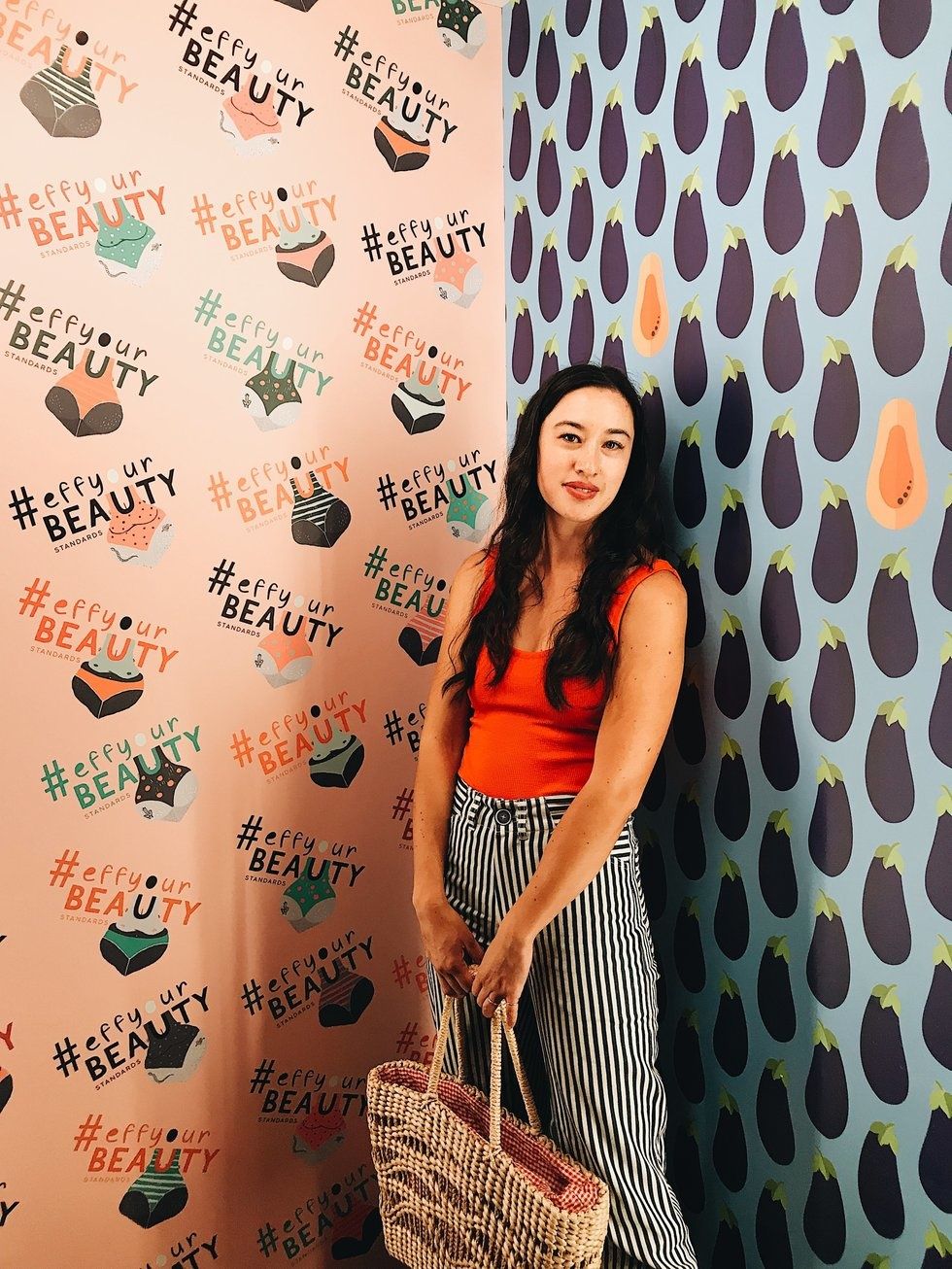 The exhibit began as a way to honor International Women's Day in March 2017, with a one-night-only pop-up (then called The Lady Factory) in San Francisco's Financial District. The immersive experience took aim at millennials, hoping to coax the social media–obsessed iPhone-wielders into serious conversation, in the thick of the #MeToo movement, through playful photo ops. The idea was get young women to "look up from their Instagram feed and pay attention," explains Sallie Krawcheck, CEO of the women-focused digital investment advising platform Ellevest (a sponsor of That Lady Thing), by adding "substance into something superficial." The plot worked, and the event last year turned into a 175-guest selfie-fest; the tit pit lit up Instagram.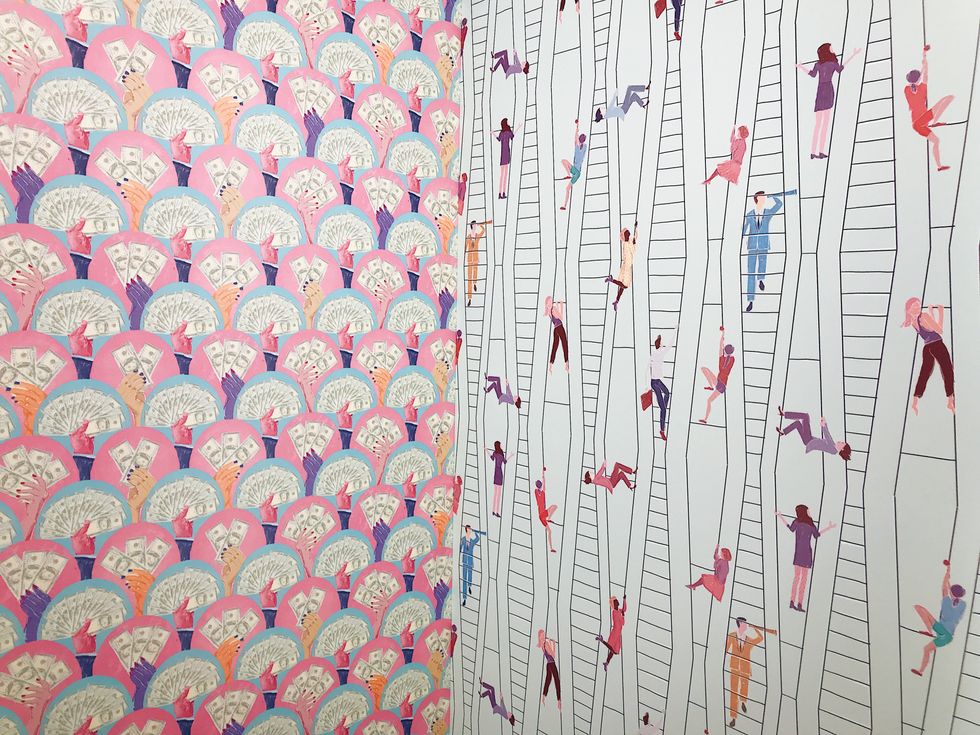 From left: "Money Fan;" and "Climb," in which men cruise up the corporate ladder effortlessly while women struggle to overcome invisible obstacles. Both designs are by Flavia Gonzalez.
This year, That Lady Thing expands with a full roster of corporate sponsorships (including Benefit Cosmetics and Lyft) for five nights of playful programming and cocktails with a girl power twist. Sip on a Consensual Sex on the Beach or a French 75 Cents on the Dollar—the group is calling it "part speakeasy, part speak out"—and get ready for your closeup: We didn't need that selfie light ring attached to the rock wall to get that this ladyfest is designed to be shared. But there's IRL sharing going on here as well—conversations at the media preview ranged from career challenges to racism to sexual assault. Getting too serious? Have some cotton candy and a goodie bag on your way out; all profits will benefit women's organizations including the National Women's Law Center.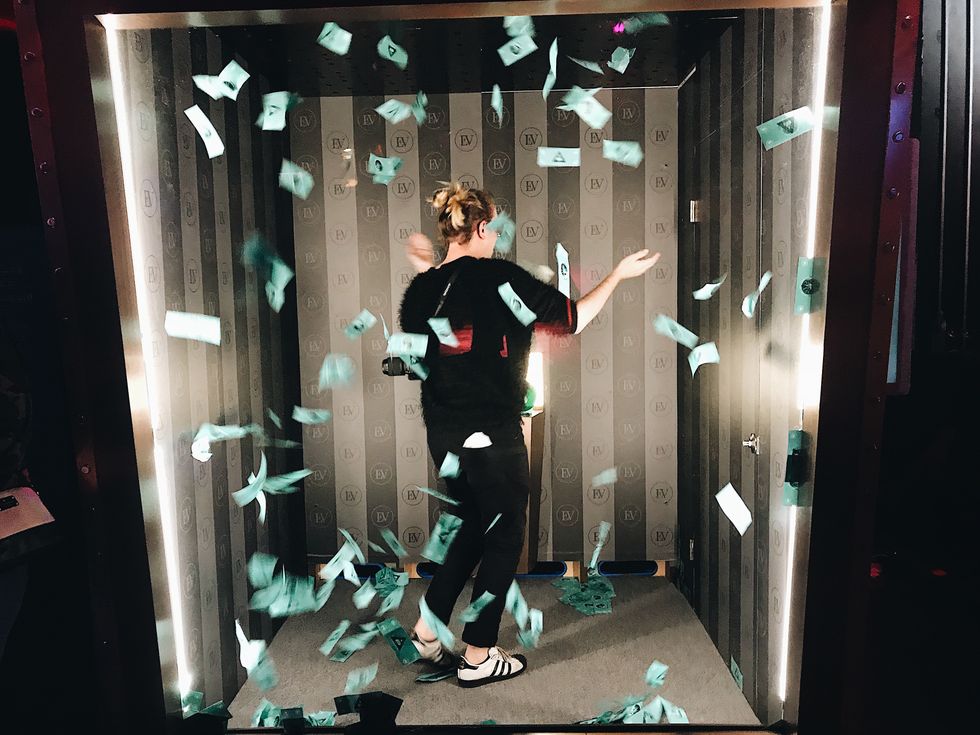 Bobcut's Anthony Rogers in the Money Maker.
// That Lady Thing will be open 5:30 to 11pm, August 5-10 at Great Northern, 119 Utah St. (Mission); tickets ($25) are available at eventbrite.com.