The newest addition to Dogpatch's crop of contemporary urban residences, The Landing—touted as having the most amenities of any residential building in San Francisco—is set to be fully completed this October with still more fresh amenities and newly released homes, many with unobstructed bay views.
The community's half-acre private park is also now open, so residents can chill out in hammock heaven, grill outdoors, and relax in the rooftop garden. With such great views and an exclusive park, Landing residents can easily list their homes on Airbnb to offset some of their living costs.
---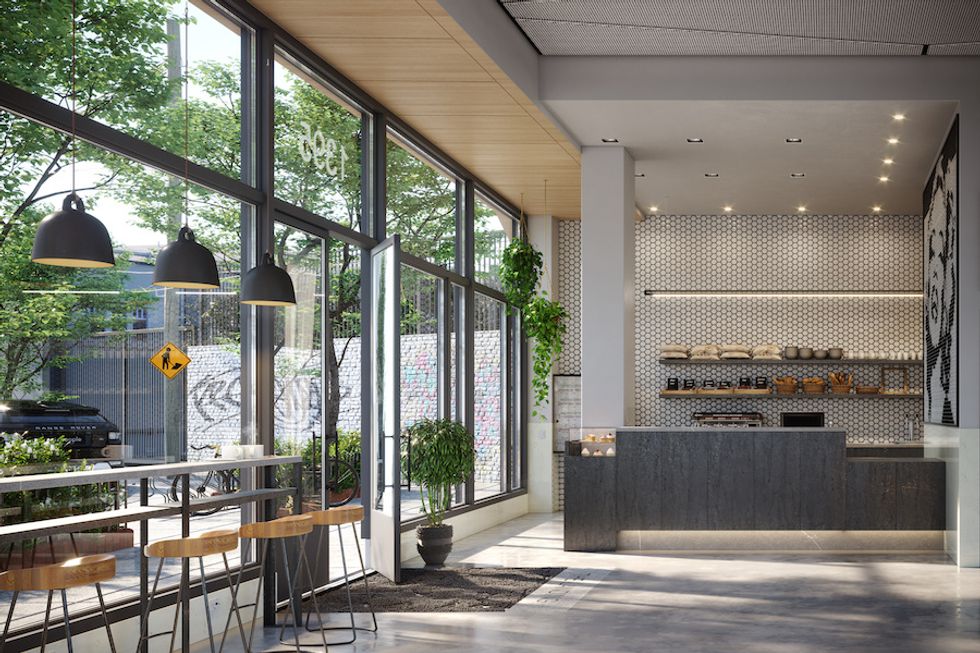 Reception, The Landing's wine bar and cafe. (Courtesy of The Landing)
The café, called Reception, will also open in October with an elevated social experience offering locally crafted and sourced foods and beverages from makers committed to sustainable practices. The Landing features regularly hosted social hours, highlighting creatives who are masters of various mediums and sharing works of art that can both be seen and heard.
With a deep connection to one of SF's original neighborhoods, The Landing is committed to providing Dogpatch and Potrero pedestrians easy access to Potrero Hill Recreation Center, by building 181 steps that connect Texas and Missouri streets. The Landing is curating a custom mural along the steps, designed by 1amsf, to be painted to reflect the unique location and serve as an integral piece of the Potrero and Dogpatch neighborhoods.
The Landing offers residents an array of lavish amenities including a 24-hour functional training gym with weekly instructed fitness classes, co-working space and a private coding room, and an interactive gaming and theater lounge. Additional on-site services encompass fee-based daily housekeeping, personal training, dry cleaning, dog walking, pet grooming, and more.
As an exclusive perk, The Landing has additionally partnered with Airbnb to allow residents the opportunity to rent their home out up to 90 days per year through the building's own native app.
The Landing is now accepting tours for immediate occupancy and has nearly leased up its first phase of homes. October will mark the release of the entirety of the building and units are expected to be filled quickly.