The mild snowfall and warmer temperatures of recent winters have occasionally left snowsport enthusiasts near the High Sierra either scrambling to get up to the powder before it melts off or forced to drive further to find conditions more ideal for snowshoeing.
With this winter shaping up to be a lot better in terms of snowfall, snowshoers will have many more options for winter treks of all distances and difficulty levels.
---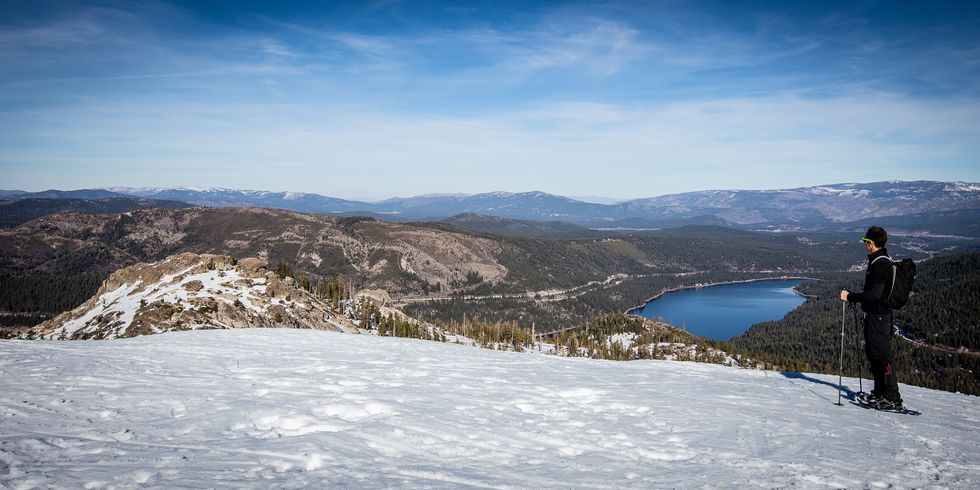 Aside from short day trips that can get you from the parking lot up to alpine vistas overlooking the cascading peaks and ski resorts that stretch across the Tahoe region, those wanting a slightly longer adventure may want to consider an overnight stay in one of the huts operated by the Sierra Club that are tucked away into areas unreachable by any roads in snowy conditions.

Accessible
For those wanting to venture up into the mountains in cars that may not be equipped for frozen winter roads, several beautiful snowshoe treks are located almost immediately adjacent to I-80, including the shorter and more mild climb up Andesite Peak, or the longer and more challenging scramble to the towering spires of Castle and Basin Peaks.

Amazing Views
If it's the remote and wild vistas that you're looking for, the climb to Donner Peak and Mount Judah will give you a perch high over the serenity of Donner Lake. The forested ramble through dense woods will eventually open up to a mountaintop shelter at Martis Lookout with panoramic views from Northstar to Verdi Peak and Lake Tahoe.

South Shore
For anyone wanting a trek near Tahoe's south shore, the winter solitude of Angora Lakes might tempt those looking for an intermediate climb. But for the more ambitious crowd, Mount Tallac is a solid day of climbing that will take you to unparalleled views over all of Lake Tahoe and a good portion of the Desolation Wilderness.

Solitude
But for those seeking the serious backcountry experience away from the crowds, traffic, and noise of civilization, it's the Carson Pass area that offers an incredible range of snowshoe adventures. You'll find adventures ranging from the more mild climbs around Caples and Emigrant Lakes and the network of trails connecting the rolling route toward Woods Lake to the backcountry adventure terrain that lies up the slopes for those who choose to continue beyond Winnemucca Lake.

With the promising amount of snowfall already this season, we can all hope that will mean a lot more opportunities to get out and enjoy some mountain trails in the coming months!