Big Basin State Park, nestled in steep hills and ridges above Santa Cruz, is the California's oldest State park, established in 1922 in order to preserve the ever dwindling stocks of old-growth Redwoods that once blanketed the coast.With over 80 miles of trails stretching from sea to sky, it is a hiker's delight.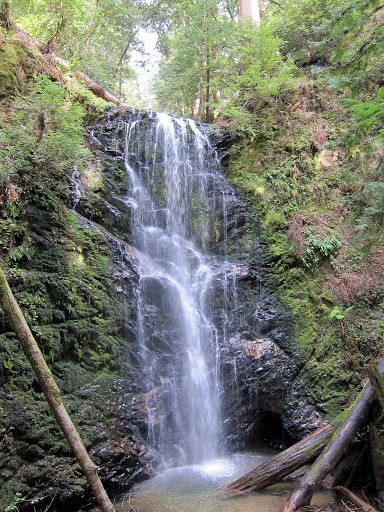 ---
Today's bucket list hike (top-rated by many notable outdoor writers) takes us to lovely Berry Creek Falls via the Skyline to the Sea Trail. This loop hike is approximately eleven miles roundtrip, with some 2,200 feet of elevation gain, so it's an all day sucker. An early start is advised, so pack a lunch and bring plenty of water (drinking from creeks is never recommended without purification). The hike can be done anytime of year, and a winter visit, with the proper rain gear, allows you see the falls in all their hydraulic glory. Many books and articles suggest making this hike in a counterclockwise direction, however I'm of the mind that the falls are more dramatic approached from below, and my preference is to hike the steeper sections uphill and be easy on the knees with gentler downhills.
Park near the main park headquarters and grab a map (or better yet, use your phone to capture the detailed signboard map at the trailhead). Wear layered clothing, as it can be cool in the Redwoods, while much warmer temps should be had on the higher, exposed return route via the Sunset Trail. After a short ascent, it's all downhill (1,000 feet) on the lush Skyline to the Sea Trail that parallels first Kelly, then Waddell Creeks. At the 5.6 mile point you'll cross the creek and start up towards Berry Creek Falls and the viewing platform, which can be crowded at times. Continue climbing up to the many photo ops at Silver Falls and then to the upper most Golden Cascade. Use extreme care as the trail is very narrow and can be very slippery when wet. The return portion of the hike makes for great afternoon ambling, and is made in a series of increasingly longer steps which makes for a very vigorous workout for those willing to keep the pace up.