Get your weekend on with these can't-miss Bay Area happenings.
---
Arm Wrestlin' Lasses
Love a good arm wrestling match? Well, strut on down to Terra Gallery on April 19 for the raucous Fifth Annual Ladies Arm Wrestling Tournament, hosted by Project HOPE Art, a Bay Area nonprofit working with underprivileged youth in Haiti. With emcees Betty Tight and Paul Trask, referees Alex Mace and Elvis, and Marky Ray and Brass Tax spinning records, this Sunday proves to be a day for the shenanigans-lover in all of us. Want in on the action? Sign up here. // Sunday, April 19: 4pm-7pm -- Project HOPE Art at Terra Gallery, 511 Harrison St.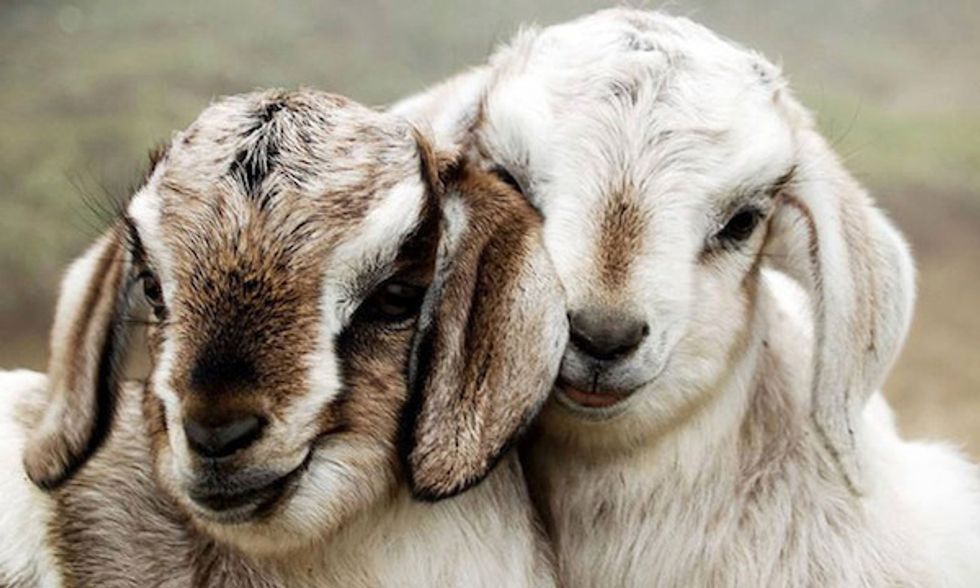 Goatchella(!) at the Ferry Building
CUESA's Seventh Annual Goat Festival, at the SF Ferry Building, is guaranteed to be a good half-day cute fest, with a baby goat petting zoo that'll leave you wanting to name your next child Billy. Grownups can also get in on the goat cheese tasting. // Saturday, April 18: 10am-1pm -- SF Ferry Building Farmers Market
Facials for All
After its grand opening just last weekend, Laurel Studios in Sausalito will be offering facial treatments by appointment this weekend. This new beauty and wellness sanctuary is worth a trip over the bridge for its 100-percent organic formulas for custom facials and selection of pure skin, hair, and body care products. // Laurel Whole Plant Organics Studio, 1 Gate 6 Road, Sausalito
Puff, Puff, Pass
Stoners unite! Yes, 4/20 is upon us next week, and the festivities are starting early. The Doug Benson Countdown to 4/20 will commence at the Cobb's Comedy Club April 19. Sure to throw you into hysterics, this is a guaranteed munchies-inducer. // Sunday, April 19: 10:30pm -- Tickets $25, Cobb's Comedy Club, 915 Columbus Ave
Comedians with Criminal Records
Previously arrested funny guys make the lineup at the Great Star Theater this Saturday to share their devious tales, from stealing a Red Bull at Walgreens to things a bit more rebellious. SF's funniest degenerates will perform not one, but two shows. For tickets click here. // Saturday, April 18: 7:30pm & 10pm -- Great Star Theater, 636 Jackson St
Do Some Topshopping
Take your tax return money to Nordstrom Walnut Creek, where groovy (and cheap!) UK brand Topshop is unveiling its new shop-in-shop. Peruse the Spring/Summer 2015 collection, and learn why all the top models think Topshop is, well, tops. // Topshop at Nordstrom, 1200 Broadway Plaza, Walnut Creek
Still reeling from Tax Day? Here are 100 Things to Do in SF Under $20. You're welcome!